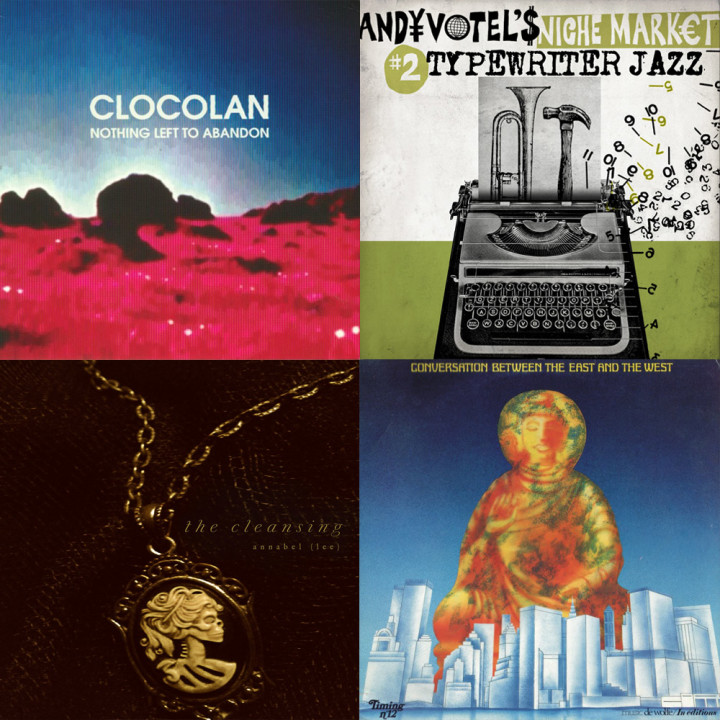 Four From Food Fridays – a weekly look at four things I've been loving in the last seven days. Old or new, whatever's been on in the studio. From top left:
Clocolan – Nothing Left To Abandon (BauSatz) 2xLP – Timely reissue of Clocolan's debut album from January – then digital only – on two blue vinyl discs with extra tracks
Andy Votel's Typewriter Jazz (Worldwide FM) Radio – Guesting on Gilles Peterson's Worldwide radio station, Andy plays songs that feature the original journalist's analogue keyboard of choice as musical instrument.
Annabel (lee) – The Cleansing (Youngbloods) LP – The follow up to their timeless debut, 'By the Sea… and Other Solitary Places', this is just as good, out today!
Yves Hayat – Conversation Between the East and the West (Timing) LP – Finally found a copy of this at a decent price, from the man himself, it's not all on the web but you can sample some of its delights. Someone reissue this please.