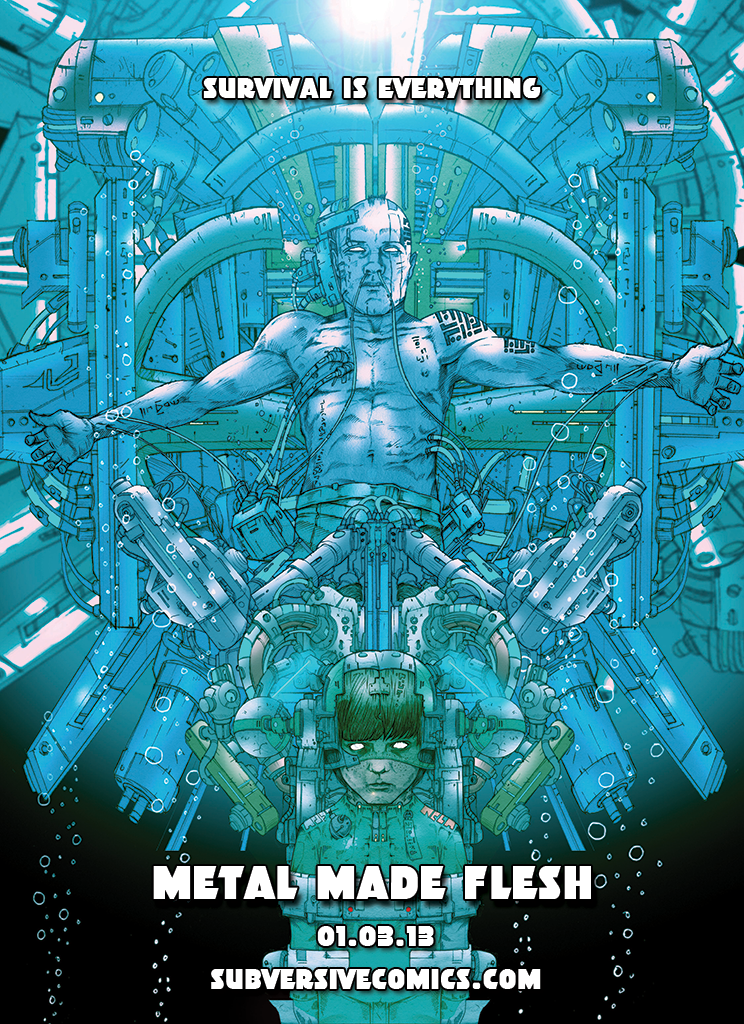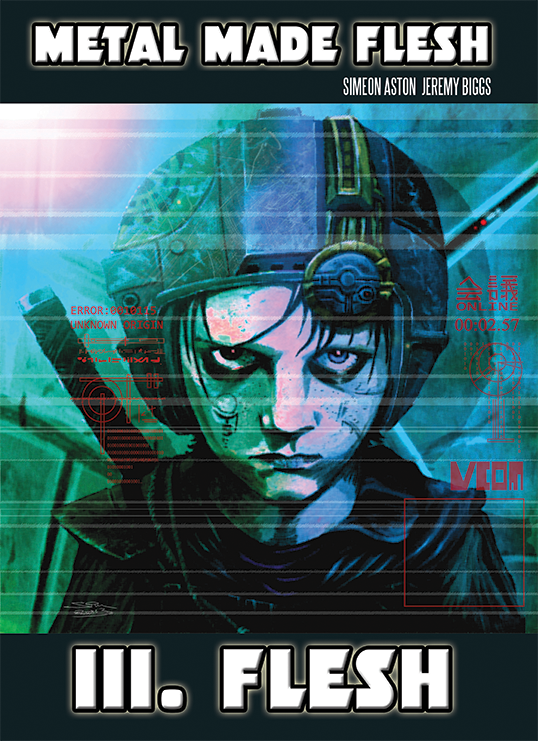 'Metal Made Flesh' is the start of a new series from Subversive Comics, a new independent publisher who emerged with 'Bearlands' last year. Created and illustrated by Simeon Aston and written by Jeremy Biggs, it's the first of 3 books that will separately showcase a trio of assassins whose stories will later intertwine. The first concerns Phaeon who, in order to get close to his next, heavily guarded target, goes to the extreme measure of having his body swapped into a child's.
The layout is text with illustrations rather than your regular panels and speech balloons and they've chosen to start with part 3 – 'Flesh', rather than publish the initial arc in sequence as each is self-contained. Don't go thinking you've missed 1 & 2 – you haven't, they're not publishing them in order, I just hope this doesn't work against them.
The mood is gritty, adult sci-fi with few punches pulled and the art is nicely handled with a heavy palette of blues and greens. A lot of the illustrations are one page affairs that lend themselves more to covers and the weakest moment is a splash page with the nearest thing to the sequential art of a regular comic which seems overworked and messy. But it's early days yet and I wouldn't be posting about it here if I didn't think it was worth looking out for.
The influences are worn on their sleeve; Blade Runner, Total Recall, Ghost In The Shell, District 9, Gibson and P.K. Dick – cyberpunk with great hardware, no complaints here. I look forward to seeing what happens in the next two installments (1 – 'Metal' and 2 – 'Made', see what they did there?) and then how the three tie together once the stage is set. Check out the art here or see more on Ashton's Deviant Art page and find the comic direct from Subversive. If supporting your local comic shops is more your thing then it should be available in Dave's comics, Brighton, Moving Pictures, Devon and Killer Bunny, London (Camden Market). Issue 3 is out now with issue 2 due around May.