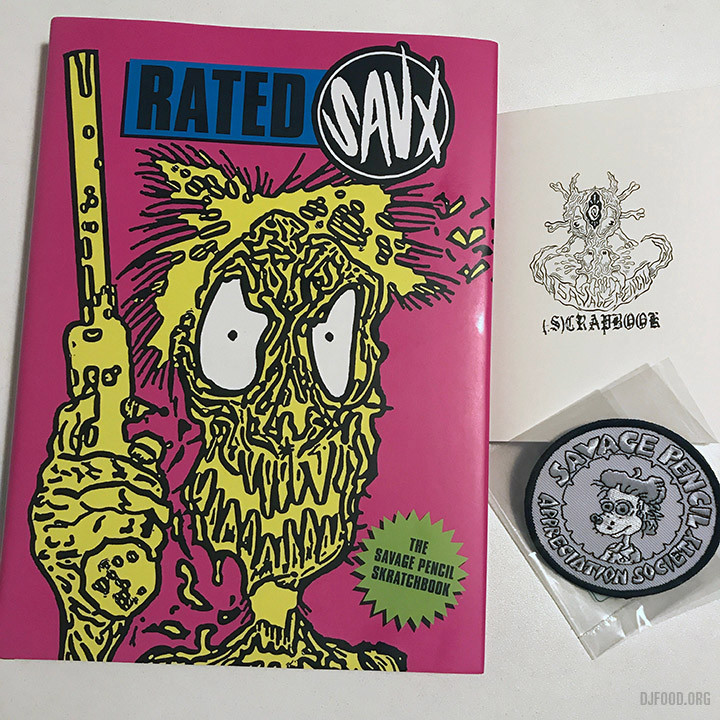 Savage Pencil aka Edwin Pouncey has been floating in and out of my life for decades now. Whether through the Wiseblood 'Motorslug' 12″ insert, 'Nyak, Nyak', the Big Black sleeve for their Headache EP or Blast First's compilation cover, 'Nothing Short of Total War'. He cropped up in the NME and Sounds, doing spot illustrations for album reviews, The Wire magazine with his Primer feature collages and Trip or Squeek cartoon strip and numerous other leftfield magazines.
There he was in Knockabout Comics' anthologies, a page here or there in Weirdo or some long-forgotten independent zine or one-off publication. I used to see his Dead Duck comic on the spinner in Forbidden Planet and his designs for Slam City Skates in Covent Garden before going downstairs to Rough Trade where I would find obscure indie singles with his art on the covers, posters of Godzilla-like monsters behind the counter and his biker movie picture disc compilation, 'Angel Dust'. In recent years I'd run into him at Orbital Comics, signing copies of the latest Satanic Mojo comic, the memorabilia shop in Cecil Court where he sometimes worked or at record fairs where he'd be either selling behind a stall or perusing the bins with Thurston Moore.
Eventually we met properly when I interviewed him for Rough Trade's 40th anniversary book in 2016 and again when I spoke to both Edwin and Chris Long about their Battle of the Eyes project with the late Andy Dog in a still-unpublished interview. And now he rears his head again in Strange Attractor Press' excellent book of his career, 'Rated SavX'.
This seems to be the definitive book of his work so far, lots of archive-delving has gone on here and there are many lost or unpublished illustrations from across his life whether it be black metal sleeves, fly illustrations, his punk past or his love of Ed 'Big Daddy' Roth's monster cars and cartoons. It's all here in eye-straining detail with enough info to have you wishing you'd picked up that tiny print run publication he released all those years ago. Nevertheless, I zipped through it and now have new items on the wants list – highly recommended. There's still time to get the limited edition hardback of this with extra (S)crapbook of unpublished roughs and Appreciation Society patch from the publisher's website. While you're there check the rest of their inventory, they have some fascinating books about counter culture, music, psychedelia and the occult world.