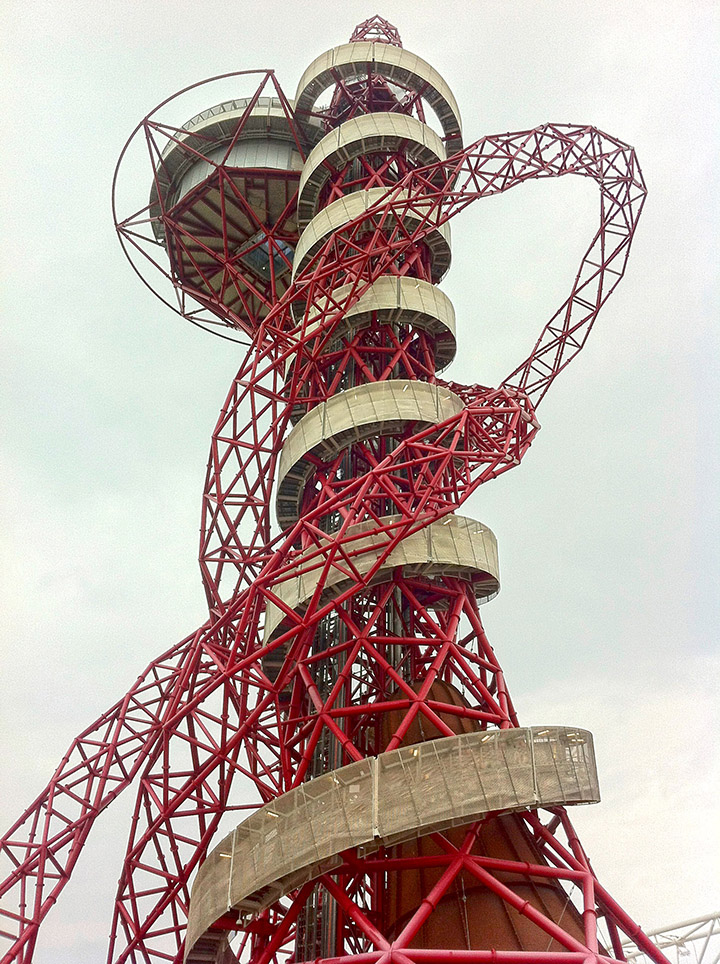 On Friday I was lucky enough to be invited by Ben Eshmade of Arctic Circle to play at the ArcelorMittal Orbit in the Queen Elizabeth Olympic Park near Stratford. This Anish Kapoor-designed structure was erected next to the Olympic Stadium a few years back and is now hosting it's first forays into music-themed 'lates' for the public, looking to expand its use beyond an over-designed viewing platform. I have to confess that I wasn't a fan of Kapoor's design when I first saw it but, like so many things, once you go to and experience them you gain a new appreciation for them.


The structure is much bigger than I expected, the red metal wire frame that spirals up around it is beautiful and one of Kapoor's giant funnels nestles underneath it, largely hidden in photos I'd seen. The viewing floors are what you'd expect and the view is breathtaking although we were unlucky in that it rained during much of the gig so the balconies were less inviting than usual. Due to meshed overhead shelter which let rain in you had to wonder if the architects had truly thought through such a structure built in the UK with its less than tropical weather habits. The rain however did create a great Blade Runner-esque effect on the windows with the blue interior spot lights, the illuminated red girders of the Orbit outside and the city lights in the background and we could see the Secret Cinema set for their Back To The Future feature close by.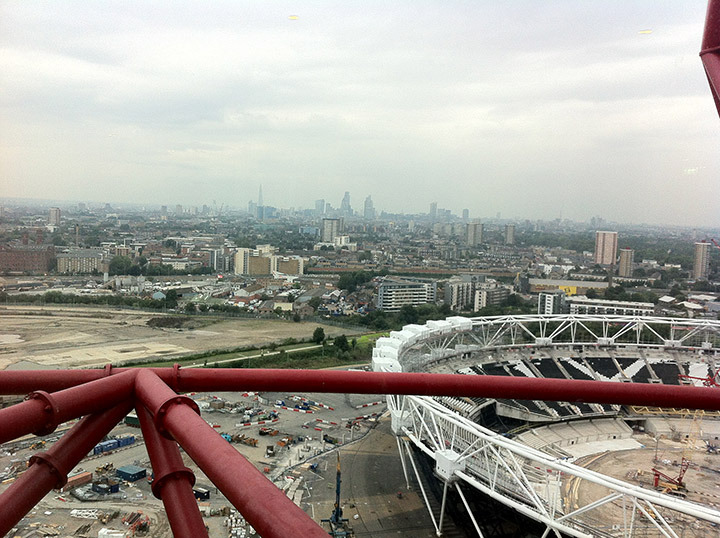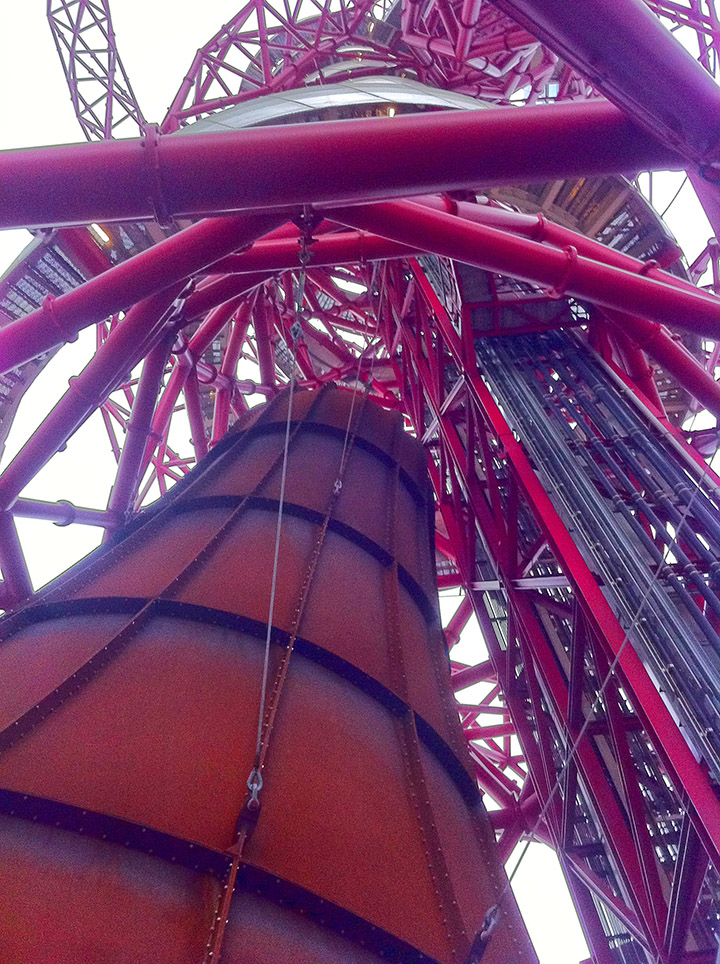 Ben had curated a broad selection of players for the night, Manchester's Paddy Steer, ex-of Homelife, bought his DIY one man band set up to the outside area below the funnel and proceeded to amaze with his ability to play more sounds than he had limbs. Using foot pedals, percussion, keys, strings as well as vocal FX he played all manner of sounds from his homemade set up with shakers strapped onto wrists, percussion sticks and legs, all the while dressed like a cross between Roy Wood, Sun Ra and Moondog. He seemed beamed in from another planet, the kind of performer that the crowd didn't want to sit too close to lest he might suddenly jump up and try to implicate them into his act like a magician. Sadly I missed most of his set due to sound checking duties upstairs but he was holding court by the time I got back down to earth before the rush for the lifts took his audience up to their destinations for the evening.
The lifts housed two players to accompany people on their short ride: a pedal steel player and a voicebox & keyboardist who had 20 seconds or so to entertain you as you rode. This was a nice touch and put you into close proximity with the artists as you can imagine, I heard one girl exclaim that one of the players must have been blind as he was wearing dark sunglasses indoors. On to the first floor, Ninja label-mates Grasscut did their quintessentially British electronic folk thing to a queue for the bar that snaked around half the room, something that evidently hadn't been quite foreseen as staff hastily assembled another bar elsewhere. I'm not quite sure what some of the audience expected musically but it wasn't a rave by any description and there was quite a mix of people wandering around. Upstairs on the second floor Transept and Astronauts played electronic and acoustic sets respectively before it was my turn to spin at 10pm.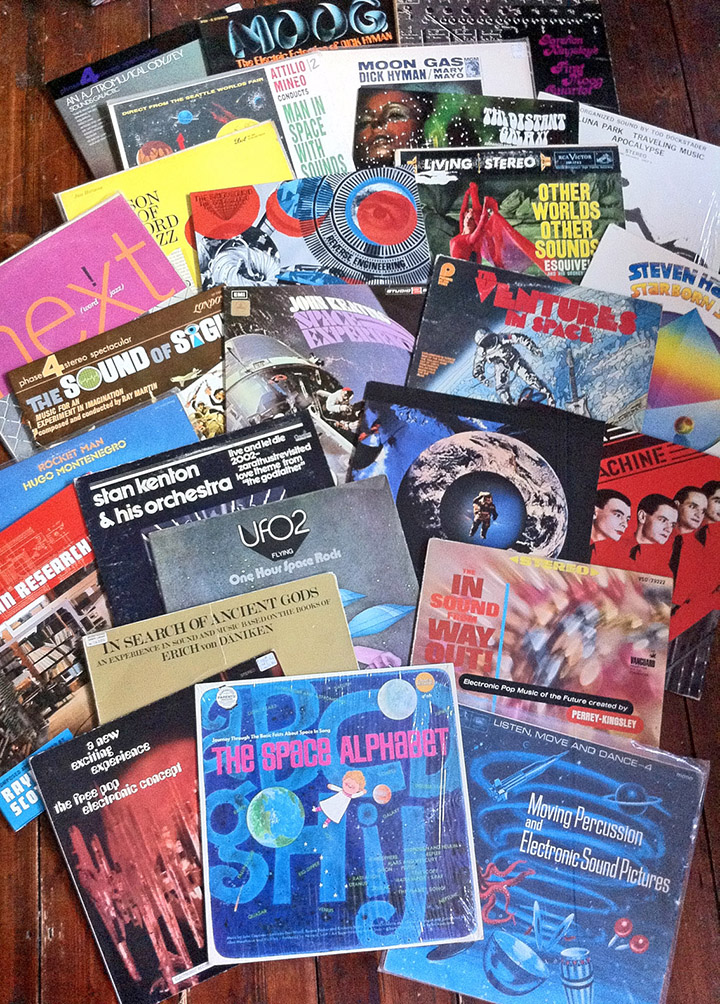 I'd spent several days pulling all manner of sci-fi, space and lunar tunes from my collection for this and was almost overwhelmed for choice when coupling the vinyl with existing material I had digitized into Serato. I could have played for 3 hours rather than 90 minutes I think and wasn't expecting such an attentive audience who sat and expected a show. I'd bought an extra portable turntable to add in textures and spoken word and used the main decks to switch between Serato and vinyl to weave a space scape together against a dark, rainy city backdrop.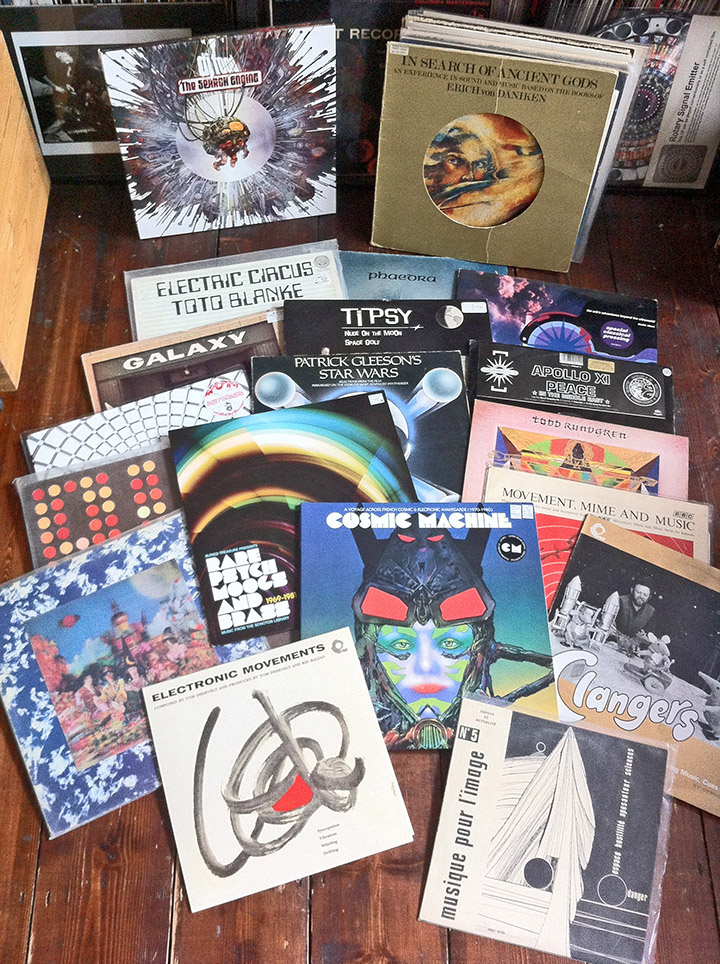 Further visuals were provided by two huge highly polished stainless steel 'mirrors' that reflected you back on yourself, distorted like a fairground sideshow and provided all sorts of weird juxtapositions as can be seen in some of Steve Cook's excellent photos of the evening on his Secret Oranges blog. My set began with the intro to the Clangers TV show and ended with 'The Music of the Spheres' from the same before pre-recorded selections of the organ playing at the Union Chapel ushered everyone down to the ground and out into the rainy night. All in all an excellent, unique experience which I'm forever grateful to Ben for organising and which may hopefully lead to more lates of a similar nature, the next one at the Orbit being a silent disco.