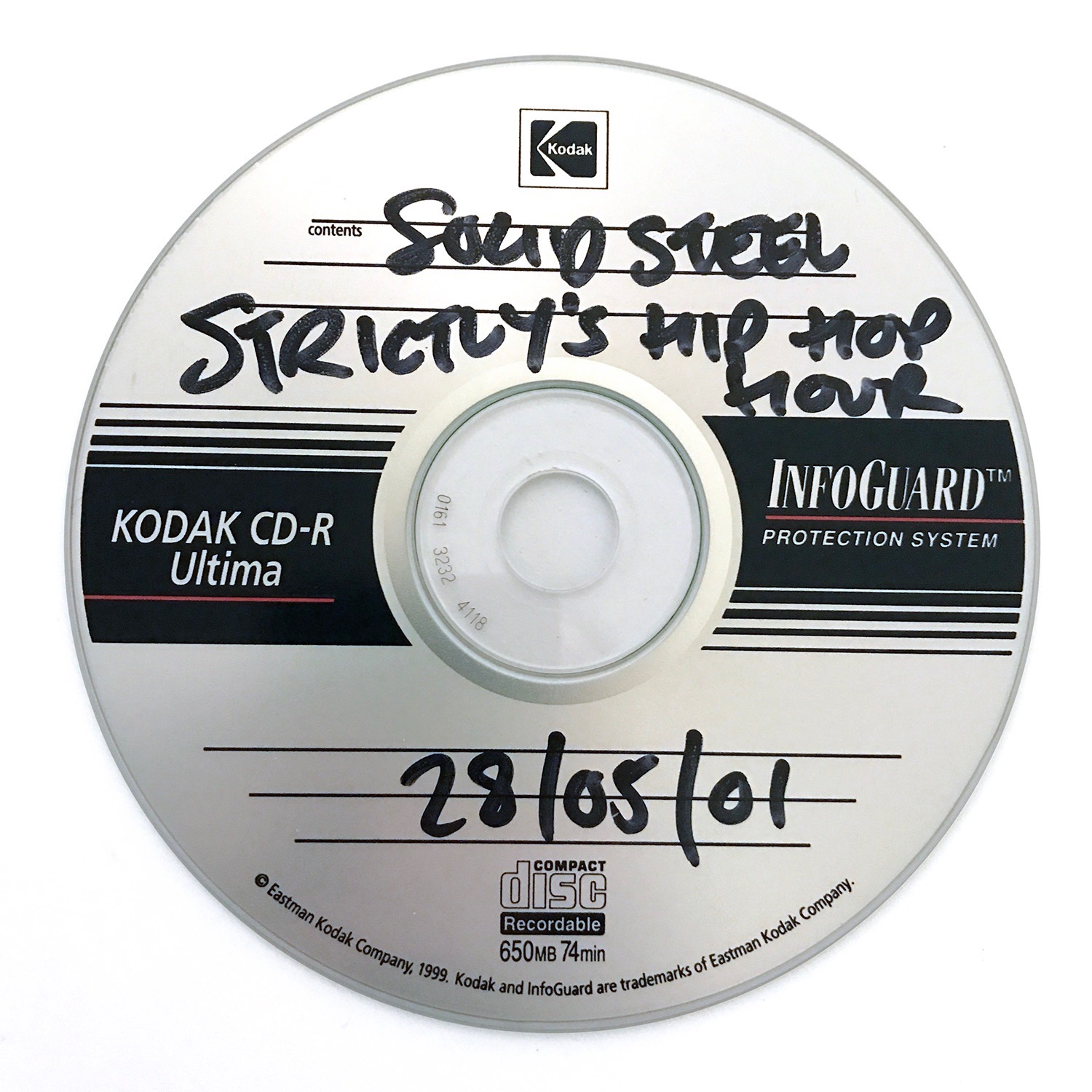 21 years ago this week I rounded up a bunch of current hip hop and presented the first half of a Solid Steel show that also included mixes from Four Tet and DK. The tracks largely fall into two camps, the serious, 'backpacker' kind, pushing things forward like the Anticon crew or the good time party kind with an eye of the 90s like the Quannum and Ugly Duckling camps. Samples are still a thing and the music is all the better for it with a mix of US and European artists. A lot of this has aged very well and I had a great trip down memory lane listening back. After the usual Solid Steel intro there's a snatch of a US news report about the new phenomenon of hip hop where the newscaster actually raps along with a snatch of Beat Street Breakdown, probably found online.
Bristol's Aspects open the show proper with a spoken word cut up track straight out of the Cut Chemist mould, possibly sampling the Columbia School Of Broadcasting set of 'How To Be A DJ' albums. Porn Theatre Ushers came out strong with 'Me & Him' in the late 90s and 'Blah Blah Blah' is taken from the follow up, Sloppy Seconds. They only released one album in 2004 which I've still not heard. PUTS were mining that classic 90s Primo/Pete Rock production style and always had solid tracks on their releases. DJ Vadim remixes Supersoul who released a bunch of singles and a couple of LPs over a ten year period and there's another snatch of the vintage news report on hip hop.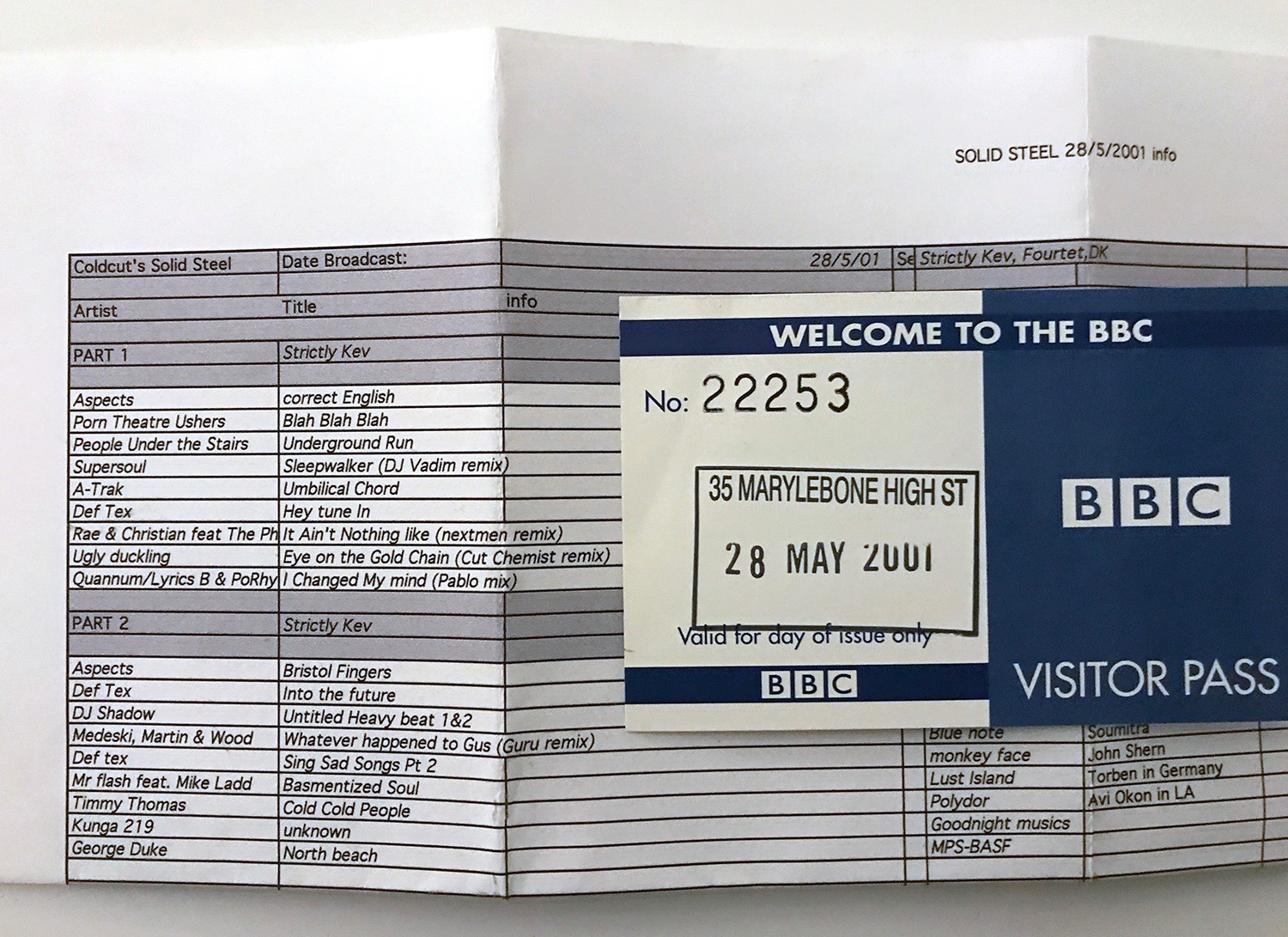 The A-Trak scratch fest is worth hearing if only to catch DMC's Tony Prince getting his name wrong from the time he won the Disco Mix Club finals when he was still 15. Def Tex were always underrated IMO, soulful production and decent lyrics, self-releasing before signing to Ninja-affiliated Son Records whose back catalogue is full of gems. It's party time with the next three tunes kicking up the funk factor with The Nextmen remixing Rae & Christian, Cut Chemist all over Ugly Duckling and Pablo from the Psychonauts giving Lyrics Born and the Poets of Rhythm a bit of turntable grit. This track is a contender for the last great record on MoWax. More Aspects and Def Tex before a lesser known DJ Shadow compilation track makes an appearance.
Guru from Gang Starr's remix sees him in Jazzmatazz mode of the M, M&W track and then we come to one of my fave Def Tex tracks, 'Sing Sad Songs'. Produced by Francis Gooding (always asleep by midnight at parties) and Liam Large (he painted my windows once you know) under the name the Large Lefties on a one-off 7" that can criminally still be had for pennies. This is the instrumental part 2 with a scratched story over it but the Def Tex-rapped A side is great too. 'Basmentized Soul' is taken from Mr Flash's debut 7", 'Le Voyage Fantastique' and predates his move to Ed Banger by a couple of years. Changing things up a bit we get a Timmy Thomas cut from his debut LP before Canadian Kunga 219 slips into the mix. His sole album is quite a gem with people like Sixtoo, Buck 65, DJ Moves, Sole and more contributing production or rhymes and has since received a vinyl pressing some years back which you can still find copies of on Bandcamp. 'Seasus' brilliantly samples one of my favourite George Duke tracks, 'North Beach' so it made sense to finish the set with that.
Track list:
Coldcut – Solid Steel intro
Unknown – 80s Hip Hop News intro
Aspects – Correct English
Porn Theatre Ushers – Blah Blah Blah
People Under The Stairs – Underground Run
Supersoul – Sleepwalker (DJ Vadim remix)
A-Trak – Umbilical Chord
Def Tex – Hey Tune In
Rae & Christian feat. The Pharcyde – It Ain't Nothing Like (Nextmen remix)
Ugly Duckling – Eye on the Gold Chain (Cut Chemist remix)
Quannum/Lyrics Born & The Poets of Rhythm – I Changed My Mind (Pablo mix)
Aspects – Bristol Fingers
Def Tex – Into The Future
DJ Shadow – Untitled Heavy beat 1&2
Medeski, Martin & Wood – Whatever Happened to Gus (Guru remix)
Def Tex – Sing Sad Songs Pt 2
Mr Flash feat. Mike Ladd – Basmentized Soul
Timmy Thomas – Cold Cold People
Kunga 219 – Seasus
George Duke – North Beach