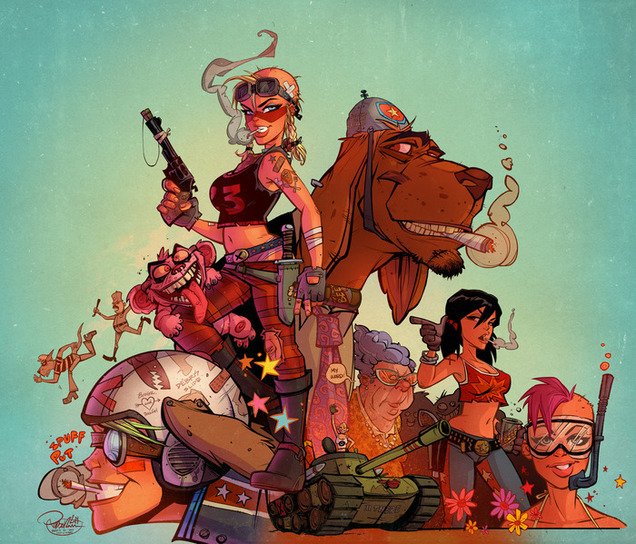 There's a Kickstarter that just, er… started for a new Tank Girl book. Maybe this is nothing special because Alan Martin has been churning them out with an revolving door of artists for a few years now.
This time though, Jamie Hewlett is back on board, = and no, this is not an April Fool. Firstly for a cover (two actually) but also for his first strip for nearly 20 years. Add to this a line up of Philip Bond, Jim Mahfood, Jonathan Edwards and more and you get what could be the ultimate Xmas present come it's projected Nov 2014 release date.
This is only if they reach their goal of £57,000 in the next 29 days though. They're off to a strong start with over £16k pledged already after less than a day but there's a long way to go. You can check their progress and even pledge yourself HERE – the basic hard back book package is a very reasonable £23 + postage and there are all sorts of other extras and incentives to be had as add-ons too.
A few artists are conspicuous by their absence – Rufus Dayglo for one who helped (ahem) kick start TG back into the public eye all those years back as well as Ashley Wood and Mike McMahon. Check Hewlett's Kickstarter-only cover below with a huge blue-veiner of a space ship.
*UPDATE* – Funded in 48 hours!