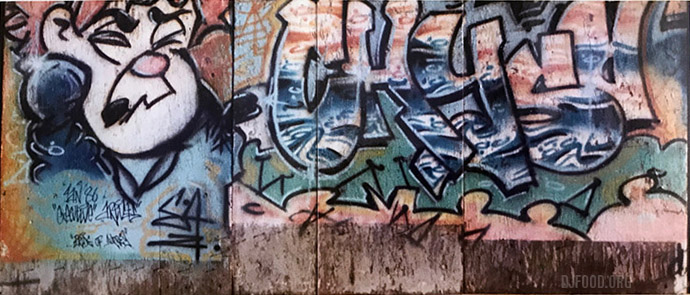 Russ, Chris and Richard Lomath had painted a whole room in the Reigate Parish First School caretaker's cottage (Chris' dad was the caretaker at the school), almost choking themselves on the fumes. It was something we could only hope our parents would one day let us do (mine never did but we painted friend's bedrooms over the years). This no doubt helped hone their skills with a spray can, note the difference in the style of lettering from 'RPR' (Rebel Pro Rockers) to the 'Chris' piece from the others, a big stylistic jump.
A year or so later, we got commissioned to paint the shutters of the local chip shop on the estate that crew member Ricky Groombridge lived on. We decided to get Russ in to help us out as (I think) we weren't confident on our lettering skills to do a good job. He graciously agreed and designed the Super Chip piece and we painted it on a Sunday with what seemed like half the estate watching and the police turning up and one point.
It was a thrill to paint with him – the Super Chip piece seen in progress here sees Russ in the pink, Ricky in green, David Jarvis in pale yellow and me with graffiti jacket over Nike windcheater. Russell was a master at lettering, colours, outlines, having a couple of years on us young pups and he made us all look better. We'd never seen anything like this style before, readable but with huge areas to put colour and effects in.
I remember going to his house one time and he let me use his airbrush – something no one else I knew had – to colour backgrounds on a piece I was working on in a new book. His parents had let him spray a whole wall of his bedroom (the 'Chique / Rusty Spray' piece above) which was mighty impressive. We last spoke a couple of years ago when he sent me a shot of one of my tags, still visible over 30 years later in Reigate.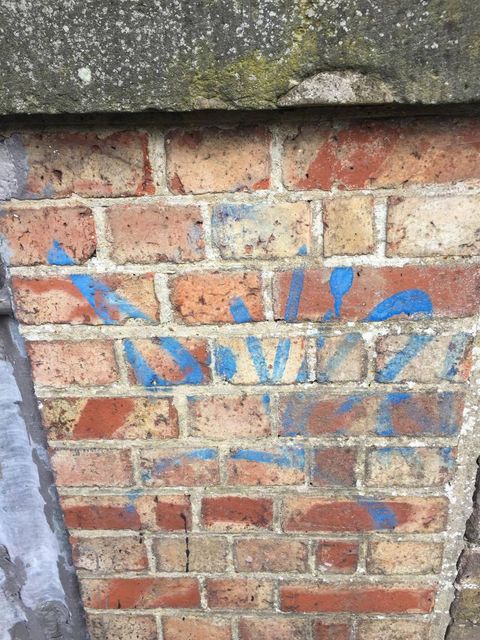 I dug into the deepest recesses of the archive to find these images because Russ's art affected and inspired so many of us when images and info were scant. He led the way in showing us that you could take this foreign, urban artform and try your hand at it. Great times and memories, never forgotten. Rest In Peace Russell aka Rusty Spray.