'Sound Sheet', 'Phono sheet', 'Sound Page', 'Flexi Disc' or just plain 'Flexi' – this floppy, cheap, disposable, low quality format has been around since the early 60's when it was introduced by the daddy of flexi disc production, Eva-tone Soundsheets in the US. Used as an easy way to include recordings in books and magazines because of their thin, flexible nature they became very popular with educational publications like National Geographic and Reader's Digest as well as a means to cheaply distribute music in music magazines like Rolling Stone, NME, Kerrrang! and even a dedicated monthly called Flexipop in the early 80's.
I've been collecting flexi discs or all types for years and thought it was time to put some of the weird and wonderful online for all to see. I'll be posting new entries from my collection every Thursday all through 2015, sometimes with audio or buying links if they're online and there will be guest posts from other collectors too. The Flexibition will run for 2015 and I'll have Rock, Pop, Spoken Word, Cut Ups, Porn, Comedy, Educational, Adverts, Technical and more featured.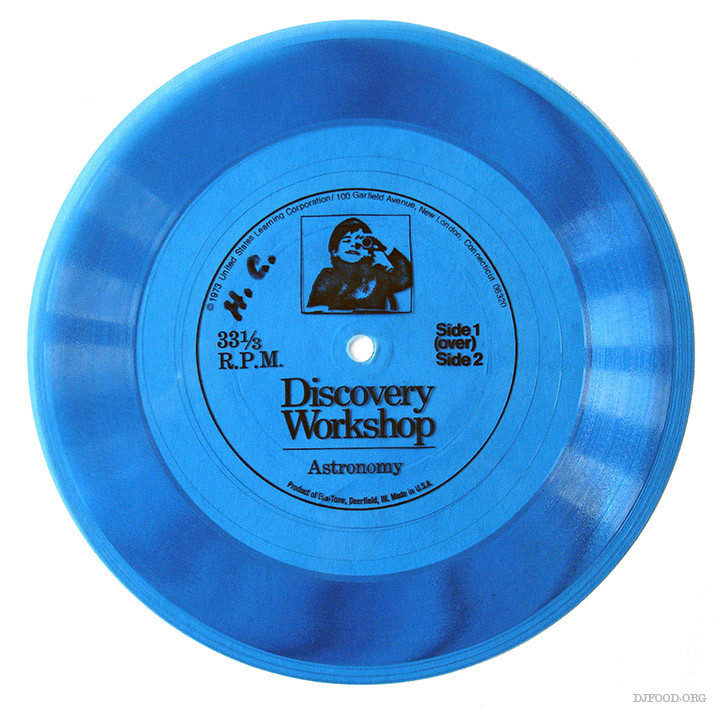 We start with an educational entry but I don't remember where I got this, possibly somewhere in North America in the last 5 years though. Made by Eva-Tone for The United States Learning Corporation I'm presuming it was part of a magazine or book at some point. I took the name of the disc for a track on my album 'The Search Engine' and even included it on a clear flexi disc inside the limited comic book version (which will feature in a later post). As far as I've aware there's no recording of it online.
The narrator starts out describing the planets before we blast off in a rocket to the moon, take a look back at Earth from the moon's surface and survey the sun (never look directly at it). On side 2 we look at Mars (it's very red), Venus (very bright), Jupiter (the red spot gives off strange radio signals) and Saturn (it could hold about 700 Earths). Uranus, Neptune and Pluto are given short shrift before we fly deeper into the galaxy and get into space gas. It's very basic stuff as you'd expect from the image of the child with telescope on the disc but charming and includes suitably space-like orchestral accompaniment and the odd modular synth sound.