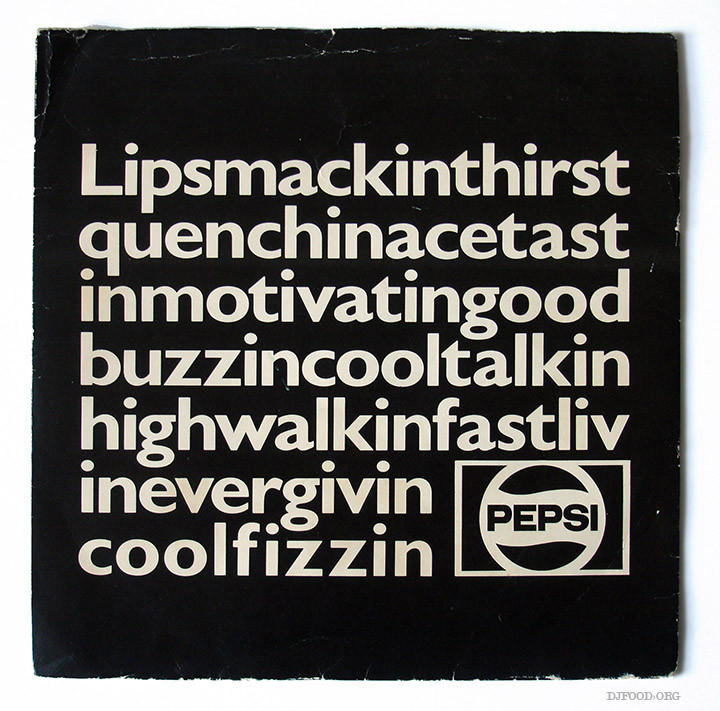 A couple of discs from one of my comedy heroes today in the Flexibition – Kenny Everett – a legendary figure in the British broadcasting landscape from his days on pirate radio to the BBC, making the jump to the small screen on both the Beeb and ITV but never quite making the transition to the big screen. Kenny was one of the most creative disc jockeys on the wireless in the 70s, making endless tape montages of radiophonics, sound FX and song megamixes to intersperse with his wacky comedic range of characters and voices. He was genuinely hilarious and his on-air persona was probably his greatest character of all.
He was no stranger to voice-overs and regularly made jingles for many of the DJs on Capital Radio in his time there. In 1973 he voiced a promo flexi disc for Pepsi's famous "Lipsmackingthirstquenching…" advert which basically entailed him filling time whilst playing the eight second fizzy drink commercial as many times as possible in four and half minutes. The ad is the gem here rather than Kenny and the disc is notable for having a nicely designed cover which has aged remarkably well graphically and was apparently distributed to retailers of Pepsi to further boost sales.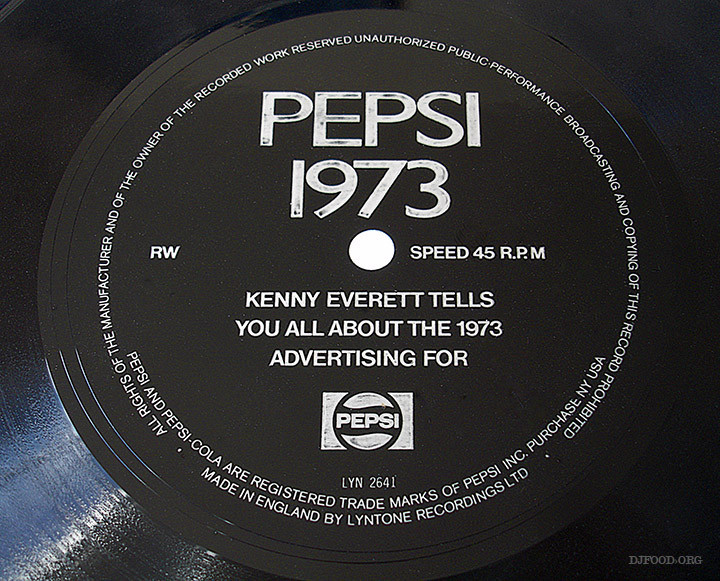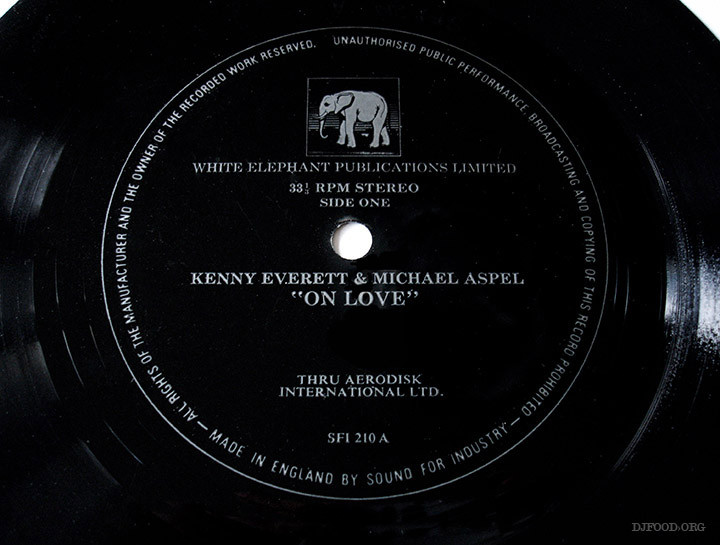 The second of the featured flexi's is a double act of Kenny and Michael Aspel ruminating 'On Love'. Aspel of course has to play the straight man (as did anyone who teamed up with Everett) reading from a script but gets in a good few jibes as cuddly Ken shoehorns in as many freestyle double entendres as possible but mainly cracks up. The pair once hosted shows that were the antithesis of each other on the radio, endlessly goading one another on air during the handover between their respective slots, eventually forming a lasting friendship and admiration. Kenny adored the sound of Michael's voice and he, Kenny's ability to make him "laugh like a drain", regularly giving him the giggles on what should have been a serious show.

The intro to the flexi is slightly NSFW and there's a very odd remark from Aspel in relation to his daughter… It does, however, end with a Rod McKuen-esque dialogue / song that builds to a somewhat unexpected but hilarious crescendo. Dating from 1974, I'm uncertain where this was from or what it was for as there seems to be no information about White Elephant Publications on the web. The disc is backed by Dick Emery with a version of his signature catchphrase, 'You are awful, but I like you' transposed into song form. This was also released as a regular vinyl 45 and even made the UK charts at one point that saw Emery making an appearance on Top of the Pops. Much like it's title, it's awful.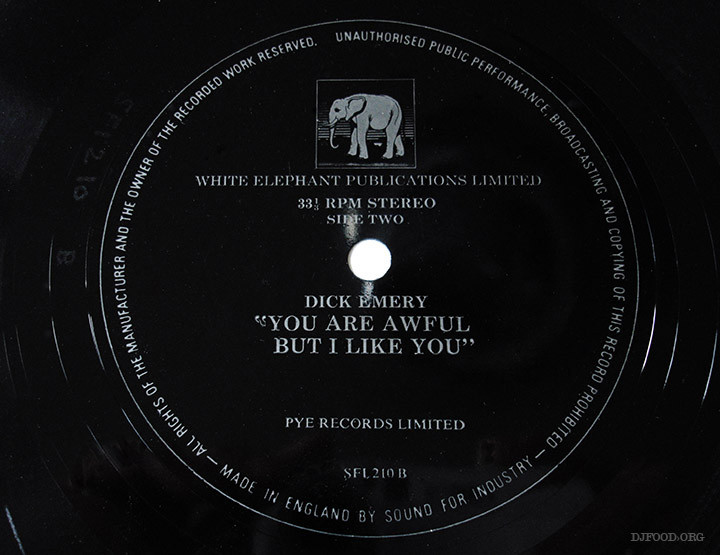 Two things that I didn't know about Kenny that I found whilst researching this piece:
He was sacked from Radio 2 in the early 80s for reportedly saying, "When England was a kingdom, we had a king. When we were an empire, we had an emperor. Now we're a country, and we have Margaret Thatcher."
He was the voice of the cat in the famous 'Charlie Says' commercials.
and one for Dick Emery:
He voiced several characters in The Beatles' 1968 animated classic Yellow Submarine including "The Nowhere Man" Jeremy Hillary Boob, the Mayor of Pepperland and Max, one of the Blue Meanies.
RIP Kenny Everett & Dick Emery