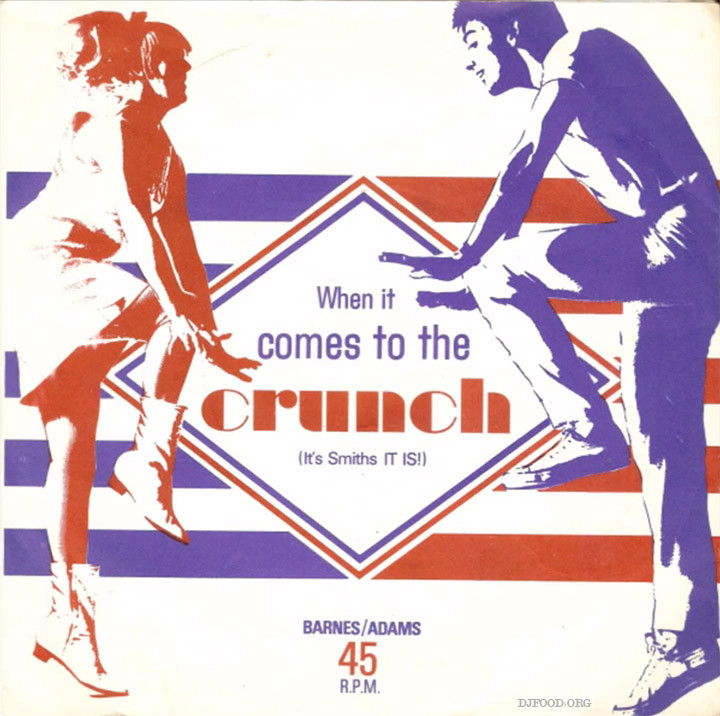 Sticking with the advertising theme for the month of March we have our third guest post in the Flexibition, this time from Pete Issac – he of Jelly Jazz fame and 45 Live co-conspirator alongside Boca 45. He's chosen a rather groovy flexi from Smiths Crisps by Howard Barnes & Cliff Adams, 'When It Comes To The Crunch (It's Smiths IT IS!)' / 'Rhythm And Crunch' (Lyntone Lyn 1021) from 1966. I'll let him do the talking…
"Do you crunch? You don't? Well you should. Just send in 3 empty bags and receive your Crunch disc!" So says 60's radio jock and TV host Simon Dee on the Ready Steady Go-style TV slot from 1966, featuring hipsters of the day throwing what is likely to be 'The Crunch' dance moves. A swinging up-tempo mod groove on both sides with the B-side being an instrumental with tight drums and with an even tighter Carol Kaye-esque bass line, in keeping with 60s flavoured bass sounds like the Pete Moore Orchestra's 'Cat Walk', London Jazz Chamber Group's 'Mae West' and so on. Completely on point for the period, Smiths Crisps are tapping into youth culture in exactly the same way as marketeers will use pop to sell everything today.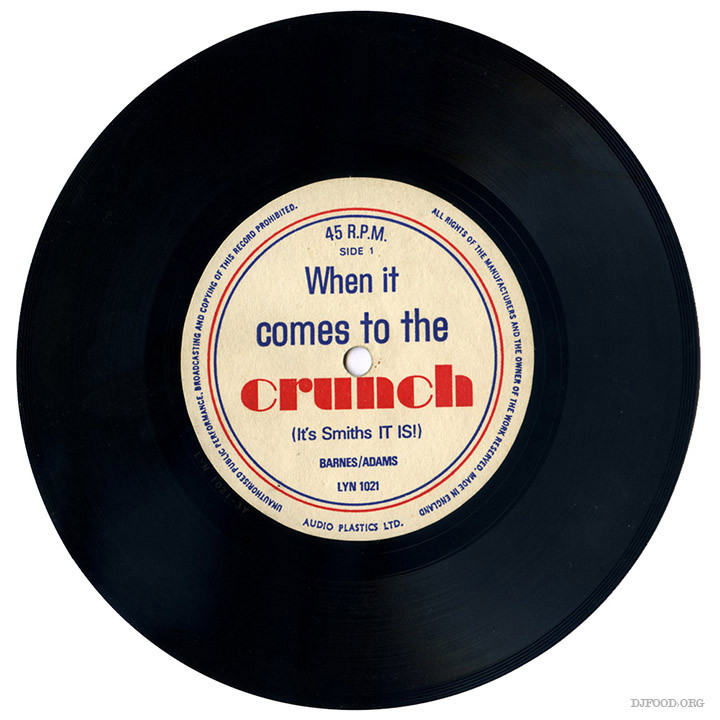 Side 1: 'When It Comes It The Crunch'
Advertising records were pretty common at the time, and the producer of this, Lyntone, released a bunch of Flexi discs for the likes of Action Man, Ford, Heinz and Cadbury. They also released some Beatles records, which is pretty odd. And the collecting of empty packets to get the record was also common, one of the first records I ever got myself as a youngster in 1972 was by collecting empty Wotsits Crisps packets to get a copy of 'Wilburs Collection of Childrens Favourites' (sadly thrown away years ago).
Side 2: 'Rhythm And Crunch'


This is not a particularly rare/expensive flexi, I picked it up years ago in Plymouth for pennies, and you could easily pick one up on Discogs for a few quid now. But what it is is an evocative promotional piece of music that perfectly illustrates the advertising industry tapping into a relatively newly found audience; young people with disposable income and cultural awareness.
With 'vinyl' appearing in almost every TV advert these days, I wonder how long it is before a company rekindles this concept and asks you to send in 30 empty yoghurt pots or wot-not to get a flexi-disc or standard 7″ of 'Send in The Girls', or a Mark Ronson ditty or indeed a specially commissioned piece of music. I say to these advertisers 'hurry up!'.
Smiths Crisps TV Advert featuring the track: