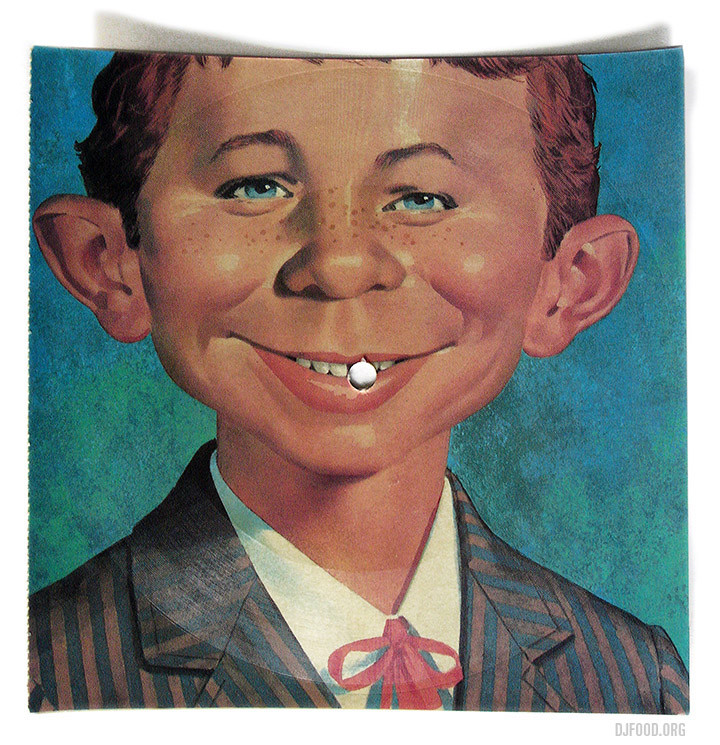 Mad magazine should need no introduction, its mascot, Alfred E. Newman (above: What – Me Worry?), has grinned greasily from its covers for decades now as the mag debuted in the early 1950s. They issued Specials which reprinted the best bits of the monthly mags and would contain posters, cards and sometimes sound sheets too, first on card and later on more traditional flexible plastic. Here are my collection, comprising over half the discs I've been able to find info on. My favourite has always been the one above with the strategically placed spindle hole where Alfred's missing tooth is. The gags are of their time and some have dated better than others with the 'It's A Gas' song probably best known among stoner or garage rock circles.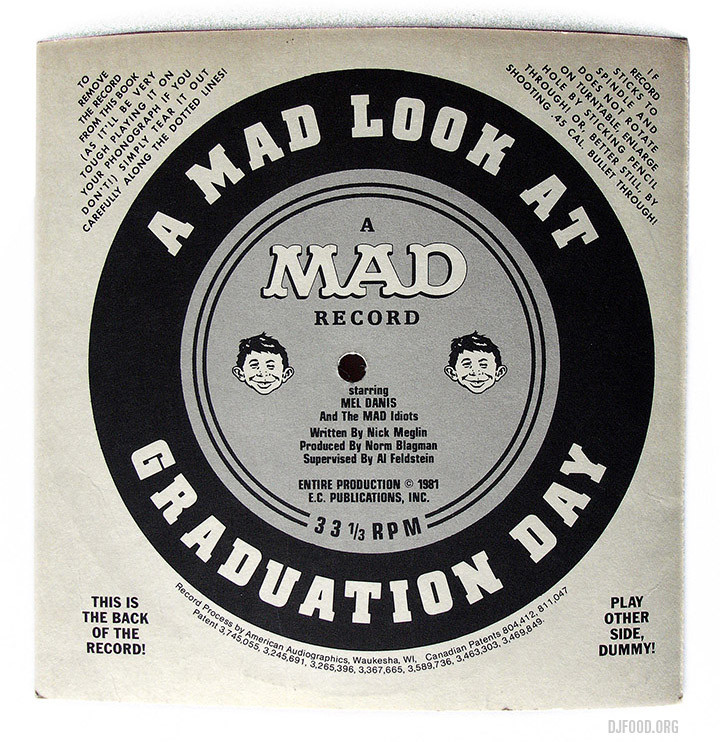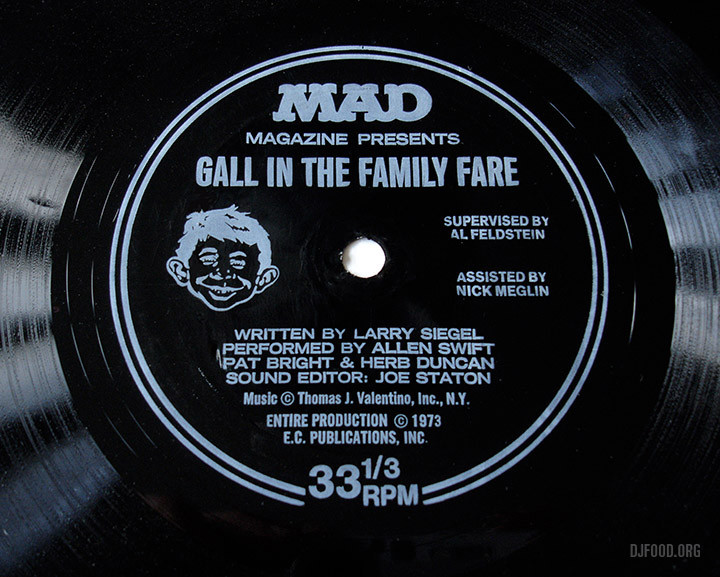 Some VERY of-its-time language on this one
'Meet The Staff of MAD' was the first sound sheet to be issued by the magazine, way back in 1959!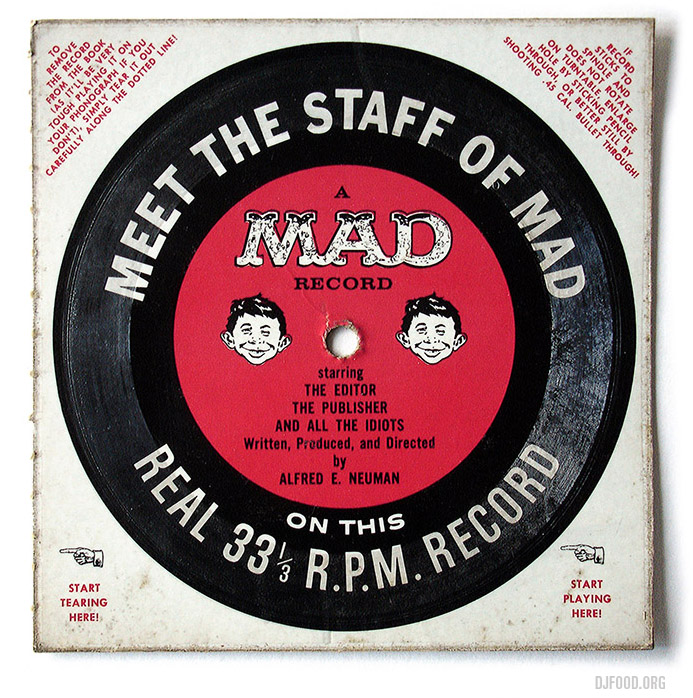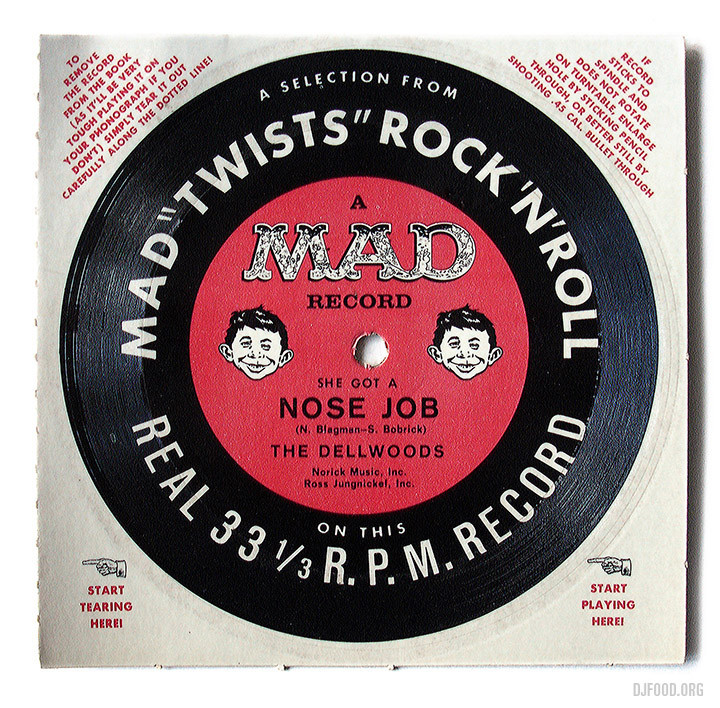 'It's a Gas' was an early sound sheet, free with the magazine in the mid 1960s and also available on a regular 45 with a picture sleeves.
The Foo Fighters issued a flexi pressed onto card in 2014 that aped the layout of the MAD flexis above…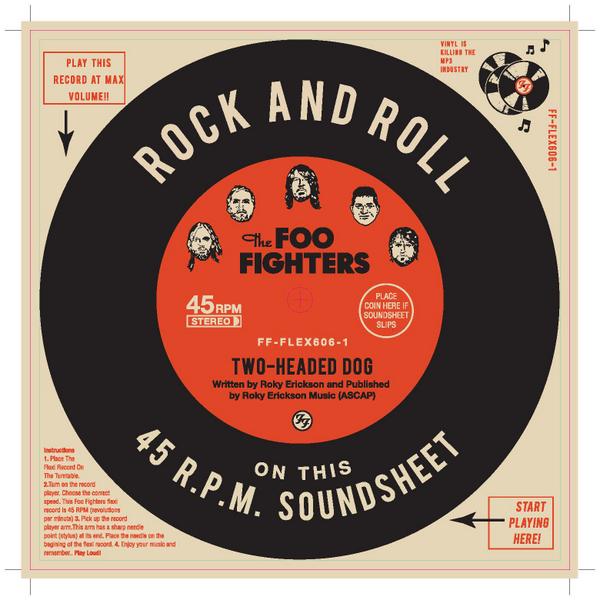 And here are some that I don't have: The MAD Disco flexi had six songs on it – including a Disco version of 'It's A Gas' – professionally played to perfectly ape the genre's sound, unfortunately it was released in 1980, years after Disco's peak.
'Makin'Out' is also late 70s, listen for the Star Wars and The Muppets references and pulsing Disco groove.
"It's a Super-Spectacular Day" aka 'The Mad Mystery Sound' was included in a Summer 1980 issue of MAD magazine. The song has eight different unpleasant endings depending on where you drop the needle. You didn't know which of the eight endings you'd hear when you played the song. MAD indeed.