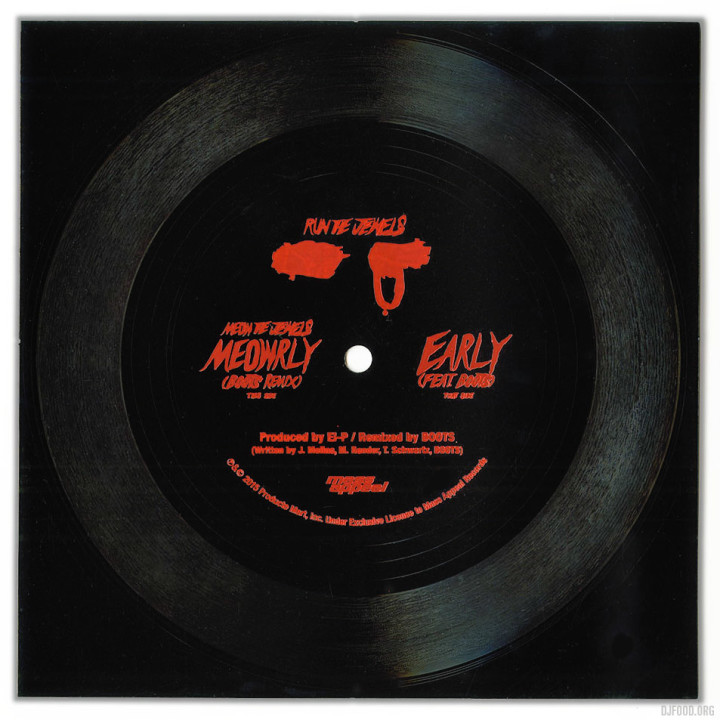 In a change from the planned entry this week we have this little jewel (pun intended) which went on sale out of the blue last weekend and was kindly nabbed and written up by my good friends Leigh Adams and Sarah Coleman aka Inkymole – the people behind Factoryroad who were in town for the RTJ gig.
"Killer Mike and El-P probably don't need any sort of introduction, the latter being known to us via of a couple of stone-cold Cannibal Ox tunes already in the collection (surely Company Flow as well? – Kev). We were alerted to them originally by our friend Ed, who pronounced the word 'jooooooooollllls' in a way so delicious it couldn't be ignored; fast forward couple of years and we're the cheesy mega-fans* queuing up outside Warehouse Project with the ID-able teens and buying up T-shirts with giant-sized gold necklaces on them.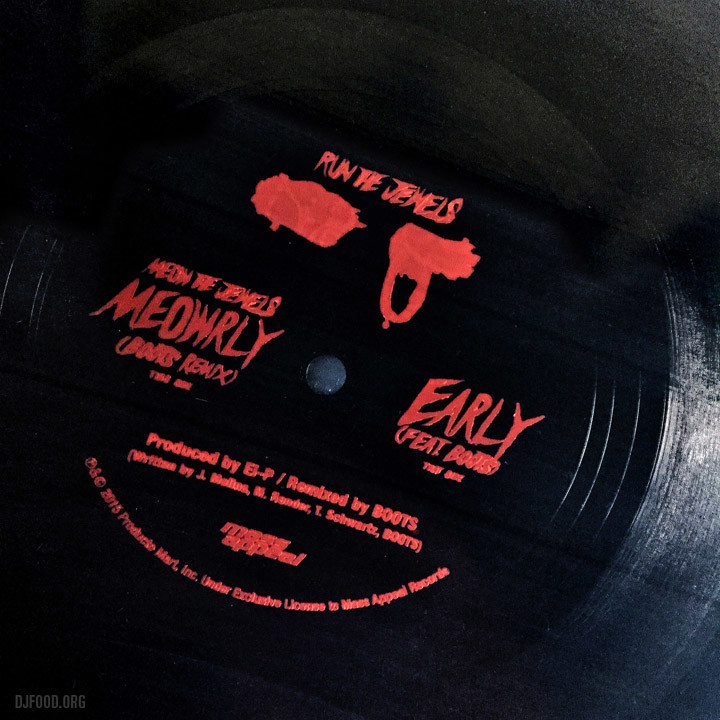 This Flexidisc, a Meow the Jewels remix of 'Early' from RTJ II, has its origins in a joke – the weed-at-the-kitchen-table induced threat of remixing the entire Run The Jewels II album using only cat samples got such a response it became a Kickstarter project. If they could raise $40,000 (which RTJ considered ridiculous) they'd do it. It did – in fact it raised $65,000, after Geoff Barrow, Just Blaze, Boots, Automator and others got on board almost immediately. Half of the cash is to be donated to the families of Michael Brown and half to Eric Garner, in the US – the message being that 'you don't have to pick a team' when it comes to victims of American police brutality.
'Early' is my favourite RTJ track and one of the most serious – about a young man being dragged from his home early one morning by police for no reason, and in front of his children – but is also musically one of the darker and minor-key worrisome ones, which is why I love it. Boots (producer) sings his little face off in the mournful chorus, and for this version is, of course, replaced perfectly by whining cats.
Tweeted the night before and on sale from 10am, the cash handed over for these two copies went straight into the coffers of Manchester's city centre RSPCA branch, all £20 of it. It sounds rough, and the needle barely gets any purchase on the lead-in, but it's a puurrrrfect memento of our RTJ weekend in Manchester. Ouch."
*Kev's word (did I say that? – Kev)