I'll be posting a week of entries dedicated to Kraftwerk from today (Kraftweek? – sorry) highlighting ephemera, esoterica and oddities to do with the band. Friday the 8th will see Solid Steel premiere the Kraftwerk Kover Kollection vol. 8 – this time heavily focusing on jazz, piano and acoustic cover versions.
Tonight the group kick off eight nights at the Tate Modern in London with 'Autobahn', their biggest chart hit after 'The Model'. I'll be going alongside fellow fan Osymyso who graciously got me a ticket after the Great Tate Ticket Meltdown of last year. I, like many others, spent half a day fruitlessly trying and failing to get any joy from their phone lines.

The original album was released in 1974 but back in 1985 – after '82's No.1 success of 'The Model' and '83's 'Tour De France' single but the non-appearance of the aborted 'Techno Pop' album – 'Autobahn' was reissued and 'digitally re-mixed' with amended artwork. The back cover photo of the old line up in the back seat of their car (itself visually altered at the time to reflect the changing line up) was replaced entirely with a black and white live shot of the band from the mid seventies.
Aside from a new catalogue no. (Auto 1) there was virtually no other info on the sleeve, even the track titles were relegated to the labels on the disc despite a colour inner sleeve bearing the blue Autobahn logo inside on both sides. To my ears there is no difference in the audio at all, 'digitally remixed' probably being used for 'remastered' in this instance. The advert to the right was taken from a copy of Record Mirror from June 15th '85.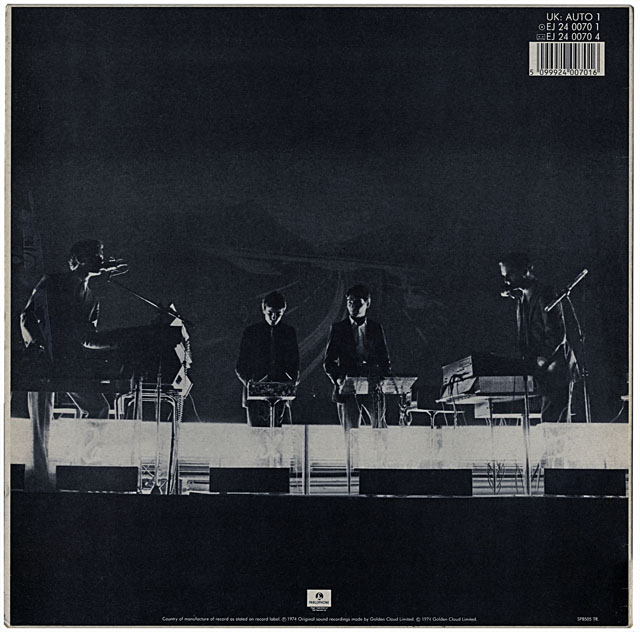 Here's the fantastic appearance they made on 'Tomorrow's World' around the time of the original release, check Florian at the end.