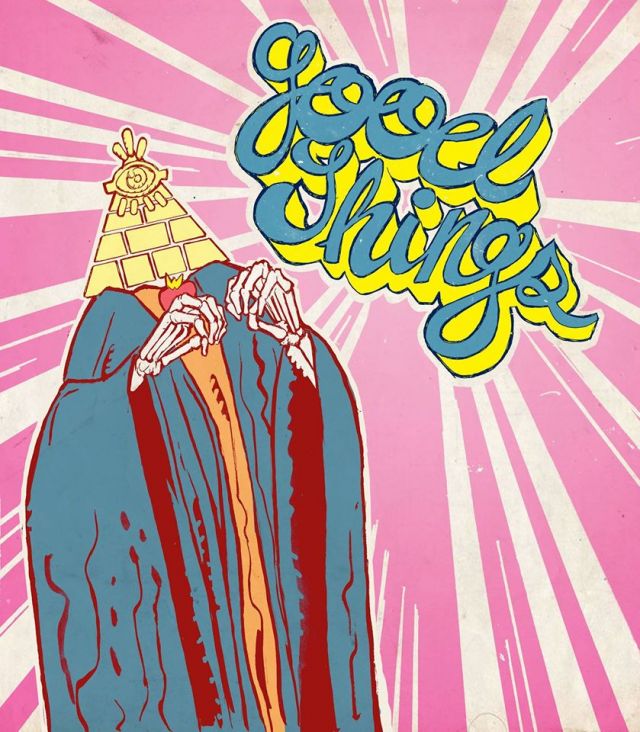 Long term Solid Steel fan, Megatrip, has long also been a comic fan and our friendship has included his sourcing obscure US publications for me and sending occasional packages over from the States that would cost a lot more had I procured them from the likes of eBay. In recent years he's also been writing and collating a project called, 'Tales To Enlighten', which has become a bit of a long-running joke in that it's been 'coming soon' for the last 2 years at least. Well, it looks like it may actually arrive soon, in not one but two volumes due to the amount of material that it's now grown to.
From the mail out blurb: "Volume one of TALES TO ENLIGHTEN is a 150-ish page story, titled "Shredding Through the Multiverse" with art by the amazingly talented James Edward Clark!  also featuring a hilarious back-up story by my good friend Dave Gordon… AND two fistfuls of tremendous pin-ups by the likes of Erwin Papa, Ben Mara, Jim Mahfood, Ken Landgraf, Mike Hoffmanand WAY more!
the story: Satan's Grandson and a reluctant killer robot murder their way across the multiverse in an effort to reach Enlightenment. Satan's Sado-Cult tries to intercept the duo and Amazon Warriors seek revenge…  Enter a Cosmic DJ / Space God that teaches them a better way of life through Peace, Love and Universal Brotherhood"

errrrr, please tale my money – he continues…
"TALES TO ENLIGHTEN volume two is another 150-ish pages with 16 stories by 15 artists (Tony Sedani pulls double duty!)… prequel stories and sequel stories.  A children's story about the murder of a 15-fingered dj. A wrestling story about a dimensional title match for all the marbles…  and story about Satan's Sorcerer, Doctor Outlandish and his Demonic Direct Drive Engine!
Artists from all over the world… Slovakia, Russia, Indonesia, United Kingdom, Spain, Denmark and Baltimore!"
If you want to know more you can follow Tales To Enlighten on Instagram, Facebook, Tumblr or sign up to their mailing list here