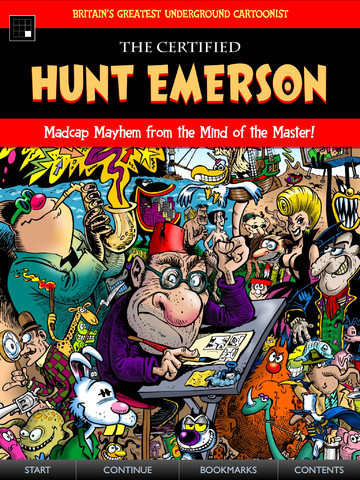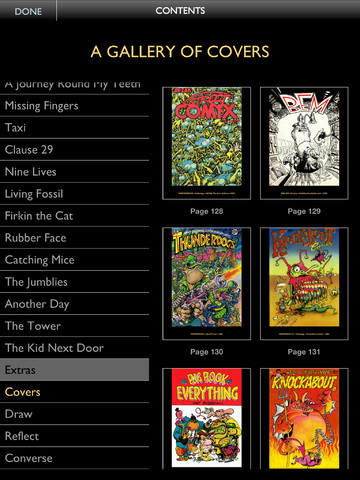 Hunt Emerson was probably the first 'underground' cartoonist I discovered. I was kind of aware of Robert Crumb from the Keep On Truckin' images that did the rounds in the 70's, Gilbert Shelton's Furry Freak Bros. comics were around and I'd been reading Mad magazine for a few years (not really the same league though). In my early teens my family would go shopping in Crawley, a large-ish town South of Gatwick airport, much bigger than the one I grew up in and with a better class of book shops. One such shop had early 'graphic novels' – more collections of comic strips back then – and one day in '84 I found 'The Big Book of Everything', an early collection of Hunt's work.
It was weird, surreal and the style was cartoon-y, like the Whizzer & Chips, Buster and Cheeky comics I'd read years back. But the humour was adult in places, definitely not for kids. The backgrounds changed in each scene and some strips broke the fourth wall and drifted off altogether. I'd never seen anything like it before and I loved it, my nearest frame of reference being Leo Baxendale's 'Willy The Kid' books which are the missing link between the aforementioned kids comics and Hunt's work.
It was also the first use of the phrase, 'comix' I'd ever seen, thereby alerting me to the fact that there was a difference. I'd go on to find the whole Knockabout line of books from here which then led me to the US equivalent of Zap Comix with Crumb, Shelton, Griffin, Moscoso, Williams and many more. But this was British, pure luck that I found that first, and there was Hunt on the back cover, staring down at me with a cocked eyebrow. Looking back at it now I see Alan Moore wrote the introduction, no big deal at the time as he was still a rising writer, a few years away from making his mark but his northern humour perfectly suited Hunt's style.
Now there's a new collection of Emerson's work, 30 years after the 'Big Book of Everything' (96 pages for £3.95), and this one's available for the iPad via Panel Nine at £2.99 for 200 pages (some mistake there, surely?). 'The Certified Hunt Emerson' contains 27 strips, covers, notes and an audio commentary from Hunt plus a panel mode that means you can zoom into each individual panel and read it like that if you wish. If you want an intro to his work, an overview of one of the UK's premiere underground comic artists with material that would cost you hundreds of pounds to track down then this is a steal. If you like humorous strips that deal with jazz, sex, TV, rabbits, unexplained phenomena, sin, cities, cats and some of the world's great classics reinterpreted then this is for you.
P.S. Hunt also did the 'Beat Girl' logo for The Beat back in the late 70's as well as their Go Feet label identity, first LP cover and this little Beat-mobile.