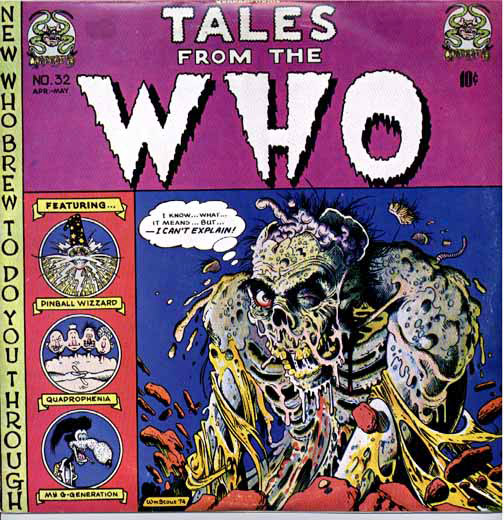 A second reading of Clinton Heylin's excellent 'Bootleg: The Secret History of the Other Recording Industry' book led me to these covers and I remember seeing a few at record fairs over the years so decided to investigate and post a collection of the best here. As I dug even further into their history it became apparent that one artist was responsible for almost all of them – William Stout – and mostly for one label too.
I was aware of his work from several different underground comix in my collection but didn't realise how versatile he was as an artist, able to switch styles to suit different subject matter, hence why I thought the covers were works by different artists. For instance, who would associate the Rolling Stones style above with the Spicy Beatles one below? But they're from the same hand. One of Stout's visual calling cards on the bootlegs was to turn some of the artists he was illustrating into pigs, to tie them to the pig logo of the label (which he later redesigned as a smoking, bespectacled pig which became the logo for a breakaway label).
Originally working almost exclusively for the Trademark of Quality company originated by 'Dub' and 'Ken' out of LA in the early 70s, he gained a wide audience through his sleeve art and went on to illustrate many more, sometimes for legitimate releases by the very artists his images were covering the first time round. Later he moved into film posters and concept art and still works today.
His website has a fascinating three-part interview about these times, extensively illustrated and peppered with personal photos of many great musicians from back in the day, taken backstage at numerous gigs. His comments about the reality of pre-stadium rock gigs back then are especially illuminating.
And on my trawl I found a few, later examples that aren't by William but are worthy of inclusion …