It's a pretty big week for the UK comic 2000ad – this Friday the film Dredd 3D officially hits cinemas in the UK, based on the anthology's lead character, Judge Dredd. The day after that the 35 year old publication hits no. 1800 with a whole host of new stories beginning for readers who want to jump on board. Not only that but the sister mag, the Judge Dredd-related Megazine bumps up its page size and includes concept images from the film as well as an exclusive prequel comic to the movie drawn by none other than… regular readers of this blog will know the answer… Henry Flint.

Being that I've read the comic since I was 8 years old and have stuck with it every week, through the printers strikes, the mergers, the format changes and the lean years when a lot of the original creators went to the States to seek fame and fortune (and better deals), this is a very big deal. I'll be celebrating this nicely timed piece of synchronicity this week with a series of related posts leading up to the big weekend of Thrill Power.
First up I'm digging in the archives for some vintage artwork from the first golden period of the comic. Some of you may remember me posting the original artwork for Kevin O'Neill's 'Tube Warrior' last year, which is one of my most prized pieces of original comic art. That was the black and white line art but it appeared on the comic's cover in full colour.
Enter Steve Cook, from the already legendary Secret Oranges blogspot, which amazingly celebrates it's 1000th post this week. His collection of original production art is vast and we were going through a pile of images at his studio when the colour version of the same piece appeared at the top of the pile. Knowing that I had the original, and probably seeing me trying not to completely freak out in front of him, he graciously presented it to me for my birthday, for which I am eternally grateful. Note the header for the 'Galactic Olympics' booklet which was a fictitious games with things like 'laser slalom' as I remember.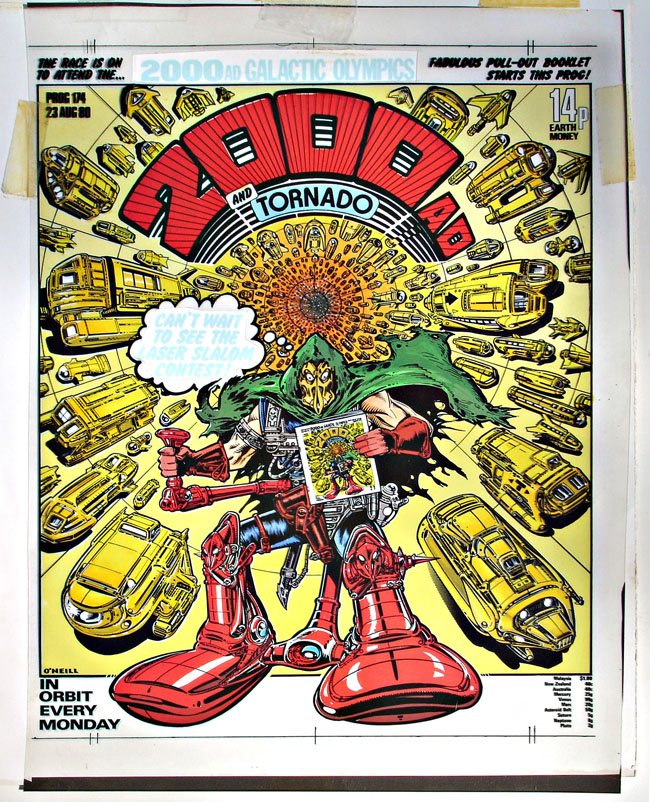 2000ad Prog 174 cover production art, 1980.
Illustration: Kevin O'Neill – 'Tube Warrior' Colours: Tom Frame
(300 x 230 mm, black line art acetate overlay, paint on paper).