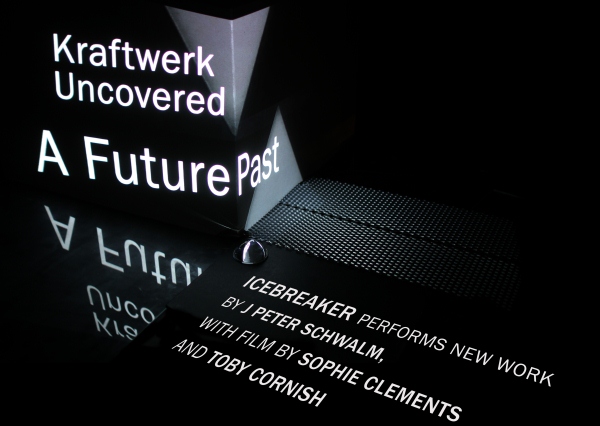 I went for a rather unique night out at the Science Museum on Friday, with fellow 'music enthusiast' Mark 'Osymyso' Nicholson no less. We were there to hear J. Peter Schwalm's reinterpretations of Kraftwerk numbers with the group Icebreaker in the IMAX theatre. Being a fan, and also a collector of cover versions of the band, it was a perfect evening out.
Kicking things off was a talk by David Toop, certainly one of my favourite authors where anything musical is concerned, his 'Ocean of Sound' is one of the best books I've ever read on electronic music. He didn't dwell on the obvious, and pointed out that so much has already been said about the band that it was pointless to reiterate the carbon copy CV that the music press routinely trot out. Instead he attempted to recontextualise them by asserting that their roots were that of an R&B band. Citing The Isley Brothers as a parallel outfit in a clever, if somewhat unconvincing, set of examples he also made a sonic connection with the earliest incarnation of the band (and their pre-Kraftwerk ensemble, Organisation) and the electric era of Miles Davis' career. There were certainly similarities that I'd not considered before with this latter example but I wasn't totally convinced with the former.
Thinking about it later I deduced that a better pairing might be Frank Zappa with Ralf & Florian – think about this for a moment:
Frank was influenced by classical composers like Boulez as much as the psychedelic rock underground but was never too keen to toe the line and be a part of a movement.
Zappa's Mother's of Invention were a rag bag jam band with a rotating line up of players with expert musical chops.
Zappa was a control freak who loved experimenting with the latest technology, quickly manouvering himself into a position with his label where he had full control. His early freak out experiments slowly streamlined into various concept records and, eventually, he went on to have commercial success too.
During the CD boom he went back to old master tapes and re-recorded new versions and parts of old songs with new inventions like drum machines and the Synclavier, replacing the original versions with new ones that he deemed superior (much to his fans' dismay).
He largely left his past players behind but became a cult figurehead from a musical movement that stretched out to influence new generations after him.
All the above could be applied to Kraftwerk at one time or another – for instance, just substitute Boulez for Stockhausen in the first example and we're off, but I digress…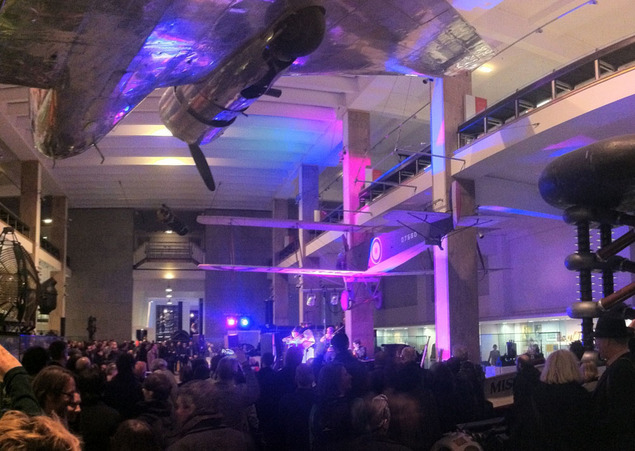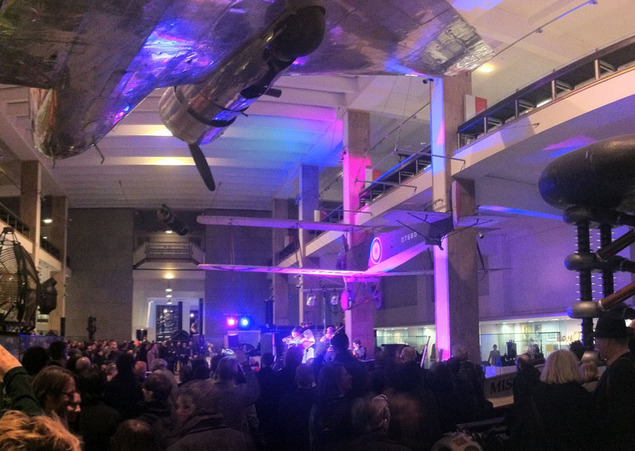 In one of the main halls we filtered amongst the exhibits to hear The Balanescu Quartet play some of their versions of the band's repertoire beneath a hanging bi-plane. As one of the first bands to release a record that heavily played on the fact that they had covered Kraftwerk it was fitting that they were on the bill, playing pitch-perfect versions of The Model, Autobahn and The Robots in a unique setting.
Then it was in to the IMAX theatre for the main event – Icebreaker – a 13 piece with two keyboard players flanking Schwalm in the center. Not as polished as Balanescu but more in keeping with the spirit of the works they were interpreting. They'd chosen an interesting set of pieces, some recognisable, some just reminiscent of – or influenced by – the Kraftwerk originals. It was a treat to hear mostly early to mid 70's tracks, the sole 80's inclusion being 'Home Computer' at the start. 'Megahertz', 'Tanzmusik', 'Hall of Mirrors' and a beautiful 'Morgenspaziergang' from the B side of 'Autobahn' were tackled, ending with a 'driving' (pun intended) version of the motorway classic which had me lulled into a semi-sleep before kicking in for a motorik finish.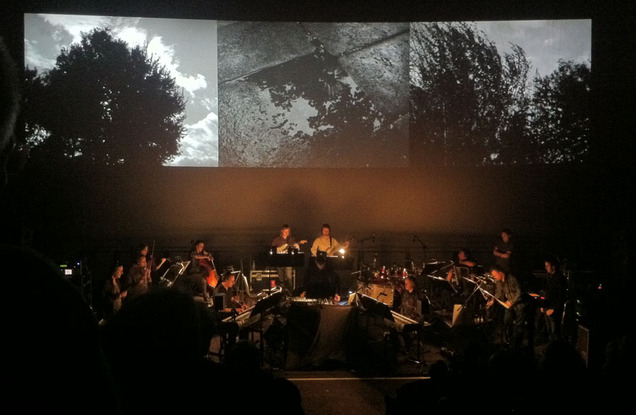 We both really liked it and the performance was heightened by the split screen, black and white films of Sophie Clements and Toby Cornish that accompanied them. My only criticism was that it seemed too short but, altogether, it was a satisfying night out in a different venue, hearing old favourites in new contexts. The band are on tour in the UK in February and I'd recommend checking them out if you have a chance. More info here.