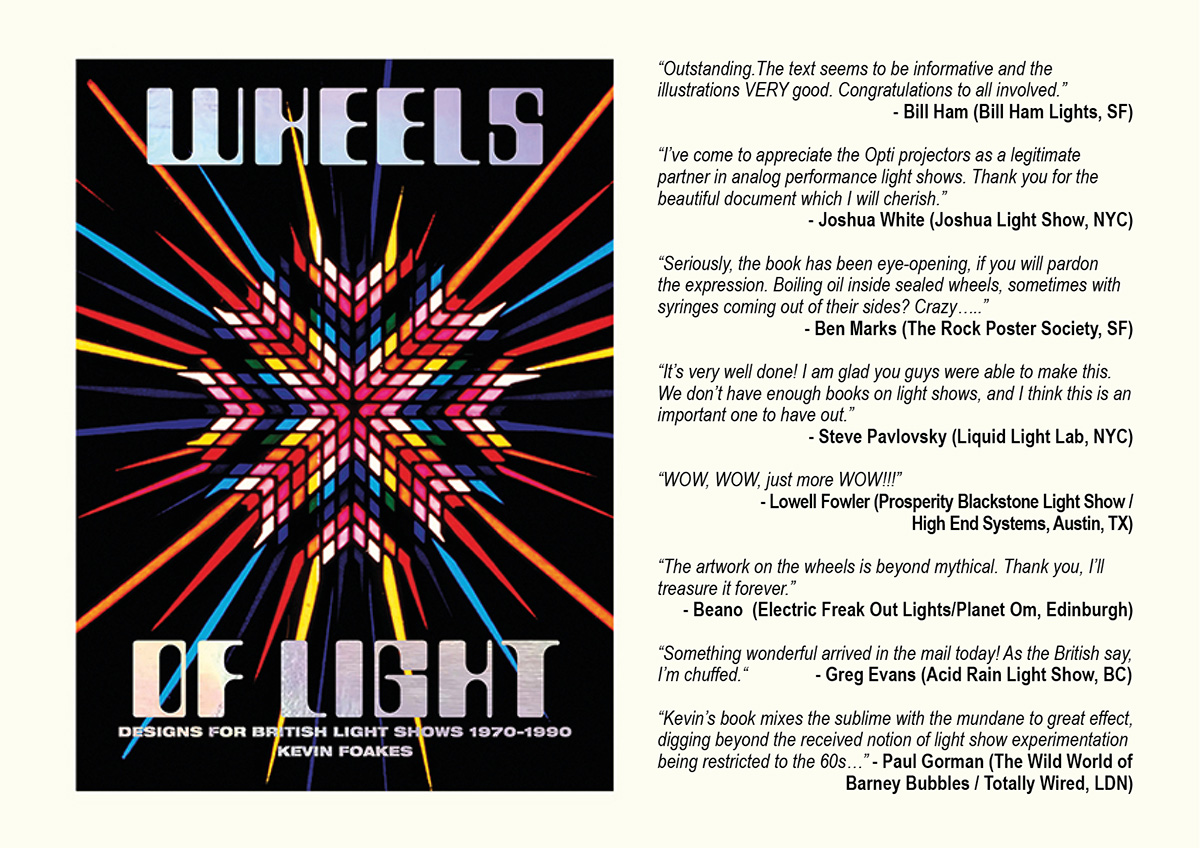 We've been getting some great feedback from some very big hitters in the light show world for my book. If you don't recognise some of the names above, that's OK, this is a light show community-heavy list. Bill Ham practically invented the psychedelic light show in SF in 1965, Joshua White wasn't far behind and lit the Filmore East in NYC. Ben Marks runs the Rock Poster Society and his review of the book was the most in-depth yet. Steve Pavlovsky of Liquid Light Lab is one of the new generation of light show practitioners who are keeping the old school flame alive in NYC with an excellent YouTube channel. The others are noted light show pioneers or light jockeys, aside from of course, Paul Gorman, who has written many books on different aspects of pop culture including The Wild World of Barney Bubbles which has just been republished.
If you want to grab a copy for a friend or family member over Xmas you can either get it direct from Four Corners Books or check out these stores who should have it.
London
Book Art Bookshop / Cafe Oto / Donlon Books / ICA Bookshop / Iklectic / Koenig Books Serpentine / Koenig Books Whitechapel Gallery / Rough Trade / South London Gallery / Tate Modern TERRACE SHOP / Tender Books
UK/ROI:
Bookbag / Magalleria, Bath / Rova Editions, Bristol / Colours May Vary, Leeds / UNITOM, Manchester / Left for Dead, Shrewsbury / Temple Bar Gallery, Dublin
Online:
Am*z*n (although please support indie book shops first) / Book Depository / Counter Print / Guardian Bookshop
There have also been features in Shindig!, The Observer, Moonbuilding, reviews in Creative Review and Electronic Sound with a few more yet to come.