This weeks entry is another special guest post, this time by Markey Funk and Ofer "Schoolmaster" Tal with not one but two picks…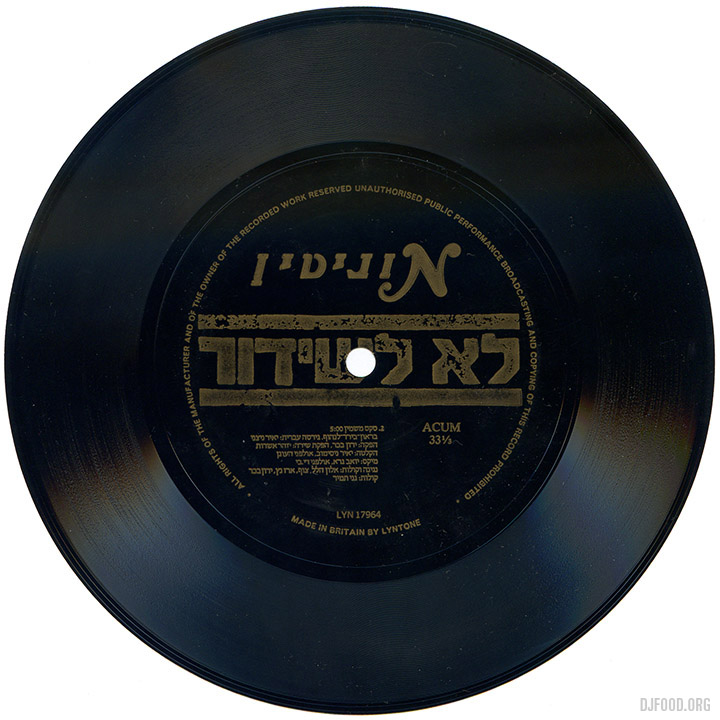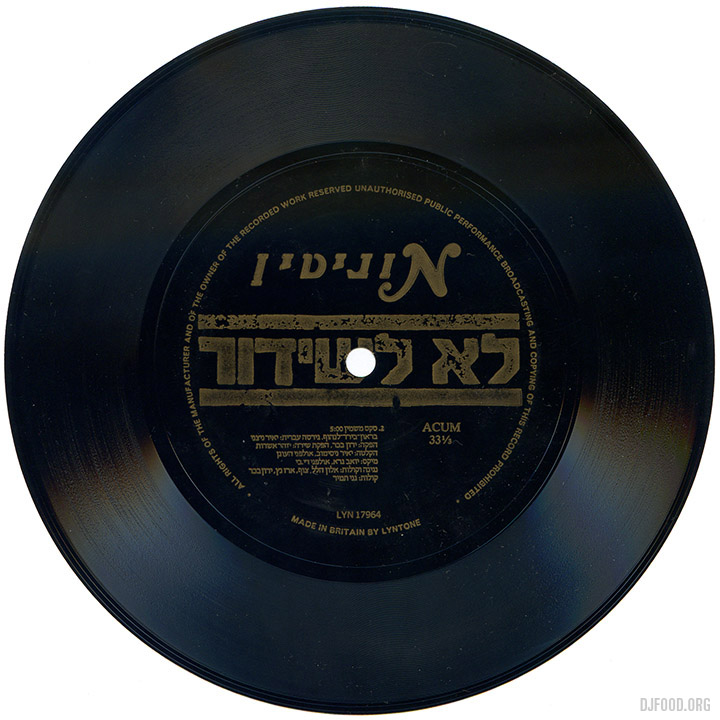 'Hashem Tamid' / 'Sex Mashmin' (1986, "Monitin" magazine, Israel)
Despite having a well-developed music industry since the early 1950's, Israel has a very tiny flexi heritage. None of the major record-pressing plants had a proper technology for production of flexi discs. Working with factories abroad made the process slightly expensive for a record that was supposed to be a free bonus. Nonetheless, the 80's saw quite a few well-known flexi releases in Israel, including an Agfa-sponsored single by Ofra Haza in 1984, a famous Burger Ranch (local fast-food chain) "menu song" lottery, and this special oddity. The story of this weird record goes like Ariadne's thread through the very labyrinth of the Israeli 80's popular culture, connecting its distant corners:
In 1984, Yair Nitzani, a keyboard player and songwriter for the extremely popular nonsense pop-rock band T-Slam, joined the cast of "Ma Yesh" – one of the most popular entertainment radio-shows of the decade. He impersonated an eccentric and slightly controversial character – Hashem Tamid (a word play on arab name Hashem, and common Jewish phrase "God is always with you"; check out Coen Brothers' "A Serious Man" for a clearer reference) – an arab that tries so hard to assimilate in the higher levels of the Jewish Israeli society, that in the end converts to Judaism. As a side-kick for the radio-show, Nitzani released a few songs by his character. His first song – "Hashem Tamid" – a humoresque "Celebration Rap"-style tune, became, in fact, the first rap song in Hebrew. The music video for the song was broadcast on Israeli Channel 1 in prime-time, which quickly turned it into a major hit, which was even voted a song of the year!
The song was released in minor quantity as a promo 12″ for local radio stations, but became available to public only on this flexi disc, which came as a bonus with the monthly lifestyle magazine "Monitin" ("Reputation") – a sort of "light" take-off on Penthouse.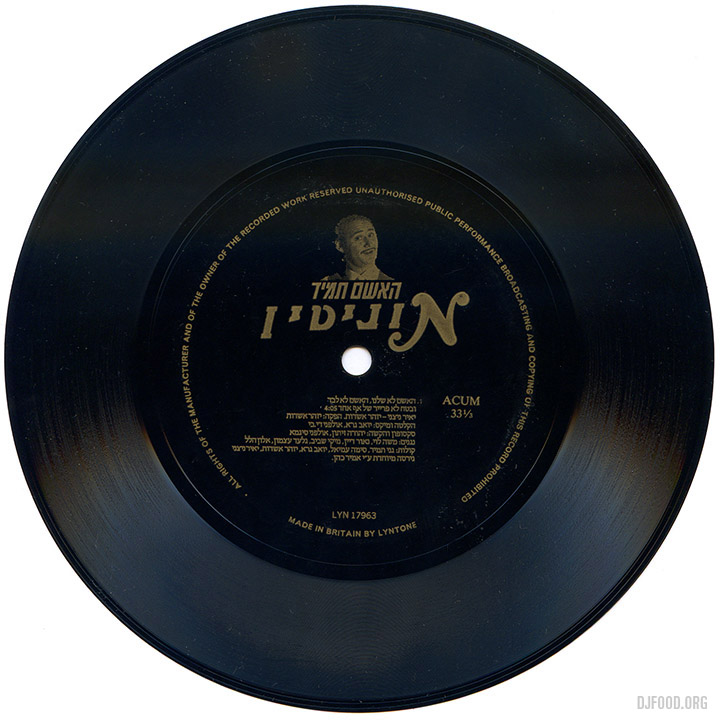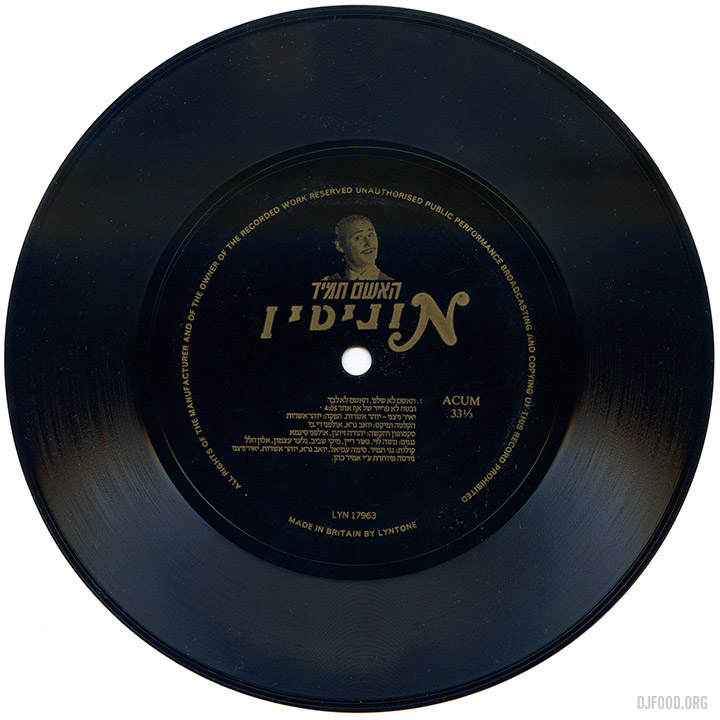 The title translates for "Hashem isn't ours, Hashem is not alone, and is surely not anybody's sucker." Actually, this wasn't even the original version of the song, but a remix!
The single was backed by even weirder B-side: a crazy Hebrew take on James Brown's "Sex Machine" – "Sex Mashmin" ("Sex Makes You Fat"), with sloppy and sleazy lyrics and a heavy oriental accent:
The label says "not for broadcast", I guess that's because of the content of the song, but the song never had any radio play for a different reason. Both tunes from this flexi, with an addition of some more songs and sketches were collected on a cassette. However, except for a minor run of promo copies of the title song, none of the rest of this material, saw a proper vinyl or CD release. "Sex Mashmin" got pretty much lost between the pages of the magazine, leaving it a "joke that never shot".
Here's also a poster from the same issue of Monitin, which says "Not for broadcast. The song that's forbidden to play on the radio"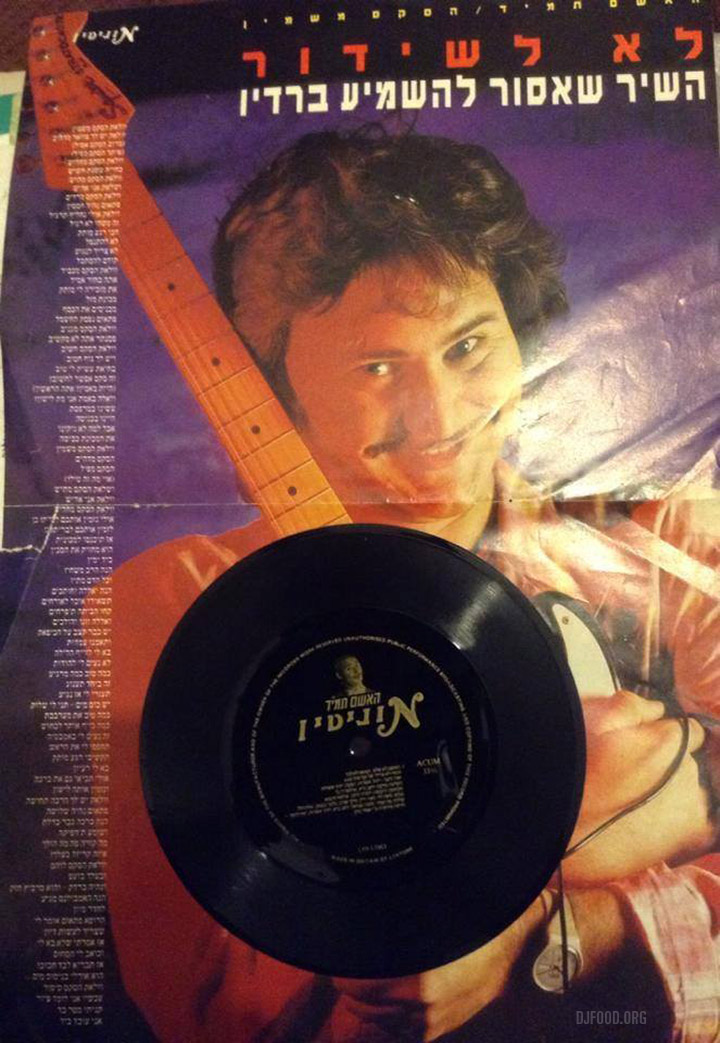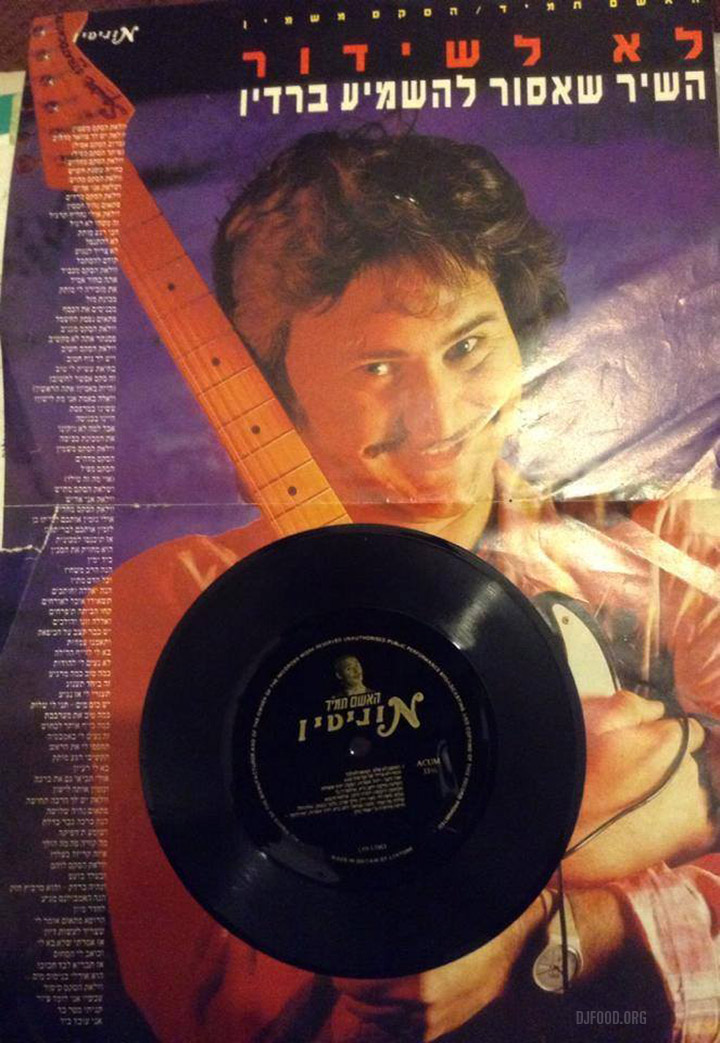 Photo by Beit haTaklit, Ramat Gan
Later, Yair Nitzani became a CEO of the major recording company – Hed Artzi. Among his achievements was Ofra Haza's major international breakthrough with a mixture of Yemenite songs and modern beat. The first real hip hop record came out in Israel only in the early 90's…
As a special bonus – and because Avengers 2 just opened and it's Free Comic Book Day this weekend – Markey has dug out another weird treasure from his collection: the 'Scream Along With Marvel' flexi by the Merry Marching Marvel Society which features the theme song for the 1960's cartoon 'The Marvel Super Heroes'.
I'd say it's merits lie in the cover art more than the music but who am I to judge?
Markey is about to embark on a European tour, starting with The Apples in London on May 4th, and then going solo later in the month, catch all the details on his Facebook page.