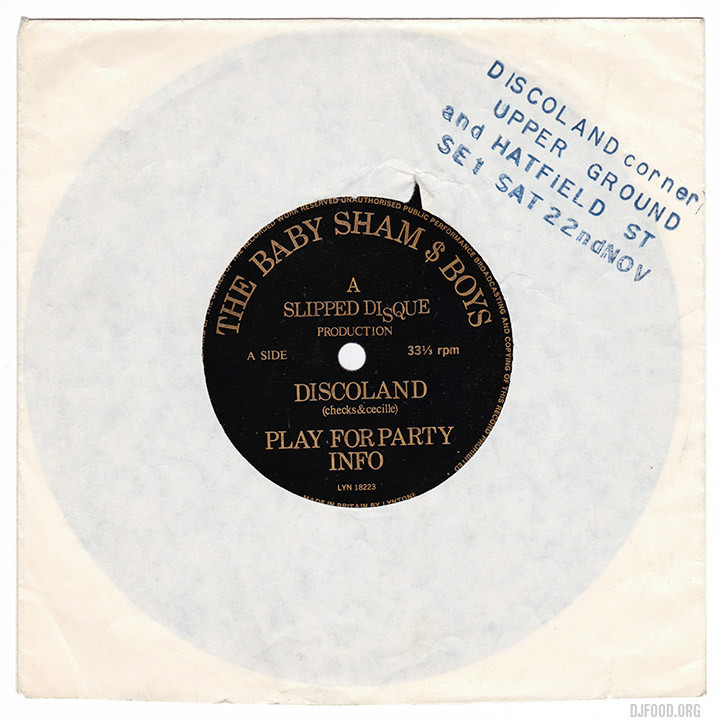 This week it's a triple flexi shoot out with Coldcut's Jon More returning to add a gem from his collection to the selection and it's taken a fair bit of research to piece together some of the info here. Two of the discs are adverts for party nights around the capital highlighting a particular trend for distributing information about underground or illegal dance music in the 80s and early 90s. All are unintentional comedy gold in part as well.
We'll start in chronological order with Jon's contribution: 'Discoland' by The Baby Sham $ Boys (the name says it all) for a party in Blackfriars, London from 1986 from what I can tell by tracing the date and by the clubs, DJs and artists mentioned. Jon remembers, "I may have got this when I worked at Reckless (secondhand record store in Soho) – I have a vague memory of someone dropping a pile off… I did not go – a decision that was easy to make after listening to the "advert"…."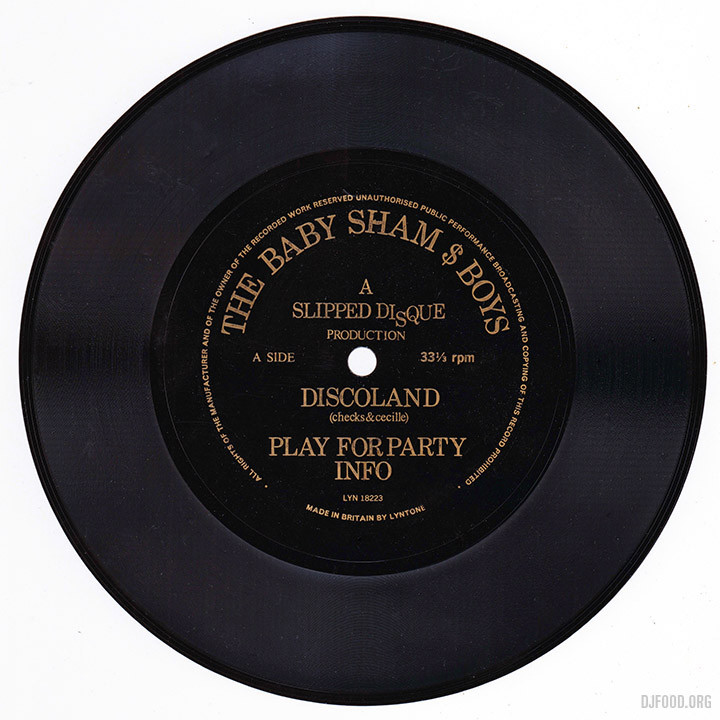 Terribly sung and narrated over The Floaters' 'Float On' we have sex, drugs, geezers, innuendo and the worst French accent you ever heard. Narrator Robert introduces organiser Mark and DJs Chris, Little James and Simon (Pew?) in a line up that just screams 80s, mercifully there's no B side.
A recent discovery of mine in an East London record emporium – where the (young) cashier looked at it exclaiming, "what is it?" – was this party invite on a flexi. Simply entitled 'Party' this 1-sided disc, complete with London Records logo, is a comparatively slick production featuring rapper E-Mix giving details for a jam on Saturday 12th Sept, 1987 over Public Enemy's 'Timebomb' instrumental.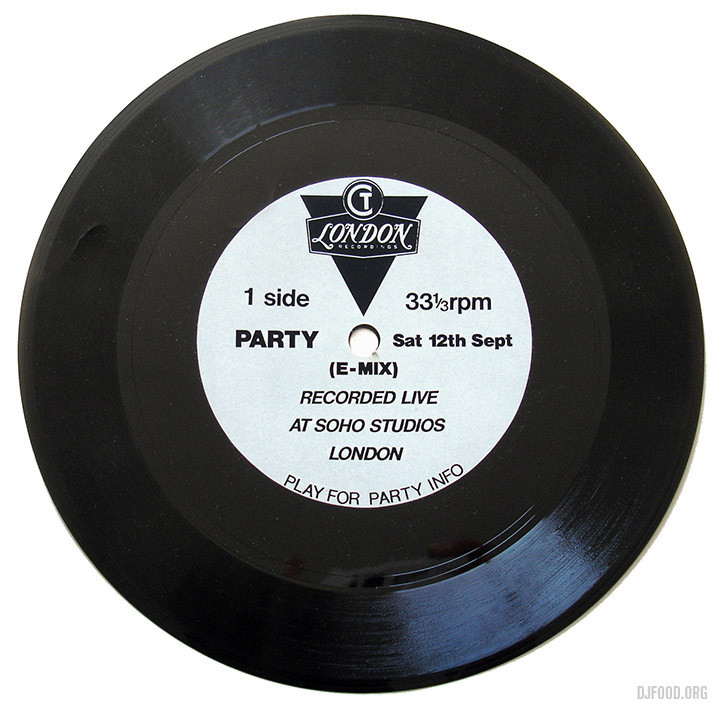 It seems to be for an illegal party featuring DJs Jazzie B, Ratchet, Mark Moore, Ben Jones, Little John, Milton Checkley (sp?) and Roots (the same one as featured on early Ninja Tune records maybe?). There's a CT logo above the London one, was this the party name or venue? E Mix calls out, "CT getting busy now" at the start and the venue is quoted as "next door to Bill Sticker, not the big route 'cos it is too suspicious" and "be there dead at 11, don't make a queue, remember, this is an illegal do". Again tracing the date back it seems that this comes from 1987 which would make sense with the names and the Public Enemy backing track.

The final flexi has literally no info on the clear disc itself aside from 'Orlake' (this will be the pressing plant it was made at) and 'Sturflexi' (the catalogue number) scratched into the run out. I got this many years ago, thrown in as part of a trade with another collector and, through the magic of Discogs, managed to find out what this gem was. Apparently it came free with an issue of UK magazine Generator and was worth the punt as it's certainly unique.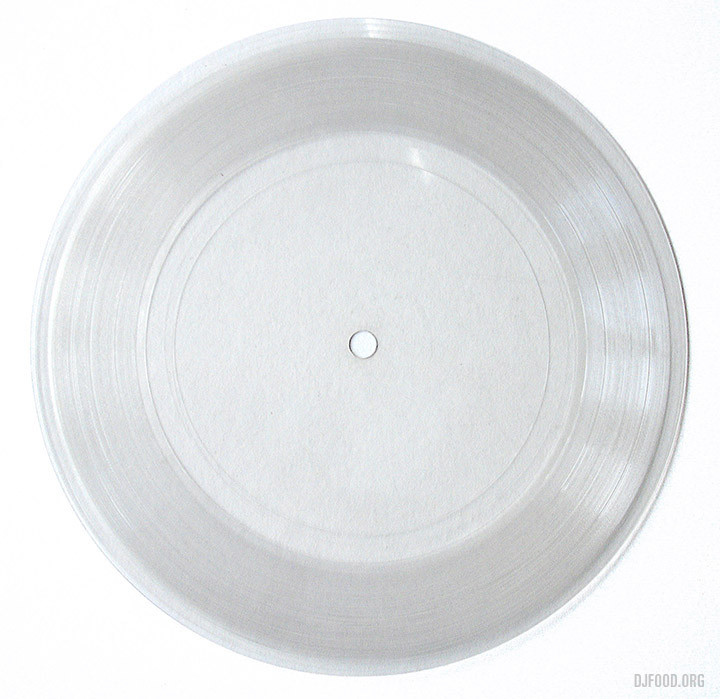 Two sides of adverts for compilations with side A featuring two ads for The Sonic Experience – Def Til' Dawn (1993) on Strictly Underground Records. This contains recordings of people and police from raves in between tracks, sounds professionally made and I'm pretty sure I heard some of these on Colin Dale and Colin Favor's KISS FM shows in the early 90s.
The B side contains three ads for compilations on Strictly Hardcore, (a subsidiary of Strictly Underground) Illegal Rave (1992), Illegal Rave II (1993) and Illegal Pirate Radio (1993). In comparison to the flip these ads are just two geezers (presumably label owner Mark Ryder and someone called John or Kev) waxing lyrical about the records, flipping through the tracks as friends would in bedrooms around the nation. The fact that the words 'strictly' and 'kev' were included was not lost on me and I cut this up at the start of a Hardcore mix I made around 2004.
Never one to pass up an opportunity to advertise their wares, the advert for Illegal Rave was included at the end of the Illegal Rave II compilation, another was featured at the end of the later Illegal Pirate Radio II comp and The Sonic Experience featured the ad for Illegal Pirate Radio.
Apparently there was a sleeve for it which may have helped me put together some of this info a bit quicker, this post hast taken up far too much time!