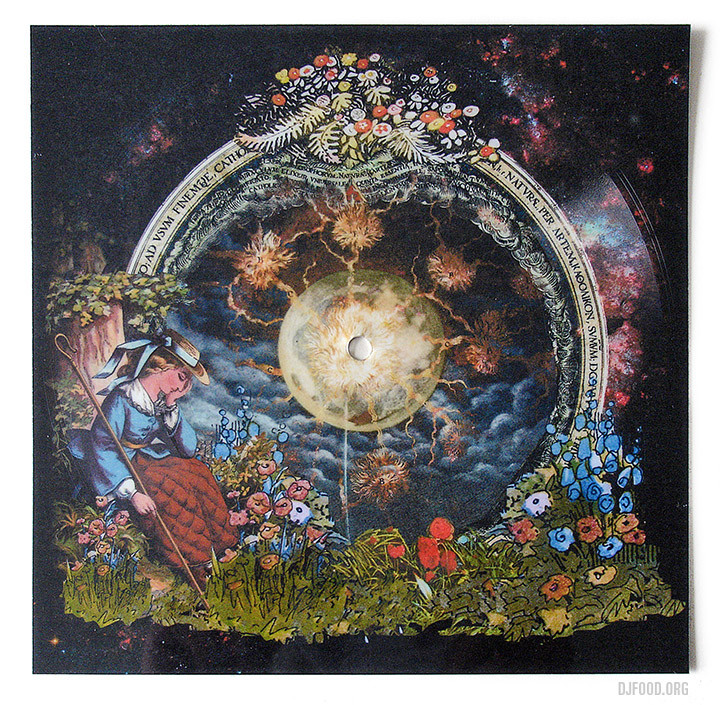 This being the night before Christmas it makes sense to have a festive-themed Flexibition entry this week. It should be the last one being week 52 but there will be one final post next week with something I've been saving until the end. First up here and now though is last year's 8″ Xmas audio postcard from People Like Us, 'Dreaming'. Each were individually lathe-cut on laminated cardboard in a tiny edition by the good people at Hasenbart in Germany with artwork by Vicki Bennett (full colour printing on both sides, stamped on the back, audio on the front side). Only produced until Dec 24th and then deleted forever. The previously unreleased Dreaming was a new edit of a plunderphonic collage of several versions of a well known Christmas tune (originally dubbed over selected horror film samples) and was part of a People Like Us live performance entitled The Magical Misery Tour.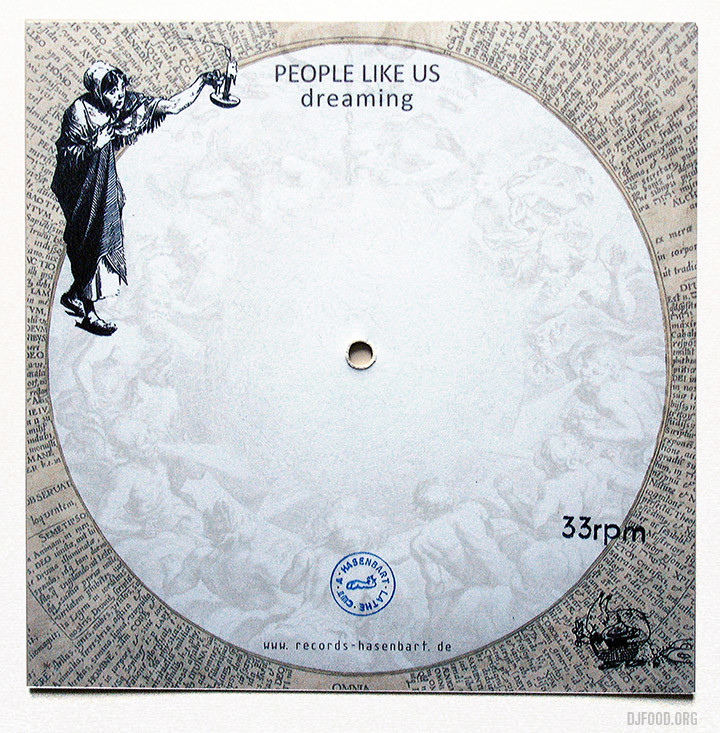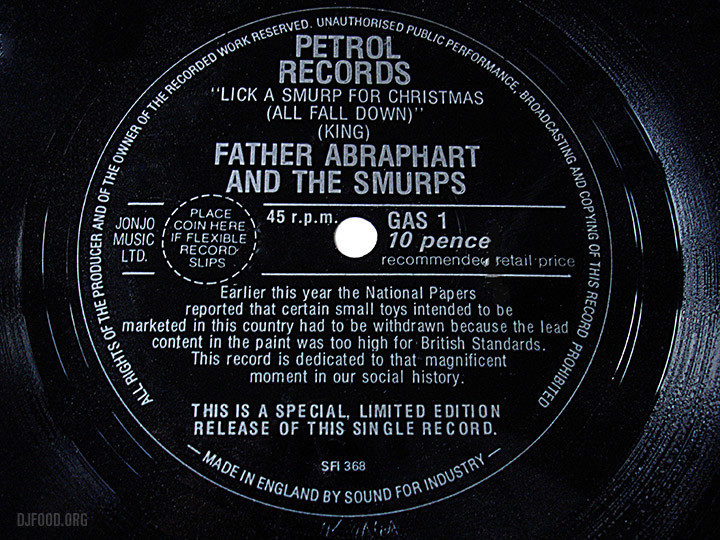 The next flexi is one of the weirdest in my collection with an even odder back story. In 1978 Jonathan King made a record commenting on a story that the paint that Smurf toys were being made with contained high levels of lead which led to their withdrawal from sale for a while. Naming himself 'Father Abraphart' and misspelling the Smurfs as Smurps so as to avoid a legal situation the innocently sung ditty was a little more subversive than it first appeared, encouraging kids to 'Lick a Smurp For Christmas' after it was reported that the lead levels in the paint had been causing children to be taken ill when putting them in their mouths.
Originally given away at petrol stations (where you could also get free Smurf toys as special offers) it has the GAS 1 catalogue no. but was later pressed as a regular vinyl 45 on Magnet Records and made number 58 in the UK charts. Only someone as odious as King could make a song wishing for kids to 'all fall down'. The song isn't currently on YouTube but you're not missing much to be honest.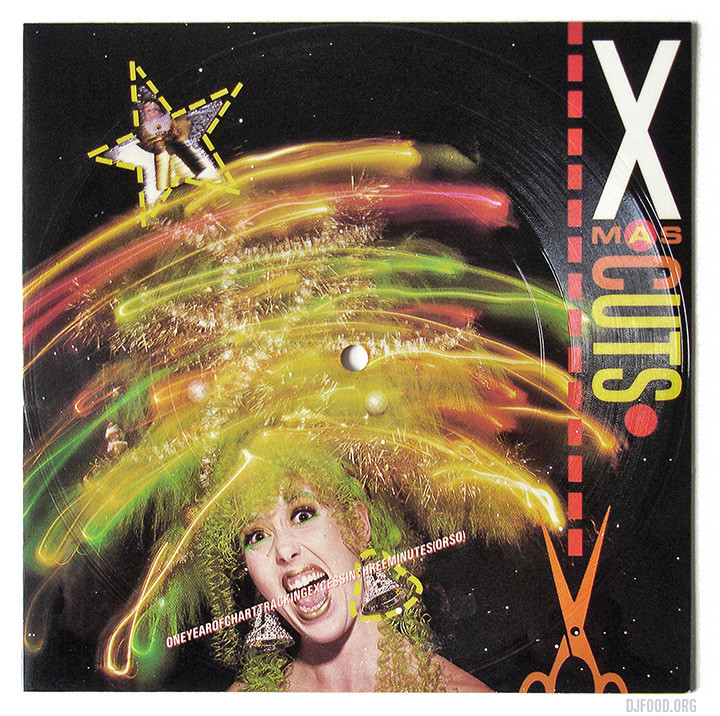 'Xmas Cuts' may just be the most 80s-looking piece of graphic design I've ever seen. This was a playable Christmas card from the Island Records stable of sub-labels: Stiff, ZTT, Ensign and 4th & Broadway sent out to DJs at the end of the year. It's a three and a bit minute megamix of many of the label's hits from 1984 using Frankie Goes To Hollywood's 'Relax' as the foundation and might just be the sloppiest example of the genre yet. Remember, back in '84 the megamix was still a fairly new thing and few outside the US had perfected the art, certainly not inside the three minute mark with 29 tracks in the mix anyway. The mash up is credited only to 'The Lexington Posse' (Lexington Street in Soho maybe?) and I'm guessing it would have been done with a mixture of turntables and tape edits. My copy is pretty battered with jumps and scratches I'm afraid but it's a curio worth hearing.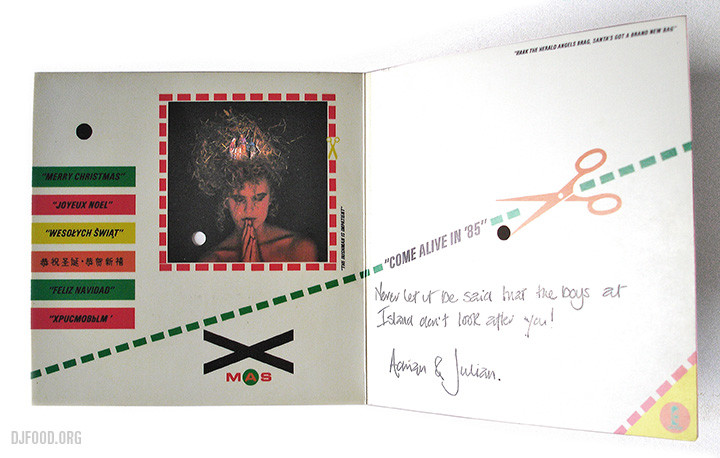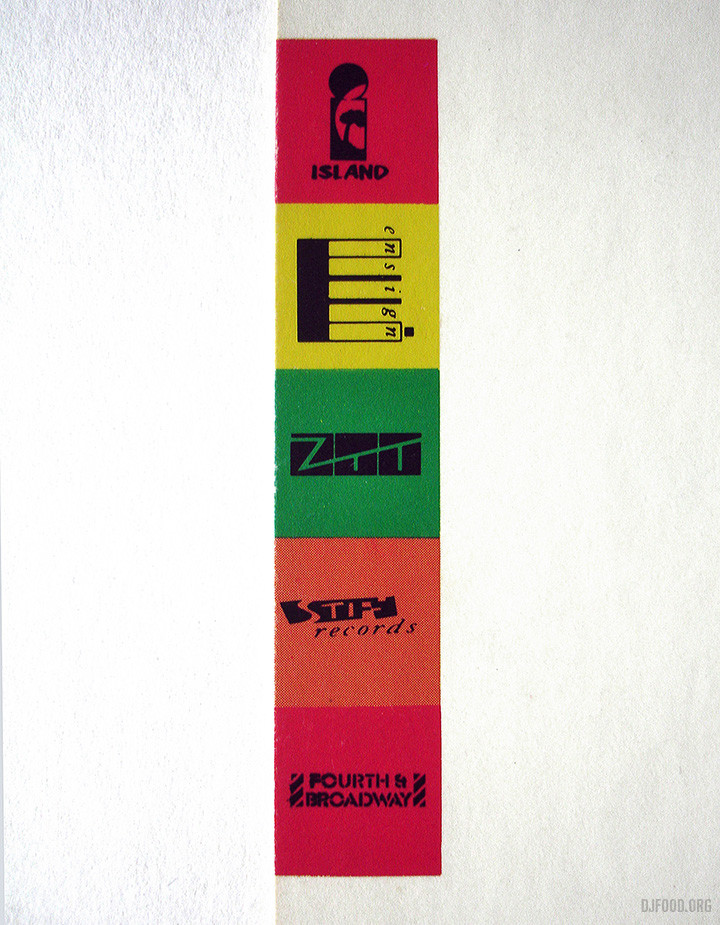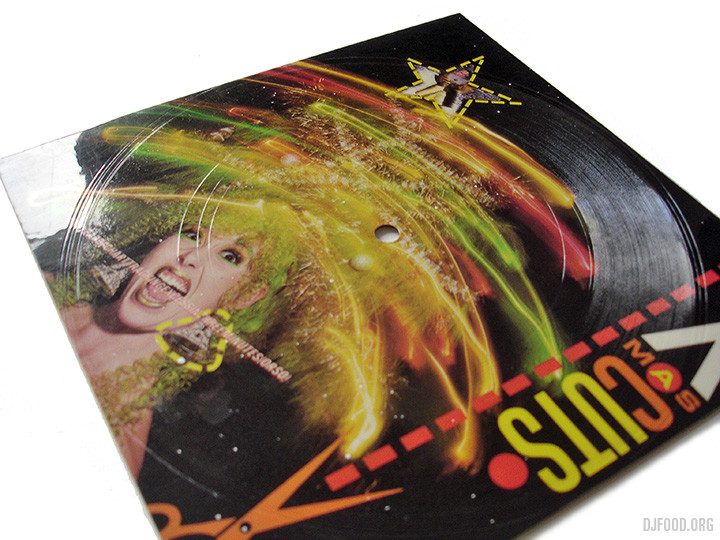 As it's Xmas I should just mention some of the most famous festive flexi's out there, The Beatles' Fan Club Christmas records – none of which I have incidentally – but which are renown for their creativity and behind-the-scenes look into The Beatles mucking about in the studio. They were sent out to the UK and US fan club members at the end of each year between '63-'69. You can chart the band's career through the years from the stilted boy band at the beginning to the jolly japes of the Sgt. Pepper era, the sound collage and FX-scapes of the '68 disc is a real highlight and was edited together by none other than Kenny Everett. There was some really nice cover art of some of them too which you can see in the YouTube clip.

By the end the cracks are beginning to show though as John alludes to 'some of my beast friends' not getting on too well with Yoko and there's a Tiny Tim cameo that takes up a bit of the '68 recording. The final disc is pretty depressing listening as you can hear the band falling apart, it's mostly John & Yoko controlling the show with interjections from the other Beatles intercut, seemingly from elsewhere, the Python-esque camaraderie of the mid-sixties totally gone. Some kind soul has compiled them all on YouTube which will save you a lot of time and money as, to the best of my knowledge, these haven't been officially reissued aside from one song on the Anthology years ago.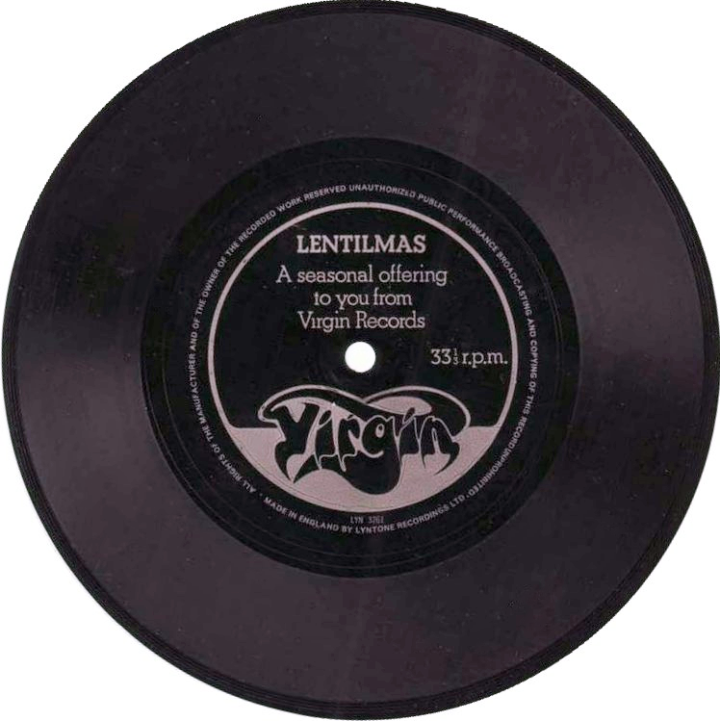 And finally to a mysterious – and sometimes very expensive – Xmas flexi disc that some believed involved The Sex Pistols at one point. That myth has largely been debunked in recent years as the mega-rare 'LENTIMAS' one-sided flexi with Christmas card is a freebie that was given out to journalists with the message, 'A Seasonal offering to you from Virgin Records' in 1975. There's nothing to suggest the Pistols are anywhere near it with a hippy message about lentils making you go at Xmas interspersed with carols and snippets of Ras Michael's 'Run Come Rally'. It sounds more like a Kenny Everett or Python sketch and, ironically, Graham Chapman pops up at the end. There's also the cynical sound of cash registers ringing over Phil Spector's Xmas massage which is the only slightly punk aspect about it.