Not only did I have 3 artwork deadlines to finish by Friday, 2 gigs at the weekend and the usual family responsibilities but no sooner had one of my sons got over a bout of chicken pox than the other one caught it. Cue more sleepness nights, creams, medicines, doctors and eventually a visit to A&E and an eye doctor as the pox had clustered around his eyes and we feared infection. It turns out he is now out of the woods and is thrilled with his new Prowl Transformer toy (the Ninja Autobot no less).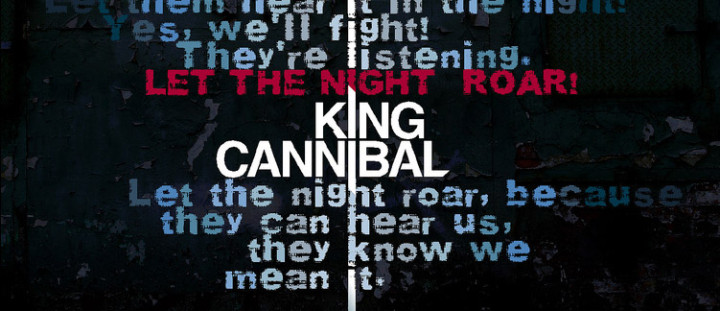 The artwork deadlines were for promos for the new King Cannibal album and single on Ninja and The Herbaliser's Session 1 & 2 release on !K7 and I definitely bit off a bit more than I could chew with King Cannibal (no pun intended). The initial image idea had been to create a mass of intertwined bodies, all covered in latex, gas masks, bondage gear and the like (made for some interesting 'research'). Whilst putting all this together I came to the conclusion that this needed something more and sitting at the table casually talking with my wife about seemingly unrelated events, I got a vision and knew how I could make the image better. Two outer rings of machines and photos of the earth from above would encircle the latex bodies like a darker, industrial take on Mati Klarwien's painting 'A Grain of Sand'.
I find I get a lot of ideas doing very mundane things (not that sitting talking to the missus is mundane you understand),  – making the tea, tidying up, going to the toilet – anything but sitting in front of a sketchbook or computer. I've not looked into it but there must be some subconscious brain activity churning around in the background whilst you take a break, your work is pushed to the background whilst you are forced to concentrate on a different matter at hand. Whilst it's still there it can be seen in a new light and connections are made which are not immediately obvious when solely concentrating on the subject. I get similar things when conversing with other like-minded people on projects, there seems to be cerebral gameplay with some where the mind goes into a sort of idea-jamming one-upmanship. Thoughts get tossed around, built upon and discarded in quick succession and ideas you would never have had on your own are suddenly the basis for your next project.
But I digress, now that this vision had manifest itself in my mind the only thing to do was go back to the drawing board and start adding to the artwork at hand. I often find this happening, something is adequate but a flash of inspiration can make it better or even brilliant and I am helpless to ignore it and go for the easy option. A week later and I'm sitting at the computer at 3am, literally falling asleep at the mouse, with a 1.4GB image file comprised of 180 layers and the machine is seriously struggling to do what I'm asking it. I'm pretty happy with the end result, even though it's still not quite finished, and you can see a portion of the image on the front cover of the first single from the new album 'Let The Night Roar' – Colder Still. Or it would have been Colder Still had Ninja not had a change of mind after I had submitted the artwork and changed it to So…Embrace The Minimum – gahhhh!
Anyway, all this at least gave me time to change little details on it whilst I got on with finishing The Herbaliser's artwork for Sessions 1 & 2. If you're not familiar with the Session 1 album there is good reason as it was recorded nearly 10 years ago and not released on Ninja Tune but on the Herbs' own Dept H which was distributed by the now defunct Beechwood Music. This was a live album of various cuts from their first three long players in the form they'd been playing as a full touring band and was fairly limited at the time, going on to command high prices. Now the band have recorded a follow up with material from the last three albums and !K7 are reissuing the first volume in a special double CD pack as well as the regular, singular Session 2.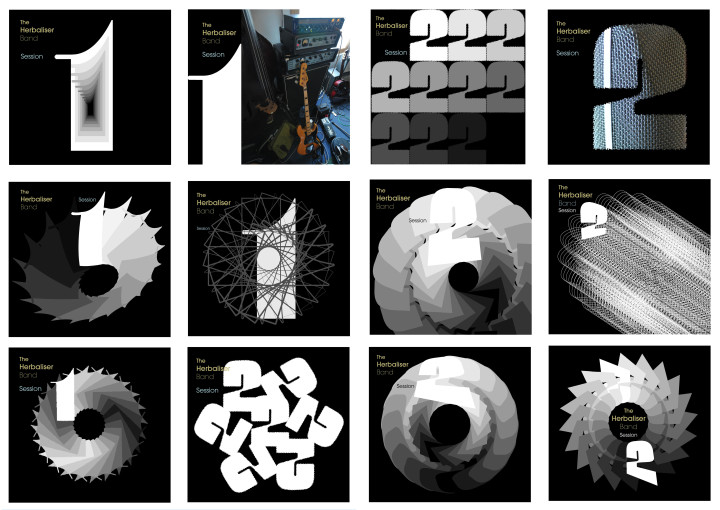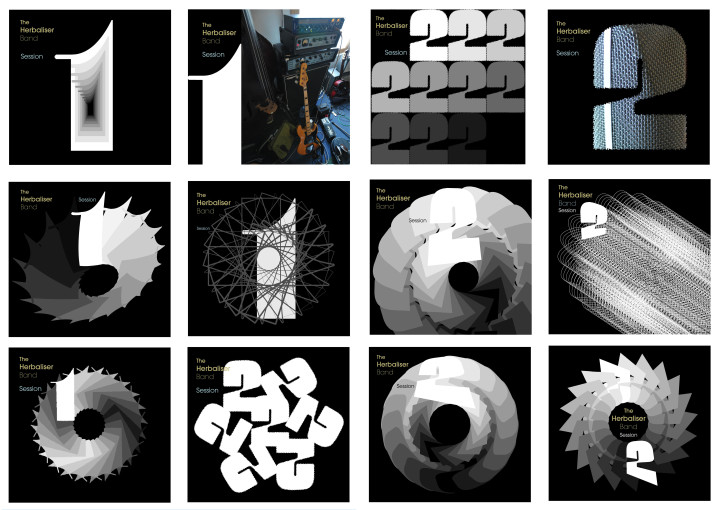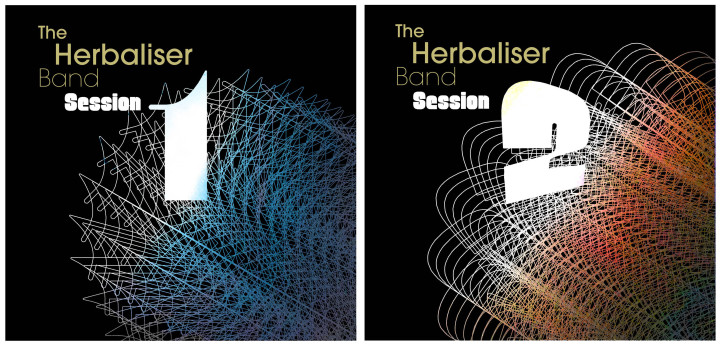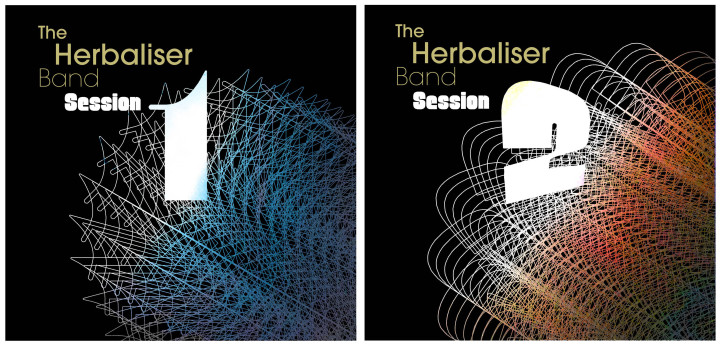 Having done all their artwork since the first album with the exception of Session 1 and the last LP 'Same As It Never Was' (other work commitments) I was delighted to go back and fill a space in the catalogue. I completely redesigned the first volume and paired it with a new look for the second from an initial idea by Ollie Teeba – a simple but classic pair of sleeves focusing on large 1 and 2 numerals containing photos from various recording sessions. I ran with this and produced an array of designs in a kind of library music style with geometric number forms, some of which feature inside the booklets now as there were too many to use. I'll post some soon in the gallery section. This all had to be finished by Friday and I got a mail to say that this was also the last day I could submit a digital booklet for my new EP release to iTunes – another thing to add to the list!
Well I got it in on time and headed off to Bristol with DK for the first night of Solid Steel's new residency with D.O.P. at the Thekla. The night was great with new Solid Steel recruit Cheeba playing to his home crowd and us doing the 4 deck video turntablism set followed by Eddy Temple-Morris. Saturday was off to Helsinki to play alongside Mark De Clive-Lowe and the lovely Alice Russell's live band at the Funky Elephant festival. I love Finnish design and there was time to shop at Marimeko and Iittala and grab some Moonmin bits for the kids. Check out the shop sign also – in case it's not so clear it says 'Ninja – for men'. This week will be tying up loose artwork and website ends before properly getting my head down on the next EP which is in various stages of completion…