Animated by Roger Mainwood (this post originally appeared on my old MySpace blog, July 2008)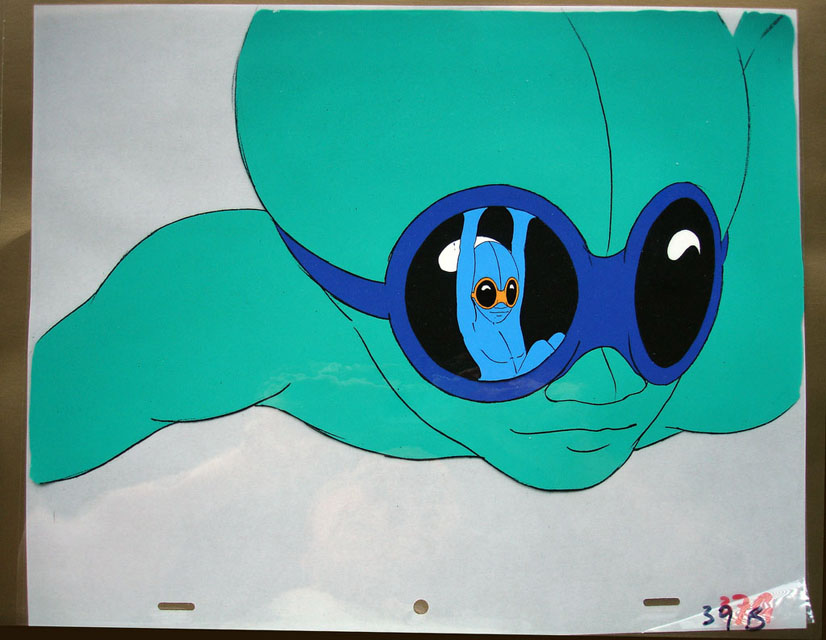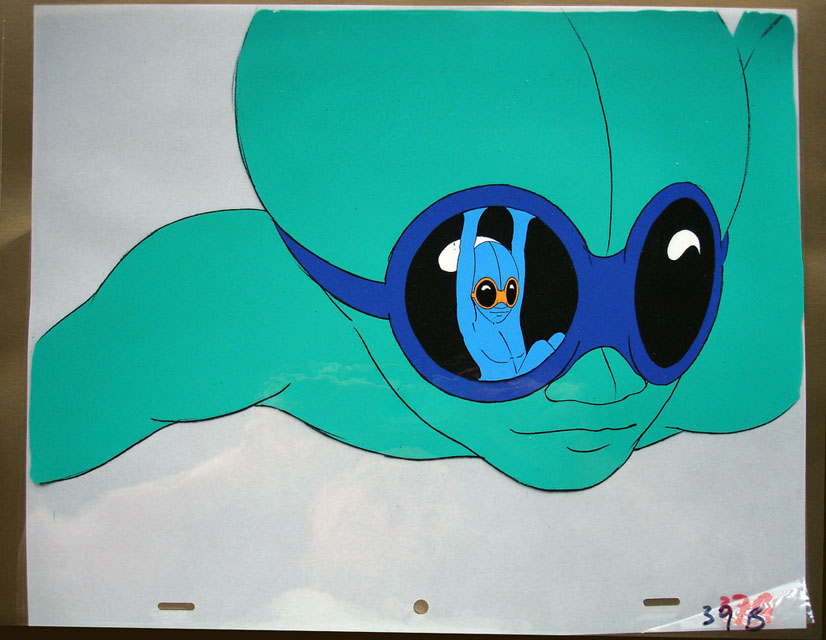 I'm sure many of you will know that I am a major Kraftwerk fan and, whilst hunting out all manner of weird and quirky animation recently, I remembered the late seventies film made for the band's 1974 hit 'Autobahn'. If you haven't seen this gem then see below, unfortunately of atrocious quality – heavily digitised and with washed out colours. It's in a league of it's own from a time sadly passed, all Pop Art imagery meeting the late seventies obsession with sci-fi, post Star Wars. It's a real trip (in more than one sense) for ten minutes plus, and sticks out like a sore thumb in the retrospectively airbrushed history of the German four piece.
Originally commissioned by EMI for a laserdisc release that never appeared because the format didn't take off as expected, it was then occasionally shown as filler on TV late at night or even during kid's TV schedules in the eighties. I remember seeing it once or twice and not knowing what to make of it because it was so far removed visually from the image Kraftwerk had at the time. I filed it away in my mind until a few years ago when a random check on YouTube brought it back to my consciousness and a recent showing to my kids elicited squeals of delight at 'the alien', the flying lips and 'Mr Nosey' (check it, you'll know what I mean).
I decided to find the animator, Roger Mainwood, primarily to find out if I could obtain a better copy but also to see if he had any of the original artwork to sell. A quick search gave me an email address and, as luck would have it, he had a tiny caché of images stored, a deal was struck and this fine image is now in my possession.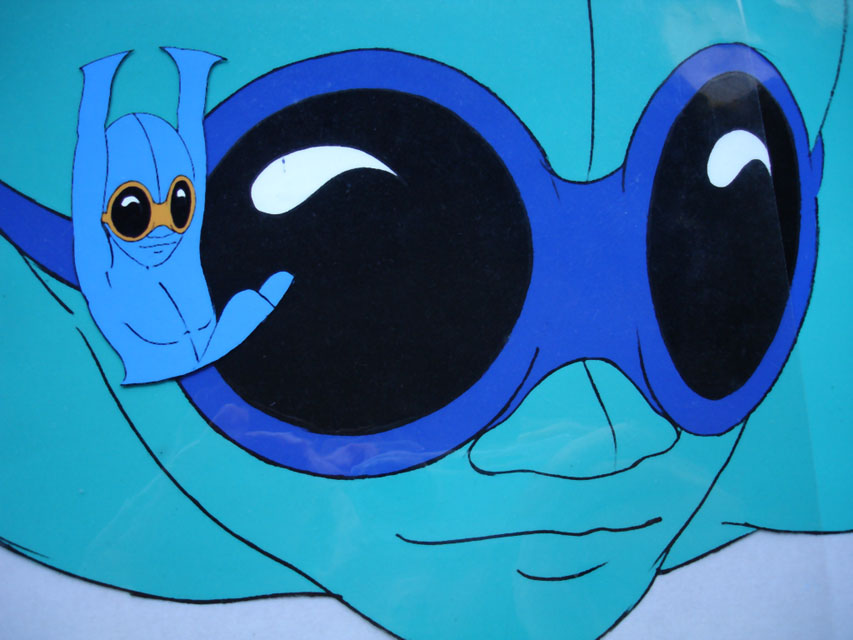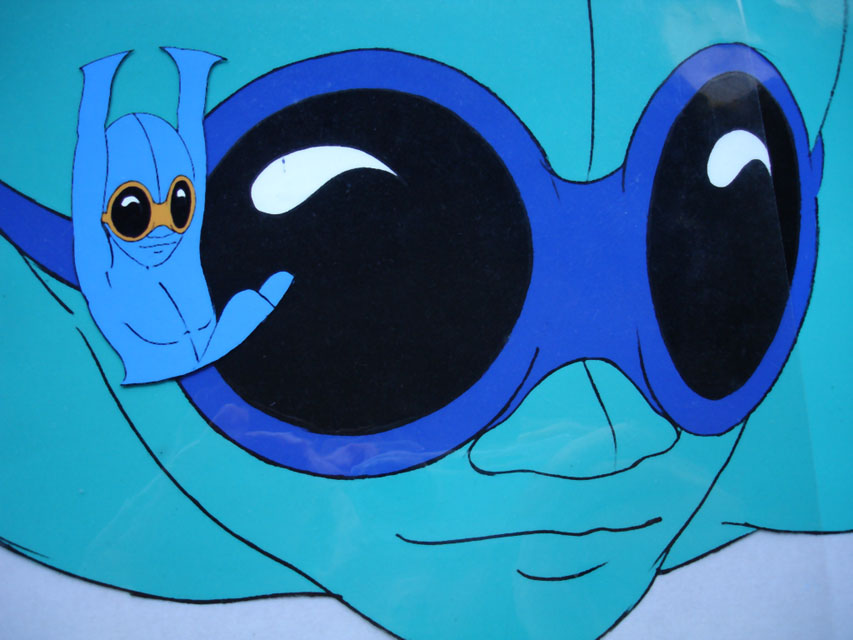 It's actually two layers although there would have been four in the original image, a head on one, a small figure reflected in his goggles on another, but the background and flashing lights also reflected in the goggles have since been lost. I took the opportunity to ask Roger for more details about the project – his first commissioned film – and his impressions of the song:
Which studio made the film?
RM: Autobahn was made at the Halas and Batchelor studios in the late 1970s. John Halas, the producer, passed away some time ago but his daughter Vivien continues promoting the studio's work and runs the Halas and Batchelor Collection.
Did you know the song or the band before the commission and did you actually like it once you heard it?
RM: As far as I recall Kraftwerk's 'Autobahn' was an unknown to me when I was presented with the project by John Halas. I think I found it an interesting piece of music but didn't warm to immediately, although I did think it would be a good piece to animate some images to. I didn't research Kraftwerk at the time, (we didn't have Google in those days!). This was probably a good thing as I think I might have then tried to produce something that I thought would find favour with them rather than just going with some ideas of my own. Maybe Kraftwerk would have wanted something more mechanical and controlled than my psychedelic fantasy world that I conjured up. I acknowledge there are many nods to other animated works – The Beatles 'Yellow Submarine' for example, and Ian Emes' films too, in particular his 'French Windows' which was animated to music by Pink Floyd. Neither of those two, I am guessing, would be on Kraftwerk's favourites list. In case you haven't seen it French Windows is on You Tube.
How long did it take?
RM: Always a difficult one that because I was fitting it in around other jobs that were coming into the studio. So the answer is on and off over what felt like a two year period.
What process was used to animate it
RM: It was all hand drawn on paper first and then line tested to check the movement, before being handed over to the paint and trace department. Xeroxing drawings onto cel was a technique used at the H&B studio but I thought most of Autobahn was hand inked. Maybe there was a mixture of the two techniques used. It's a long time ago and I can't recall exactly what we did. Looking at the monster cars cel, that definitely looks like a pen and ink tracing of a drawing onto the cel. Then the cels are turned over and painted using special animation paint. You had to wait for each colour to dry before applying the next. No wonder it took so long !
Was the film intended to be part of a collection alongside other Kraftwerk films or as just one part of a general EMI label compilation?
RM: My feeling was that it was a laserdisc of just our animated film.
Has it ever been officially available to buy?
RM: Autobahn hasn't been available on DVD so far but Vivien was talking earlier this year about a possible release involving a French distributor. John Halas did do a deal with Polygram for a video release of Autobahn (together with another Halas and Batchelor film called 'Dilemma'), and I managed to track down the front cover recently.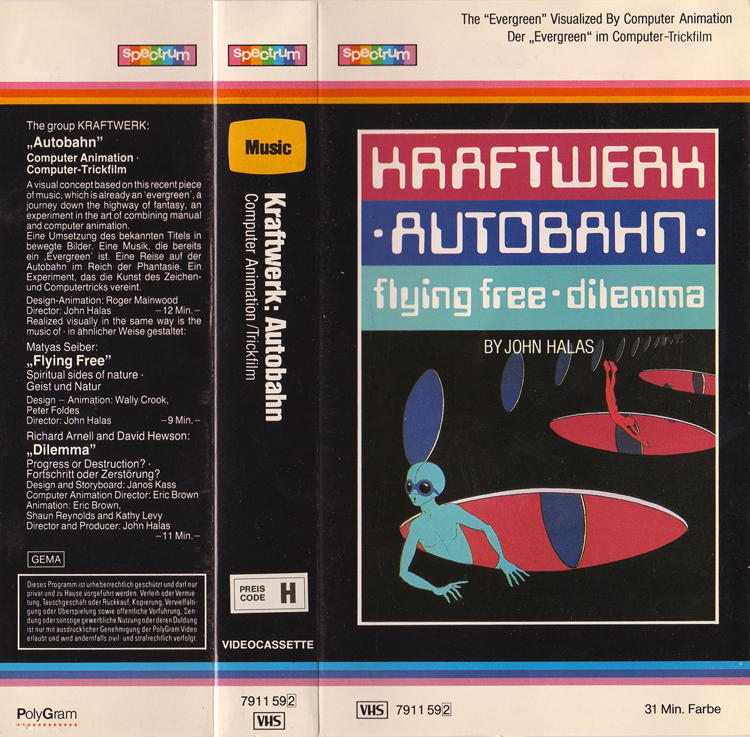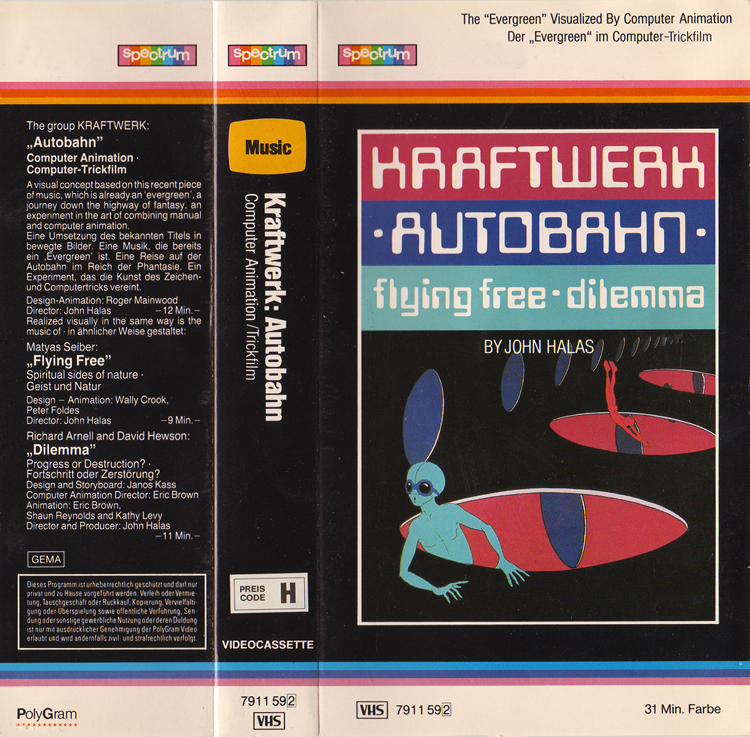 There are a few more images over in the Originals section where I posted about this last year. Also there are some pristine images from the film over at this site.