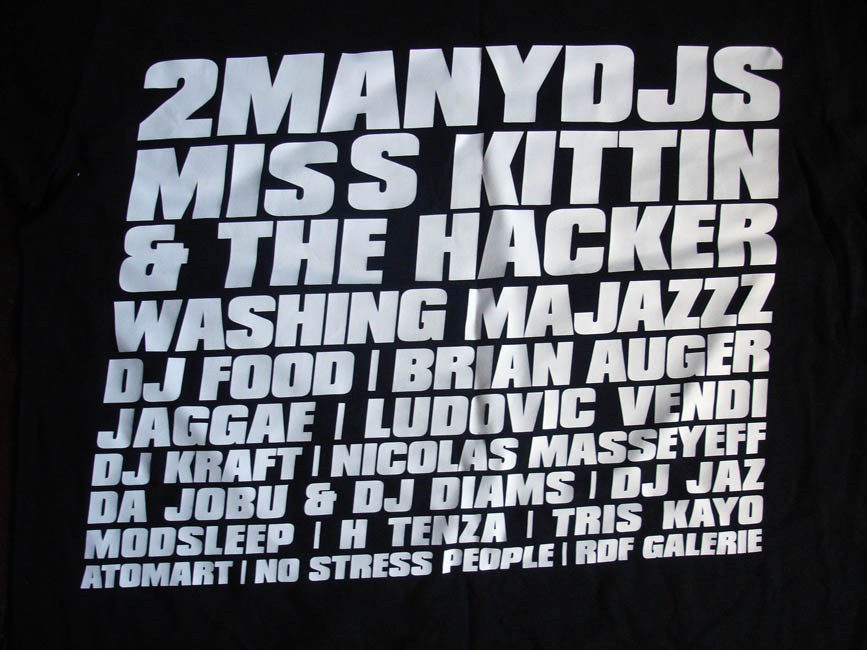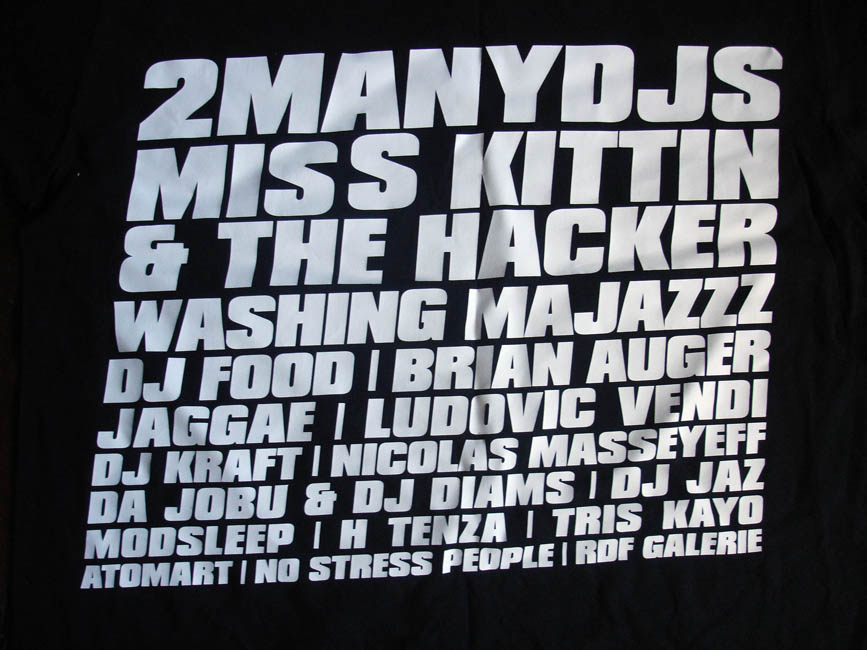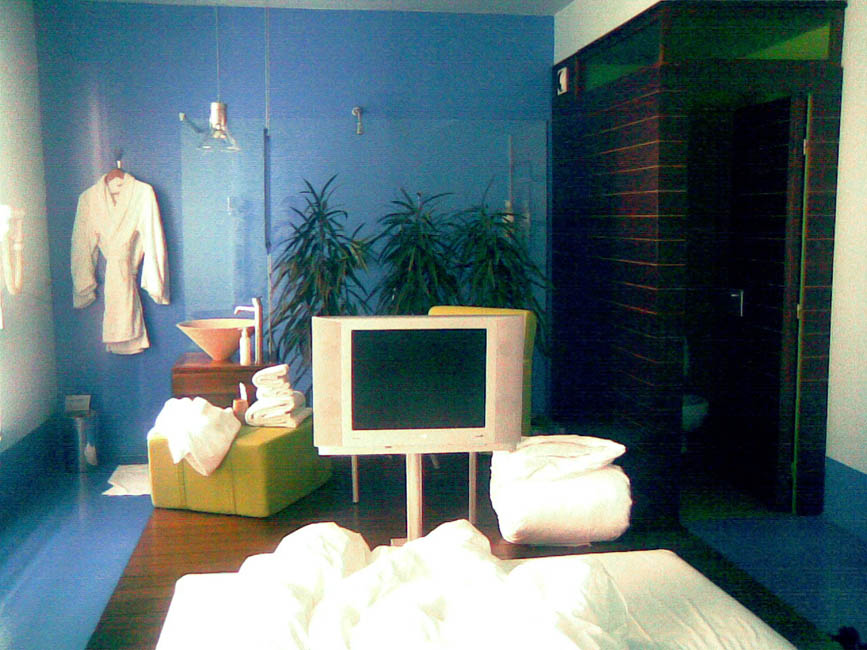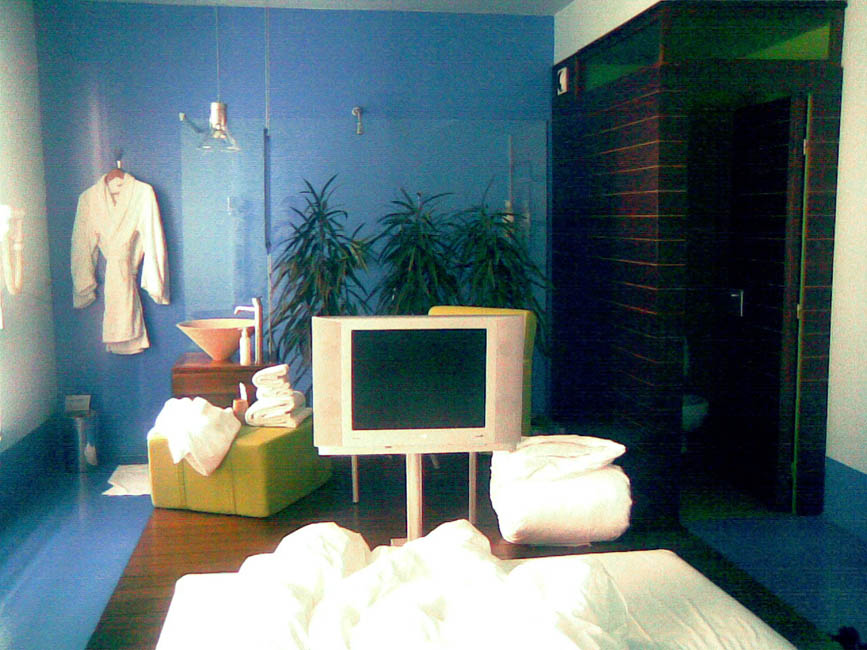 Back on the road again, suffering from a cold and I can think of worse places to go than the South of France. First off was Nice where I was playing at the Cross Over festival at Le Grand Cafe Des Arts next to the museum of Contemporary Art. 2 Many DJs, Miss Kitten and Brian Auger had already played on previous days and apparently Auger was at my gig later that night with his son. My brief stay was made all the more pleasant by the press officer Virginie and her friend Ollie who interviewed me for his webzine and took me sight seeing the next day. He picked me up at the Hi Hotel – a 'concept hotel' – which means it looks great and very 'designer' but sometimes form defeats function.

We went down to the Riviera on his scooter, hung out with his cousin at the beach, met Virginie for coffee and picked from the mind-boggling selection of ice creams in one of the squares. This is the first time I've ever seen rhubarb, beer, pesto, sun-dried tomato, coca cola and avocado ice cream flavours. Then it was off to Marseille on the TGV which is heaven – big seats that recline, leg room aplenty and a power point for the laptop. I was met by Alexandre at the station and found out that the gig was actually at a small bar terrace on the beach with food and an amazing sunset as we arrived.
The atmosphere was vastly different to the usual club-based gigs I do as most people were seated and quietly enjoying an evening of socialising with a background soundtrack of classic funk and hip hop. There wouldn't be much call for drum n bass or dubstep tonight which was refreshing as I got a chance to play a lot of downtempo things I hadn't spun in ages. Over two and a half hours I slowly sped things up and the crowd got to their feet, pushed tables and chairs aside and were crammed into the corner space near the decks by the time the music got to the 120 bpm mark. The party was a great success with one particularly rabid Solid Steel fan hollering his head off mercilessly by the end and many pleading for it to continue after I'd been told it was time for the last song. The next day, before I departed for Montpelier and the Electromind festival, Alexandre took me up to the church on the hill high above Marseille to see the view over his city. It was breathtaking to say the least and a nice diversion before another train ride.
Cut to midnight – as I type I'm supposed to be finishing up my set and handing over to Hexstatic on the Amazon stage but am actually back in the hotel, damp and demoralised. Earlier in the day, whilst soundchecking there were some high winds which had half unlatched the video screen on stage and some ominous clouds were gathering despite the baking hot sun. Around 10pm the first spatterings of rain started as I watched Afrika Bambaataa pay homage to Michael Jackson on the main stage. I had met his tour manager earlier by chance and been surprised when he said that Bam wanted to ask me about a record and could we meet up later? What? Me? A white boy from Surrey? Bambaataa is one of my original DJ inspirations – alongside Flash and D St. – and the antithesis of what Hip Hop DJing originally meant. His ethos of playing the good parts of all music together forms the foundation of how I play and have always played. I wish I could post a picture of us backstage with Bam throwing a Zulu Nation sign next to my pasty features but I was actually too nervous to turn up and introduce myself. Plus there was the rain.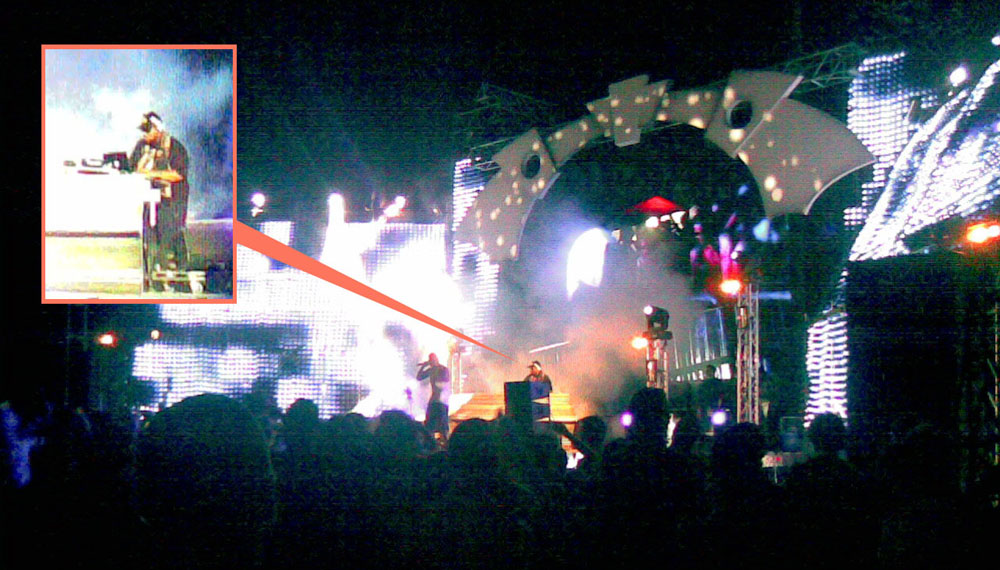 I convinced myself that I really shouldn't be ligging backstage when I had less than half an hour to get set up and the light drizzle was making me nervous. Using my laptop and mixer onstage, I really didn't want them getting wet and there was no cover provided as they hadn't expected rain, being that this was summer in the South of France. When I got to the stage there were technicians running about throwing tarpaulins over the DJ's equipment and making mini makeshift tents onstage to house computers and decks. Mine had a cover thrown over them but not one I could have DJed with so I set about trying to construct something that would at least shelter the laptop, mixer and turntables. It was a thankless task as the rain got harder and the mess of wires onstage prevented anything easily standing upright to support a canopy. The tarpaulins were leaking here and there and pools of water were forming as we tried in vain to erect something that would keep the hardware dry. As the other DJs finished a CD was put on whilst we tried to switch everything round to accommodate my gear but it was hopeless and, fearing a waterlogged computer, mixer or even electrocution, I made my escape to shelter without played a note.
The crowd, amazingly, stayed put and chanted, sung and booed, mainly because there was music playing and for them it was the beginning of a long night (the festival was supposed to go on until 6am). Robin from Hexstatic turned up, laughing at the ridiculousness of the situation, and we watched from the under the canopy the VJs had had the foresight to erect backstage. The rain got worse, the crowd got even rowdier and the technicians tried to cover as much as possible before word came through that the organisers had made a decision to stop the festival.  By now everything was so waterlogged, it was too dangerous. I went to rescue my mixer, which was still onstage, albeit under cover but when I pulled it free water trickled out of one corner!
We trudged back to the main site office noticing that the crowd was getting increasingly rowdy. A large pack had clustered around the main bar in the middle of the site and were beating on anything they could find, making a frustrated cacophony of metallic sound – later we heard that they smashed it up. We waited anxiously with the Ed Banger crew for a ride back to the hotel as the sounds of the crowd got steadily more unnerving and people tried to get through fences to the backstage areas. Finally a ride turned up out of the confusion and we sped off, relieved that we hadn't got caught up in anything but sorry for the promoters who had to sort out several thousand people geared up for the night.
For anyone reading who was there, I'm sorry that it ended as it did and I've never refused to play in this kind of situation before but it really was an accident waiting to happen and I'd rather not play a set with the risk of electrocution. I understand the festival promoters thinking that a storm was unlikely being the location but there were no provisions made for such an event and, at an open air festival, that is a big oversight. I'm just hoping my mixer still works when I turn it on next…