Very sad to hear the news today that Brett Ewins has died after a short illness. He was a master of his art and a huge influence in British comics in the 80's and 90's. Starting out with Brendan McCarthy and Pete Milligan he bought the sharpness of the ska movement into comics, slowly working his way up from one-off Future Shock stories in 2000AD to full-on national treasure status in the comic's first golden age.
Judge Dredd, Bad Company, Rogue Trooper, Judge Anderson, Johnny Nemo and more, he made a huge impression on me as a kid. As the 80's ended he co-founded the music and comics magazine, Deadline with Steve Dillon and they launched Tank Girl into the world among many others. I'm pretty sure I draw skulls the way I do because of Brett's depiction of them as biochips in the Rogue Trooper stories. I remember copying at least one of his characters in a graffiti piece I did in my teens and also being shit-scared of a particular character he and Brendan McCarthy drew for a story called 'The Day of the Phoenix'.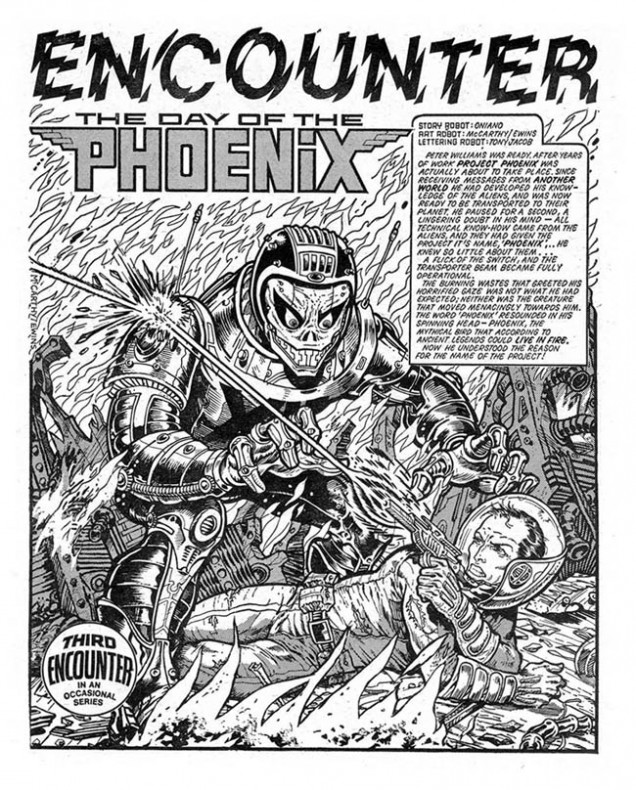 The one page 'Encounter' from a very early issue of 2000AD freaked me out as an 8 year old, mostly because of the leering face of the creature about to do something unspeakable to the human who had just teleported into its world. Back in 2011 Air Pirate Press published 'The Art of Brett Ewins', a collection of a lot of his best work from the start of his career up until that time. It's an excellent book and came as a timely reminder of Brett's achievements as he'd disappeared from the scene amid rumours of health issues. The book is even more important now that he is now longer with us and nestled inside was the 'Phoenix' page which triggered a deep nostalgia in me. I made some inquiries and got a message to Brett asking if he still had the page and was it for sale? Luckily he did and it was, so one summer afternoon I found myself visiting him in his West London home, looking through various classic Dredd stories and chatting about his career. He still had the table that he and Brendan used to sit at and draw on when they were first starting out and he told me he loved listening to Brian Eno when he drew.
He was very humble about his own work and forthcoming with answers to the many questions I had about it. I bought the page although, unfortunately, most of the lettering had fallen off over time (it was drawn in 1978). Brett said that it was around somewhere and that he'd find it and send it to me although that wasn't to be. Just a few months later there was a news story that he had been arrested and sectioned after an incident outside that very house late one night and soon after he was imprisoned for stabbing a policeman. He had been diagnosed with paranoid schizophrenia and served several months in jail before being released in late 2012. Since then he had been under psychiatric care and even made a few appearances at comic events as many rallied round him to offer support. I feel very lucky to have met him for the hour I was at his house, he certainly won't be forgotten.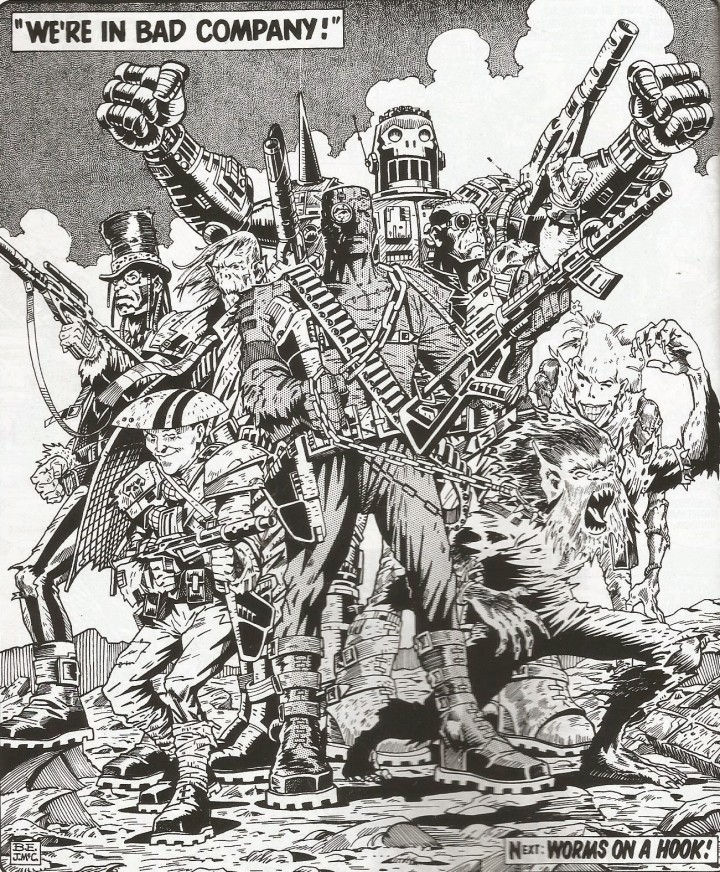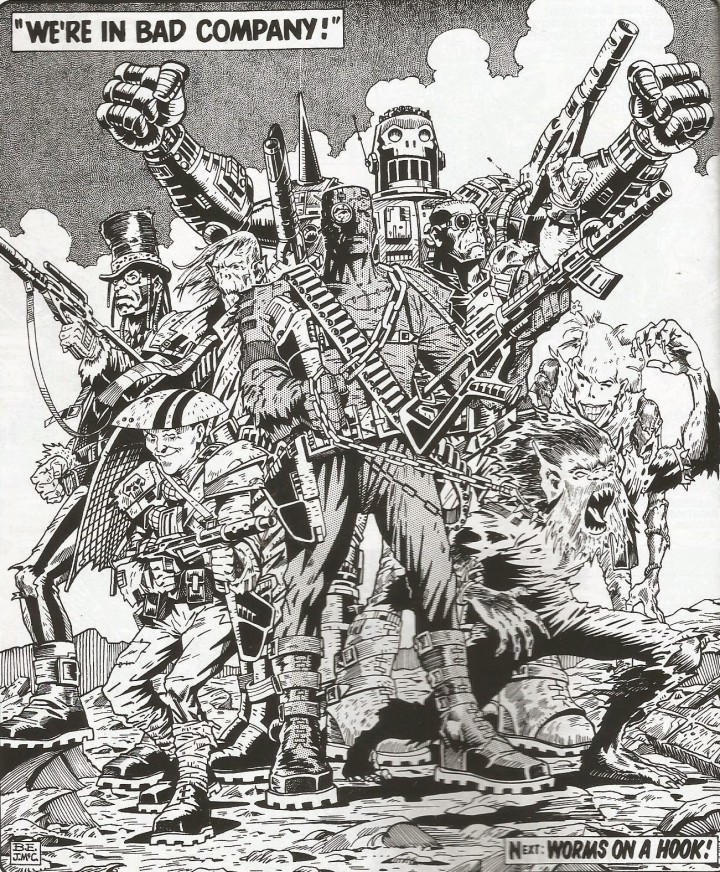 I urge you to buy a copy of 'The Art of Brett Ewins' to see how much great work this man gave to the comic world, Titan have also recently released a Johnny Nemo compendium collecting all the old strips and adding new work by artists like Rufus Dayglo, Ashley Wood and more. Air Pirate Press have collections of his Bad Company work and the US series, Skeemer. 2000AD have various Dredd collections available with Brett's work in them but I don't know the exact volumes that feature him. Lastly here's some rarely seen early work that he did for a British poster company in the late 70's, these are hard to find now but sometimes crop up on eBay.