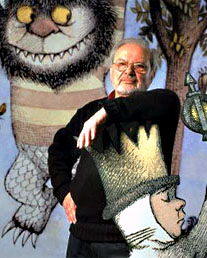 Another visionary artist gone, first Ralph McQuarrie, then Moebius (not to forget MCA on Friday), now Maurice Sendak!
I love his books, especially 'In The Night Kitchen', of which I made a huge poster for my kids' bedroom when they were 2 years old. I also loved the way he was so outspoken about encroaching political correctness and what could and could not be shown to children. A true original.
Obviously 'Where The Wild Things Are' is his best known work, and deservedly so but there's a lot more in his catalogue than that classic. When I was digging through the archive at Sesame Workshop in 2003 I found a cartoon of 'Bumble Ardy', voiced by Ken Nordine written by Sendak and illustrated in his style. This became his last book, published last year in a revised form and you can find it on a Sesame Street DVD called 'Old School'.
[youtube width="640″ height="480″]http://www.youtube.com/watch?v=E2TVYdQU3-I[/youtube]
This is a post I had over on my old MySpace blog from Jan 2008:
"On December 27th I installed a 'Where the Wild Things Are' window display in the Tales on Moon Lane bookshop in Herne Hill, London. It will be up until Easter and then move to their Primrose Hill shop. I highly recommend the shop for kids books as they have an excellent selection and the shop is packed with loads of fun stuff."
I just saw this via Twitter which is just beautiful:
"Once a little boy sent me a charming card with a little drawing on it. I loved it. I answer all my children's letters — sometimes very hastily — but this one I lingered over. I sent him a card and I drew a picture of a Wild Thing on it. I wrote, "Dear Jim: I loved your card." Then I got a letter back from his mother and she said, "Jim loved your card so much he ate it." That to me was one of the highest compliments I've ever received. He didn't care that it was an original Maurice Sendak drawing or anything. He saw it, he loved it, he ate it."
– Maurice Sendak – RIP, you left a great legacy for generations to come.