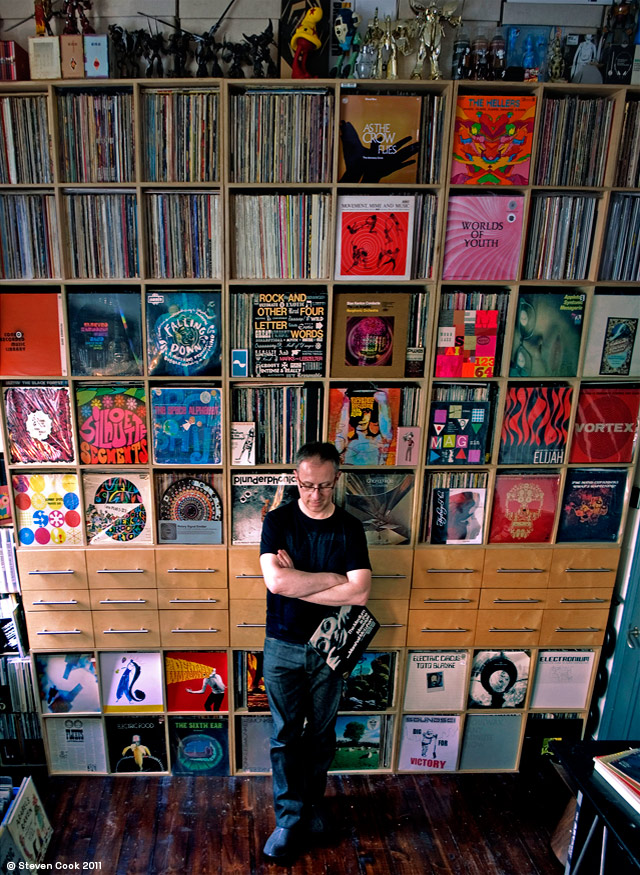 I have to big up my friend Steve Cook who took this amazing picture of me at home with (some of) my records. The picture has already been printed full page in a couple of mags and we set it up to make just such an impact (had to use a pretty extreme lens to get it all in). The reason I'm highlighting it again is that it gets printed but magazines rarely credit the photographer so I'm just showing off his work as a thank you. Steve is another one of those annoyingly talented people who can do everything from graphic design, photography, retouching, colouring, teaching and whip up a mean blog piece every once in a while (well every day actually).

He also runs several self-designed web sites of his work, my favourite being his latest one, Secret Oranges, that focuses on his collection of comic or comic-related ephemera. From the first time I featured it though, shortly after it had debuted online only 2 odd months ago, the hits have gone haywire on the site and it's quickly built an avid fanbase, keen to see what's in Steve's cupboards. I thought I had a collection but his is ridiculous, not only obscure fanzines, magazine cuttings and original stats used to colour B&W artwork but also personal scribbles from the artists he's worked with and amazing items rescued from the bins that would fetch hundreds on eBay these days.
He has several different regular features running as well like 'Largin' it' where he blows up a comic panel so you can see all the fine detail and print process, 'Mint.Fine.Good.Fair.Poor.Well Loved' where he scans some of his oldest, most well-read comics with all the trademarks of time intact, and 'Other People's Cupboards' where he highlights fellow collectors' storage spaces, of which I'm no.3.
He's also preparing a book of his photos from the 70's, 80's and 90's clubbing and comic days and runs a section of his main site called Alternity where he blurs the boundaries of the present and the past with altered photographs. Also, also, also, he has the best ghost stories ever…