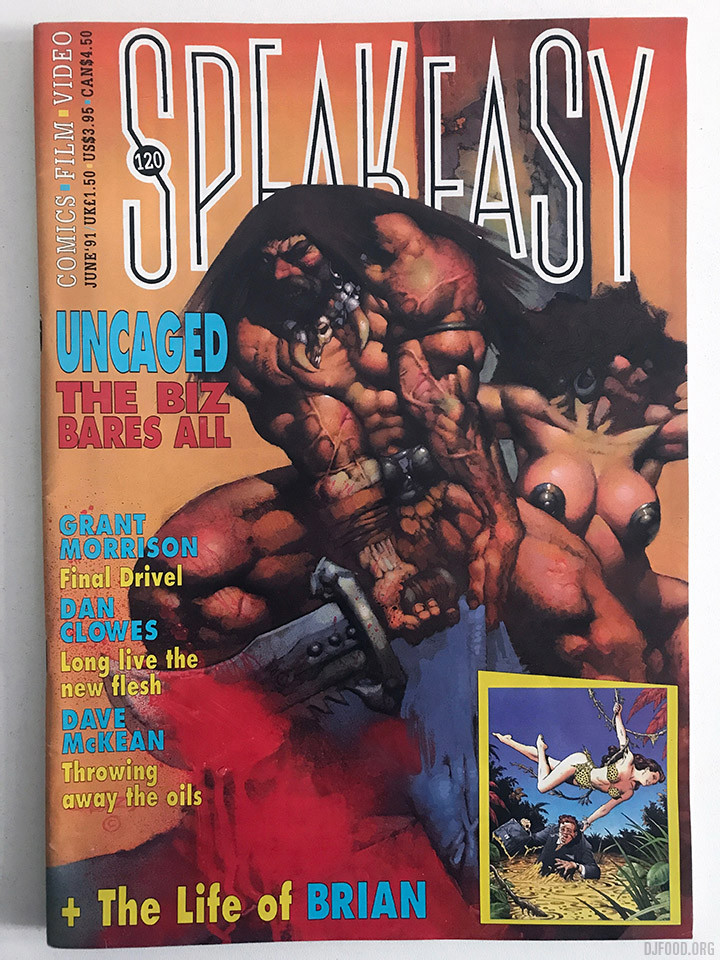 I recently ran across this issue of Speakeasy from 1991 – a once monthly UK publication, part-comics news and interviews, part-comic shorts – and wondered if this was the peak of the late 80s / early 90s independent comic boom? Looking at the people featured in that issue alone it's an embarrassment of riches: Grant Morrison, Dave McKean, Brian Bolland, Daniel Clowes and Simon Bisley just on the cover alone. Any two or three of those would have seen me picking up the issue and the Bisley cover has him at the height of his painterly powers.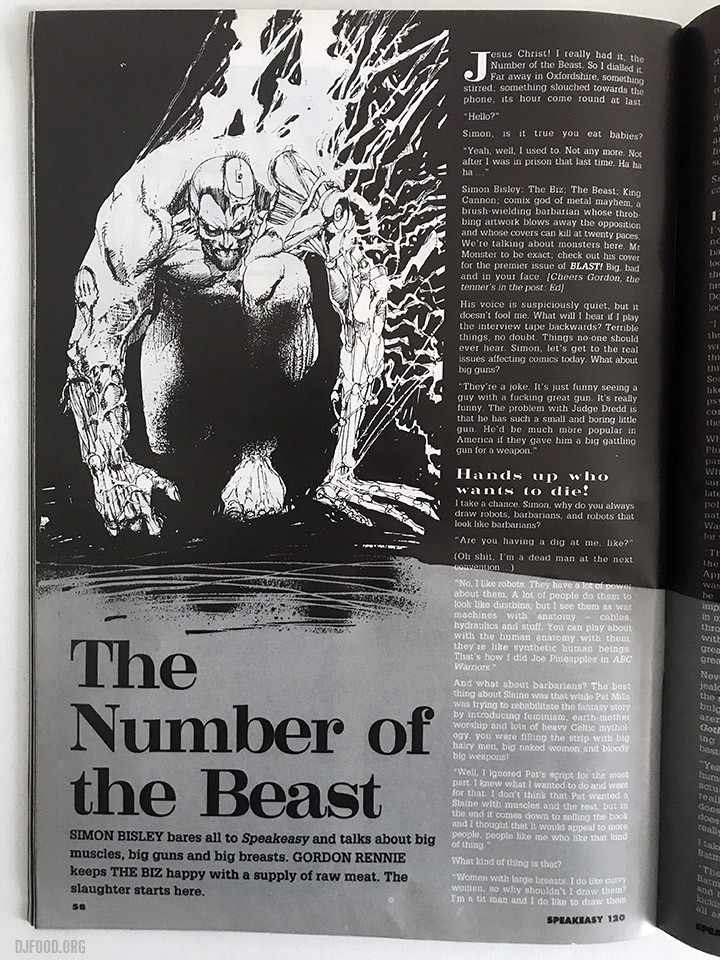 Bisley had done Slaine: The Horned God and was in the middle of the Batman/Judge Dredd crossover Judgement on Gotham and Morrison had just finished Doom Patrol and was handing over his Drivel column to Warren Ellis. Clowes was some issues into his Eightball run and McKean was doing Sandman covers and publishing Cages, his 12 issue square format reimagining of what comics could be. Bolland had long gone over to the US to do The Killing Joke and front cover work for numerous lines but that's not all. Also featured are interviews with Harvey Pekar on his American Splendor collection and words and pictures from Shaky Kane. That's a pretty great collection of talent.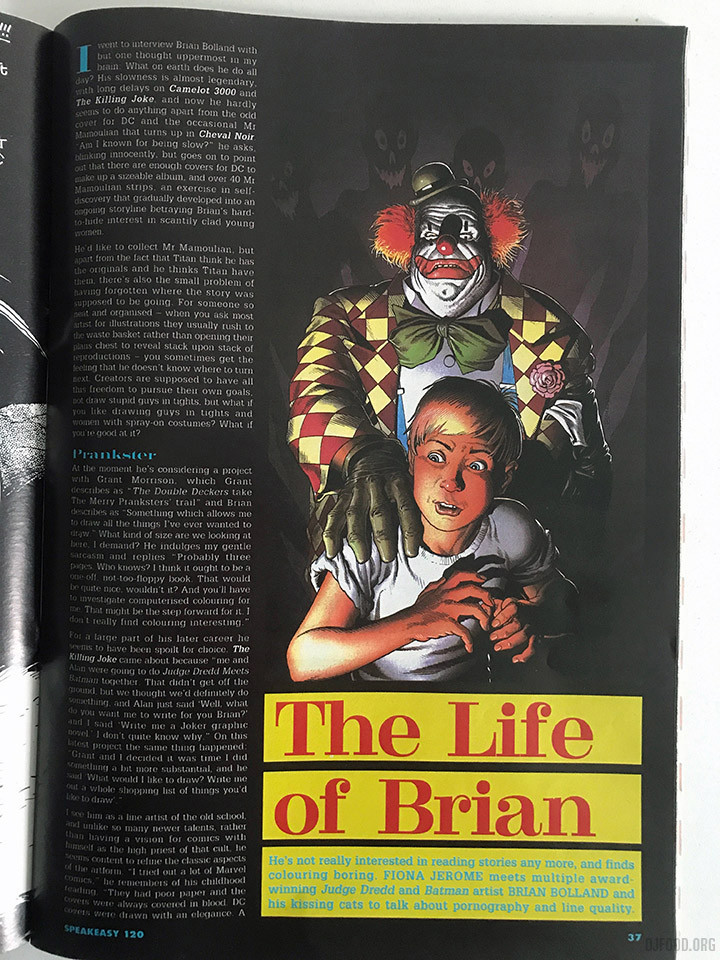 Top news stories are the Infinity Gauntlet saga in the Marvel universe, a Batman vs Predator team up with Dark Horse rolling out the first of their licensed Aliens, Predator and Terminator comics. Kevin Eastman's recently-founded Tundra is still spilling out titles, early attempts to sell Manga to the West in the shape of Otomo's Akira are reviewed and Pete Bagge is getting into his stride with Hate. Mike McMahon's The Last American was also mentioned and the now-classic America story had run in the Judge Dredd Megazine. So many books and stories that would go on to become classics.
On the shelves there was much from the Brits to pry the money out of a fanboy's grubby hand but the ever-present 2000AD was looking a bit outdated in its teenage years and about to slip into a creative quagmire for much of the 90s. In competition there was the aforementioned Judge Dredd Megazine, Deadline in full flow with Tank Girl et al, Crisis was wobbling through some content troubles and Toxic had just been launched in the anarchic spirit of '77 by some of 2000AD's originators. Viz was at the height of its popularity, selling over a million copies an issue and anthologies like A1 and the Marvel UK reprint title, Strip were around too. And this is before your forked out for any of the American imports…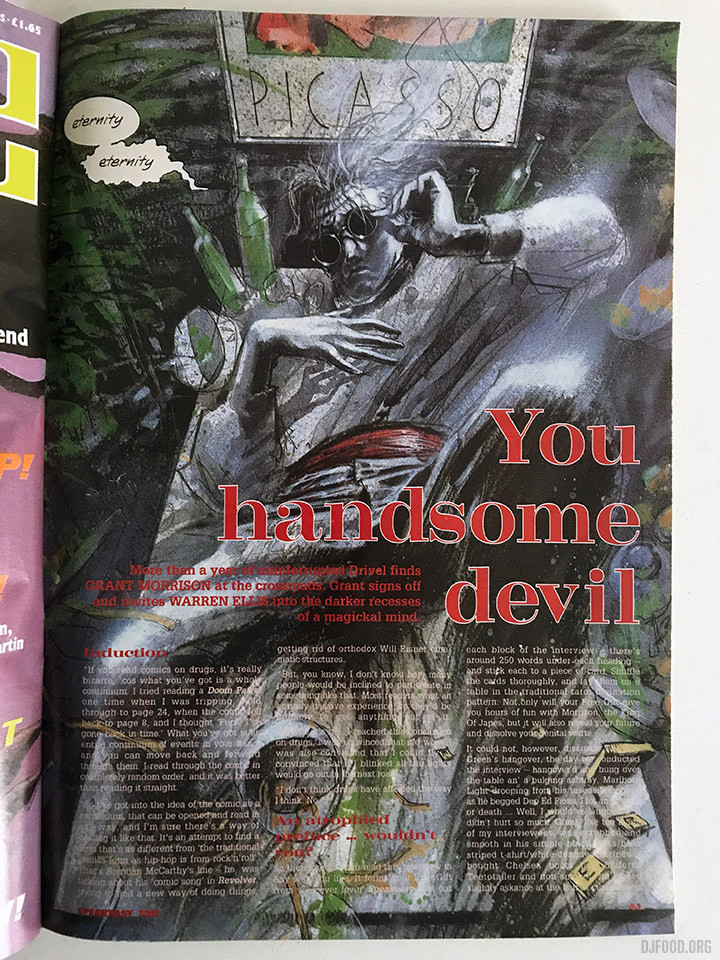 The first cracks had begun to show with the cancellation of hugely hyped Revolver the previous year after only 7 issues and with the next issue of Speakeasy the magazine was about to evolve into a full comic of its own under the name of Blast! As great as this was it would also only last 7 issues (with Speakeasy as an insert for just 5) before being cancelled and, as with Revolver the year before, it seemed that this was the last big attempt to launch a new title into an already oversaturated marketplace. One high profile failure was bad but two in the space of a year seemed to ring the alarm bells that maybe buyers couldn't sustain this much content. Incidentally, 2000AD would also try to launch another comic (twice) in 1992 – Earthside 8 which had then morphed into Alternity – neither of which made it past the mock up stage to the shop shelves.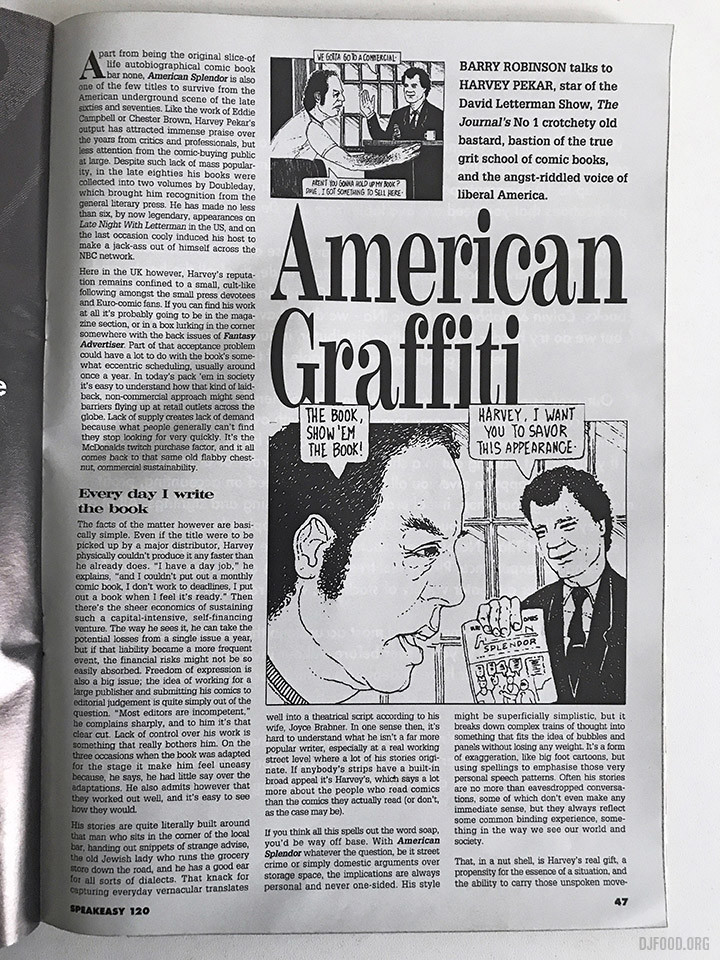 By the end of the year both Toxic and Crisis had also folded with Deadline ending a few years later in 1995 after blazing its way through the comics boom and hitching itself to the Britpop movement, even helping birth a Hollywood film of their lead character, Tank Girl. They had a good run and over in the US things faired a bit better with Dark Horse and Image building into hugely successful publishing houses and DC's Vertigo imprint starting in 1993 and operating for 27 years. The biggest casualty at the time was probably Kevin Eastman's Tundra operation, set up as a creator-owned imprint with the profits from his and Peter Laird's Ninja Turtles, it closed in 1993, never making a profit and costing Eastman a reputed $14 million.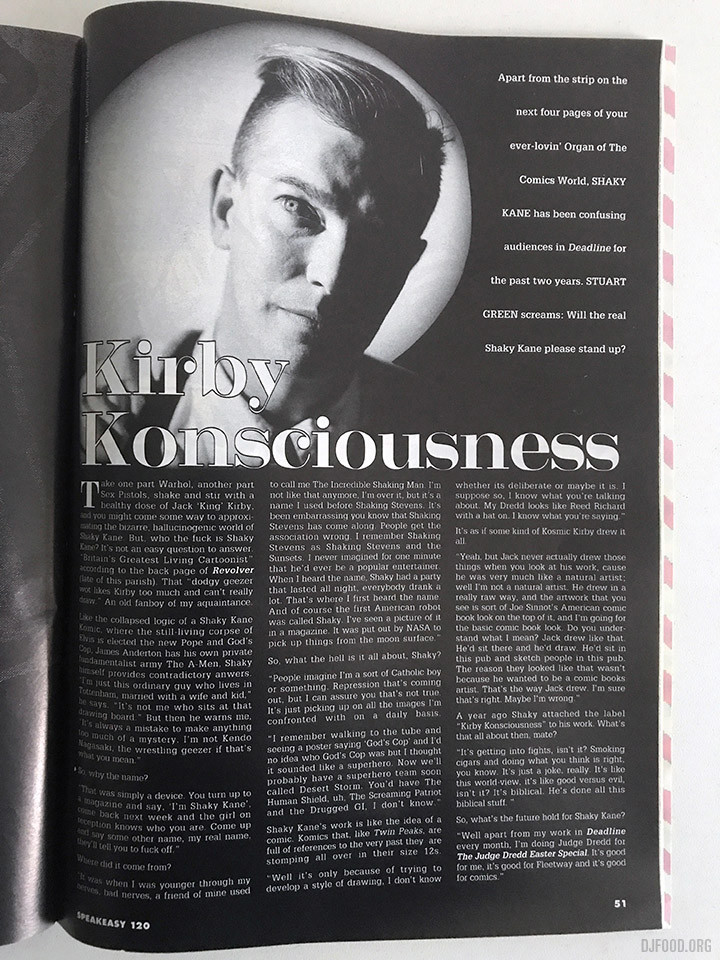 The house of Tharg ultimately survived everyone, 2000AD is into its 44th year, struggled through its adolescence and has been in a second golden age for nearly 20 years now after a threadbare 90s patch. The Megazine mutated through several different formats and weathered their own Hollywood flop in the shape of the Judge Dredd film starring Stallone before finding their feet and are still on top form 30 years later.