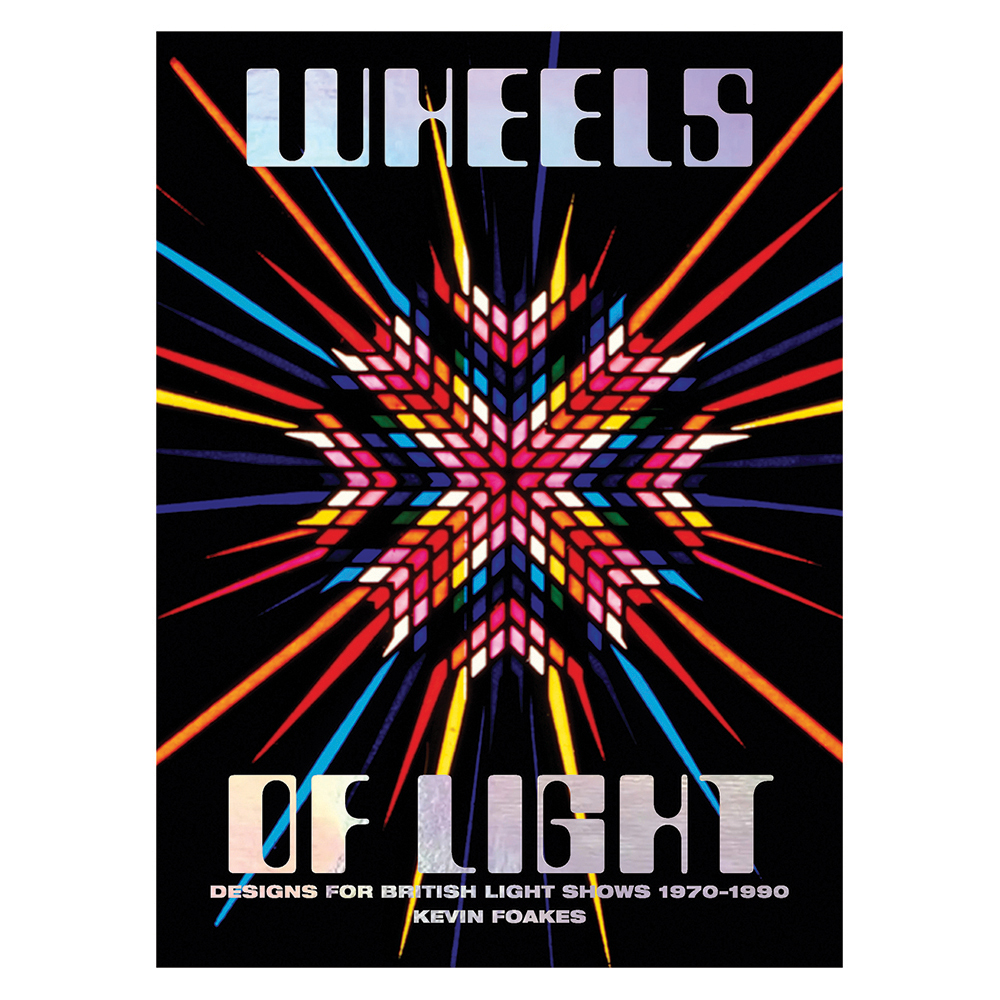 Inadvertently, I've written a book! I say written but it's really more picture-heavy with a contextual history provided, but my name is on the cover so what the hell. I've been working away on a book of light show projection wheel art for a good few years now in conjunction with the lovely people at Four Corners Books.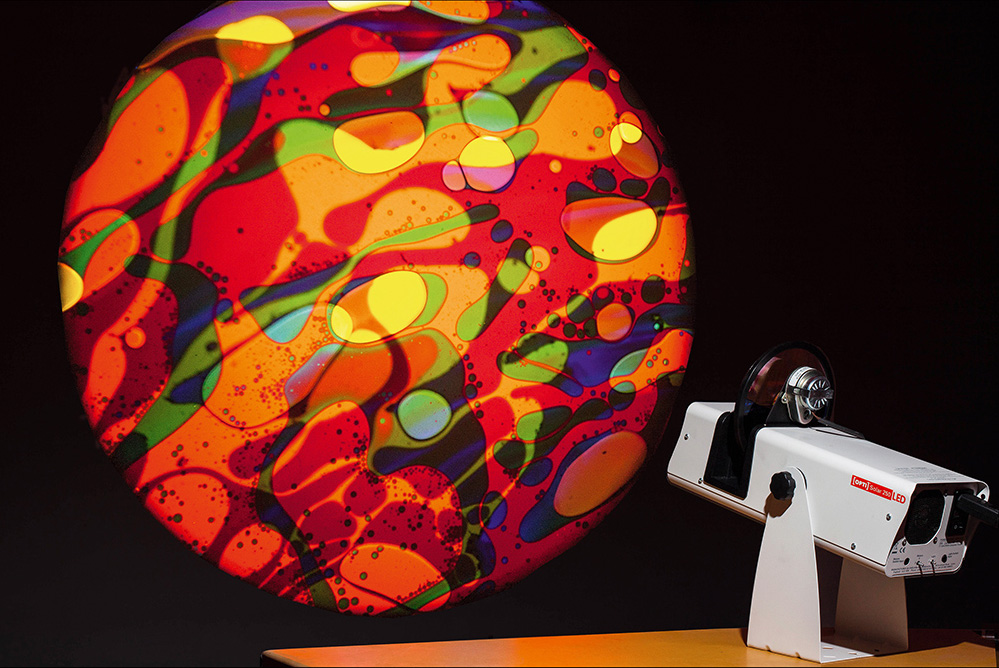 It started when a friend called me in mid 2019 having discovered a load of original projection wheel art at a lighting company called Optikinetics – one of the original and only surviving companies who made projectors and their accessories from the 70s. After viewing drawers full of art, slides and transparencies I took the idea to Four Corners who I'd previously worked with on Jonny Trunk's 'Wobbly Sounds' book about flexi discs. They were up for it and so we were off, my main job being contextualising the art and interviewing the main players and artists from the UK scene, which led to more art turning up along the way.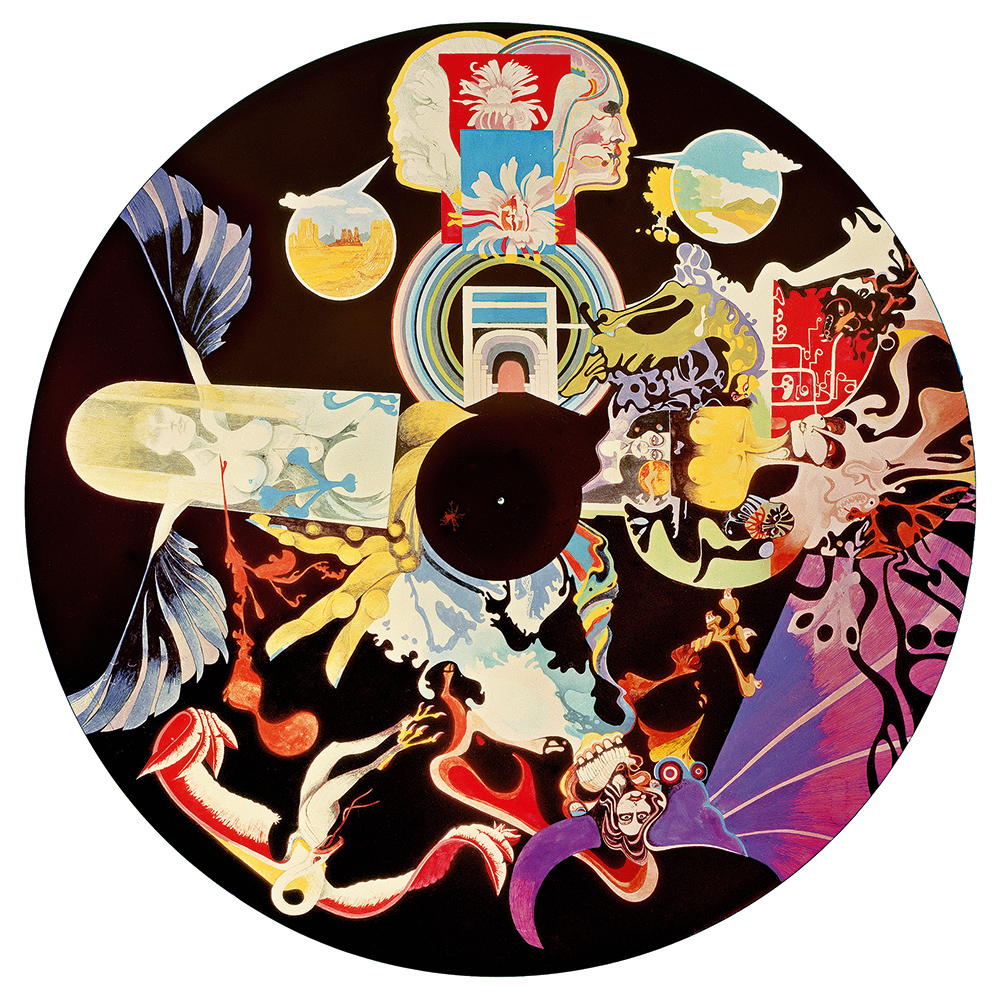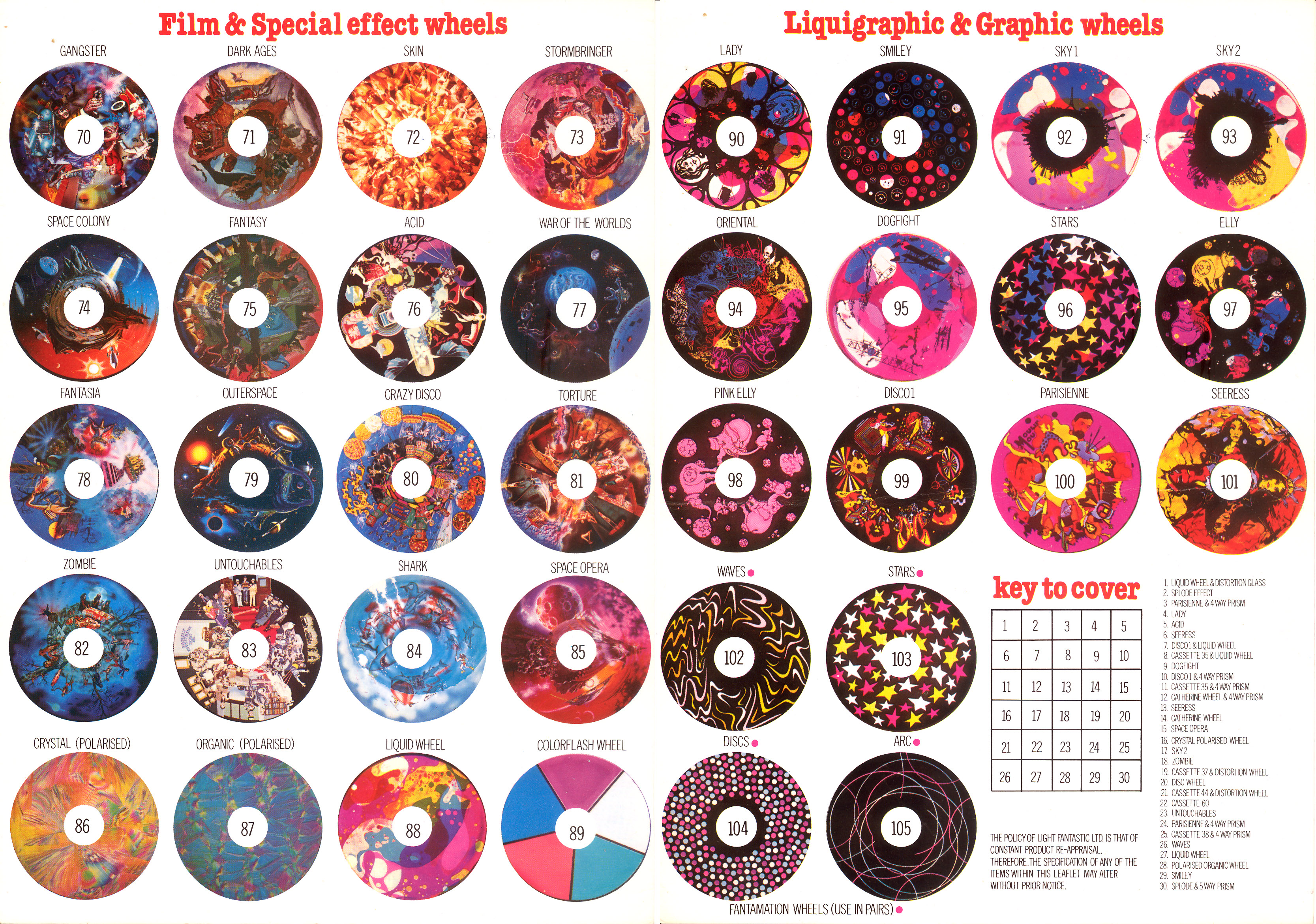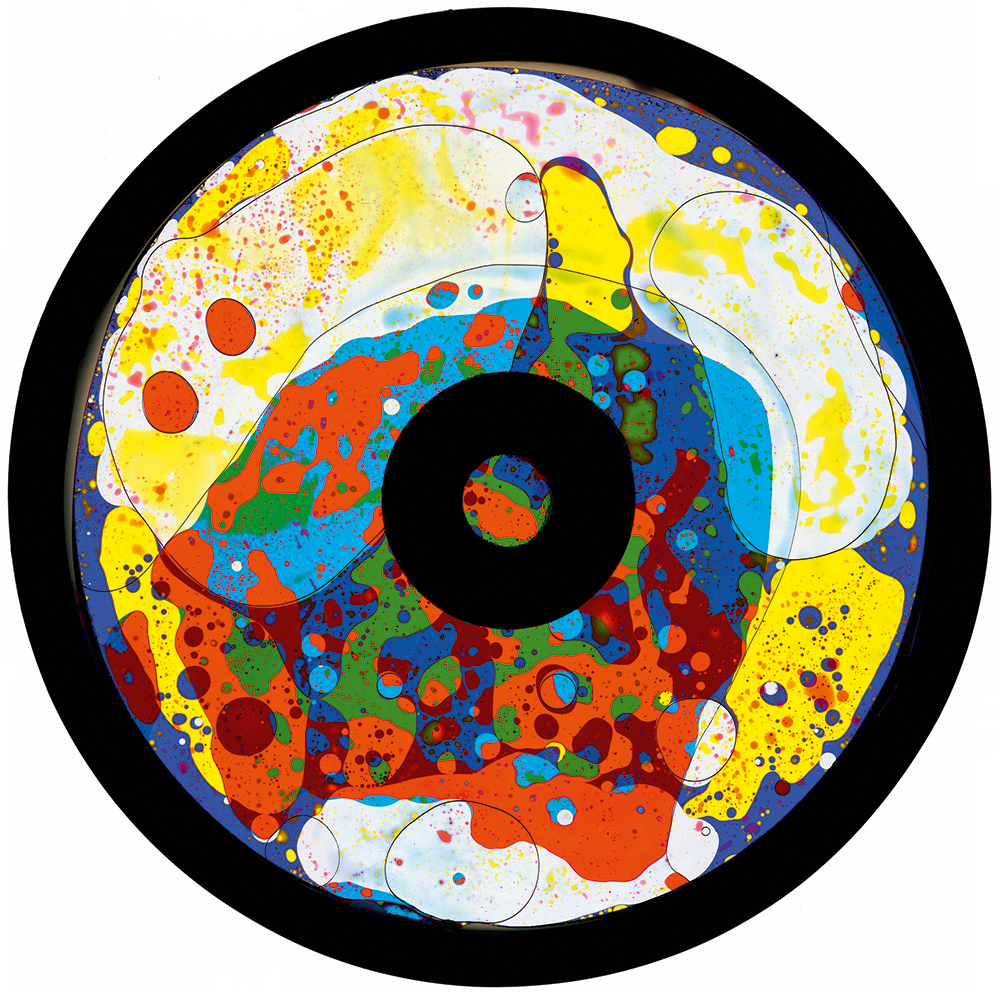 We were nearing the final stages of the edit and the book was sent to the designer when a vital missing piece of the jigsaw turned up. A certain Larry Wooden – proprietor of Orion Lighting and originator of the panoramic picture wheel – had been missing in action since I started to track down the original people involved in the business of making wheels. I'd resigned myself to having a passage written by Larry back in 2009 in the book as his only contribution – taken (with permission) from the Funky Parrot website – but suddenly he appeared online in a group devoted to projection. A quick email and not so quick phone call and the next week I jumped on a train to Colchester and met Larry outside the station in his motorhome where we chatted for hours and he filled me in on where he'd been, what he'd done and what he was going to do.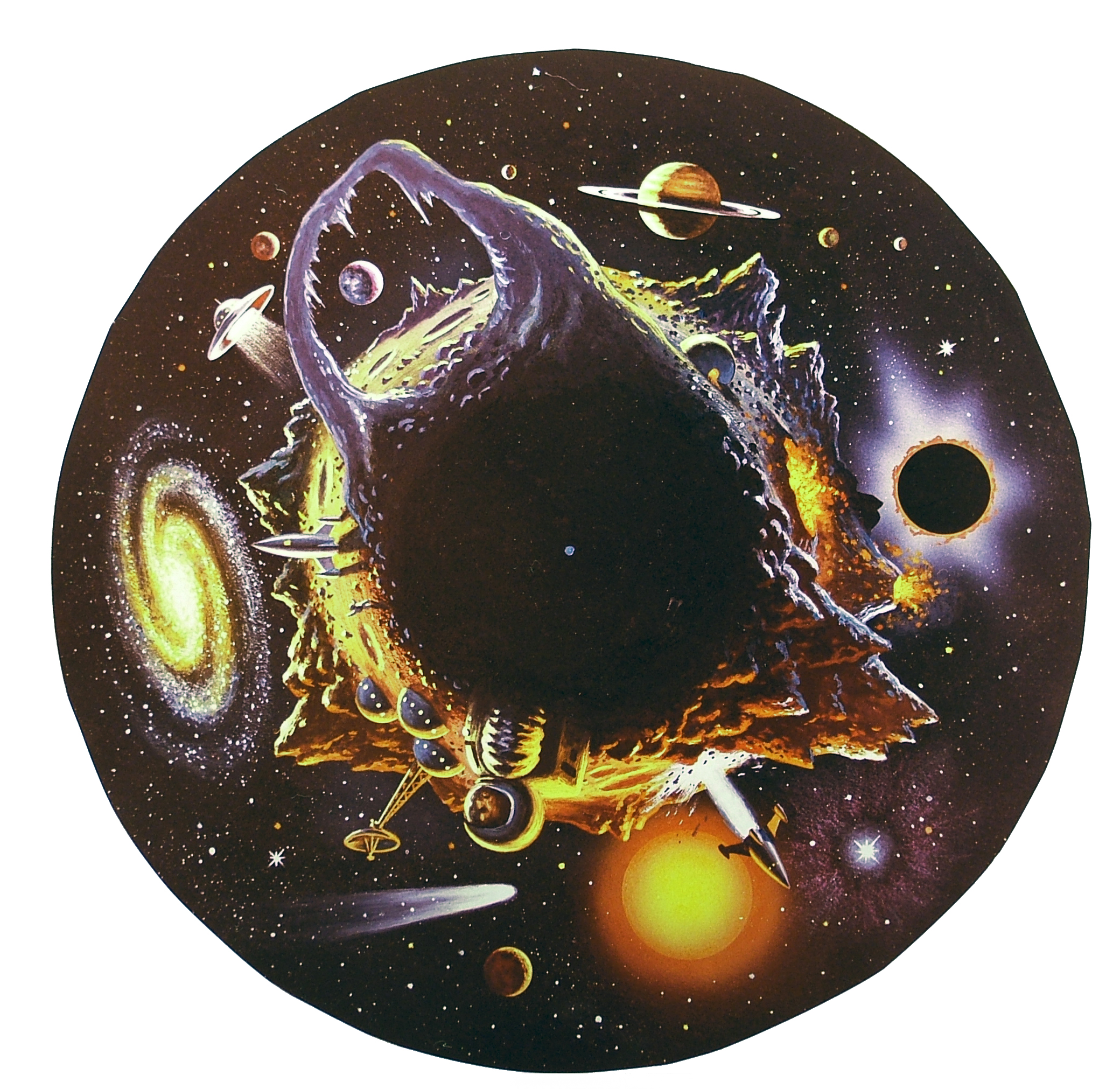 Some of that is a story for another time but I now had access to the last major player – alongside Optikinetics and Pluto – of the British FX wheel scene of the 70's and early 80's. Their story, the equipment they created as well as original art and quotes from the artists and designers of the wheels will be told for the first time in Wheels of Light, available from Four Corners Books on October 21st. Larry has set up a new Orion Effects site and is selling various bits and pieces of his archive so if you're into that incredibly niche area then this is possibly the last time such a collection of original pieces will come up for sale, certainly from one of the originators of the UK scene. Go to orioneffects.co.uk and click on the heritage pages.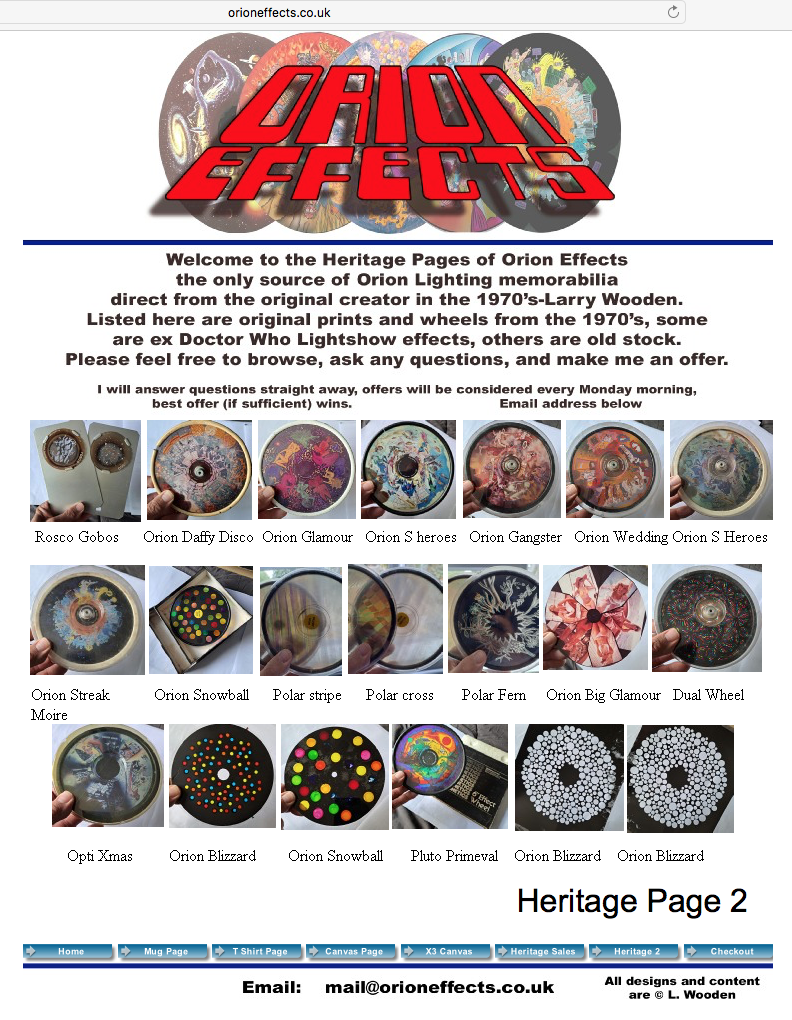 Below: Mis-registered image of the Optikinetics 'Robot' wheel taken from a catalogue (not in the book). I'll be posting more ephemera over the coming weeks as much didn't make the book… You can pre-order it here, nearly 180 pages, full colour throughout. There will be a launch party on the 19th and I should have copies for sale at my stall at Jonny Trunk's second Record Fayre on the 29th.