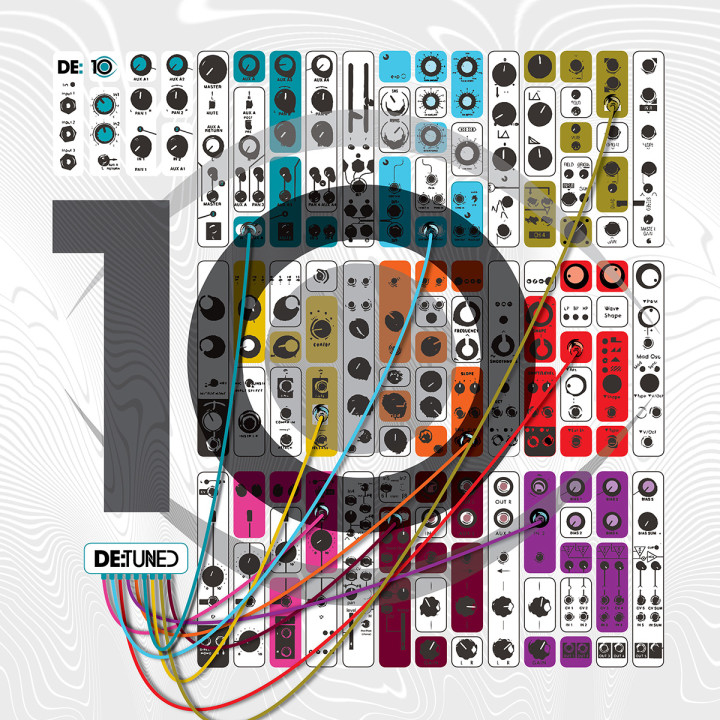 I'm very pleased to have been asked to design the De:tuned label's 10th anniversary releases, nine 12″s released monthly throughout 2019, which they have just announced. The above image is a representation of elements of the nine sleeves which, when put together, form a larger image. I'll be posting them here as they're released along with pre-order links, the line ups are a who's who of electronica from the past 25 years, some of which are revealed below.
"De:tuned celebrates their 10th anniversary with a 10 part EP series released across 2019. The first part is planned for February and the project will continue each month throughout 2019. The artwork of the first 9 releases of the series forms a 3 x 3 poster display.
PRE-ORDER l Phonica: https://bit.ly/2QNtuVi
De:tuned have called on designer Kevin Foakes (Openmind, DJ Food, Ninja Tune) to create all graphic work.
'DE:10.01' kicks off with a special treat from the golden 90s era: on offer a welcome combination of previously unreleased DAT material by Kirk Degiorgio and affectionate As One remix treatments of both original Sensurreal and Jedi Knights (Mark Pritchard and Tom Middleton) work, pure bliss.
PRE-ORDER l https://bit.ly/2BypxZV
The second EP of the series dives deep down into the ambient techno world. The A side makes you drift away on a rare Sun Electric get together, followed by a beautiful Higher Intelligence Agency piece. DeepChord's dubbed lushness completes this highly intense journey.
PRE-ORDER l https://bit.ly/2LtqIOZ
John Beltran, Mark Archer, Future Beat Alliance and max 404 line up on the third 10 years anniversary 12″ for De:tuned. Both John and Mark deliver a timeless, Detroit indebted techno vibe, resulting in 2 dancefloor-friendly tracks. FBA and max 404 activated their DAT recorder and struck gold with previously unheard crisp yet sensitive cuts."
PRE-ORDER l https://bit.ly/2ByYTQA