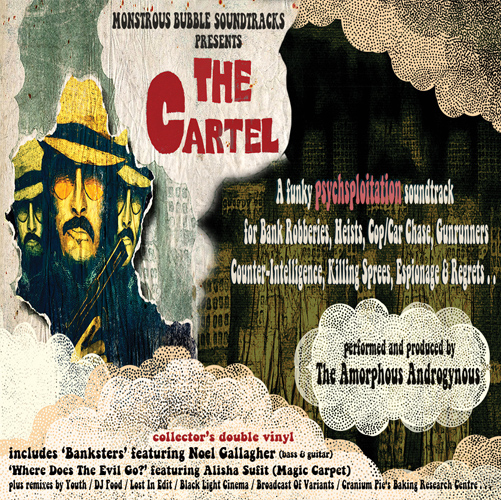 Taken from the Galaxial Pharmacutical: The tracklisting for The Amorphous Androgynous' 'The Cartel' 2xLP Record Store Day vinyl edition has been revealed:
1. The Chaser [Black Light Cinema Remix]
2. 000000 [Cranium Pie's Baking Research Centre Remix]
3. City Of Regrets [Broadcast Of Variants Remix]
4. Where Does The Evil Go
5. Tunnel Vision [DJ Food Remix]
6. Billionaire
7. Bugged [Virgil Howe Remix]
8. The Watch Man
9. The Killin' Spree
10. The Costa Rican Cartel
11. Visiting The Visitor [Seafar Remix]
12. Out About [Mikey Rowe Remix]
13. Wasp [Blood Solution] [Youth Remix]
14. Banksters
15. The Bug
16. Regrets [Re-edit]
17. Radio Break [NMESH Re-mix]
18. Wasped [Cranium Pie's Baking Research Centre Remix]
19. The Wasp
20. Bankster Island
21. The First Billion Is The Hardest
22. Regrets And The Damage Done [Lost In Edit Re-mix]
23. The Rat
24. Opium Smiles
Very pleased to be a part of this release, being a fan of the band for so long,
can't wait for people to hear the mix, Record Store Day is April 19th.