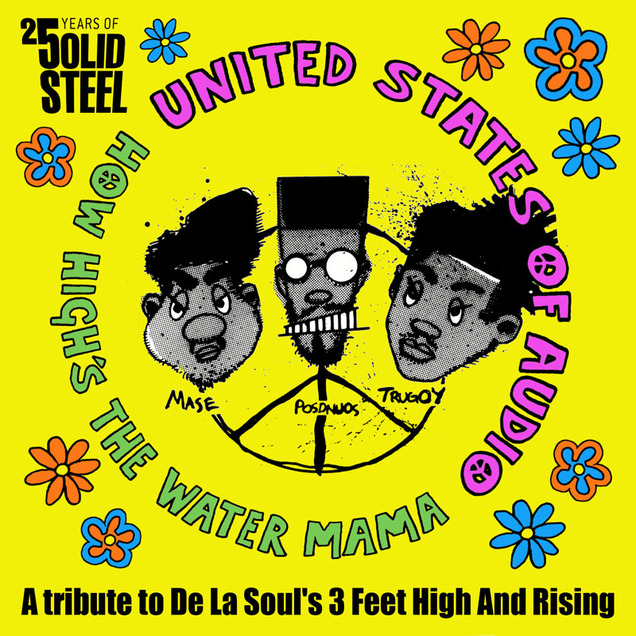 "Now waaaaaiit a minute!" People are really pulling out the stops for the Solid Steel 25th year anniversary guest mixes at the moment. Last week Gilles Peterson not only made a Brit Funk mix but also a special video promo to go with it.
This week though, sees the return of United States of Audio aka Dave Trigg with what I'm already calling 'Mix of the Year'. Riffing off the same idea as our 'Paul's Boutique' reconstruction last year, he takes on De La Soul's  classic '3 Feet High & Rising' LP. I'll turn it over to Dave for the explanation:
"Several years in the making (well it's an idea that's been knocking around for a while anyway!), and including around 100 tracks, this is my personal tribute to De La Soul's '3 Feet High and Rising'. Using original sample sources, album tracks, interviews and rarities, 'How High's The Water Mama' tells the story of one of hip hop's most influential albums.
When De La Soul's debut album dropped in 1989 I was ten years old. Yet, by some stroke of amazing good fortune a cassette copy of '3 Feet High and Rising' found its way into my hands thanks to my best mate's older brother (though I'm pretty sure said brother had no idea of this fact!). The music was a revelation and had a significant influence in shaping my musical tastes – in fact I can't think of any other album that has had such a profound effect on me as this one. Thus '3 Feet High and Rising' holds a special place in my musical affections. Now, some twenty-five years after its original release, it's time to pay my respect to Pos, Dove, Mase, and Prince Paul…"
The pace and flow of this mix is a masterclass in how to put songs together and the ease with which he balances the sonics of a huge number of vastly different genres can only have meant hours of mixdown time. The reconstruction of the 'Cool Breeze On The Rocks' section is worth the price of admission alone (with a great nod to Solid Steel too). It gives a fresh take on '3 Feet…' and reminds you of how many great songs they recontexualised within it. It's also a history lesson, with interview segments where the band talk about the making of the album, the hippy tag and the sample lawsuits.

This is the one to beat in 2013. Also, in a bizarre coincidence, the latest issue of Wax Poetics features De La talking about the making of the very same album.