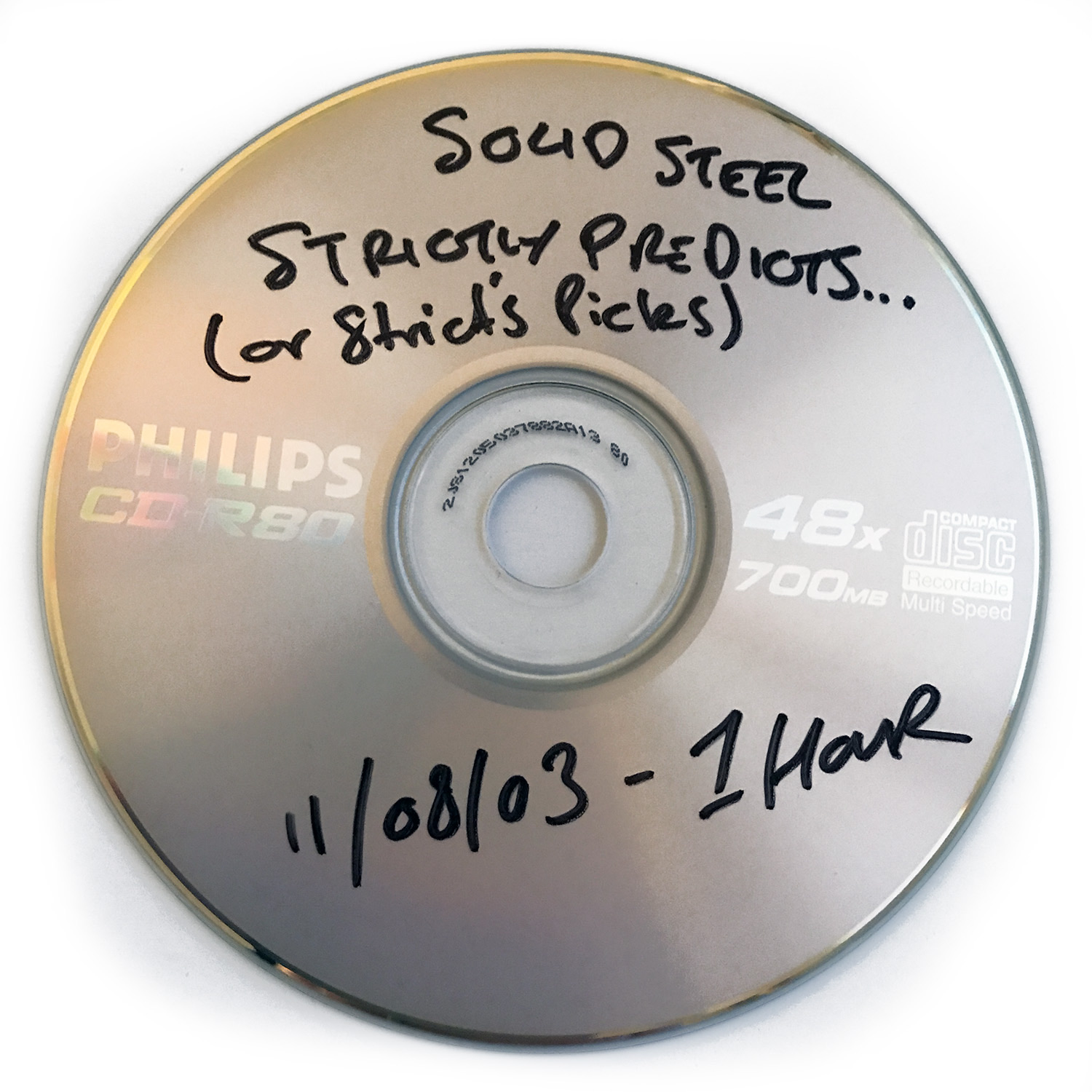 Summer 2003 and I've no idea what the opening use of Pinocchio's clock sequence was intended to convey but lots of the food-related spoken word overlaid came from Megatrip's excellent sample collection that he'd send to us via CDr. John Book's 'eBay Trauma Centre' comes from the first Tru Thoughts compilation 'Shapes One' and is – I think – the only track released under his own name so far, his band Crut however, have released plenty. I'd just discovered Mr. Bungle's amazing 'California' album via old school friend Steven Baker (RIP) and still hold it in high regard as their masterwork to this day – I seriously recommend it as an example of incredible song writing collage and masterful playing, I mean come on, Dave Lombardo plays drums and a song called 'None of them knew they were robots' has to be good, right?. Not being a Streets fan I used the instrumental, non-Mike Skinner vocal version of Grafiti vs The Bug's only single and filled in some of the vocals with spoken word snippets from Megatrip's aforementioned Soundbank collection. I'd only just discovered Akufen's My Way LP from the previous year and absolutely caned it around this time, still a peerless release that will forever be associated with painting a picture for my Dad's 60th birthday where I listened to it on repeat.
Amalgamation of Sounds, always good value, LFO's 'Freak' absolutely killer tune, RIP Mark Bell, caned that Five Deez 'Funky' a cappella for years over all sorts of tracks in clubs with DK. Hey, this mix is pretty slamming now, oh here comes DJ Zinc with Dynamite MC to tear the roof off with 'People 4', one of his most creative tunes of the era, a beats/rap match made in heaven. Big tempo switch up and then Reprazent homies Krust and Die cut in with a further switch up from 33 to 45rpm – this section is reminiscent of my club sets at the time, fast-moving shifts through different styles and we're into the Nextmen and Cyantific's computer game-flavoured 'High Scores' before sliding into another DnB cut that Spotify tells me is 'Future Sonic' by Tele Music but I have no memory of. Dipping out of the club and back into radio land with another Mr Bungle cut, 'The Air Conditioned Nightmare'. This is another example of the band's seamless collage style, mixing examples of different artists and musical styles into one song and making it work. I swear I once heard a live set from them where they sounded like they were tuning through a radio dial and switching music styles every few bars.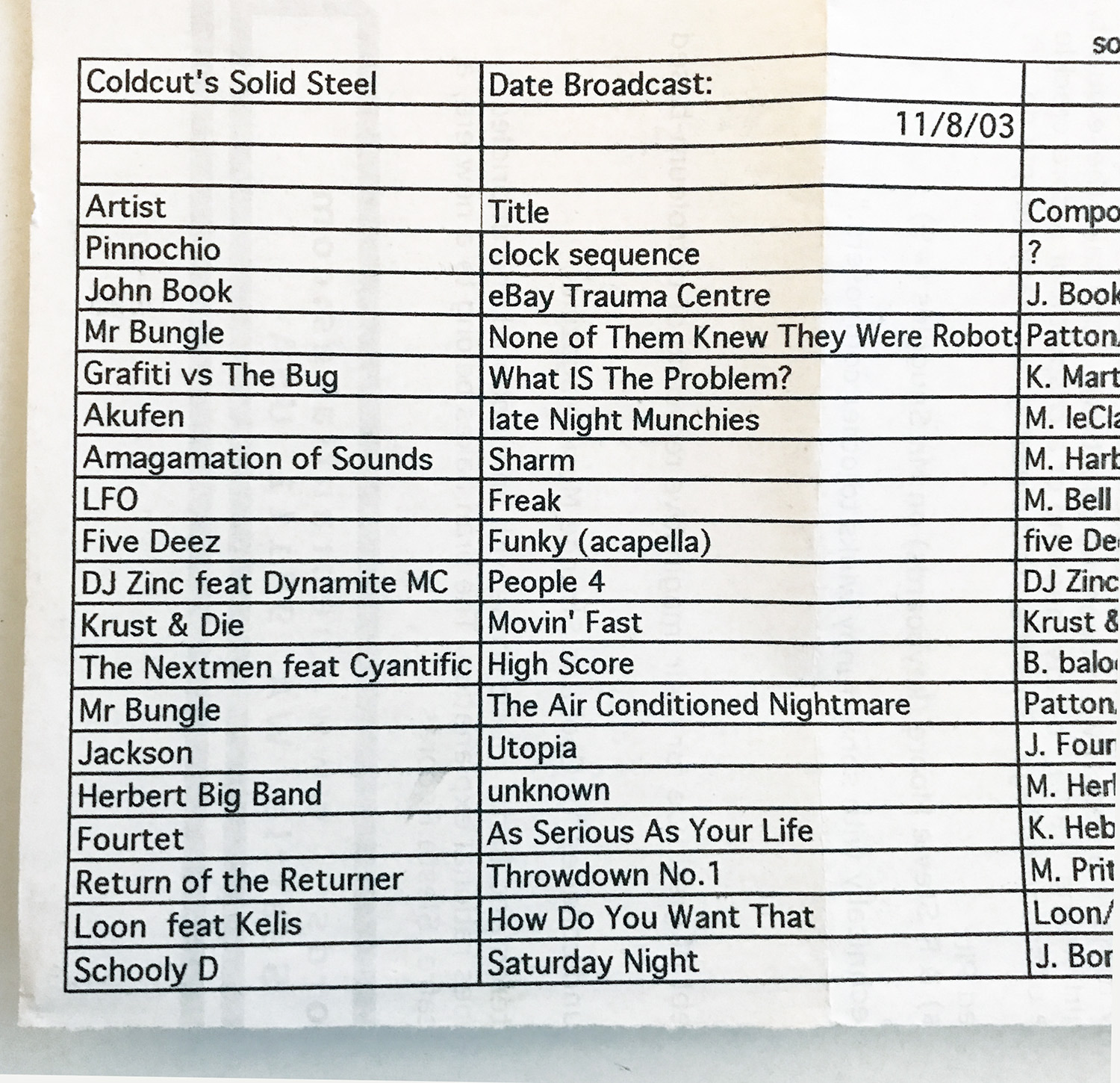 The mix into Jackson's 'Utopia' isn't too smooth but this track is similar to Akufen's in that it takes tiny snatches of voice and re-edits them into a patchwork melody, the female vocal was a recording of his mother apparently and this was played from the original French release before he got picked up by Warp. I really should have taken it out of the mix faster rather than leave it under the Matthew Herbert Big Band, it's painful. I loved this record (Goodbye Swingtime) and Matt's move away from his earlier experiments for a full live band experience. Seeing them at The Big Chill one year blew me away – always inspirational. Four Tet needs no introduction of course but back in 2003 he was still building his rep with this single from his third album, Rounds. Next up, the Returner is a lesser-used alias of Mark Pritchard, creating a fine DJ tool in his 'Throwdown No.1' of which I proceed to cut up two copies before editing into Loon's Schoolly D-quoting, Kelis-featuring 'How Do You Want That'. This was a Neptunes-esque production despite not being by them and shows how much they'd influenced contemporary hip hop by this point. We finish up with Schoolly's classic 'Saturday Night' because, why not? Live two copy cut ups from DJ Code Money, you can even hear the records jump and wobble in places, pure hip hop and swearing on record way before NWA made it hip. I think the final spoken word coda may have been from John Cage although it sounds like someone impersonating him rather than his actual voice.
Track list:
Pinnochio – Clock Sequence
John Book – eBay Trauma Centre
Mr Bungle – None of Them Knew They Were Robots
Grafiti vs The Bug – What IS The Problem?
Akufen – Late Night Munchies
Amalgamation of Sounds – Sharm
LFO – Freak
Five Deez – Funky (a cappella)
DJ Zinc feat. Dynamite MC – People 4
Krust & Die – Movin' Fast
The Nextmen feat. Cyantific – High Score
Tele Music – Future Sonic
Mr Bungle – The Air Conditioned Nightmare
Jackson – Utopia
The Matthew Herbert Big Band – Misprints
Four Tet – As Serious As Your Life
The Returner – Throwdown No.1
Loon feat. Kelis – How Do You Want That
Schoolly D – Saturday Night