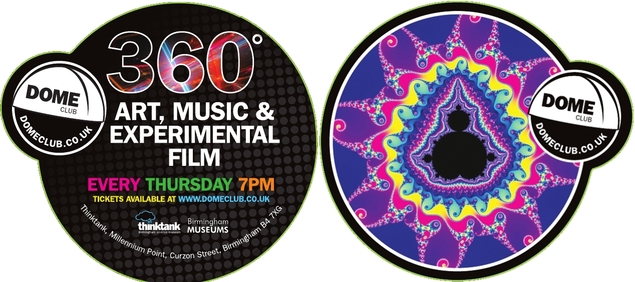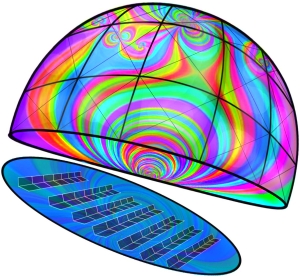 Starting this year at Birmingham's Think Tank Science Museum is Dome Club, run by the Planetarium manager Mario Di Maggio. Named after a random remark I made to Mario after a 2 hour screening session ("the only rule of Dome Club is: Everyone must talk about Dome Club") he's gone ahead and set one up. His site has wisely used a different motto:
'No-one can be told what Dome Club is. You have to see it for yourself'
This isn't hyperbole as anyone who has been to a planetarium will tell you, you can't put this on YouTube, it doesn't work like that, instead of looking through the window you're inside the room with a dome film.

Every Dome Club evening will begin with a variety of fulldome shorts, followed by one of three main performances:
•       Chaos & Order – forty scientific visualisations set to superb original music in four movements
•       Fractals! – the record-breaking fulldome spectacular by the Fractal Foundation (you may think fractals are old hat, you won't think that once you've seen them shown on a dome)
•       The Search Engine – the first fulldome music production by London's DJ Food (*cough* – this won't begin until April though)
They also have two special performances of Dark Side of the Moon scheduled for Thu 7th and Fri 8th March. Additionally, supporting the Birmingham Art Gallery exhibition Metropolis: Reflections on the Modern City (23 March – 23 June 2013), they will be screening tempus ruhr weekly at 5.30PM over that period. Dome Club ticket holders who arrive early can see tempus ruhr for free.
Tickets are now available for weekly Dome Club evenings – every Thursday – for all scheduled performances up to 20th June: They have allocated seating available with seats in the rear three rows (the sweet spot in any dome showing) costing £6.00 and the front three rows £5.00 (£1.50 and £1.00 for tempus ruhr).
It all happens at Thinktank Birmingham Science Museum, Millennium Point, Curzon St, B4 7XG, UK.