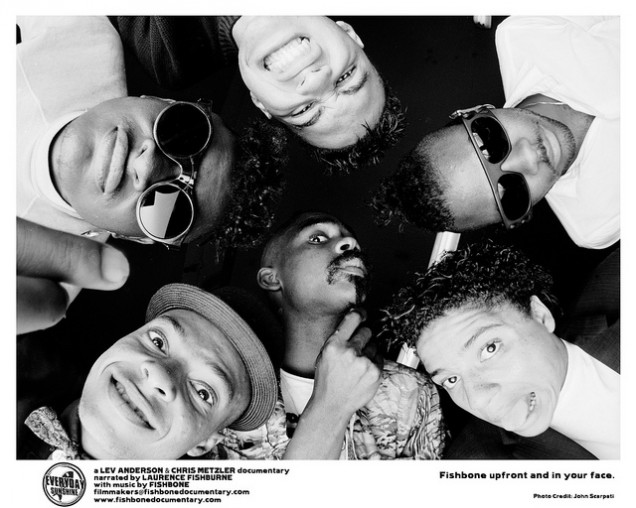 I seem to be on a late 80's kick at the moment and one of my favourite bands as the the 80's turned into the 90's was Fishbone. I saw them at least twice but missed their legendary Astoria gig where Angelo jumped off the balcony because my girlfriend at the time decided to dump me that day. One of life's big regrets. Seems they've been around for 25 years now and, even though their recorded output fell off by the mid 90's, they still hold a place in my heart.
[youtube width="640″ height="480″]http://www.youtube.com/watch?v=ChXk4R0mGNw[/youtube]
A new documentary is doing the rounds called 'Everyday Sunshine' – named after possibly their biggest hit – and you can see how influential they were at the time by the names cropping up to pay homage. Chuck D, Flea, Ice T, Perry Farrell, George Clinton, Les Claypool and, er… Tim Robbins and Gwen Stefani (!). Fair enough on Gwen, No Doubt were a ska band before they hit the big time. Anyway, the trailer looks very promising, Larry Fishburne narrates (nice touch) and let's hope they get the dues they deserve after all these years. There's a full website devoted to the doc and the DVD should be out late summer.
Also, does anyone remember an early 90's TV show with David Rappaport called 'Beyond the Groove'? I think it only ran for one series and it was a music show fashioned as a road movie of sorts. David would drive around and meet people or find himself in different situations and bands or artists would appear and do their thing. Fishbone once featured at the end of one episode when David drove into a deserted outdoor film lot, the screen flickers into life and you see the band doing a live version of 'Behaviour Control Technician' from their (at that time unreleased) 'Reality of My Surroundings' LP. I had it on videotape for years and tried to find it recently but it had been taped over! Nothing on YouTube, in fact very little about the show at all, if someone has a copy of it, I'd love to see it, likewise their performance of 'Fishbone Is Red Hot' on the Big World Café programme.
And here's the 'Beyond the Groove' clip courtesy of Matt Davies (see comments below), thanks so much – the power of the internet!.
[youtube width="640″ height="480″]http://www.youtube.com/watch?v=_qeYUOf4s8g[/youtube]