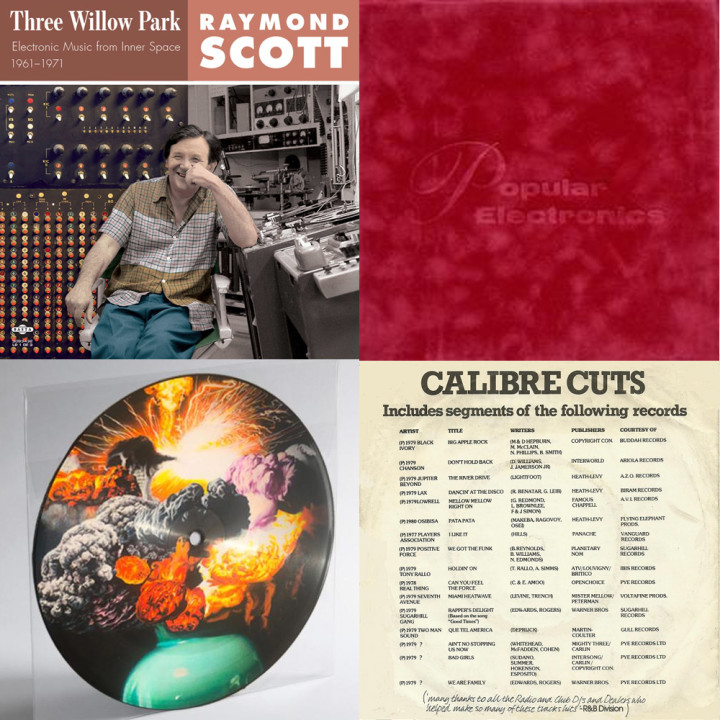 Four From Food Fridays – a weekly look at four things I've been loving in the last seven days. They can be new or old, any style so long as it's been getting some rotation in the studio. From top left:
Raymond Scott – Three Willow Park (Basta) 3xLP+booklet – A treasure trove of electronic experiments, jingles and curios with a 12×12″ booklet full of photos and info.
Various Artists – Popular Electronics (Basta) 4×7″ boxset – Facsimile copies of four 7″s of from the middle of the 20th century which would certainly cost you more than the €50 they want here if you could even find them, all held in a red velvet box with embossed title. Check the Basta site for more.
Nevermen – Mr Minute (Boards of Canada remix/instr) (Lex) 7″ picture disc – Physical release of the BOC remix, backed with an instrumental version.
Various Artists – Calibre Cuts (Calibre) 7″ – A recent discovery, a British disco medley with tape edits, rough loops, FX and dodgy 'soundalike' covers that Morgan Khan had a hand in from 1980 (beating Grandmaster Flash by a year).