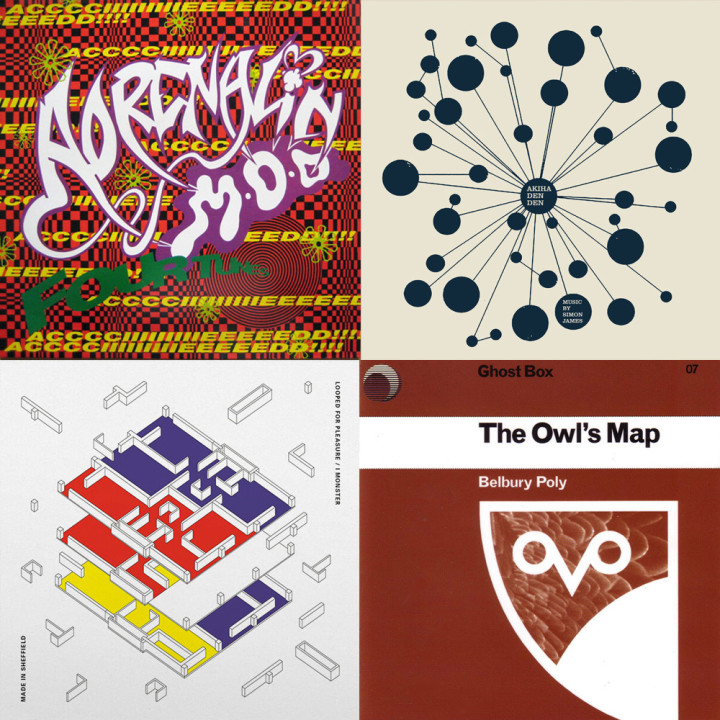 Four From Food Fridays – a weekly look at four things I've been loving in the last seven days. They can be new or old, any style so long as it's been getting some rotation in the studio. I missed last week because I was at the Delaware Road gig and that's as good an excuse as any. From top left:
Adrendalin M.O.D. – Four Tunes EP (MCA) 12″ – Four tracks of vintage acid from back in the day, looks like a bad cash-in, sounds amazing.
Simon James – Akiha Den Den (Castles In Space) LP – Long-awaited soundtrack to the radio play of the same name from The Simonsound.
Looped For Pleasure / I Monster – Made In Sheffield (Electronic Sound) 7″ – special Sheffield-centric single only available with the latest issue of Electronic Sound.
Belbury Poly – The Owl's Map (Ghost Box) LP – A vinyl pressing reissue for the second BP album, aging well after 11 years – contains one of my favourite Belbury track, 'The People'.