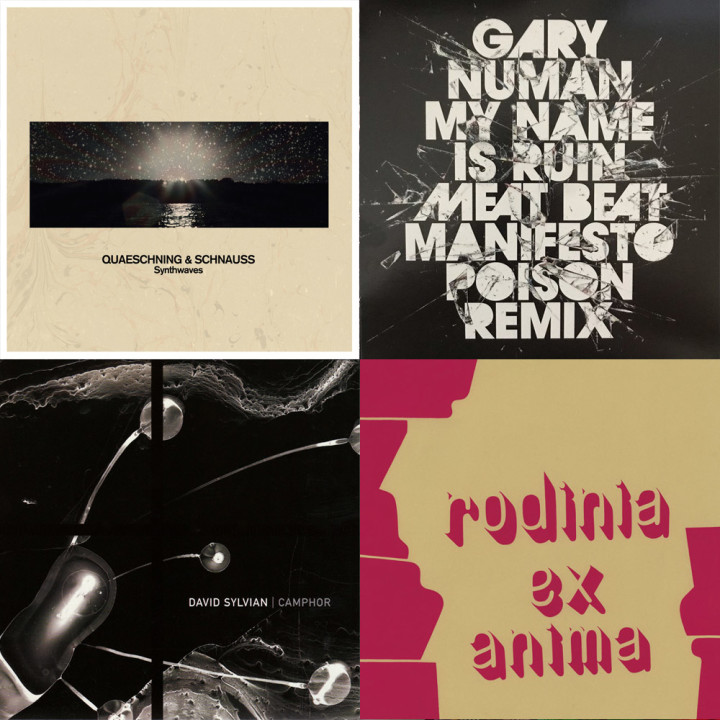 Four From Food Fridays – a weekly look at four things I've been loving in the last seven days. Old or new, whatever's been on in the studio. From top left:
Quaeschning & Schnauss – Synthwaves (Azure Vista Recordings) LP – Very Tangerine Dream-flavoured synth errrr… waves in this 3rd release from the new ambient off-shoot of El Paraiso.
Gary Numan – My Name Is Ruin (Meat Beat Manifesto Poison remix) (Electronic Sound) 7″ – Only available as a special bundle online with the latest issue of Electronic Sound magazine – the beaty B side is a thing of beauty.
David Sylvian – Camphor (Virgin) CD – Inspired by revisiting Sylvian and Czukay's work after Holger's recent death I dug this out, a compilation of David's ambient work with remixes of 'Plight & Premonition' on the second disc.
Rodinia – Ex Anima (Now Again) CD/LP – J.J.Whitefield is back with a follow up to last year's 'Drumscape/Dreamscape' with more in the ambient/krautrock vein.