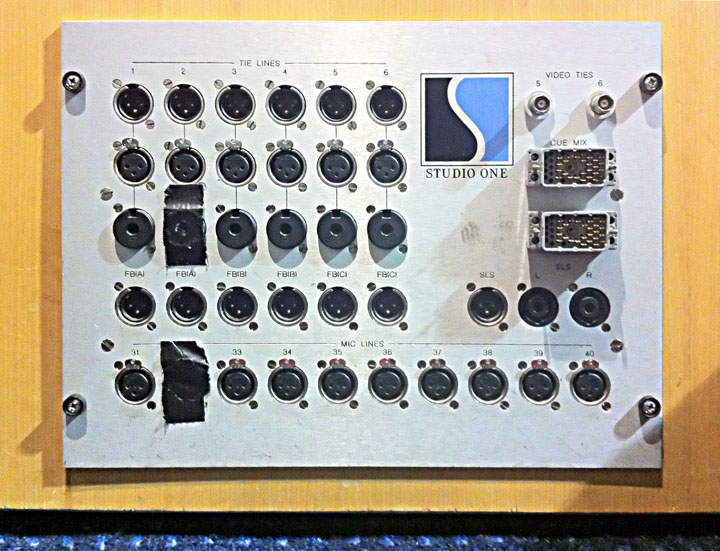 On Thursday night I was lucky enough to squeeze into Sarm Studios alongside 60 other Frankie Goes To Hollywood fans and assorted industry people for a playback of 'Welcome To The Pleasuredome'. Ably hosted by Classic Album Sundays' Colleen Murphy it was a final farewell to the studio were the album and thousands of other songs were originally recorded before it closes to be refurbished into flats at the end of the year.
The evening started with a swift drink around the corner with designer Philip Marshall alongside Steve and Paul from Union Square Music who I'd worked with on the Frankie box set, now at the printers and awaiting release in a month's time. We were treating this as our 'wrap' party even though Paul and Steve still have the logistics of consolidating the set elements and shipping all the boxes out (over 1,100 have been sold so far). Walking past Sarm earlier, a gaggle of fans had mistaken me for alternately, Steve Lipson and Holly Johnson as everyone who ventured near was scrutinised by the gathering crowd.
Once we returned to the studio there were many more outside, although nearly all midde-aged men, a far cry from the teenage girls who used to gather to try and catch a glimpse of Frankie as they came and went 30 years ago. Once inside I was finally introduced to Paul Sinclair from Super Deluxe Edition (also see his review here) whose blog is a must for all things that fall into this category, and we settled in the back row next to a Sarm patch bay to listen to the evening's events.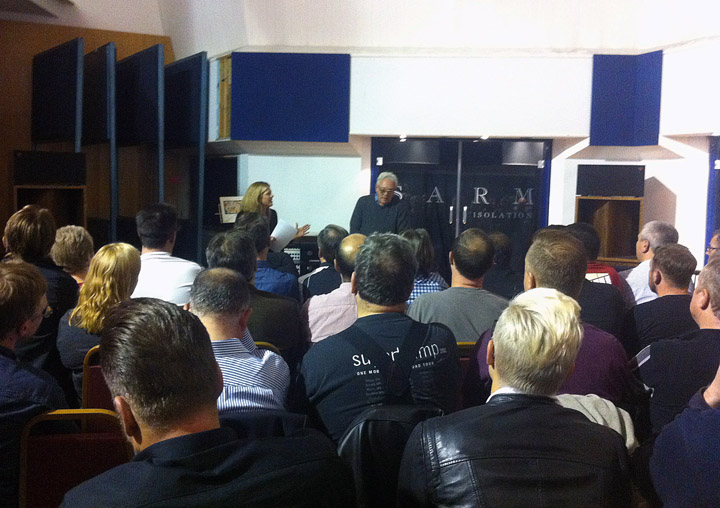 First up was Colleen quizzing Trevor Horn about his career and some of the difficulties in recording the album with the fledgling band, some of who were still learning their instruments. The thing I realised about Horn that evening is that whether working with the best or the most incompetent he's always managed to get something extraordinary out of the people he works with. Take his two projects before starting ZTT and recording '…Pleasuredome':
Yes '90210' – a group able to play and sing virtually any other band under the table but suffering from a lack of relevance in the pop market. He managed to make 'Owner of a Lonely Heart' into a worldwide smash hit for them, including an experimental extended 12″ mix, and bring them to a whole new audience. Contrast this with Malcolm McLaren's 'Duck Rock' LP, a mish mash culture clash of World Music before the term was even invented fronted by a band manager who couldn't even keep time let alone sing. That record produced several top 40 hits and can be credited with bringing Hip Hop culture as a package (rapping, scratching, graffiti, fashion and breaking / double dutch) to the world, certainly to Europe.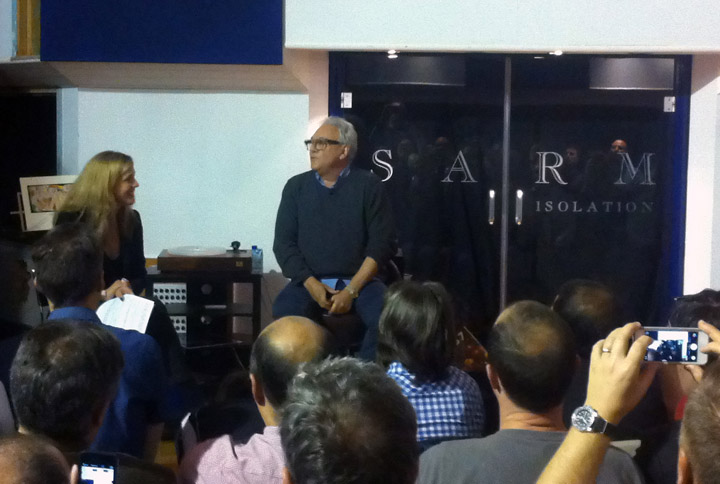 Colleen was an excellent hostess who certainly knew her ZTT / Frankie / Horn history and various nuggets of info concerning recording shenanigans were revealed before we broke for sandwiches and drink. On returning we were confronted with an often hilarious piece to camera by Paul Morley who couldn't be present but had sent a recorded message instead. He regaled us with lists of adjectives to describe the album, painted a picture of both the musical and journalistic landscape at the time and quoted the David Frost line from the TV ad: "hello, good evening and welcome… to the pleasure dome".
At which point Colleen dropped the needle on her custom built sound system and we settled back to listen to side F of the album in the same room that much of it was made. Even though everyone in the room probably knew every note and nuance of the record it was still a new experience. Few would have access to a system as good as this and the acoustics of the room gave it a different shade. The bass at times was extraordinarily deep and full, the stereo separation very apparent too and the first side – IMO one of the greatest pieces of pop music ever recorded – flew past way too quickly. On to side G and the trinity of pre LP pop classics that are 'Relax', 'War' and 'Two Tribes', songs we've all heard a million times in multiple versions that still sounded fresh as the day they were mixed down.
Another break for refreshments, toilet breaks and the like and people were starting to loosen up and really enjoy the evening. It was on to side T – generally thought to be the weakest of the bunch because more than half of it consists of three cover versions including the almost universally reviled '(Do You Know The Way To) San Jose'. On reflection if you took this song away the side would stand up way better. The brief version of 'Ferry 'Cross The Mersey' giving way to the powerful cover of Springsteen's 'Born To Run' coupled with two new band compositions not being as winsome as it currently stands. Would the inclusion of the full 'The World Is My Oyster' or 'Disneyland' have helped? Almost certainly but perhaps there wasn't the time to finish these before the album had to be out hence their inclusion on later releases?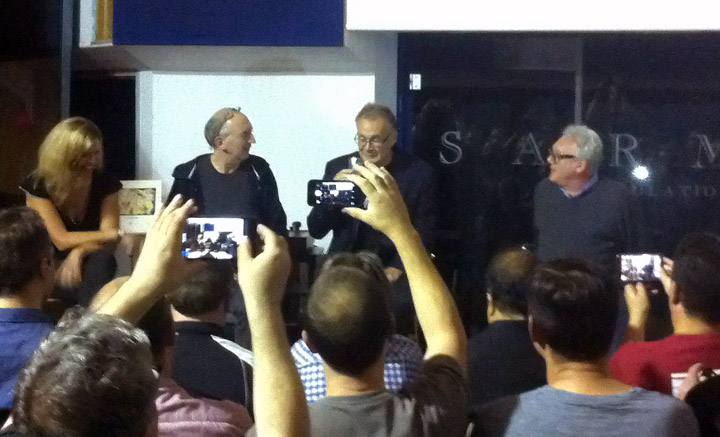 Side H, with three slices of Frankie's finest non-single material and 'The Power of Love' to end before the coda of 'Bang' left everyone clapping their appreciation for a work now, rightly, considered a classic. Cue Trevor Horn returning alongside engineer and guitarist Steve Lipson and Fairlight operator and former Art of Noise member JJ Jeczalik. All three were in good spirits and another ex-Art of Noise-er, Gary Langan, was also lurking in the wings. There were brief introductions and reminisces before the room was opened up for questions for the super-dry Lipson, jovial JJ and laid-back Horn.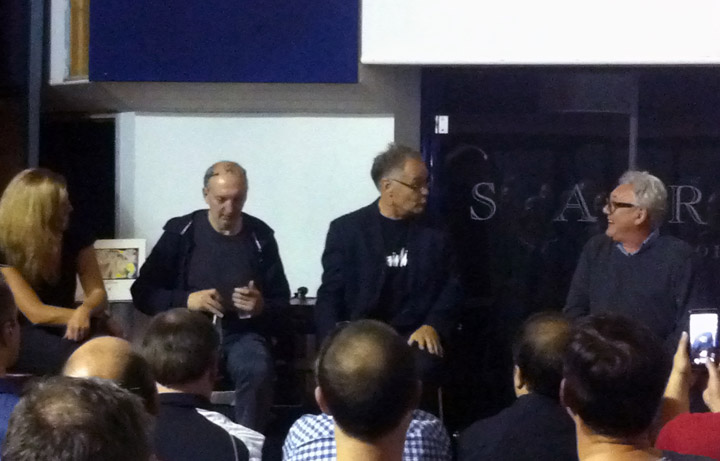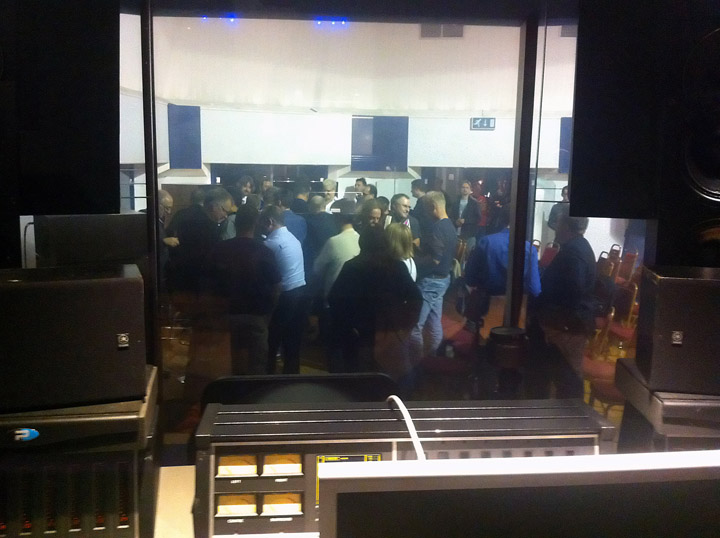 At the end a virtual scrum descended on the three as record sleeves were whipped out to be signed and further questions asked whilst posing for photos. We crept off to the control room, somewhere that was generally out of bounds to the rest of the party but that we had access to via the USM connection. I sat at the huge mixing desk overlooking the live room and, for a second, imagined I was Trevor or Steve all those years ago. It was a great end to a unique evening and I think most people went away satisfied that they had been part of something special, something that was soon going to be permanently laid to rest when the studio closes.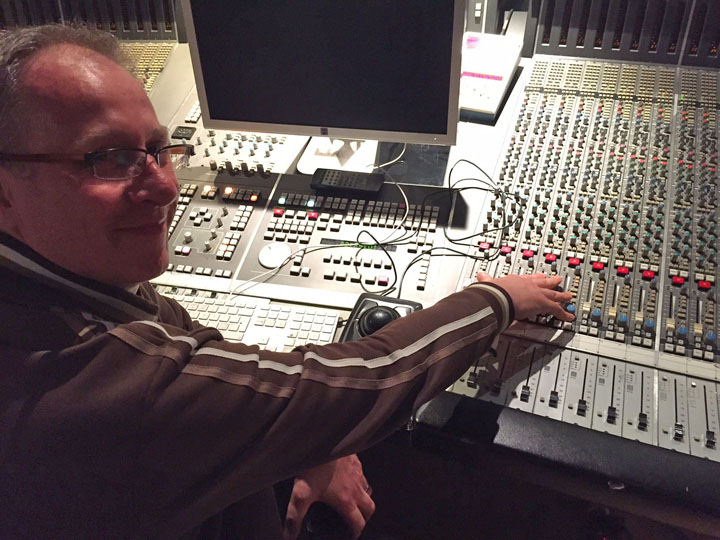 For Philip and I it felt as though we had finished the project and this was a little send off, of course there will be something else cropping up, there always is, but it was a nice end to nine months' work. I left content that I'd had the opportunity to visit the place where some of my favourite records were created (not only Frankie but Propaganda, Art of Noise and Grace Jones to name just three on ZTT alone). We were Inside The Pleasuredome for what seemed like most of the year but last week, as we left the Blue Building, we went out in style… with a Bang!
The Ultra Deluxe Frankie Goes To Hollywood 'Inside The Pleasuredome' box set by is available to pre-order via Pledge Music and is released at the end of October, 30 years after the original opened its doors.