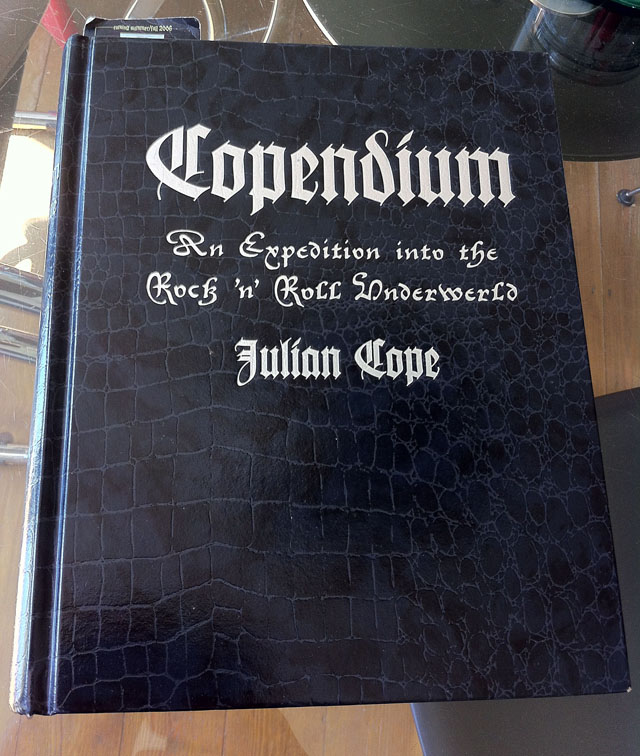 This book has taken me the best part of the year to finish, it's been sighted in most rooms in the house since Xmas and probably has more soup and cereal encrusting its pages than any other book I own. It's a huge 700 page collection of Julian Cope's album reviews from a decade of writing for his Head Heritage site and it's easily one of the books of the year.
If you've never read Cope before he's in a different league from any other music critic you've ever read. Frequently laugh out loud funny, researched up to the hilt and with a Hunter S. Thompson-esque sense of urgency that swings between over-excited teenager making their first discoveries to seen-it-all-before-couldnt-give-a-fuck posturing. His prose is peppered with references to Norse mythology so he invokes Loki and Odin constantly whilst lovingly referring to the reader(s) as 'children', 'babies' and 'motherfuckers'. He casually drops anecdotes about all and sundry from the Liverpool scene and knows his shit inside out. The great thing about this is that you can drop in and out of it with ease and each page, let alone each chapter, will have you scurrying to Google to look up records he describes that cannot possibly live up to his out of this world comparisons.
He starts at the end of the 50s with some Lord Buckley and proceeds, decade by decade, to rifle through the forgotten, the neglected and the just plain unknown music that he deems at least worthy of the same accolades afforded the Mojo-endorsed rock gods we all see peering out of Classic Rock-type magazines every month. Most of his sentences are really long too. After the 00's (sorry, I can't say 'noughties') we get condensed versions of his Krautrocksampler / Japrocksampler format for Detroit Rock, Post Rock, Hard Rock, Glam Rock and Dansk Rock (Danish in case you were wondering).
For serious music fanatics wishing to read an alternative take on the history of rock in the 20th Century rather than those wanting a light read, this will come to be seen of equal importance as 'Krautrocksampler' in time. If you still need convincing then read what the Quietus had to say about it and then Treat yourself.