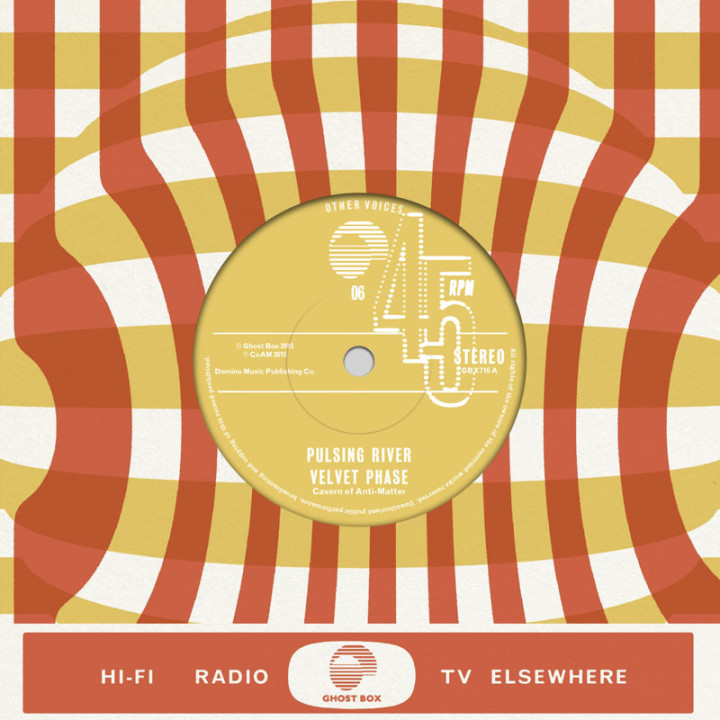 Just in time for Xmas here's two new 45s from Ghost Box's 'Other Voices' series – one-offs from friends and like-minded souls of the label. Being a huge fan of Tim Gane's Cavern of Anti-Matter I was excited to see their name appear months ago as next up on the agenda. Their excellent debut album 'Blood Drums' is long gone (still looking for a copy if anyone is selling) but you can hear it via the Staalplaat bancamp page and they have a website at last with a new album on the way early next year.
The single doesn't disappoint either with the A side unfolding into a near 6 minute sprawling electro-country-fied epic that, at one point, almost threatens to break into 'Witchita Lineman' (the second of the Other Voices series to do so). The B-side is even better and mines a sound familiar to many Stereolab fans, all motorik Krautrock groove with guitar and organ accompaniment. But what's the point of trying to describe them ('dancng about architecture' etc…) when you can listen to clips below and make your own mind up?

ToiToiToi are completely new to me and a google search reveals that it's the project of Sebastian Counts from Berlin. His 7″ is a mixture of lo-fi childlike tunes that sound like Brian Wilson having fun in his sandbox mixed with early Kraftwerk Autobahn-era overtones. 'Odin's Jungle' on the single comes from a 2011 album that you can hear on his Bandcamp page. Order both singles HERE.