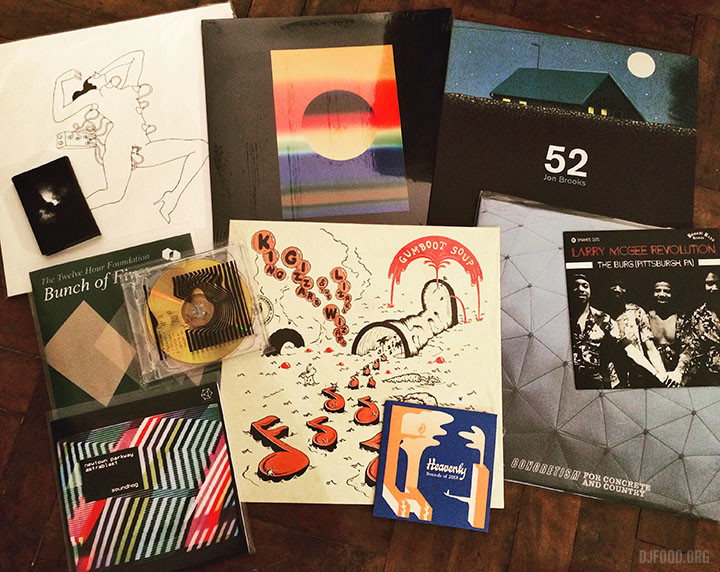 I thought I'd better post some new music recommends on here seeing as the Four From Food Fridays thing took a back seat since I moved house late last year. I went to the Independant Label Market in Spitalfiends the Saturday before last and picked up a good haul of music at affordable prices, direct from the artists or labels. No queues, no waking up at silly o'clock, some limited editions but I managed to get everything I was after and I arrived a good three hours after it had opened.
Clockwise from top left: Pink Lunch (Trevor Jackson alias) – S/T LP (Pre), Dark They Were And Golden Eyed (Trevor Jackson alias) – Design Your Dreams LP, (Pre) Jon Brooks – 52 (Clay Pipe Music), Larry McGee Revolution – The Burg 7″ (Dynamite Cuts), Concretism – For Concrete & Country LP (Castles In Space), Heavenly Records sampler CD, King Gizzard & The Lizard Wizard – Gumboot Soup LP (Heavenly), Soundhog – Newtown Parkway / Astrablast 7″ (Castles In Space), The Twelve Hour Foundation – Bunch of Fives lathe cut 7″ (Castles In Space), Trevor Jackson – System CD (Pre), Of The Night (Trevor Jackson alias) cassette (Pre).
This is where the spirit of Record Store Day lives for me, it was busy, it was exciting, I spent a chunk of money that went straight to the artists/labels and even grabbed copies for friends who couldn't make it. Every release I got was new bar one reissue that I was given and I bought vinyl, CDs and a cassette. 7″s were around £5 or £10 for a lathe cut with multiple inserts, LPs between £15 and £20 and there was food and booze nearby to enjoy afterwards. Later we dropped into a local record shop only to see multiple copies of unsold RSD Shaggy 7″s and the Florence & The Machine single retailing for £18.
The clue is in the title, 'Independent Label Market', twice annually in London at Spitalfields – and yes, I realise I'm lucky enough to live in a city where such a thing happens – but they're expanding. Next month sees one in Berlin, another in Soho and October has one scheduled for Paris.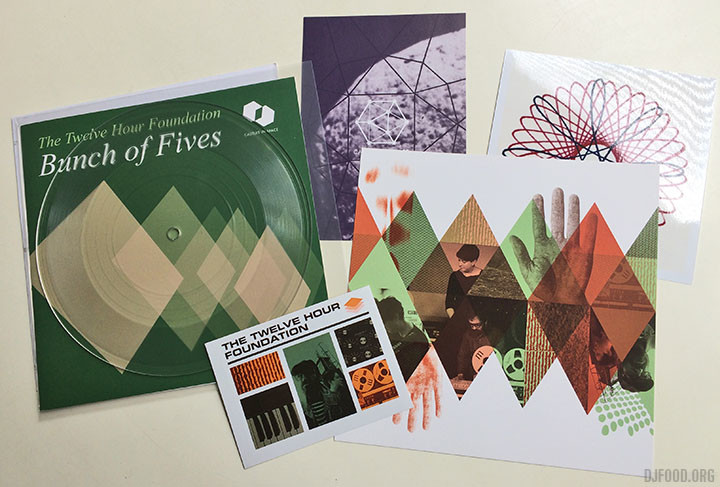 Castles In Space are really killing it with releases right now, the Concretism album is excellent, the Twelve Hour Foundation's 7″ above is a great taster for the album to follow and Soundhog's debut for the label bodes well for the future. With the Akiha Den Den album last year and more on the horizon, this Brighton-based label is doing good things in electronic music – lovely design by Nick Taylor on the THF single and Richard Littler (Scarfolk) for the Concretism too.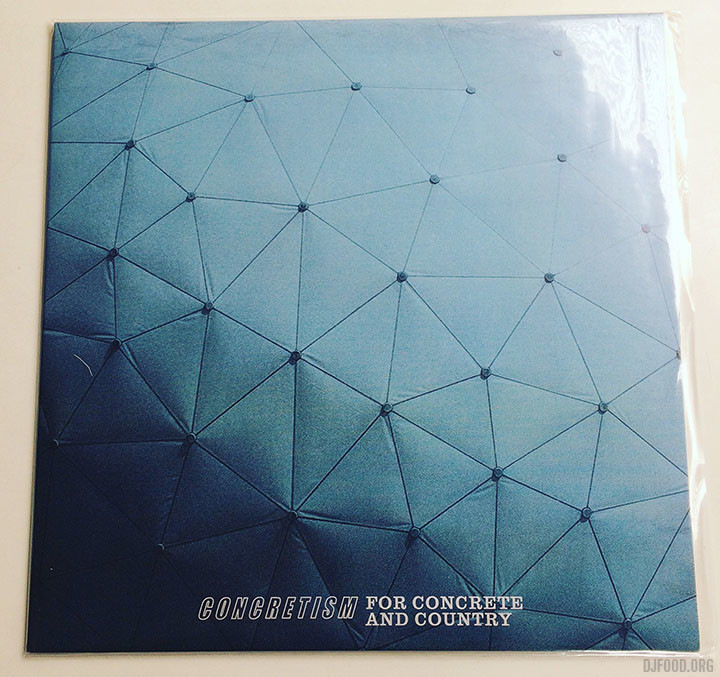 Outside the market there's plenty to be scooped up on the web – The new Delights release is out any day, with only half the stock left – a new Group Modular 45 with an update of their Acid Wheels track and a brand new A side. Each comes with this lovely screen print too and it's limited to 150 copies. Grab one here
If deep, dark modular electronics are your thing then you could do far worse than grab one or both of these releases which both feature Camberwell local Guido Zen. Vactrol Park is his band with Kyle Martin and this 3 tracker pre-empts a forthcoming album on Malka Tuti label – really nice stuff, similar in vein to their previous two EPs on ESP Institute. The PNZ 'Shut Your Eyes On The Way Out' LP is a collab between Zen, Colin Potter, who has worked with Nurse With Wound among others and Alessio Natalizia aka Not Waving.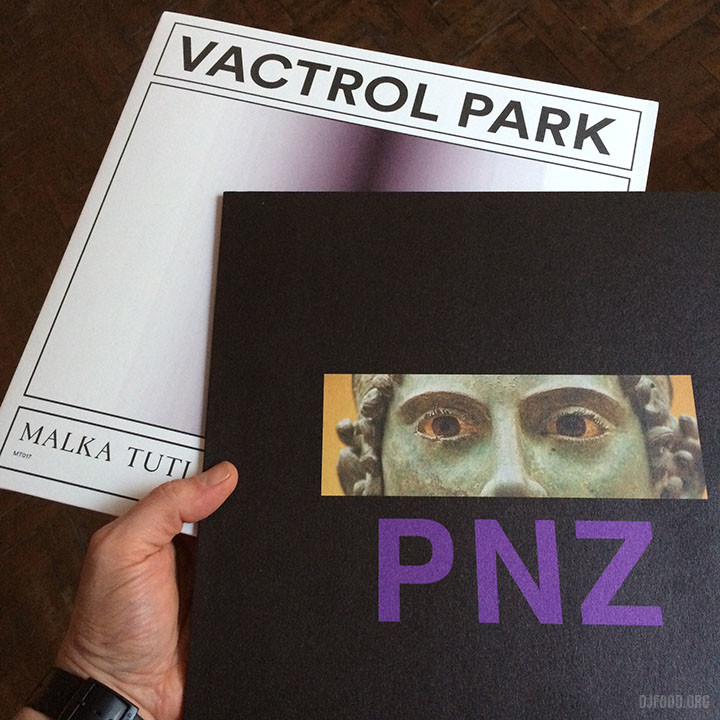 Trunk comes up with another winner in the form of the spy-jazz KPM cues for the 2nd and 3rd series of the animated Spiderman cartoon of the 70's. Fantastic spider-splat vinyl too although these may now be sold out.
Demdike Stare also just put out a tape of them remixing The Feed-back by Gruppo di Improvvisazione Nuova Consonanza (Morricone's infamous psychedlic jazz outfit) – I was hoping for something a bit more crazed and fuzzed out but it's an interesting listen. Sadly I think this is sold out already