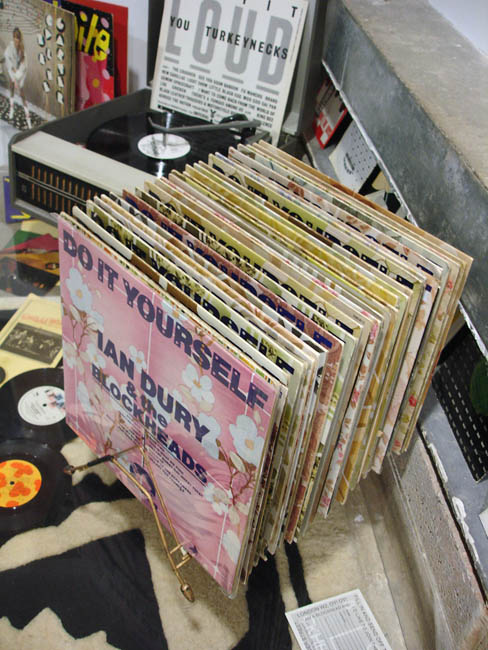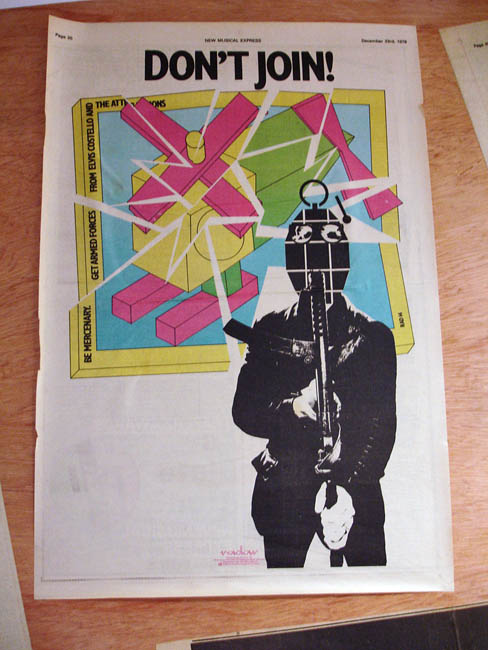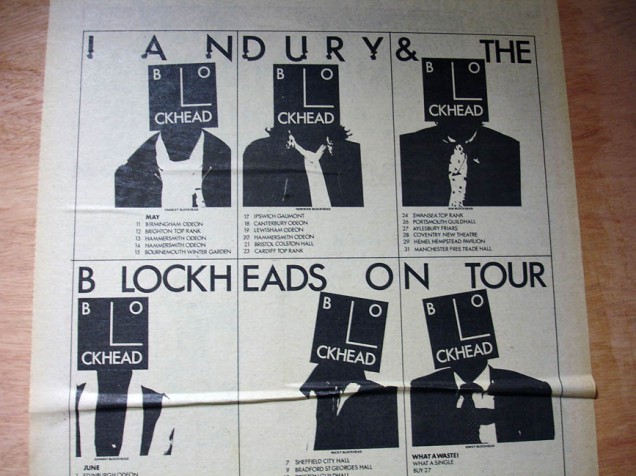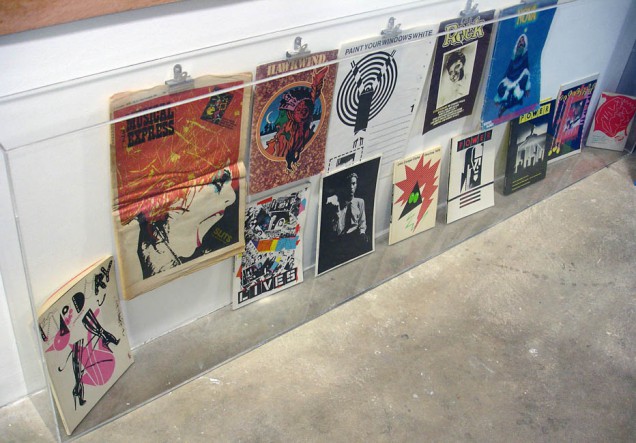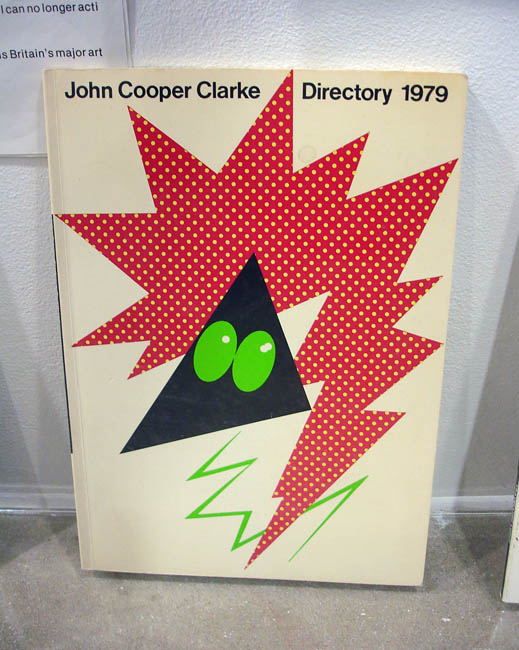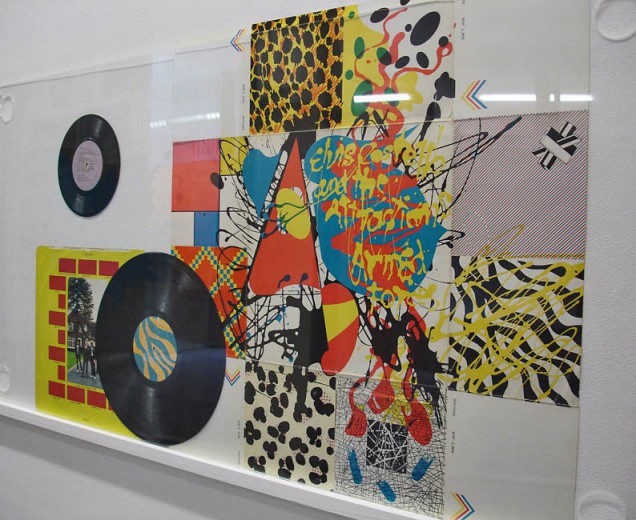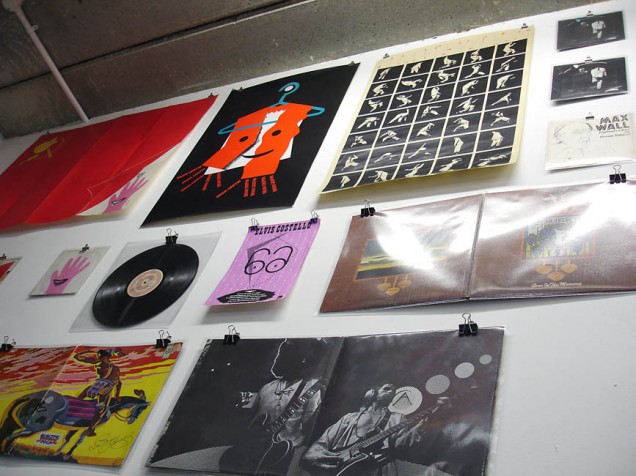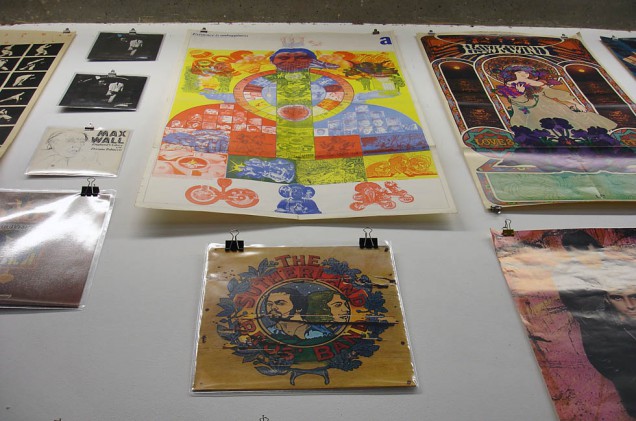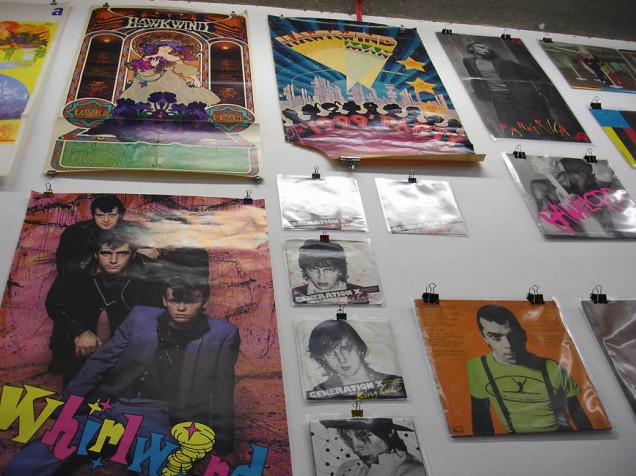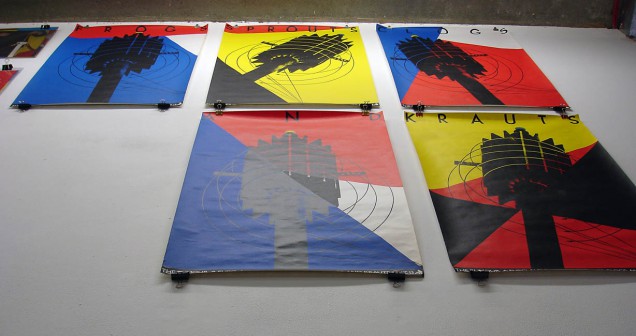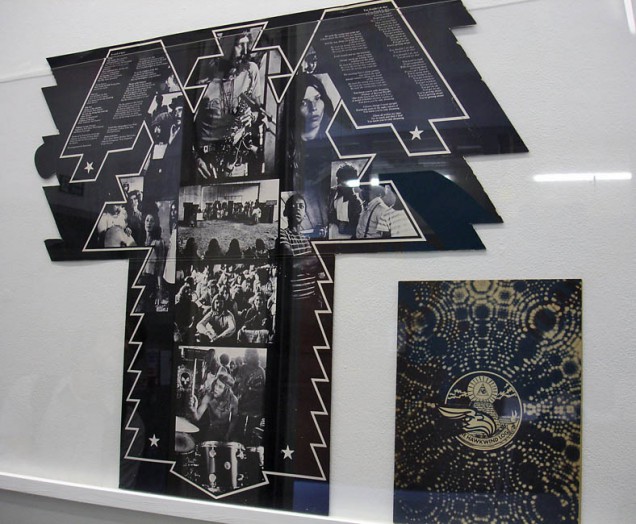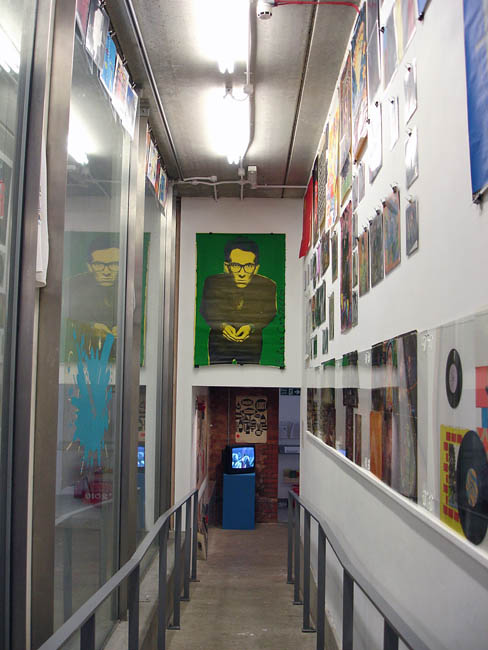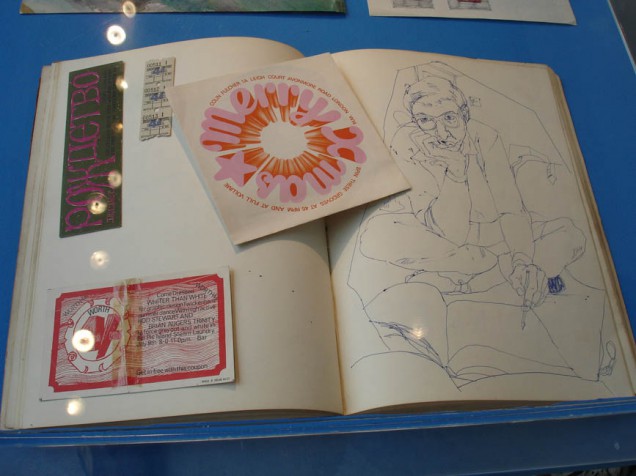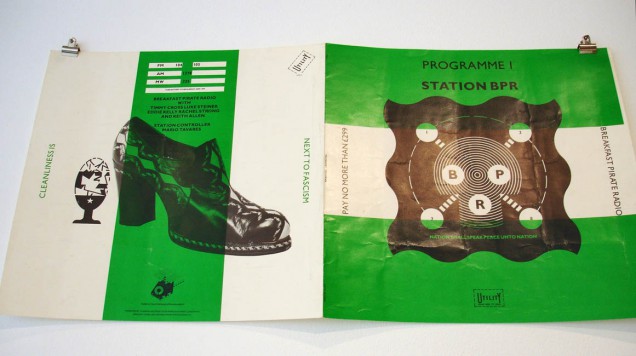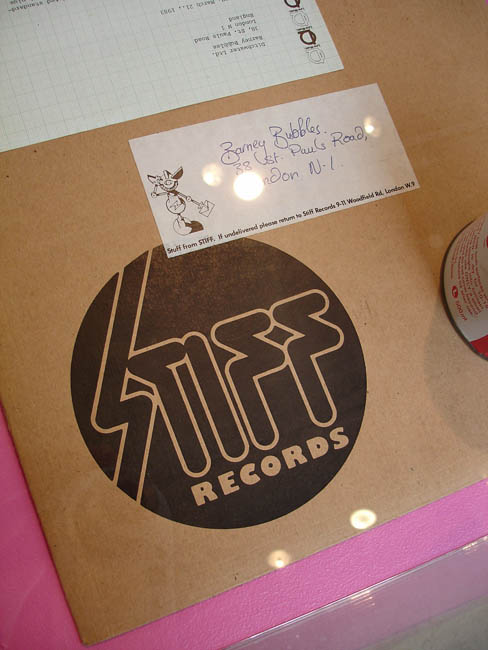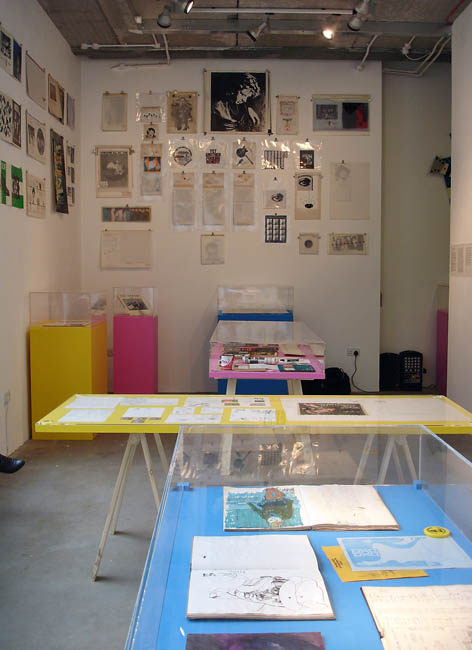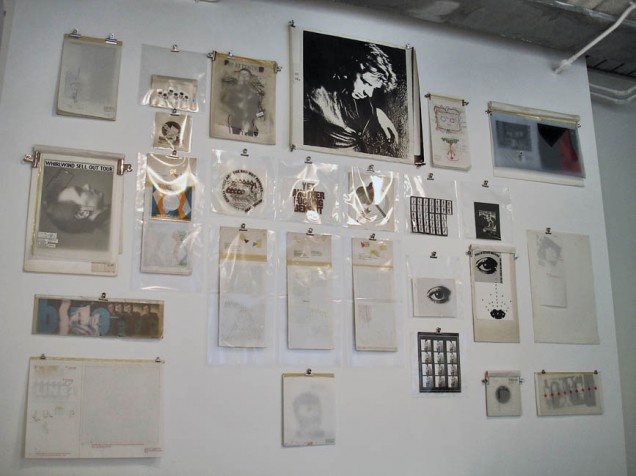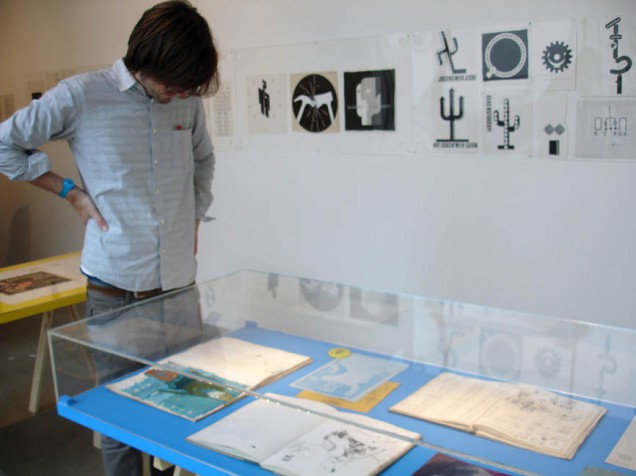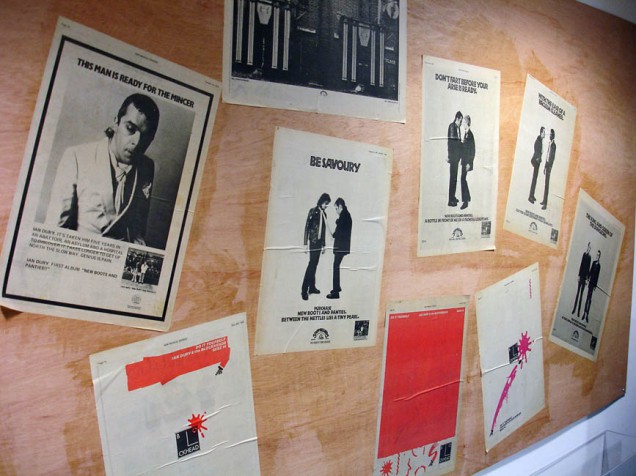 So, Nigel Peake is in town, fresh from painting a mural and we're wandering around Pimlico like a couple of tourists. Clutching an A-Z and an iPhone, we're trying to find the Chelsea Space which is currently hosting the Barney Bubbles exhibition, Process.
Bubbles, born Colin Fulcher, sadly committed suicide in 1983 and has long been an unsung hero of British sleeve design but this has started to change in recent years after Paul Gorman's book on his work, 'Reasons To Be Cheerful', was published in 2008. Quickly selling out and starting to command high prices on the web it's now been updated and expanded in a new edition.
Possibly one of the reasons Bubbles isn't as widely know as, say, Neville Brody, Malcolm,Garrett, Hipgnosis, Peter Saville or Jamie Reid is because his work spanned both both ends of the seventies and beyond – the hippy / prog / rock and the punk eras –  and never conceded to one house style for anyone. The two things he's probably most known for – Hawkwind and Stiff Records – couldn't be much further apart. Looking at one of his Hawkwind sleeves and then an Elvis Costello or Ian Dury from later you'd be hard-pressed to see any sort of stylistic link, yet he did them both.
After walking up and down the street way too many times, asking in the Tate to a bemused attendant and eventually finding the space via a round-the-houses route through the College of Art we realise we'd walked right past it. Failing to notice the sign outside the inconspicuous door set back from the main road, we should have stopped yakking and paid a bit more attention.
Anyway, once inside we were greeted by walls pasted with vintage music paper ads and posters of late 70's vintage, a couple of old record players sporting various vinyl rarities, badges, stickers and a gorgeous rack of Ian Dury 'Do It Yourself' wallpaper-sleeved LPs. Right in, no messing about. Along the bottom of one wall were various publications all sporting BB covers including a John Cooper-Clark 'Directory 1979' an issue of the NME, Nova magazine and a Hawkwind programme.
A long, thin, tall corridor then stretches up before turning into the main exhibition room and one wall is covered with posters and record sleeves, the Hawkwind ones unfolded flat to show off their wares. Frustratingly the sharp viewing angle meant that the higher pieces were hard to see properly, further compounded by spot lighting which caused glare on anything in a PVC protective sleeve.
Into the main room, past a giant hanging Chuck Berry sculpture and here's the good stuff. Cases of artifacts, portraits, sketchbooks, paintings, paste ups, reference books, even materials like Rotring pens he left behind. One wall is covered in original art paste up sheets, tracing paper with notes covering some of them, all hung with big bulldog clips which is a nice touch throughout. Another wall is full of beautifully presented black and white art, logos, layouts – a mixture of paint, pen, Letraset and whiteout – all of which would have blended into one under the camera later.
It must have been a difficult task for the curators to hang the work because it was so random, finding obvious themes and connections is almost impossible with Bubbles because each piece is so different from the next. Sure he has various tricks and techniques that he employs, his mixture of abstract and 3D shapes to make words for instance, but it's as if he was always starting from scratch with each new piece. His foldout sleeves for Hawkwind and Elvis Costello are placed behind perspex but even they jut out at points, unable to be contained in such a space.
I'm no expert on Bubbles but this looks like a goldmine of his work for anyone remotely interested in him or the groups he designed for. Also this is a great reminder of how things were done decades ago, pre-digital, everything is hand drawn, painted, cut and pasted and it's beautiful to see, especially all the whited out parts. Although by no means a complete overview – several pieces are conspicuous by their absence – the curators intend this to be more of a stepping stone to bigger things later and the new edition of the book should help this.
The exhibition is on now until October 23rd at Chelsea Space,
16 John Islip Street,
London, Sw1P 4JU
More details here
and visit Paul Gorman's excellent blog on all things Barney Bubbles
and a good, quick overview of his work at feuilleton