The latest album from Jon Brooks under his The Advisory Circle guise is his best yet. I feel confident in saying this, not only because it's already received universal praise from others but because there's something in 'From Out Here' that goes further than before. There's a deeper sense of menace than previous, lighter, works, as well as that 'remembered nostalgia' feeling that you really have heard some of these songs before. As with Boards of Canada's best, relying more on the familiarity of sound textures than samples, Brooks transports us back to an unspecific time somewhere between the mid 60's and the late 70's.
Take a track like 'Escape Lane' for example; the opening motif recalling classic Carpenter / Howarth before the main chiming keyboard riff instantly evokes a forgotten library cue from a BBC schools play or educational programme. The kind of track that would be labelled "light, breezy, synthetic, optimistic… ' on the back of any library LP description. So far, so good, this is then followed by a much subtler, darker piece that recalls some of David Sylvian's soundscapes before swinging back into another light synth line, this time accompanied by acoustic guitar and piano. Then things get weird as we eavesdrop of a recording of someone sending a message back to a loved one, repeatedly referred to in a slightly stilted way as, "…darling". It's here that the phrase 'from out here' is uttered and presumably what inspired the album title. Further spoken word pieces appear; a disembodied voice intoning 'pushing, pushing, pushing and purring' and '2, 5, 9' in a mix of Twin Peaks meets number station menace.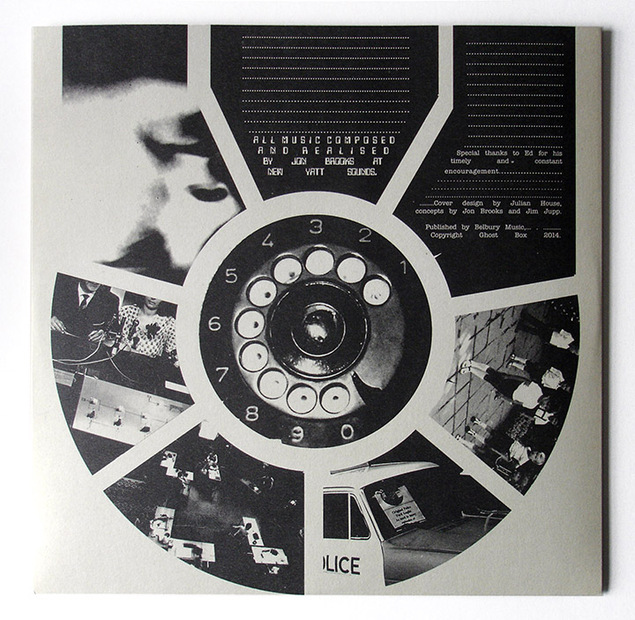 There are shades of old world nostalgia similar to Kraftwerk's 'Radio Activity' on tracks like 'Experiment!' with synthesized machines blowing steam and pumping pistons in the background. It continues on side 2 as Brooks conjurers themes from the kind of TV programmes that would start just as it was time for bed, the opening strains of which would be all you'd hear as you were ushered out of the living room and up the stairs, wondering what they could contain that wasn't fit for children's eyes. It's also a distinctly British sound and approach, from the sonic tones to the accents of the spoken passages and nowhere near as dark as Jeremy Schmidt's similarly-themed 'Beyond The Black Rainbow' which piled on the horror.
Julian House's artwork has now moved to a point where he has defined a good portion of the visual stimulus associated with the Hauntological genre and his cover doesn't shy away from including as many as possible. On receiving the LP my wife remarked, "oh is there a record of that book?" (referring to 'Discovering Scarfolk' by Richard Littler), so strong are the associated connections now. And make no mistake, that's no bad thing, this is a perfect example of Hauntology right down to the sci-fi concept of patient experimentation and computer-generated society. All this is helped by track titles like 'Discipline Before Data', 'Jessica Finds The Beach' and references to 'Triadex' (a Triadex Muse was an old 70's sequencer-based synthesizer) set in the old Monotype 'Computer' font.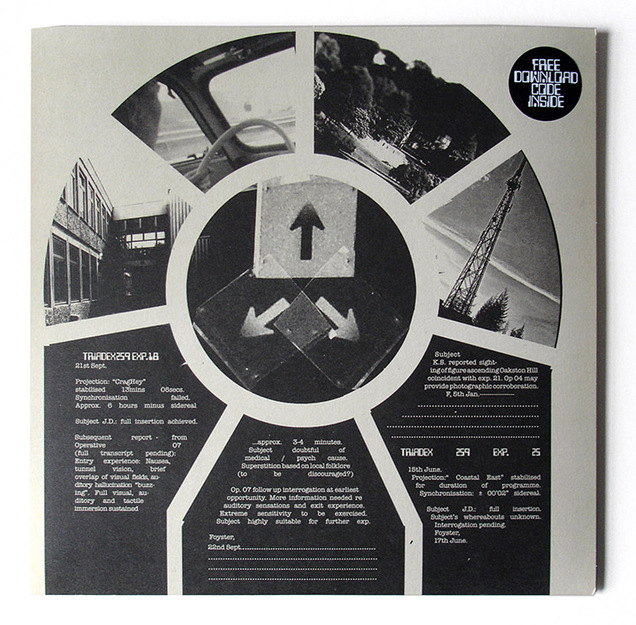 It's hard to pick a favourite track as they all work to form a larger picture, a complete work that's all any composer could wish for in an age where albums are cherry-picked into a distilled form of 'highlights'. Brooks has been on a roll this year with the highly personal '52' album on Clay Pipe Music, mastering work, mixes and a collaboration with Sean O'Hagan on the Other Voices series for Ghost Box. 'From Out Here' is my favourite though as it embodies everything I love about the label and it'll be interesting to see where he takes things next. You can buy it direct from the label here and, although vinyl is my preferred format for all GB releases, the CD and DL have 3 extra tracks so I might have to get a second copy.
The Advisory Circle present 'Winter From Out Here' by Cafekaput on Mixcloud