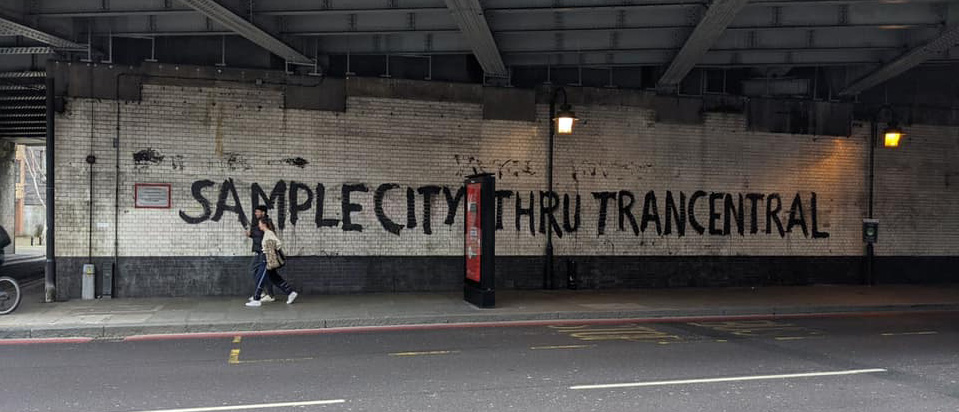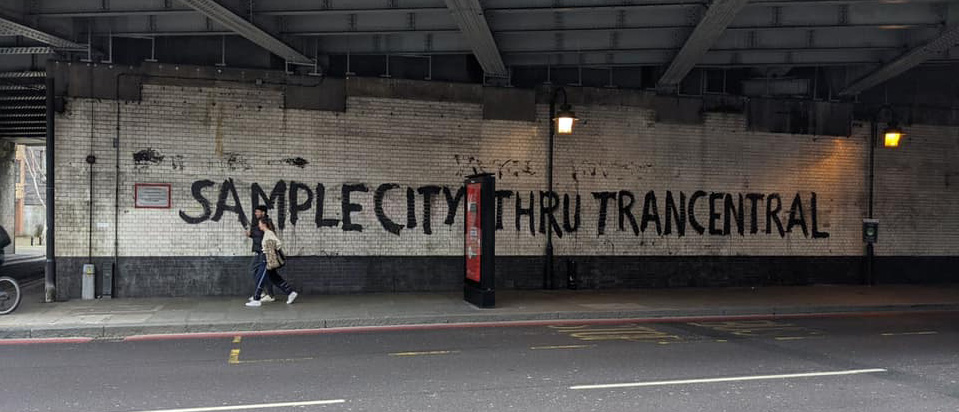 After ending on a bummer in the final hours of 2020 as MF Doom's death emerged on social media, we awoke to the news on January 1st of The KLF re-entering the music industry via Spotify and YouTube with remastered material in the form of the first of five compilations. By Jan 6th though any hopes of a better year were dashed, despite the historic swing for the Democrats in the Senate and Congress, with the scenes at Capitol Hill and 1k daily deaths reported in the UK. No surprises on Trump's acquittal after the second impeachment hearing in February either.
Surprise of the year was that the UK's vaccination programme rolled out fast and with few hitches – amazing what can happen when you don't pump billions into untested private companies and instead let a trusted national institution handle it. I won't go on, it was pretty much downhill from there and some of those promised KLF albums are still yet to emerge.
Anyway, as is usual on Dec 31st, here are some favourites from the last 12 months in no particular order. There's been an avalanche of amazing music and art again this year, some coming out of the lockdown months, let's hope it continues and the virus eases up in 2022. Please check out and support these artists if you like their work, Bandcamp is an excellent way to put a large chunk of money straight in musicians and label's pockets and buying a print, T-shirt or piece of merch at a gig really helps too. Even a share or piece of positive feedback on someone's post can give them a boost to know that people are watching or listening out there and they're not shouting into the void.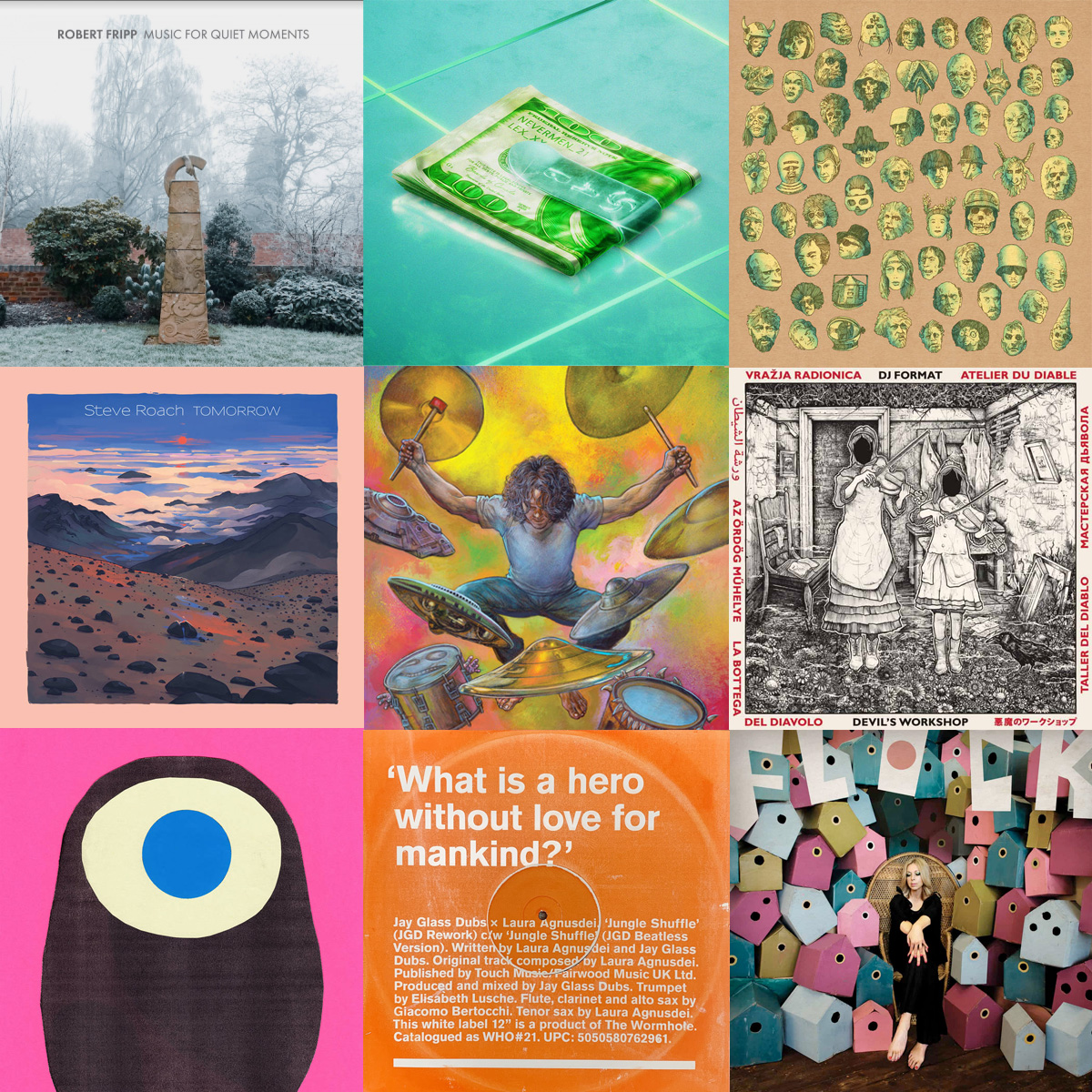 Music:
Concretism – The Concretism Archive Vol.1 LP (CiS Subs Library)
Steve Roach – Tomorrow LP (Behind The Sky)
Snow Palms – Land Waves LP (Village Green)
Jane Weaver – Flock LP (Fire Records)
Stereolab – Switched On vol.4 LP (Warp/Duophonic)
Robert Fripp – Music for Quiet Moments (DGM)
DJ Format – Devil's Workshop LP
Trevor Jackson – Underdog 1993-1998 radio mix (NTS)
The Hauntologists – Tales From The Scary Magic Field 7″ (Bandcamp)
Various Artists – BLE-EP 12″ (Yellow Machines)
King Gizzard & The Lizard Wizard – Butterfly 3000 LP (Flightless)
CAVS – CAVS 12″ (PHC)
Various Artists – Infected Machinery EP 12″ (Downfall Recordings)
The Nevermen – Treat 'Em Right (Boards of Canada remix) DL (Lex)
Vanishing Twin – Ookii Gekkou LP (Fire Records)
Jay Glass Dubs – Jungle Shuffle 12″ (The Wormhole)
Brian Eno – The Lighthouse (Sonos HD)
Regal Worm – The Hideous Goblink LP (Quatermass)
Ternion Sound – Dovetail (Kursa remix) 12″ (Next Level)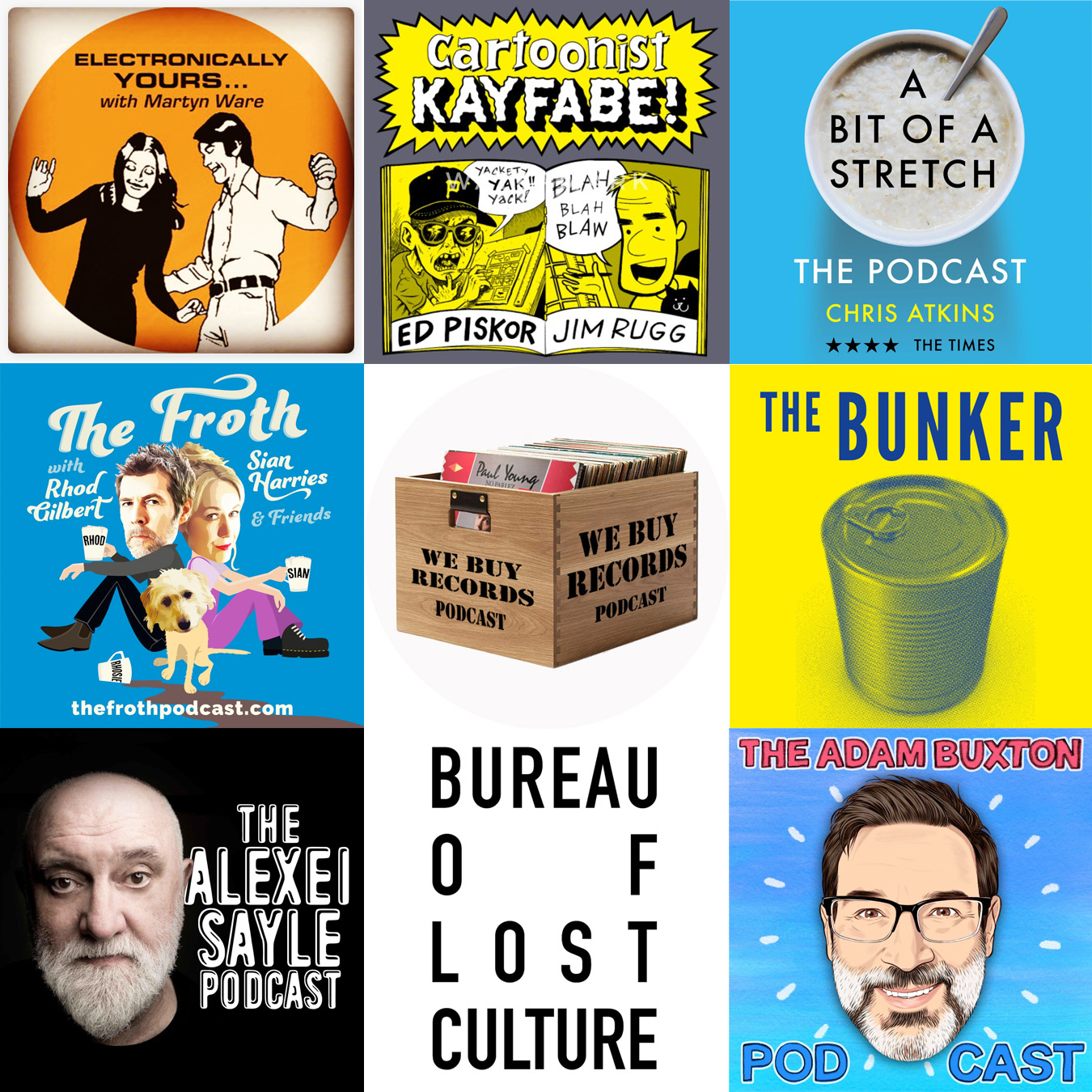 Podcasts:
Chris Atkins – A Bit of a Stretch (Apple podcasts)
The Alexei Sayle Podcast
Martyn Ware – Electronically Yours
Ed Piskor / Jim Rugg – Cartoonist Kayfabe (YouTube)
Stephen Coates – The Bureau of Lost Culture
We Buy Records (Apple podcasts)
Matt Black – Pirate TV (Twitch/FB/YouTube)
The Bunker/Culture Bunker (Acast)
The Adam Buxton Podcast (Acast)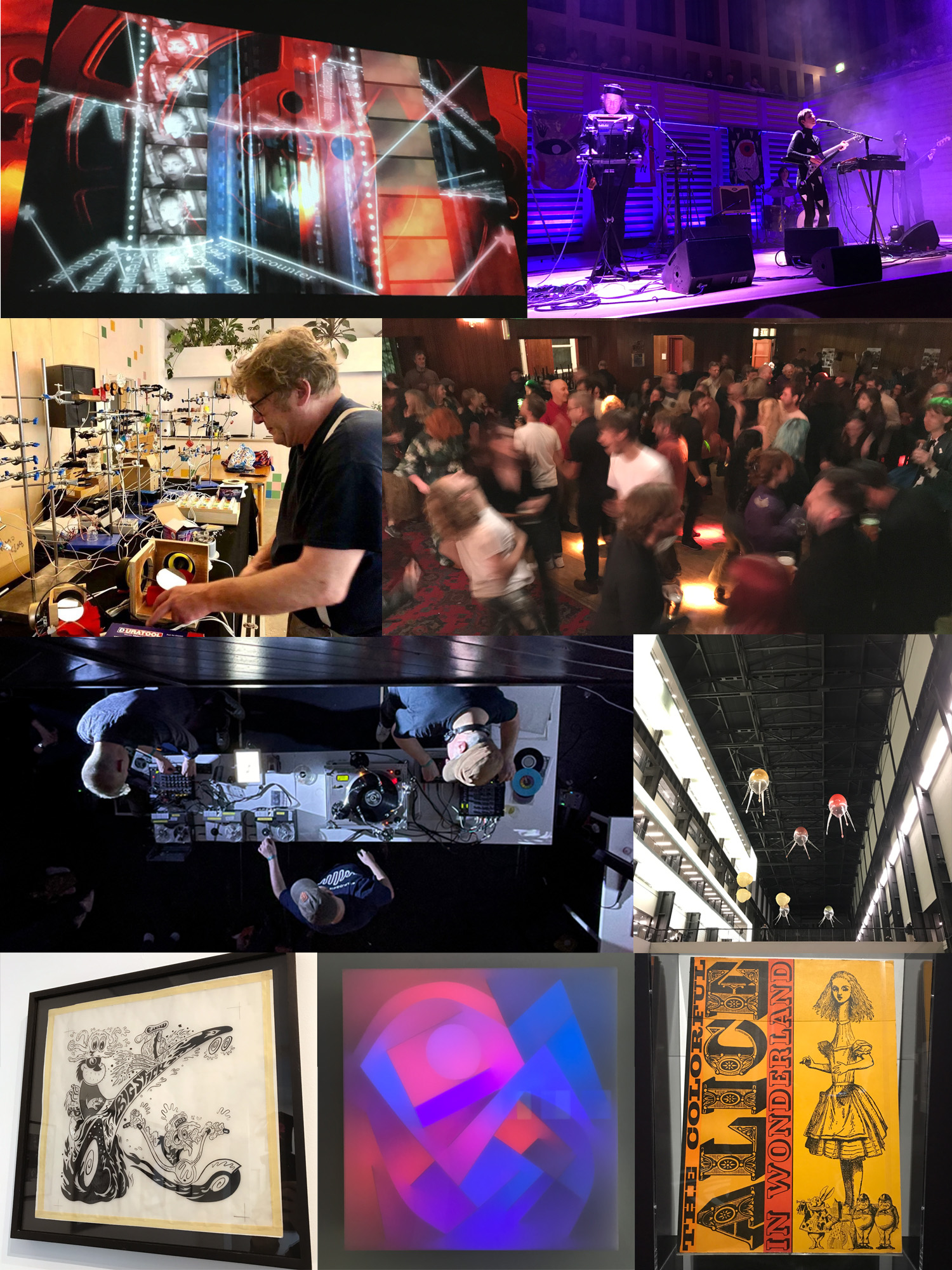 Gigs / Events:
Vanishing Twin – Pensiero Magico live stream Jan 20th
Alice In Wonderland @ The V&A Museum, London
Savage Pencil @ OrbitalSpace, London
Eno @ Paul Stolper Gallery, London
The Light Surgeons 'Atemporal' @ Iklectik, London
Funki Porcini @ Common Ground, Coventry
The The's Comeback Special premier @ Troxy Cinema, London
Jonny Trunk's Groovy Record Fayre @ Mildmay Club, London
Vanishing Twin @ Kings Place, London
Levitation Festival, @ Flowergate Hall, Whitby
People Like Us – Gone, Gone Beyond @The Pit Theatre, Barbican, London
Pye Corner Audio @ State 51, London
Anicka Yi – Aerobes @ Tate Modern, London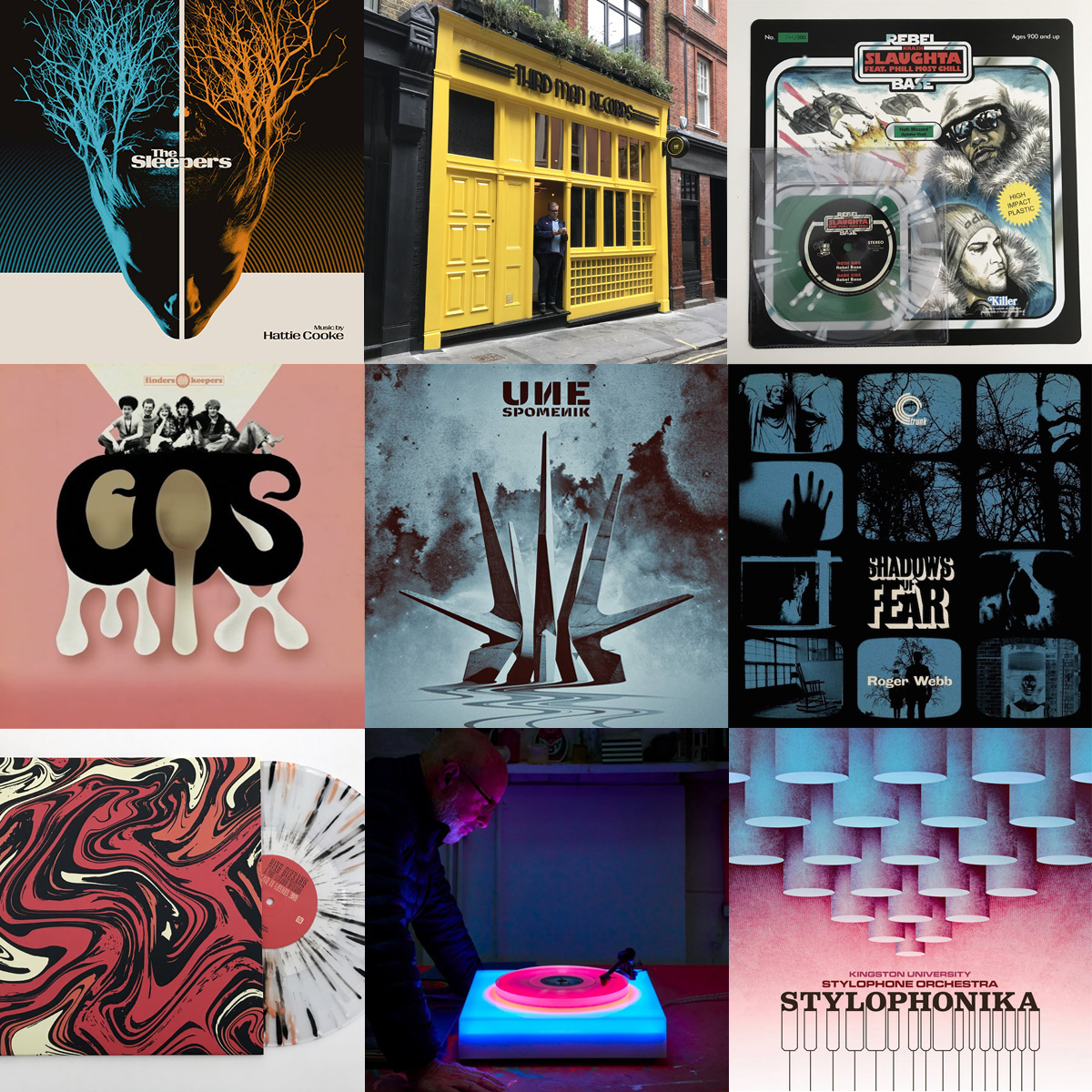 Design / Packaging:
Hattie Cooke – The Sleepers LP (Spun Out of Control) by Eric Adrian Lee
King Gizzard & The Lizard Wizard – live bootlegs series LP (Fuzz Club)
Krashslaughter feat. Phil Most Chill – Rebel Base 7″
Sync 24 – Inside The Microbeat LP (Cultivated Electronics) by Will Barras
Une – Spomenik LP (Spun Out Of Control) by Eric Adrian Lee
Cos – Mix LP (Finders Keepers) by Andy Votel
Castles In Space Subscription Library series LPs (Castles In Space) by Nick Taylor + more
The Third Man Records shop in Soho, London
Pepe Deluxe – The Phantom Cabinet vol.1 LP (Catskills) by Vilunki/James Spectrum
Thundercat – The Golden Age of Apocalypse 10th anniversary edition (Brainfeeder)
The Zen Delay (Ninja Tune / Erica Synths)
Roger Webb – Shadows of Fear 7″ (Trunk) by Julian House
Kingston University Stylophone Orchestra – Stylophonika (Spun Out Of Control) by Eric Adrian Lee
Brian Eno's turntable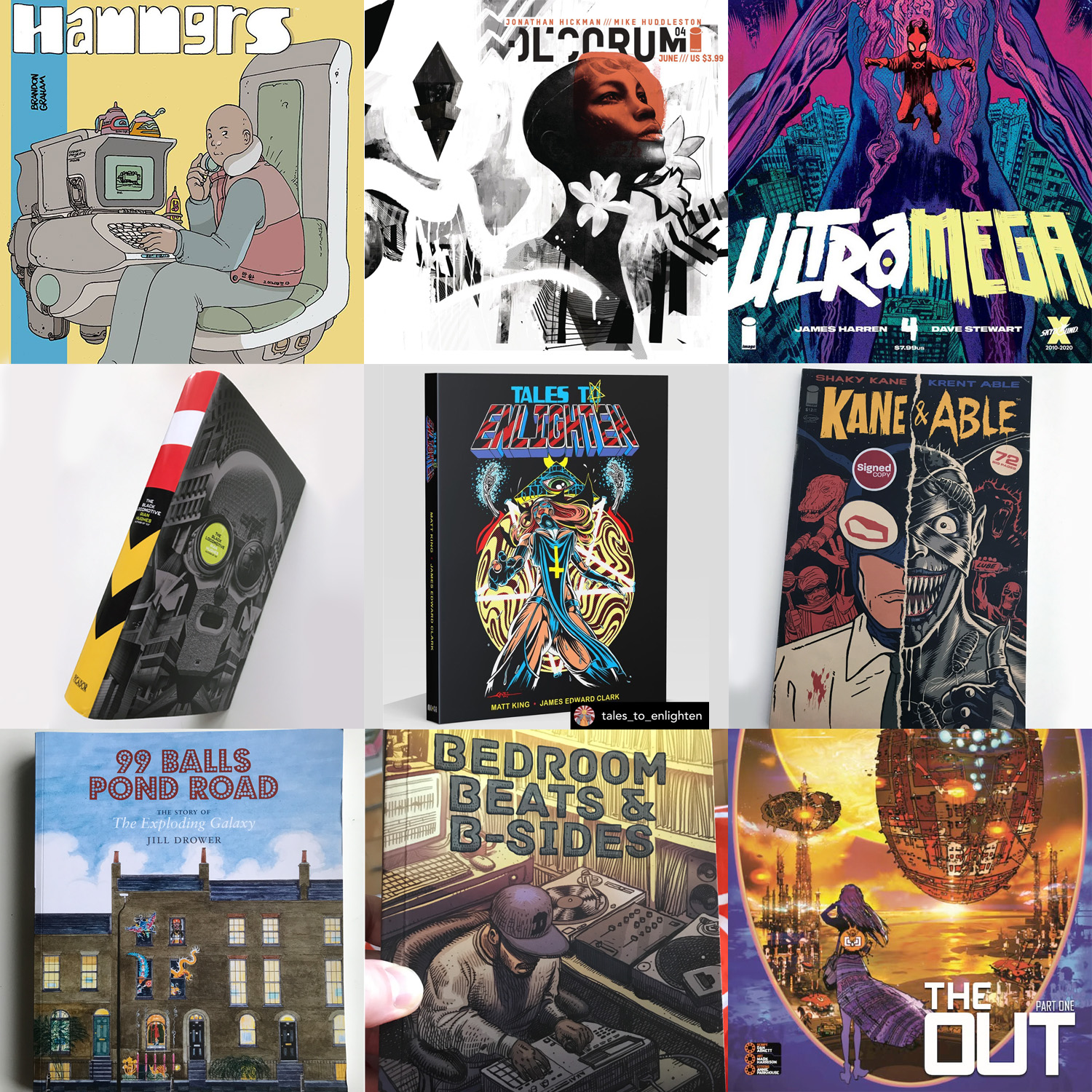 Books / Magazines / Comics:
Rain Like Hammers – Brandon Graham (Image)
Breaking Open The Head – Daniel Pinchbeck
Bedroom Beats & B-Sides – Laurent Fintoni (Velocity Press)
Decorum – Jonathan Hickman & Mike Huddleston (Image)
Ultramega – James Harren (Skybound/Image)
Anatomie Narrative – Samplerman
The Black Locomotive – Rian Hughes (Picador)
Cruisin' with the Hound – Spain Rodriguez (Fantagraphics)
Kane & Able – Shaky Kane & Krent Able (Image)
Tales To Enlighten – Matt King & James Edward Clark (Kickstarter)
The Out – Dan Abnett & Mark Harrison (2000AD)
Electronic Sound magazine
99 Balls Pond Road – Julie Drower (Scrudge Books)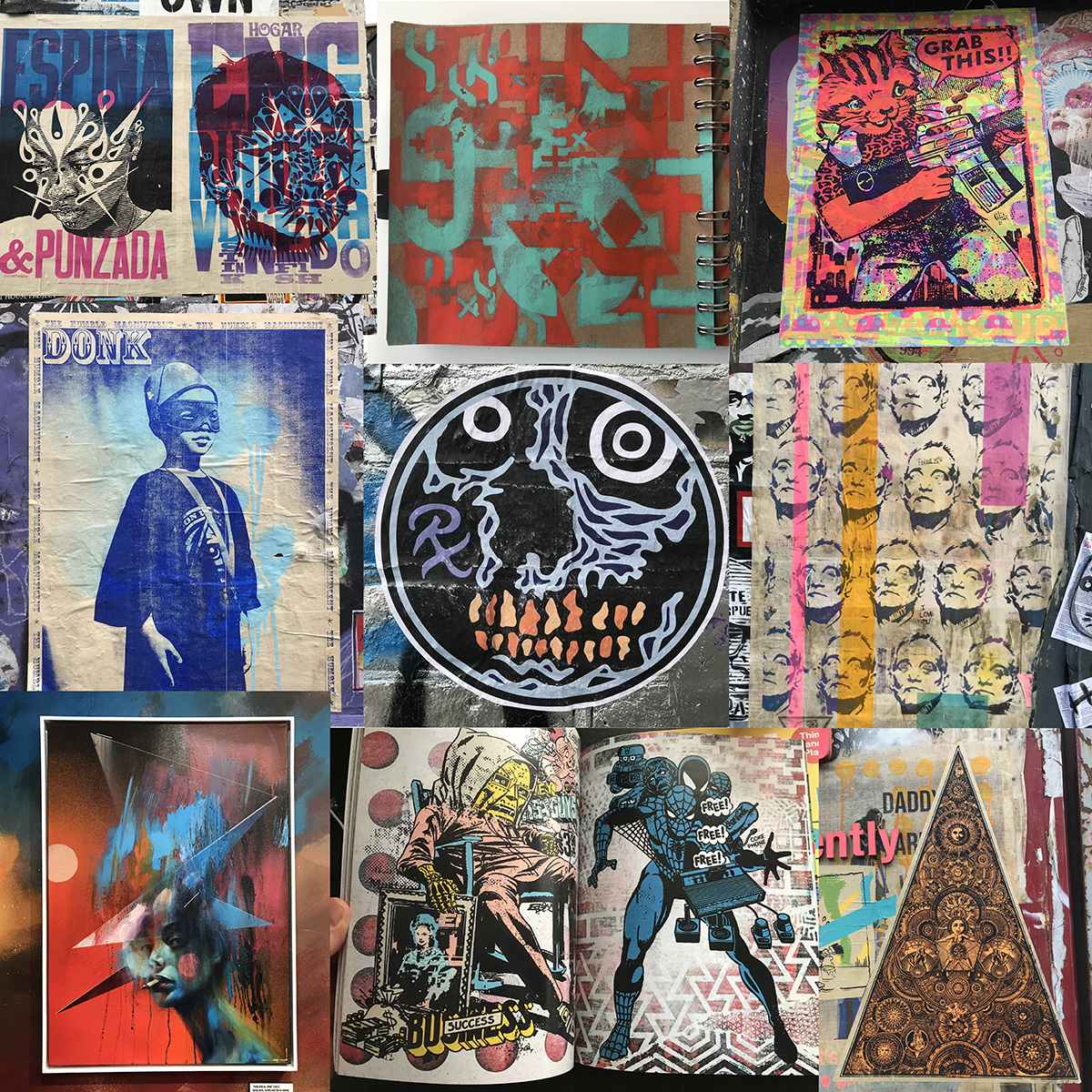 Artists:
Savant
RX Skulls
Pablo Fiasco
Donk
ZombieSqueegee
Karoline Rerrie
.EPOD
FiftySevenDesign
Minty
Stinkfish
Perspicereartist
Tamar Cohen
Hoxxoh
Lovepusher
Artyom Trakhanov
Prentler
Soda
Smitheone
Raymond Lemstra
Film /TV:
Bathtubs Over Broadway (Netflix)
Wandavision (Disney+)
Dead Pixels (Ch 4)
Grayson's Art Club (Ch 4)
Sisters With Transistors – Lisa Rovener (BFI)
Loki (Disney+)
What We Do In The Shadows Season 3 (BBC2)
Martha: A Picture Story (Projector Films)
Records – Alan Zweig (TVO)
Big Mouth (Adult Swim)
The Book of Boba Fett (Disney+)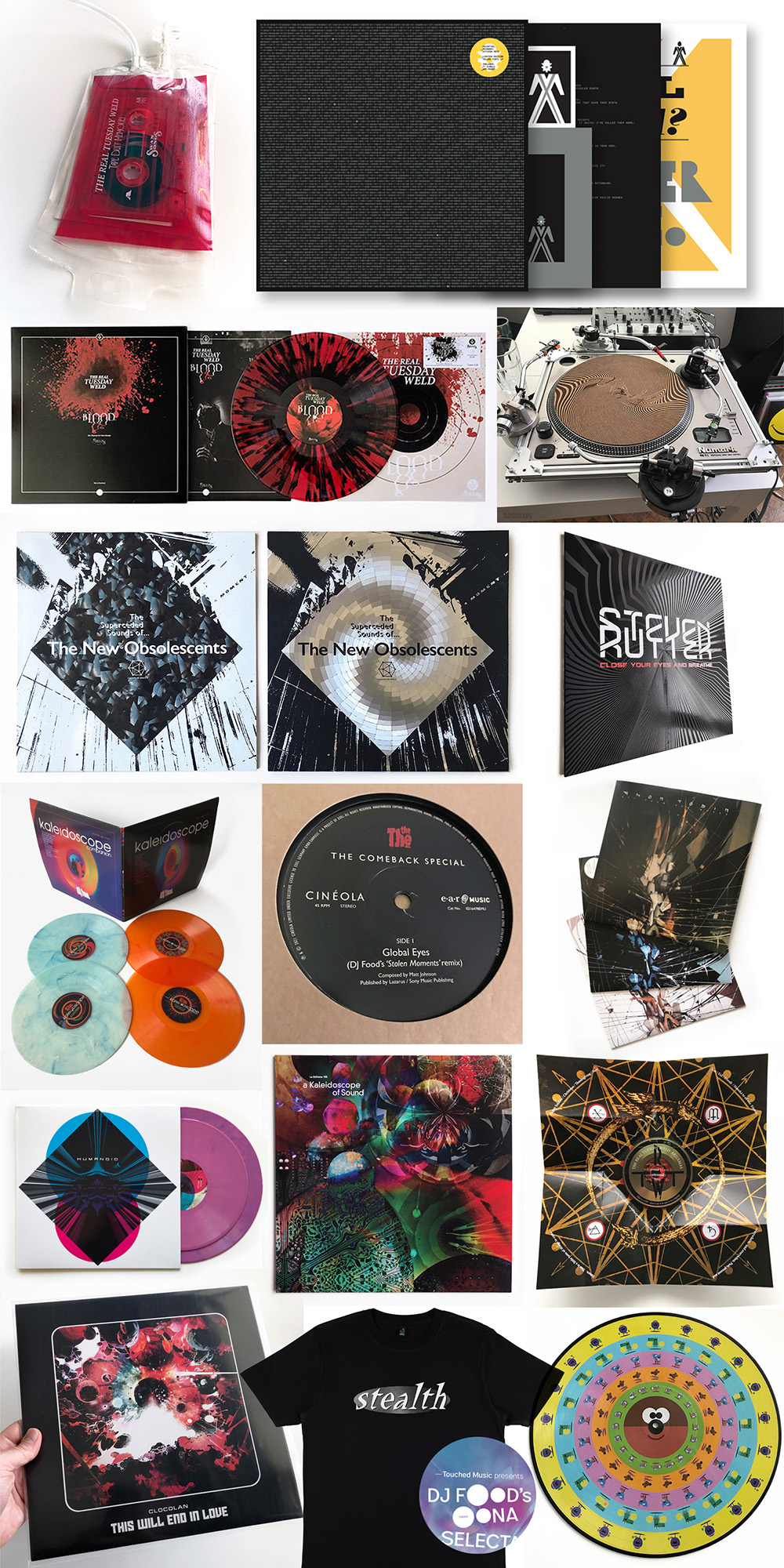 Another year over and what have I done?
A second mix of religious rock for Megatrip's 'Tales To Enlighten' comic kickstarter
Stuck 300 foil covers to 300 LP sleeves for The New Obsolescents album on Castles In Space which ended up selling out in 25 minutes and went for a repress.
Finally finished the design and packaging for The Real Tuesday Weld's 'Blood' and 'Tape Dust Memories' releases, the first in a trilogy as Stephen Coates winds up his recording project.
Released the Celestial Mechanic LP on Utter with music by Saron Hughes and myself and design by Rian Hughes
Appeared on the Big Mouth, We Buy Records, Sleevenote's Under The Covers, KTMusic Online and Bureau of Lost Culture podcasts, had guest mixes featured on the Jonny Cuba & Friends and 45 Live shows
Released the Kaleidoscope/Companion reissue 4xLP on Ninja Tune subsidiary Ahead Of Our Time
Designed the Lo Recordings' 100th edition library album for a limited edition lathe cut LP
Started the Openmindesign Instagram account for current designs and archive ephemera
Continued the DJ Food Mixcloud Select weekly upload series
Saw designs for Steven Rutter, Amon Tobin, Clocolan and Humanoid released on De:tuned, Ninja Tune, FSOL Digital and Castles In Space
Written the forward for a book about light show picture wheels for Four Corners Books
Remixed The The's 'Global Eyes' for The Comeback Special live box set
Designed a Janko Nilovic & Yeti On the Pads 7″ sleeve
Collaborated with Imeus Designs on a second book of Forgotten Graphics Command LP sleeves
Edited hours worth of Pirate TV audio visual broadcasts for Matt Black
Remodelled my Quadraphon turntable for live performance
Oversaw the repressed New Obsolescents LP with screen printed black prism board
Contributed the singles column to MU magazine each issue
Designed a Hey Duggee zoetrope LP for the BBC
Designed a 25th anniversary Stealth T-shirt for 1 of 100
Mixed a preview CD of Touched Music's 'Project OO' – 'DJ Food's Oona Selecta'
Designed a 3rd fold out Xmas card, 'Solstice Songs' for The Real Tuesday Weld
Finished my Cineolascape mix for The The, due for release in 2022
RIP: Phil Spector, Larry King, Ricky Powell, Double K (PUTS), S. Clay Wilson, Chick Corea, Victor G. Ambrus, Frank Thorne, Lou Ottens, Orbital Comics, Malcolm Cecil, Shock G, James Prigoff, Captain Rock, Ken Garland, Eric Carle, Gift of Gab, Peter Zinovieff, Jon Hassell, Peter Rehberg, Chuck Close, Charlie Watts, Lee Scratch Perry, Sir Clive Sinclair, Richard H. Kirk, Alan Hawkshaw, Orbital Comics, Lionel Blair, Andrew Barker, Mick Rock, Alvin Lucier, Robbie Shakespear, Chris Achilleos, Michael Nesmith, Richard Rogers, Desmond Tutu, Janice Long,

New Year's resolution: Use less black in my work
Looking forward to:
The return of Saga comic
The Soundcarriers' new album, 'Wilds'
King Gizzard remix album
A mixer to complete my Quadraphon set up
Collaborations…