The main thing I've been doing this year is learning new software, lots involving AI algorithms that still seem like some kind of strange magic.

It started last year with the
Moises
software that can split stereo sound files into individual stems which opens up all sorts of possibilities and continued with
NightCafe Creator
where you can create incredible images from inputting a line of descriptive text. This has yielded a huge bank of images to draw from, some that have already become record sleeve illustrations (I just didn't tell anyone). It's all old hat now because AI art is everywhere on the web with thousands of images flooding our feeds on a daily basis but when I first wrote these words in early 2022 it was extremely addictive, if at an infant stage in its development. Just in the last six months alone AI has taken huge leaps in definition and feels like a giant shift in the art of image-making even if still has trouble with hands, it's certainly divided people's opinions.
Another AI app is the
Topaz
suite of image enhancers, the foremost being
Gigapixel AI
, the best image enhancer / upscaler I've ever seen, this has become part of my daily usage now alongside Photoshop and Indesign as a necessary tool to clean up images along with its Denoiser and Sharpener sister apps.
I
(finally)
got myself an
iPad
so that I could learn
Procreate
and again, a whole new world opens up with the possibilities this incredible app gives you. I never could justify getting a tablet, but seeing one of my sons drawing on his, wanting to go digital with some of my comic-buying and having a decent surface to learn
Ninja Jamm
on made it a necessary piece of kit. Learning to paint on it with one of my sons was among one of my favourite moments this year.
In the analogue world another revelation was a record cutting process pioneered by
Ben Soundhog
at
Plastidisc
where software that can convert an image into a waveform then cuts that image as a playable disc. The possibilities are endless and you can make a record without even playing one note.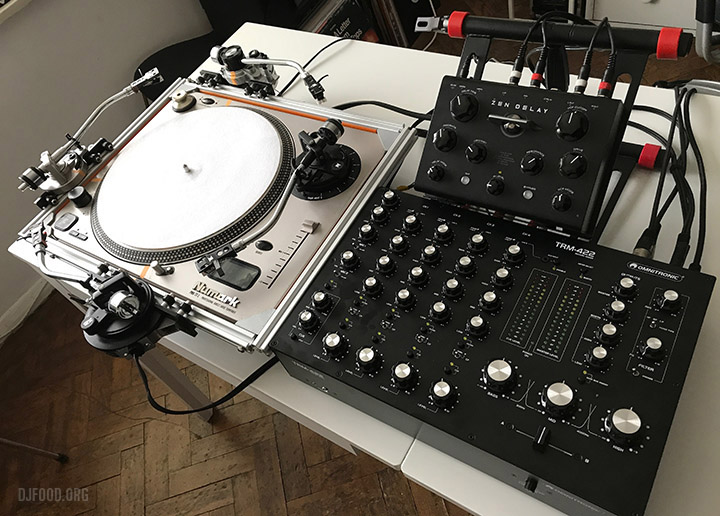 My own experiments with the refining of my Quadraphon turntable have made for a sleeker, more portable and adaptable design along with the fantastic 4 channel Omnitronic TRM-402 mixer and the Ninja Tune/Erica Synths Zen Delay FX unit. I can make analogue tracks via one deck on the fly and jamming with this set up can yield hours of material, a refreshing new way to make music. Also becoming an author on good old fashioned paper felt pretty good too, I think I might have the book bug now. I hope you all have a Happy New Year and a riproaring 2023…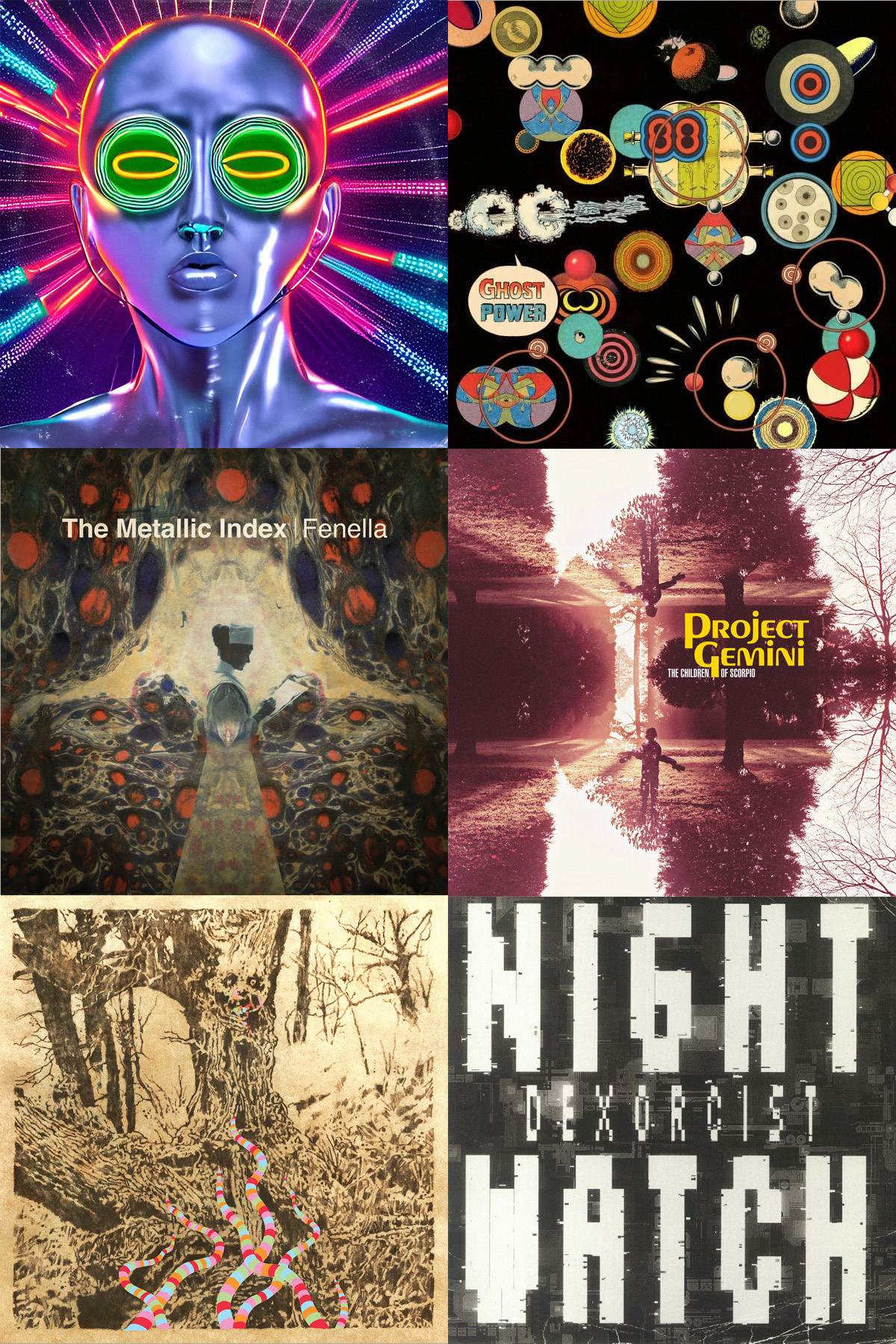 Music:
Clocolan – Empathy Alpha LP (Redpan)
Brian Eno – The Lighthouse (Sonos HD)
King Gizzard & The Lizard Wizard – Omnium Gatherum LP (Flightless)
Twilight Sequence – Trees in General: and the Larch 12″ (Castles In Space)
WTCHCRFT – Drugs Here 12″ (Balkan Vinyl)
Ghost Power – Ghost Power LP (Duophonic Super 45s)
Dexorcist – Night Watch 12″ (Yellow Machines)
Project Gemini – The Children Of Scorpio LP (Mr Bongo/Garden's End)
Regal Worm – Worm! LP (Quatermass)
The Advisory Circle – Full Circle LP (Ghost Box)
Fenella – The Metallic Index (Fire Records)
S'Express & Daddy Squad – Music 4 The Mind DL
Podcasts:
The Bureau of Lost Culture (Soho Radio)
Cartoonist Kayfabe (YouTube)
We Buy Records (We Made This)
The Jonny Trunk Podcast (Patreon)
Oh God, What Now? (Podmasters Prod.)
The Tone Generation – Ian Helliwell
Peel Acres – Tom Ravenscroft (BBC Sounds)
The Bunker (Podmasters Prod.)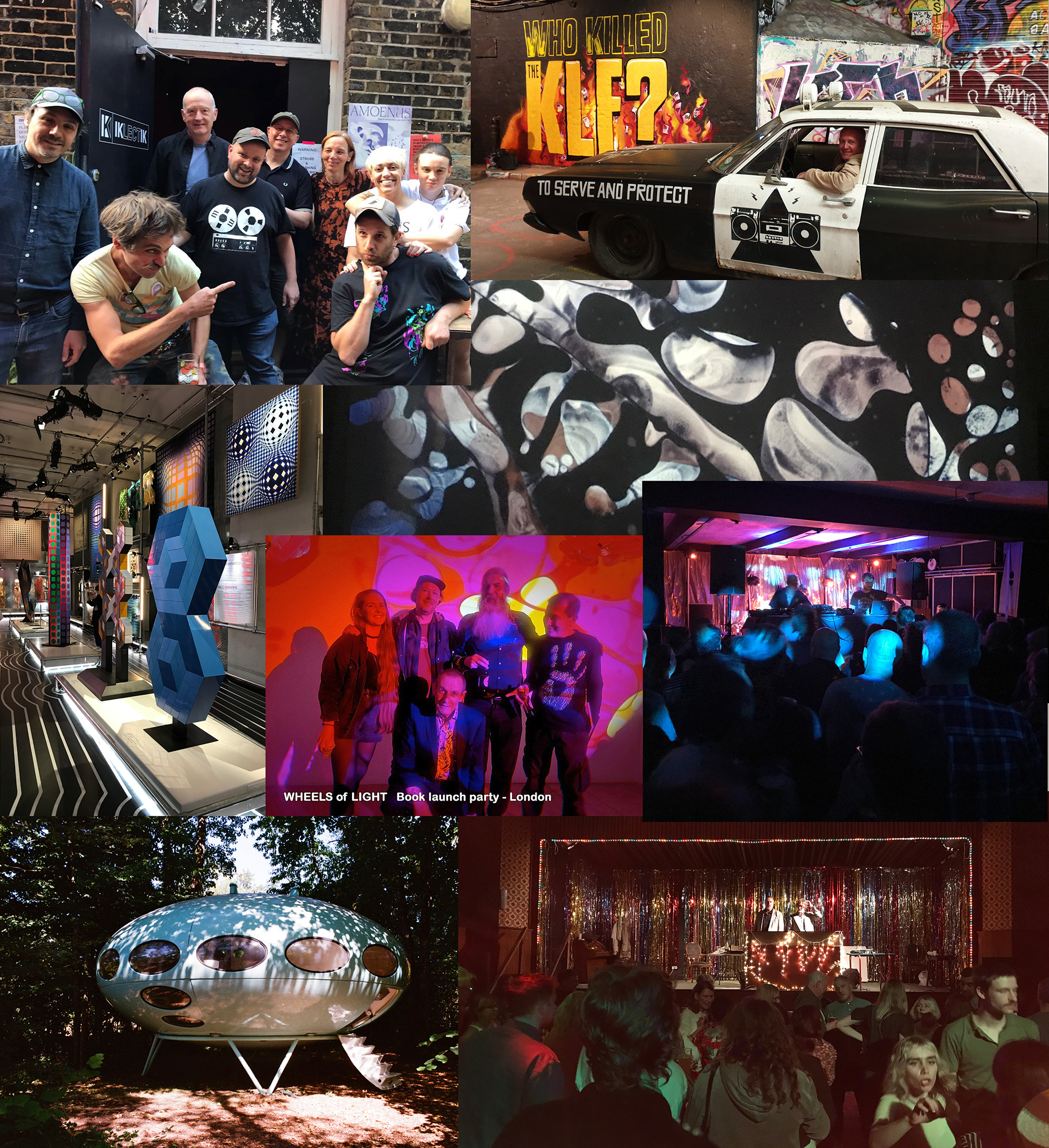 Gigs / Events:
Lux @ 180 Strand, London
Victor Vasarely – Universe exhibition @ Selfridges, London
Premier of Who Killed The KLF? @ Leake St, London
The Orb play U.F.Orb @ The Fox & Firkin, London
Bring The Paint festival, Leicester
Staying in a restored Futuro House, Somerset
Fogfest @ Iklectik, London
Glissando Guitar Orchestra @ Club-85, Hitchin
Funki Porcini's Lasarium @ Iklectik, London
Wheels of Light launch event @ Raven Row, London
The Trunk Groovy Record Fayre @ Mildmay Club, London
At Home With The Boyle Family film launch @ Iklectik, London
Magnetic Flow exhibition, @ LaVallée, Brussels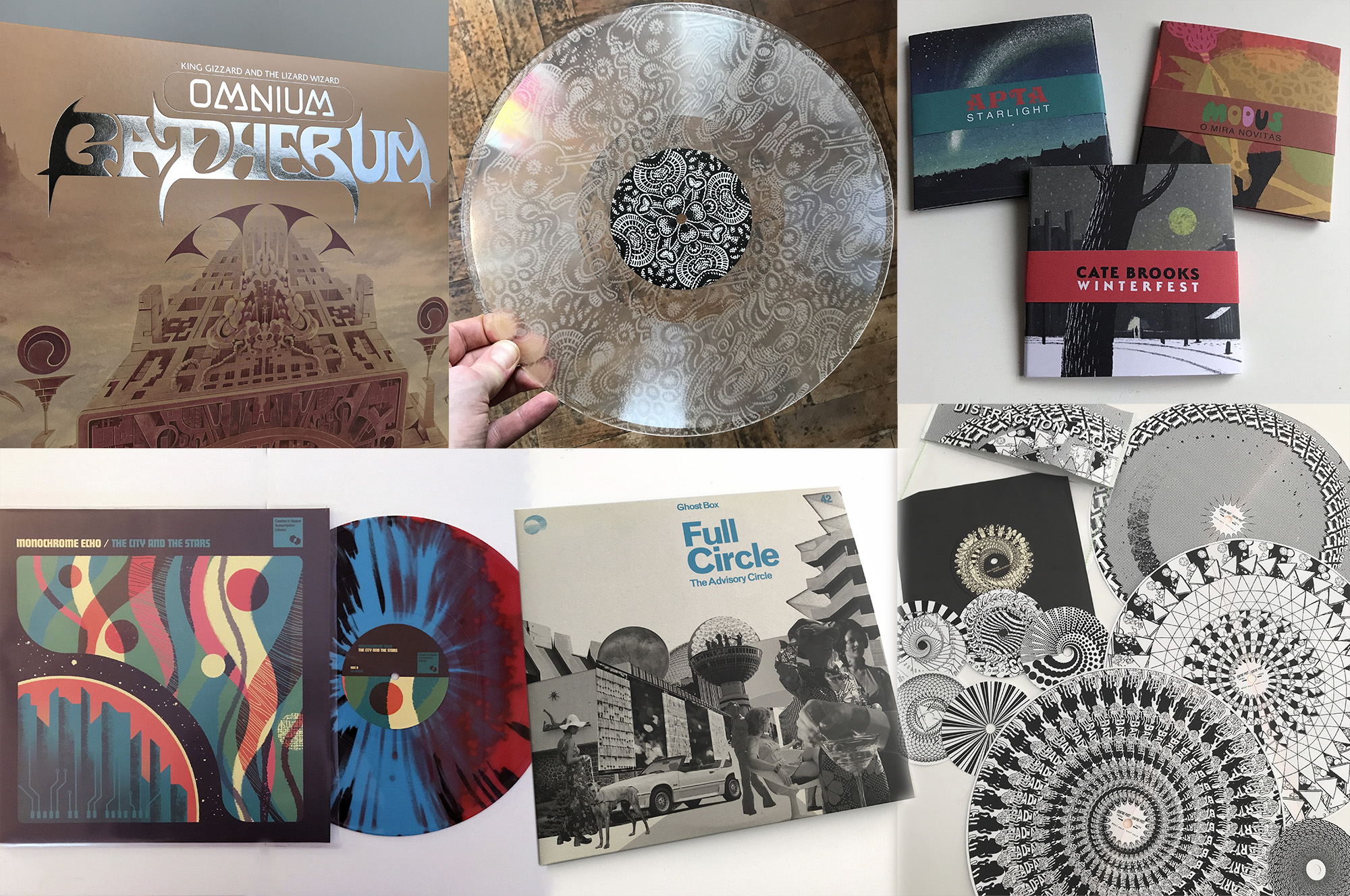 Design / Packaging:
Night Cafe / Midjourney – the most fun/frustrating web AI creation tools
Jed St. Christopher – The Further Diffusion of Useful Knowledge 10″ lathe cut (Buried Treasure) by Nick Taylor
Twilight Sequence – Trees in General: and the Larch 12″ (Castles In Space) by Zeke Clough
King Gizzard & The Lizard Wizard – Ominium Gatherum LP by Jason Galea
Sculpture – Malculus / Photo Synth 7″ + zoetrope pack by Rueben Sutherland
The Advisory Circle – Full Circle LP (Ghost Box) by Julian House
Clay Pipe Mini Pipe 3″ CD series by Francis Castle
Monochrome Echo – The City & The Stars LP (Castles In Space) by Nick Taylor
Drumetrics – Phuzzle 10″
Artists incorporating AI into their work:
Ko_Computer
Douggy Pledger
Alex Klim
Will Toulan
Scott Wetterschneider
Stuart Smith
Steve Scott (image below by Steve Scott)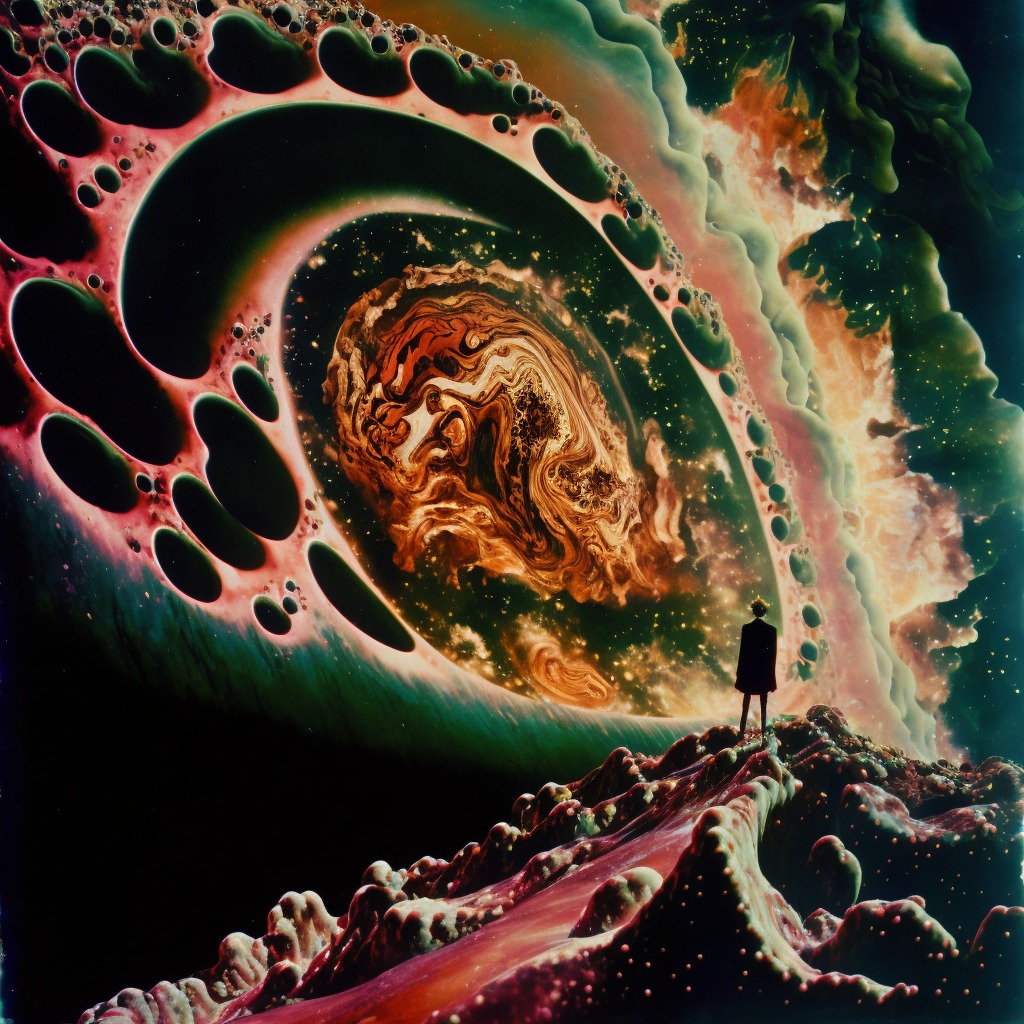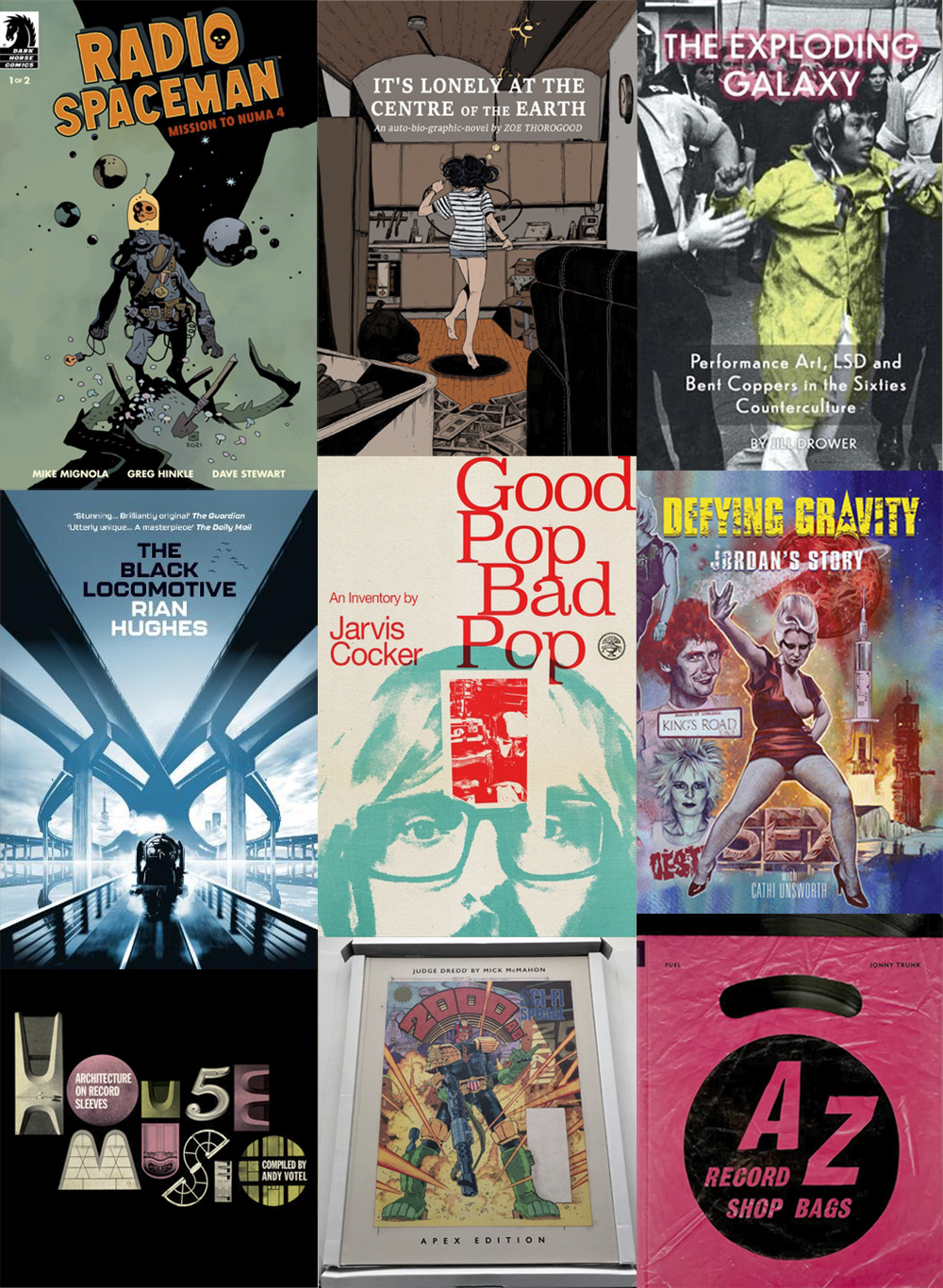 Books / Magazines / Comics:
Grrrl Scouts – Jim Mahfood (Image)
99 Balls Pond Road – Jill Drower (Scrudge Books) – now reprinted in text-only paperback and retitled 'The Exploding Galaxy: Performance Art, LSD and Bent Coppers in the Sixties Counterculture' – an absolute must for 60s counter culture historians
Radio Spaceman – Mike Mignola & Greg Hinkle (Dark Horse)
Mental Hygiene – Kate Gibb
A-Z of Record Shop Bags – Jonny Trunk (Fuel)
Mud Sharks – Dave Barbarossa
Good Pop, Bad Pop – Jarvis Cocker (Vintage)
House Music – Andy Votel (The Modernist)
Judge Dredd – Brian Bolland (Apex Edition)
Contemporary Collage magazine (digital)
Defying Gravity – Jordan Mooney w. Cathi Unsworth
The Delaware Road deluxe edition – Alan Gubby, Dolly Dolly (Buried Treasure)
69 Exhibition Road – Dorothy Max Prior (Strange Attractor)
Judge Dredd – Mike McMahon (Apex Edition)
It's Lonely At The Centre Of The Universe – Zoe Thorogood (Image Comics)
The Black Locomotive – Rian Hughes (Picador)
Film /TV:
The Book of Boba Fett (Disney+)
Get Back (Disney+)
Who Killed The KLF?
Pistol (Disney+)
The Boys (Amazon Prime)
In The Court of the Crimson King (Toby Aimes)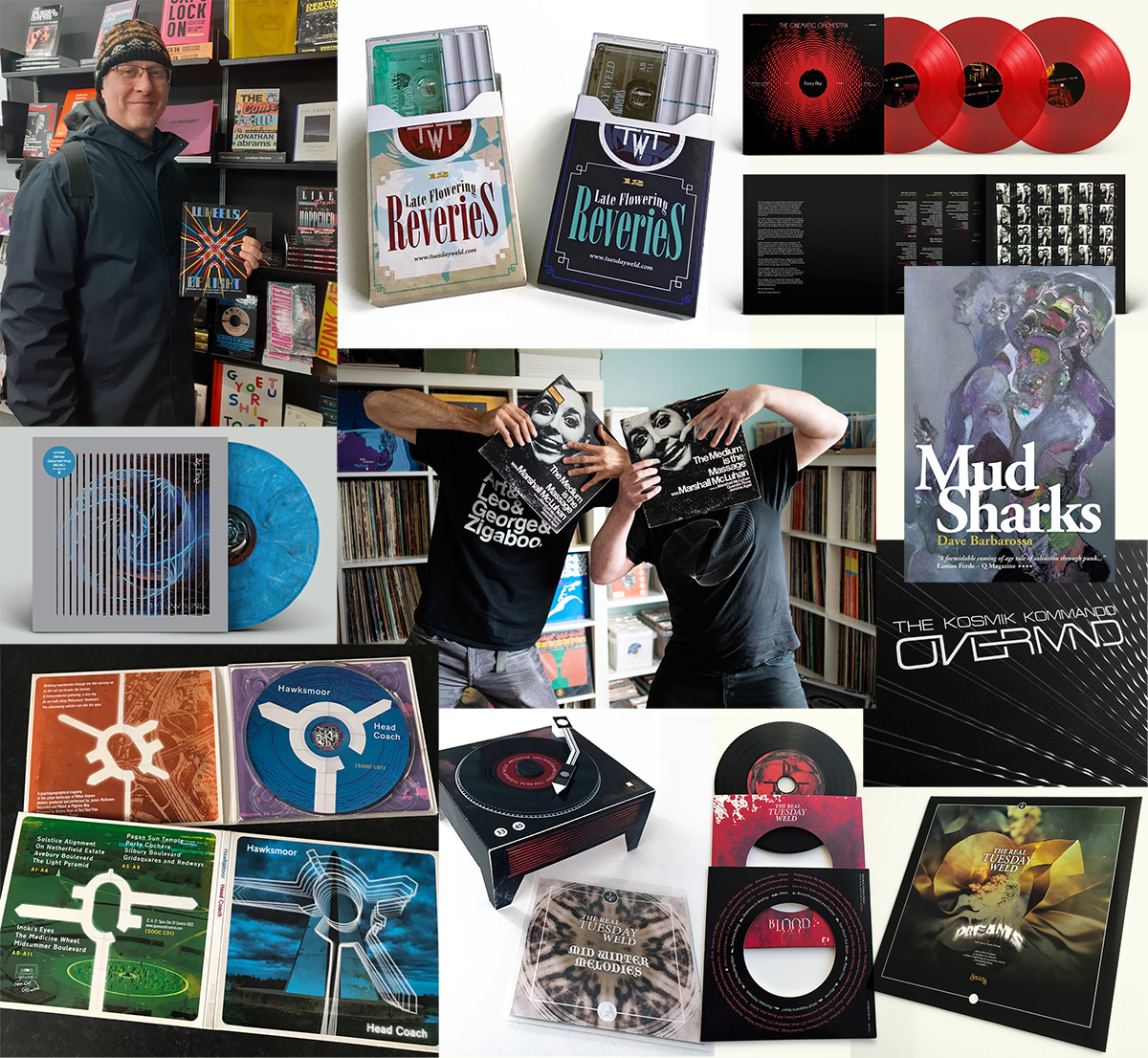 Another year over and what have I done?
Finished The Real Tuesday Weld's 'Dreams' LP/CD and 'Late Night Reveries' cassette artwork
Appeared on the Bureau of Lost Culture podcast, 45 Live show, mixed an episode of new online show, Genius & Soul (still not broadcast)
Re-designed an old classic logo for The Herbsmen
Adapted The Designers Republic's Humanoid artwork for a FSOLDigital CD release
Designed Hawksmoor's 'Head Coach' CD for Spun Out Of Control
Recorded with Dave Barbarossa for a future music project
Finished and published the Wheels of Light book for Four Corners Books with press coverage from The Quietus, Shindig!, The Observer, Velocity Books, Moonbuilding, Electronic Sound, Creative Review and more.
Had a track featured on the Diary of a Madman compilation on Bibliotapes in aid of Ukrainian Red Cross
Refined my Quadraphon turntable into a Mk.3 version
Got featured in the 2000AD Summer Special, music edition, talking about my love of the comic
Made a record by etching a playable image into a disc
Compiled, remixed and edited 30 years worth of games footage for DICE's anniversary, making an 11 minute version then condensing it into 90 seconds.
Redesigned The Cinematic Orchestra's 'Every Day' LP for the 20th anniversary edition from original design concepts
Designed Stasis, AsOne, Paul 'Damage' Bailey and Humanoid 12″s and reinterpreted Mike Dred's 'OverMind' LP art for De:tuned
Also designed the AsOne2 LP for De:tuned
Had a collage featured in Contemporary Collage magazine
Mixed a new religious-themed set for the Tales To Enlighten 2 Kickstarter
Reformatted Dave Barbarossa's Mud Sharks book for publication.
Interviewed Zoe Lucky Cat Baxter, Andy Votel, Alex Paterson and DJ Format for Dust & Grooves book 2.
Designed The Real Tuesday Weld's 3″ CD Xmas card.
RIP:
Sidney Poitier, James Mtume, Meatloaf, Barry Cryer, Ian Kennedy, Douglas Trumbull, Bamber Gascoigne, Betty Davis, Jan Pieńkowski, Philip Jeck, Chantal Passamonte, Garry Leach, June Brown, Jordan, David McKee, Klaus Schulze, Neal Adams, George Perez, Vangelis, Rat Records, Alan Grant, Bob Rafelson, Bernard Cribbens, Olivia Newton-John, Lamont Dozier, Raymond Briggs, Queen Elizabeth II, William Klein, Jean-Luc Godard, Ramsey Lewis, Pharoah Sanders, Kim Jung Gi, Robbie Coltrane, Joyce Sims, Keith Levene, Nik Turner, Wilco Johnson, Tom Philips, Aline Kominsky-Crumb, Manuel Gottsching, Terry Hall, Martin Duffy, Mike Hodges, Pelé, Vivienne Westwood, Anita Pointer.
Looking forward to:
The Out in 2000AD
Supporting the Art of Noise at the Jazz Cafe on Jan 4th/5th
Conform to Deform – The Weird & Wonderful World of Some Bizarre – Wesley Doyle (Jawbone Press)
The The – 1$ One Vote 7″ (Lazarus)
The conclusion of The Real Tuesday Weld's Swan Songs trilogy?…
Tales To Enlighten: The New Testament
The Kevin O'Neill Apex Edition (Rebellion)
The return of Rave Wars
Spider-Man – Across The Spider-Verse