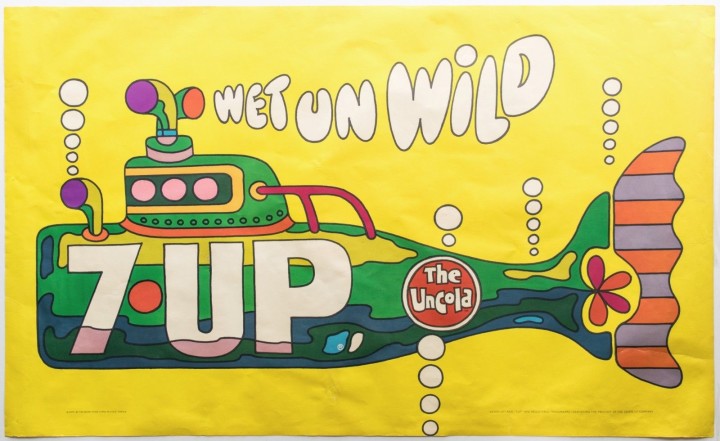 Browsing eBay over the Xmas holiday, a friend came across a psychedelic Submarine poster not a million miles away from Heinz Edlemann's classic Yellow variant, created for The Beatles' film of the same name. In the same brightly-coloured, cartoonish style of the late 60s and early 70s – much popularised by artists like Edelmann, Milton Glaser, Nicole Claveloux and Peter Max – this sub was in fact green and advertising the drink, 7Up – billing itself as 'The UnCola'. What was remarkable about this eBay listing though was that it was for an original 60″x36″ poster, not the sort of thing that turns up every day.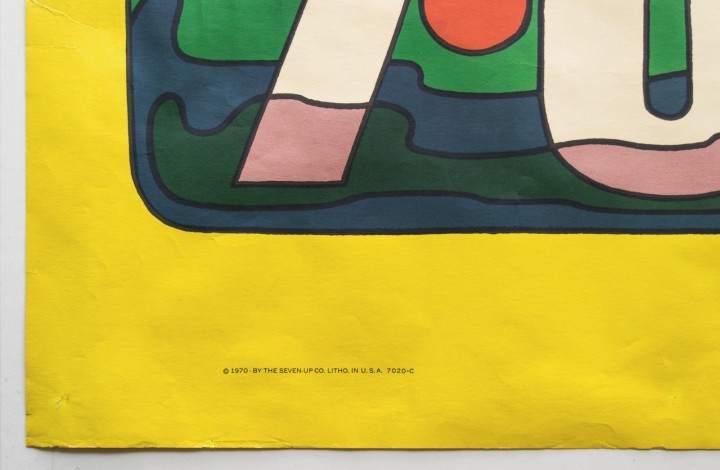 Indeed, further investigation revealed that the seller, Dallas resident, Robert Trent, is the foremost collector of this era of 7Up advertising and was selling off duplicates from his collection. Even crazier was that he was also selling huge billboard versions of some of the designs, some as an un-pasted set of 12 panels over 12 meters in length. Over the course of many entries he had compiled a huge resource of information, links and imagery, all expertly checked and presented without fuss and in meticulous detail. These kind of posters don't come up every day and he has the whole history up there to give context to the images. After seeking his permission I hereby reproduce some of the imagery and details before it's lost.
From Robert's listing: "'Wet Un Wild (green submarine, aka yellow submarine) 60" x 36" horizontal poster by Ed George. 
Note:  This is made of thick quality poster paper, not dimpled yellow plastic tablecloth material (modern-day Tyvek construction wrap vapor barrier or "paper dress" nylon material) like the other "Wet Un Wild" posters occasionally offered on eBay. 
This one is in excellent, but not perfect condition. This illustration is highly sought after and may be the holy grail of all 7Up UnCola poster images. Ed George illustrated this in 1969, (he) held multiple posts in-house at the J. Walter Thompson [advertising] Co. in Chicago (JWT) over many years."
Below: 28 of the billboards in Robert's collection as of writing…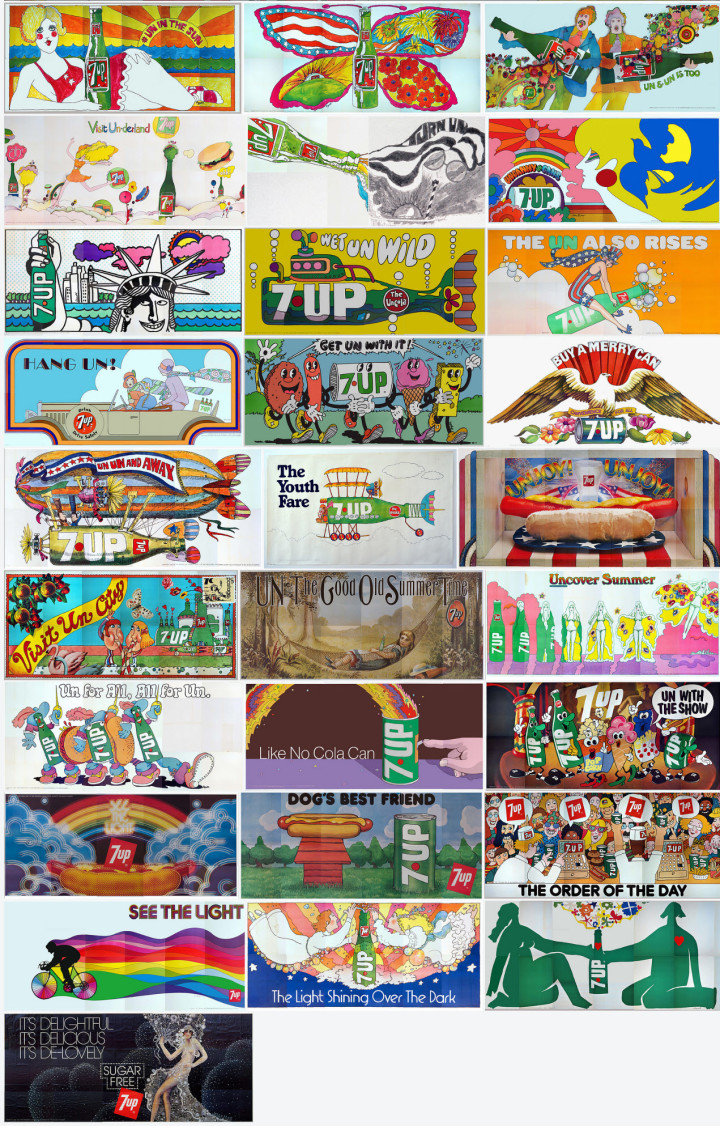 From Robert's listing: "Most of these images actually graced highway billboards and dorm rooms. They were so popular that the Seven Up Company offered them for sale – few survived. The first batch of billboard sized images were up nationwide when colorful VW vans full of hippies drove to the Woodstock Festival in August of 1969. A "Fallpaper Poster Offer" on the bottom of page 8 of the October 5, 1969 Chicago Tribune Sunday Comics offered a set of (4) 34″x21″ reproductions of their famous billboards seen earlier in the year for, read it and weep – ONE DOLLAR TOTAL (plus 6 bottle cap liners). That offer expired on 12/31/69. The sizes also ranged from small Size "D" posters to giant Size "A" 21'x10′ billboards. These are all ORIGINAL vintage posters – NOT modern giclee photo reproductions."
From Robert's listing: "'The Light Shining Over The Dark'  This is a vintage 33″ x 20″ horizontal poster that is in excellent condition and VERY RARE.  I'm only aware of 2 or 3 other copies, some of which have passed through my hands. The artist's signature can be seen at the right center in the bottom of the girl's white dress. 
The artist was Pat Dypold who illustrated this by 1973 as a free-lance artist.  She did the bulk of the other outdoor ads (billboards) for the J. Walter Thompson [advertising] Company of Chicago (JWT) that orchestrated the famous UnCola ad campaign from about 1968 through 1975."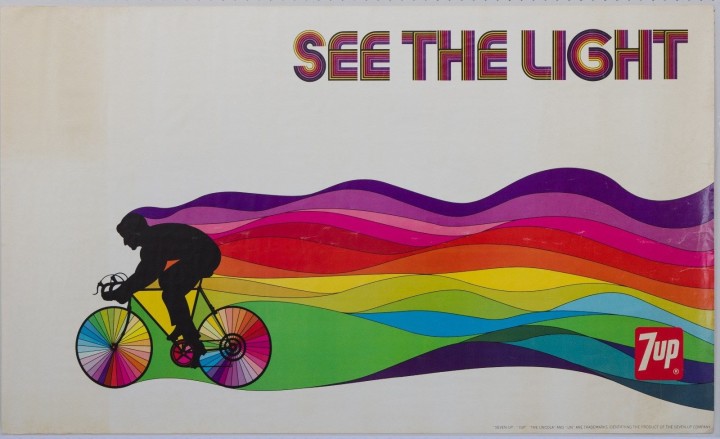 From Robert's listing: "'See The Light' (psychedelic bicycle) 60″ x 36″ horizontal poster by the late Tom Kamifuji (1922-2015) (original concept by Bill Bosworth)
"Hiroyuki "Tom" Kamifuji ran a design studio in San Francisco. He was an illustrator, poster designer, typographer, art director and designer. Yet, for all his legacy of brightly-colored works, there is very little biographical information available. Perhaps his most universal success was the inspiration for the rainbow swath of color within the Apple Computers apple. The concept for this image came from Bill Bosworth who worked in-house at the J. Walter Thompson [advertising] Co. in Chicago (JWT) over many years.  However, the actual finished artwork was done by California artist Tom Kamifuji. There is no signature on this "Size B" poster, but the larger "Size A" 21'x10′ "See The light" billboard in my possession has Tom Kamifui's signature."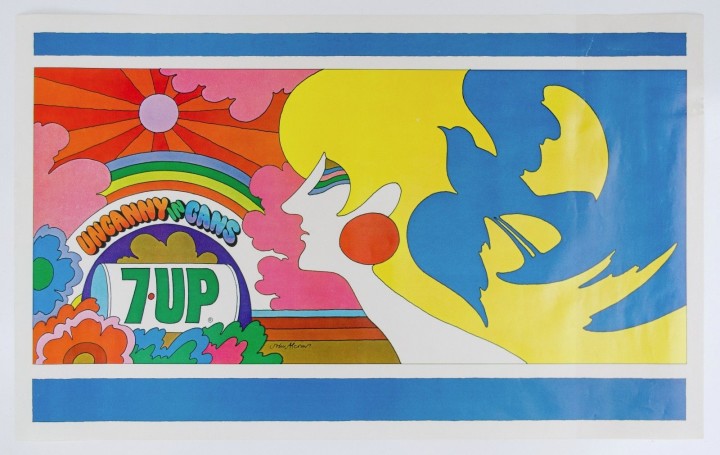 From Robert's listing: "'UnCannny In Cans' This is a vintage 33 3/4″ x 20 3/4″ poster that is in excellent, near mint condition. This is an authentic, traceable representation of late '60s, early 1970's pop art advertising. The artist was John Alcorn who illustrated this in 1969 as a free-lance artist. His signature is in the bottom middle brown band. At the age of 24 Alcorn was the 4th person to join Push Pin Studios which was the place to be in the graphics community at the time.
The Seven Up Co. sold 4 different sizes of most images to the general public. BTW – My collection also includes one of the "UnCanny In Cans" Size "A" billboards plus a 60″ x 36″ Size B" version. The poster for sale here is a 34″x21″ Size "C".
John did a number of well known illustration advertisements in the prior years for Pepsi and Campbell's Soup and his career flourished for many more years. These outdoor ads (billboards) were commissioned by the J. Walter Thompson [advertising] Company of Chicago (JWT) that orchestrated the famous UnCola ad campaign from about 1968 through 1975. Most of the 53+ extremely colorful billboard & poster images were illustrated by invited outside freelance artists who were allowed to sign their names on the originals if desired – not all did. Only a few images were produced in-house, and never with the artist's name on them. JWT wisely chose to invite only up and coming artists and not well known graphic stars so as not to let the notoriety overshadow the product itself.
Many of the artists have gone on to great fame in the graphics community Milton Glaser (I [heart] NY logo) (Mad Men final Season 7 poster; co-founder of Push Pin Studios), Seymour Chwast (co-founder of Push Pin Studios) with Isadore Seltzer, John Alcorn (Push Pin Studios), Kim Whitesides, Barry Zaid, Jacqui Morgan, Simms Taback (1st Happy Meal Box in Smithsonian & Caldecott Honor for children's books), Skip Williamson, Robert Abel (Tron movie), Charlie White III (permanent collection at MOMA), John Craig, Ray Lyle, Heather Cooper, Nancy Martell, Roger Chouinard, Pat Dypold, Bob Taylor, Tom Kamifuj, Bill Bosworth, Ed George, Joanne _ and probably several others.
The Seven Up Company executives chose rough "comps" without the artist's names attached to the submissions. If 1 or more sketches were chosen, the artist would eventually earn up to $2,000 per completed piece. I've spoken with some of the retired ad execs from JWT and they reported that this was a fantastic assignment with a dream client that encouraged bold moves. These Midwest Mad Men boosted sales by anywhere from 30-60% under their highly creative reign from 1968 until the mid-seventies."
From Robert's listing: "Bob Taylor was an art director at the famed J Walter Thompson [advertising] Company based in Chicago – the Midwest Mad Men.  An American Contemporary Graphics Exhibit booklet from about 1972 featured Bob and a different "cartoony" billboard image of his on pages 9-10.  Bob was one of the driving forces behind "The UnCola" ad campaign from the beginning in 1968 until the end in the middle 1970's. Bob also illustrated "The Youth Fare" in a similar "cartoony" style depicting a green bottle of 7Up as a bi-plane.
This is the 21'x10′ Size "A" billboard version of this blimp image by Bob Taylor available as Design #10 for $7.00 in the billboard and poster offer that expired on 5/31/72.  A small 21″x11″ poster was available for FREE if you responded to the poster offer that expired on 12/31/70.  Another folding billboard and poster offer that expired on 5/31/72 offered this billboard as Design #12 for $8.50.
As of today, I only know of one other copy besides the 2 billboards in my possession. This piece of advertising history is in NEAR MINT condition and ready for display. To get a sense of scale, a standard sized vehicle would not cover up the blimp itself if laid out flat on a driveway."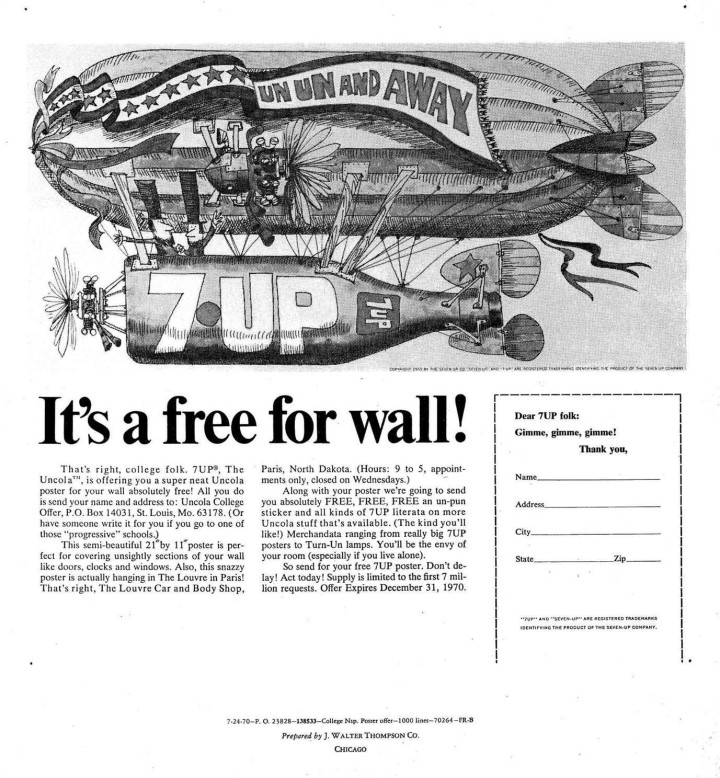 The American Contemporary Graphics Exhibit book laid out profiles of some of the artists along with their contributions and the aim of the campaign.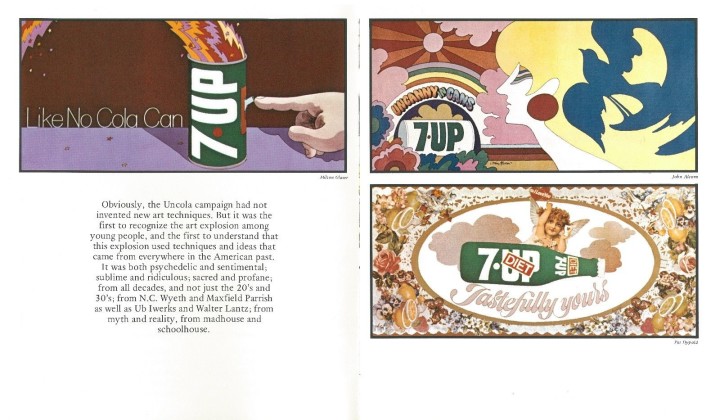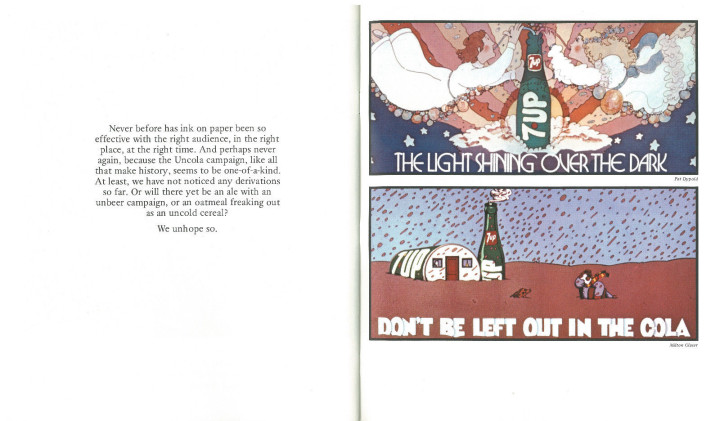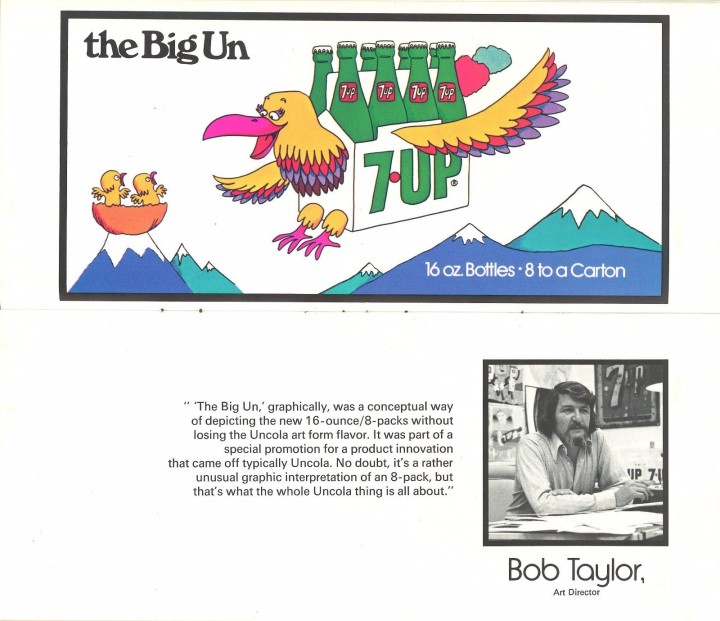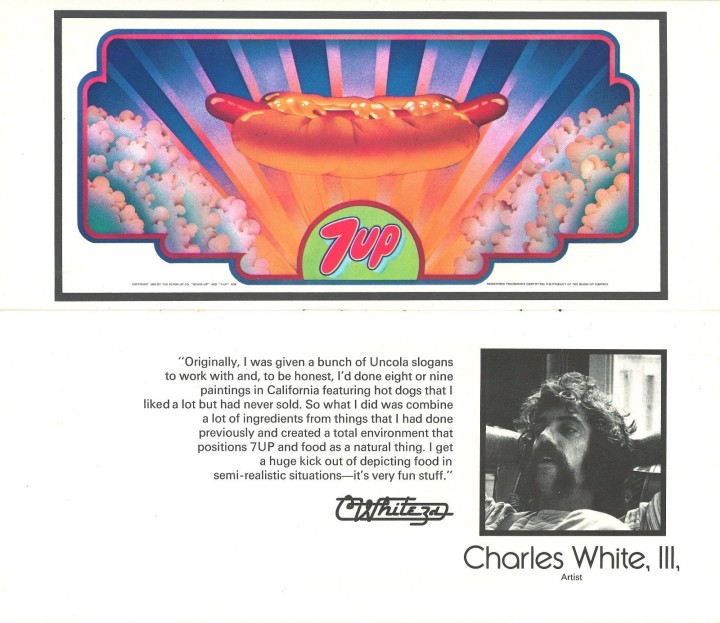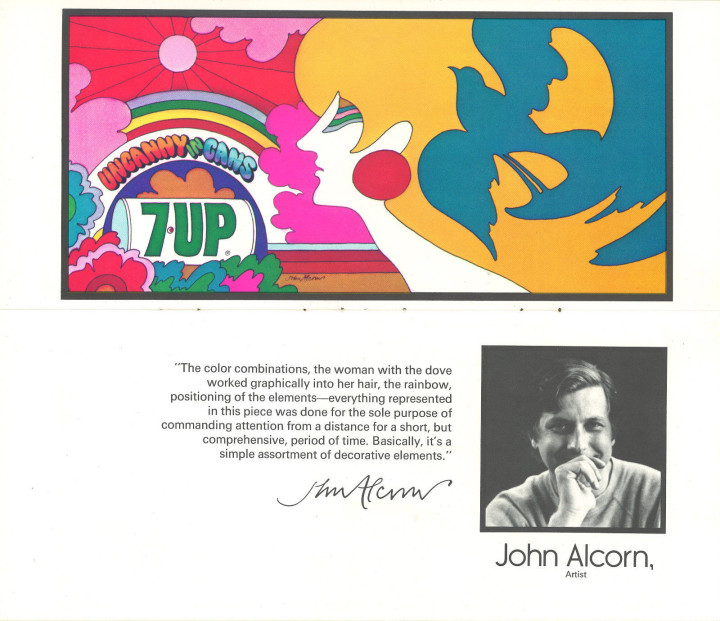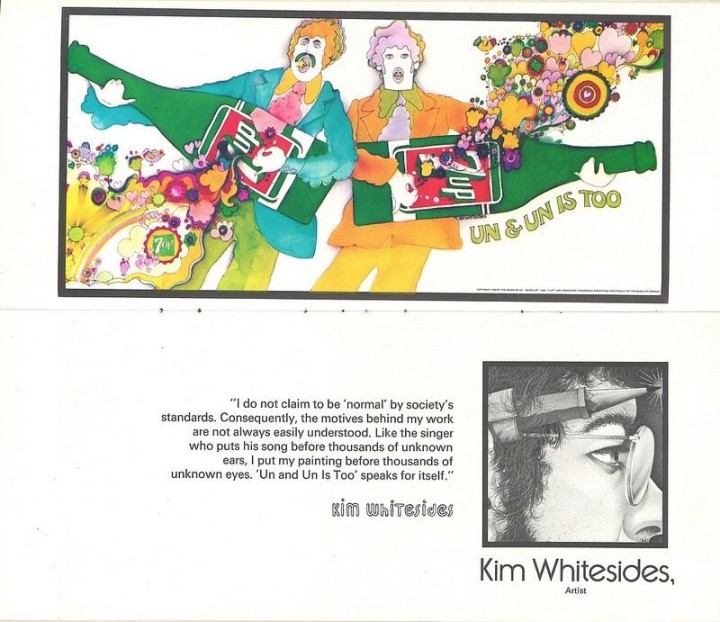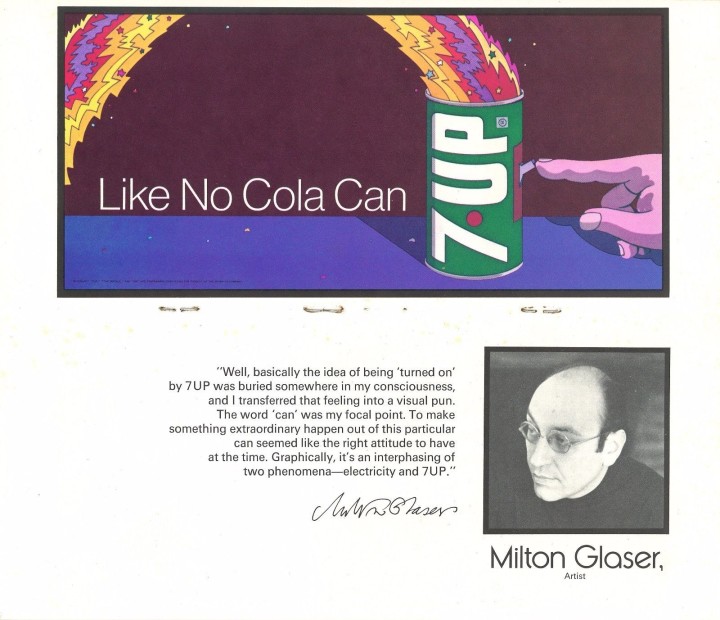 From Robert's listing: "Milton Glaser (b. 6/26/29) This image was created during his Push Pin Studios era which is the firm he co-founded with Seymour Chwast.  It would be another 6 years before he created the most copied "I [heart] NY" logo on the planet in 1977. Scans from 2 different booklets from about 1971 independently attribute this work to Milton Glaser.  Here are his own words about the concept for the image: 
"Well, basically the idea of being 'turned on' by 7Up was buried somewhere in my consciousness, and I transferred that feeling into a visual pun.  The word 'can' was my focal point.  To make something extraordinary happen out of this particular can seemed like the right attitude to have at the time.  Graphically, it's an interphasing of two phenomena – electricity and 7Up". 
My extensive collection includes the ONLY 2 KNOWN COPIES IN ANY SIZE of this particular image. The originals are 21'x10′ Size "A" billboards acquired from someone in the Out Of Home (OOH) [billboard] business that set these aside in the early 1970's thinking that they might be something special.  They are.  Even world famous graphics guru Milton Glaser doesn't have any copies in his vast collection per his archivist.  I've never seen ANY other copies in ANY other size.  I also collect 7Up UnCola "poster offers" but I've also never found any offering this image to the general public.  Most of my other billboards were offered to the general public for prices between $3.50 and $8.50.  For some reason, this one and a few others were not made available although a few like this one were squirreled away. "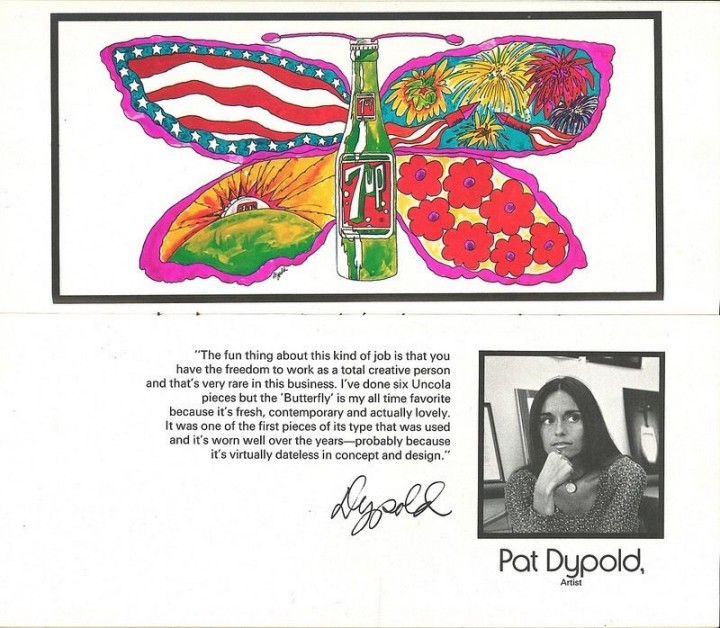 Pat Dypold seems to be the unsung heroine of the piece, contributing many illustrations in various styles but she's not a name I'm familiar with. Robert had a class reunion and hung several of the billboards from the balcony at the venue they held it at, you get a sense of scale with these photos plus some close up details.
From Robert's listing: "Giant 21′ x 10′ 7Up UnCola original unused vintage paper billboard illustrated in 1971 by Kim Whitesides. An American Contemporary Graphics Exhibit booklet from about 1972 featured Kim Whitesides and this image on pages 11-12.  He did at least 3 other billboard images for The UnCola ad campaign, 2 of which were issued in billboard and/or poster formats.
The billboard itself consists of 12 thick paper panels, each 43″ wide x 59″ tall.  There's about a 1″ white margin on the top and right edges of each panel so it can be installed in an overlapping "rainlap" pattern designed to shed water like shingles on a roof (see last image). These were only meant to last outdoors for 30-60 days, and then the next billboard would be pasted over the top – destroying the paper underneath.  The only way any of these survived for nearly 5 decades was for them to be set aside and not used as intended.  This is one of the rare examples of that being done.  Although rare, I have 3 copies of this billboard image in my collection.  All 210 square feet of my copy has been painstakingly reinforced with acid-free scrapbooking tape on the rear side, but only as needed to stabilize small rips, week fold lines and other minor imperfections.  Any small holes have been patched with matching paper from donor panels from the same era and are barely noticeable up close.  In places, colored pencils or markers have been used to refresh missing ink."
There are examples of many order forms including this fold up mail out, such great thinking going into something so ordinary.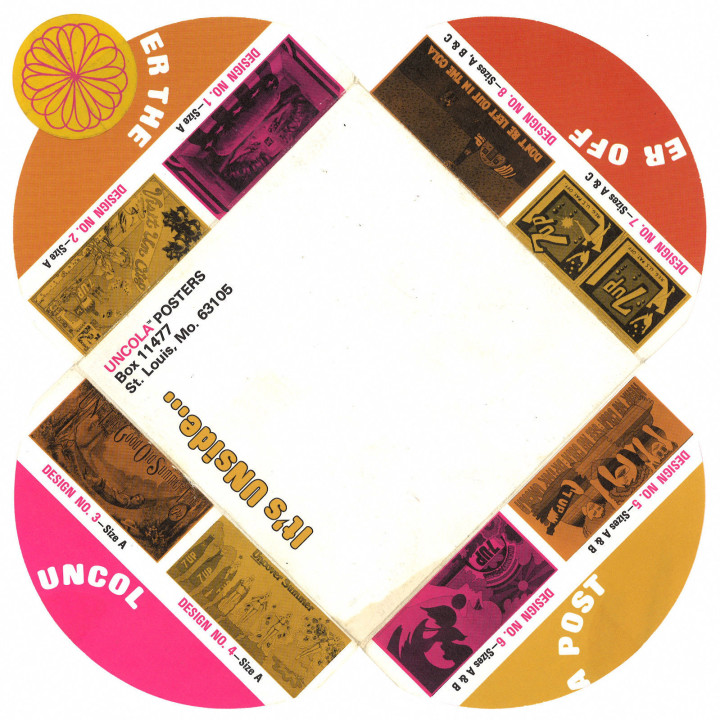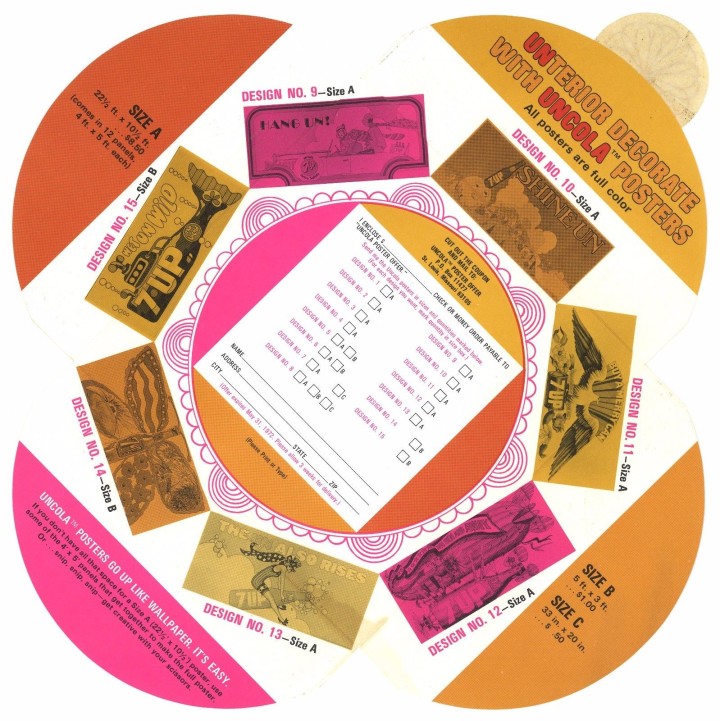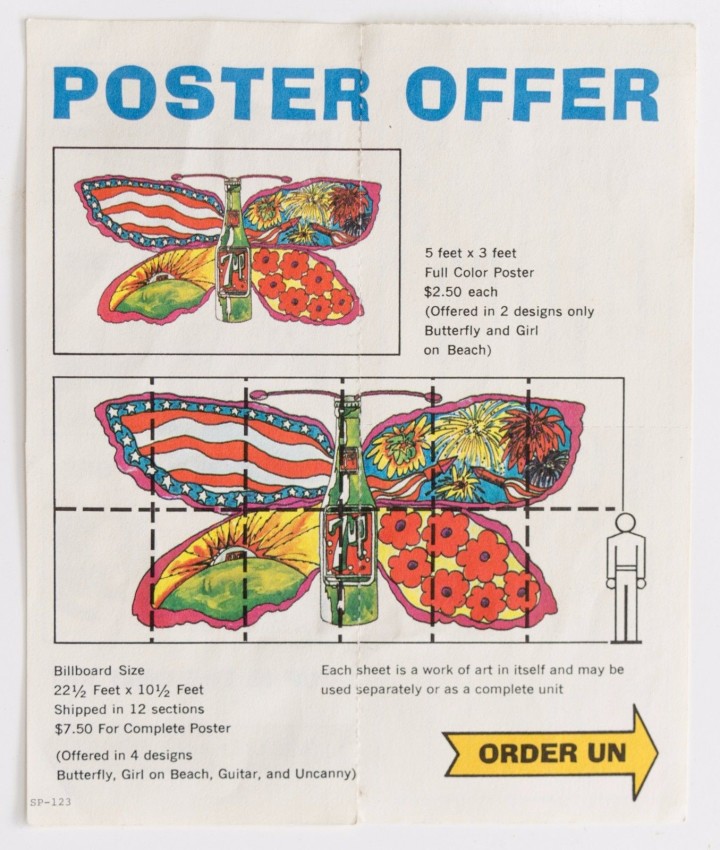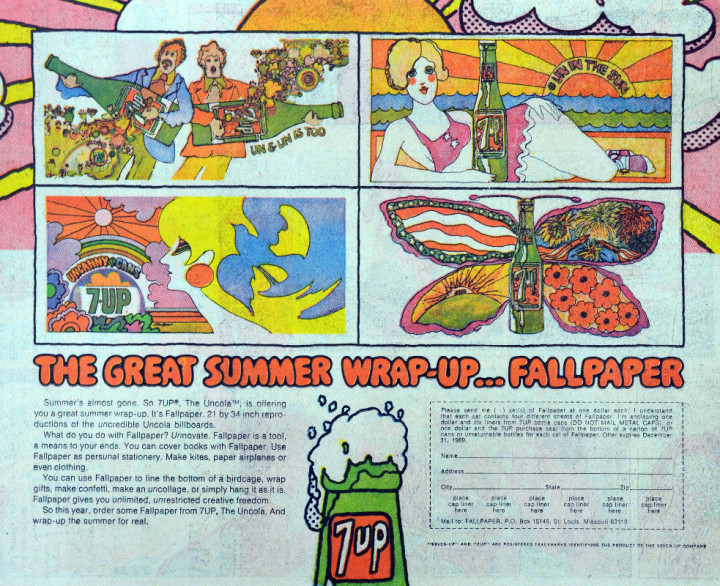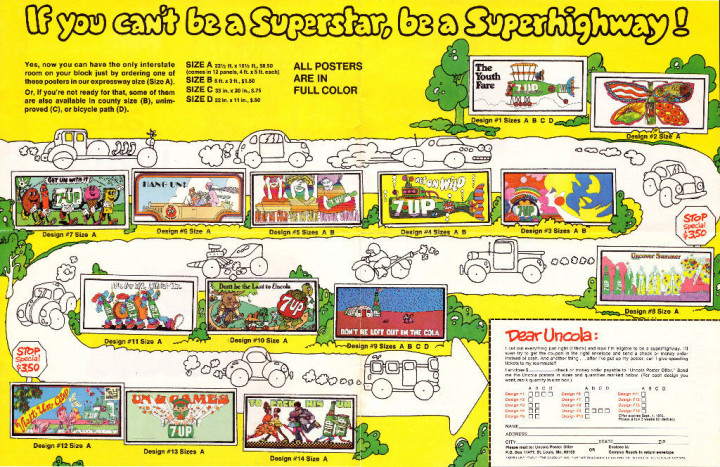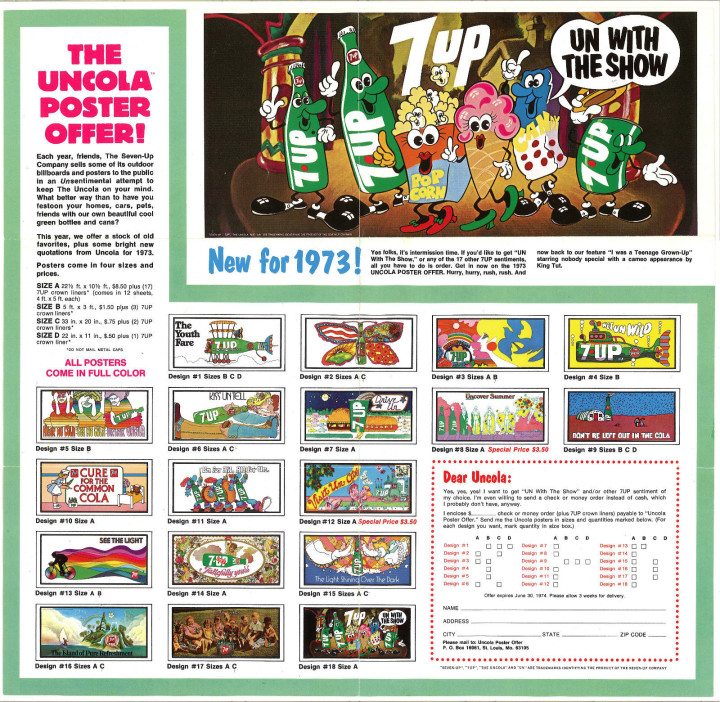 There are two very good articles / interviews with Robert on the web: one with Collector's Weekly
and one with the ever-reliable Dangerous Minds so head there if you want more info. You can follow Robert on Instagram, view his whole collection on Flickr or peruse his eBay entries for yourself. Masny thanks to Robert for letting me repost these pictures and info.