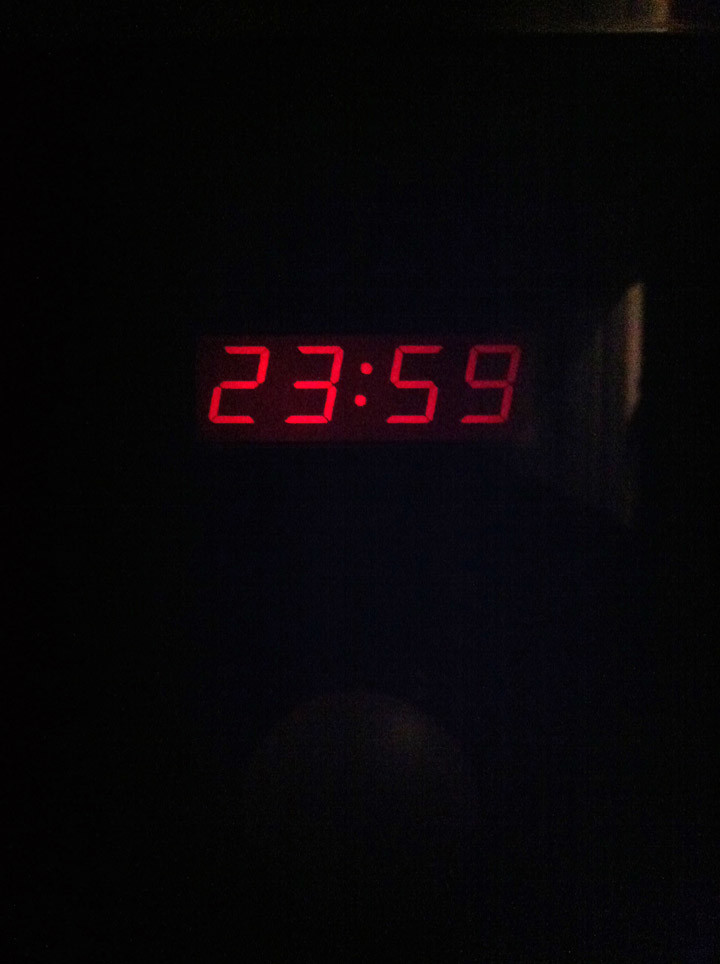 For some reason I started writing my review of the year back in January, determined to keep a record of it as I went along so that I could just press the 'publish' button over new year weekend and not sit around for a day trying to remember what I'd seen, done, listened to or read. I couldn't have picked a worse year, let's get the bad stuff out of the way first…
"2016 ('the year that just keeps on taking' was how someone later referred to it) was a shit year that I will want to forget". I wrote that in April, just after Prince had died and I was ready to see the back of it before we'd even reached June. I now know I wasn't alone in this sentiment. No two ways about it, good, creative, innovative people passed away, seemingly on a daily basis while greedy, immoral, ignorant people in positions of power got away with murder at the same rate. If only a few of the bad ones had been taken as well, if only to even things out.
In June (half) the UK voted to exit the EU and the fallout, cop out and subsequent reshuffle in the aftermath defied belief and went beyond satire. Labour's backstabbing and in-fighting to oust Jeremy Corbyn from the party when they should have been calling the Tories to account just showed them up to be as inept as those in power. The closure of Fabric in September* put yet another nail in the coffin of the city I love, one that's rapidly having it's center squeezed of any creativity, individuality and relevance as big business moves in and any form of alternative culture is forced out. Things change, I know that, it's progress and it has to happen, but when that change feels more like a regression I start to look elsewhere.
* thankfully set to re-opened under new conditions
As the beginning of the lead up to Brexit began and the pound sunk to an all time low, it was hard to feel anything but despair at the idiocy and blatant greed of those in positions of power playing games whilst lining pockets and taking from those who need it most. A friend left for LA over a year ago and I feel he got out in the nick of time.
I had my own family problems this year too and I lost my mother to cancer in early July, a year after she was diagnosed. The photo above was taken the day she died, the last second of the day, a blink of the eye later it was 0.00. A new day, everything reset, now I had one parent, not two. Thankfully I'm very lucky to have a great group of family and friends close by for support and without them things would have been very different. 2016 brought a massive phase of my life to an end and 2017 will see it take a new turn, don't expect a new record too soon I'm afraid, I don't have the head space.
And then the unthinkable on Nov 9th (9/11 by our calendar, how ironic)… Trump
There have been several times when I've woken up to a day when everything has changed, a mental shift in world events which means that nothing will be the same again. The day after 9/11 was one, the birth of my children, Brexit, my mother's death… Now Trump gets added to that list, sadly my friend jumped from the frying pan into the fire. Early reports show that the youth voted for Clinton while the elderly voted for Trump, much the same as Brexit in the UK then. Satire is no longer a comfort, you couldn't make this up and it's certainly not funny anymore.
But despite this, there was plenty of good to be found everywhere, the cliché of the arts flourishing under oppression and depression seemingly true. Looking back over posts from this year, both here and on my Instagram, all I can see is a vintage year for music and a great year for the visual arts. There was SO MUCH great music everywhere that it was a job to get through it all and I seemed to be buying both new and old on a daily basis with a real need to dive into the bins and discover continuing over from last year. So many genuinely great records came out this year with the new easily outnumbering the old, vinyl overtook downloads in sales at one point (largely due to Sainsburys starting to stock it again I suspect) and we're still being spoilt for sleeve and packaging design too.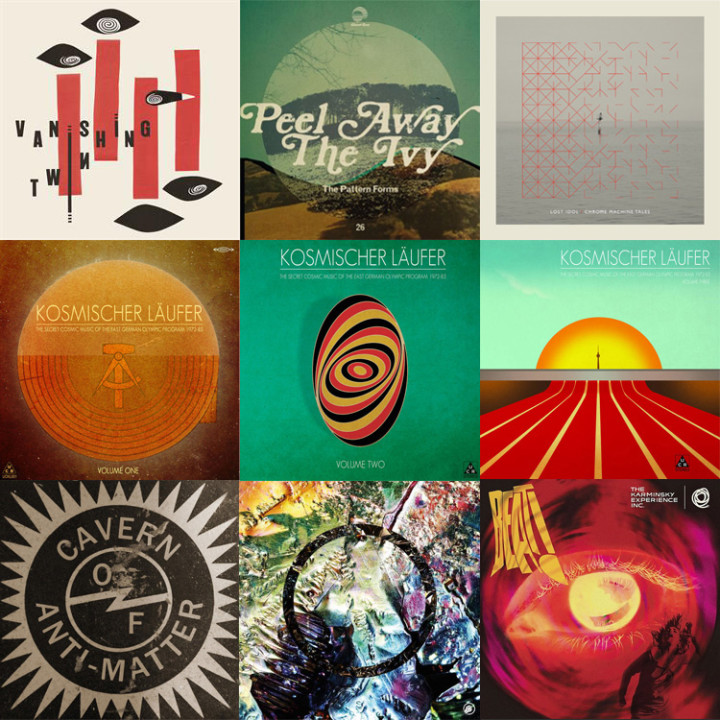 Music:
David Bowie – Blackstar (ISO/RCA/Columbia)
Kosmischer Laufer – The Secret Cosmic Music of the East German Olympic Program 1972-83 Vol.1-3 (UCR)
Cosmic Ground 2 (Deep Distance) (technically 2015)
The Heliocentrics – From The Deep (Now Again)
The Allergies feat. Andy Cooper – Rock Rock (Jalapeno)
Cavern of Anti-Matter – Void Beats/Invocation Trex' (Duophonic UHF Discs)
The Comet Is Coming – Channel The Spirits (Leaf)
Synthi A – Ignition of the Sun (EBV)
Vactrol Park – II (ESP Institute)
Brain Machine – Peaks (Emotional Response Recordings)
Lost Idol – Chrome Machine Tales (EOE Recordings)
Various Artists – Cosmic Machine The Sequel (Because Music)
S'Express – Enjoy This Trip (Needle Boss Records)
Videodrones – Mondo Ferox (El Paraiso)
Various – I Love Acid 010 (Balkan Recordings)
Om Unit – Underground Cinema (feat Krust) (Cosmic Bridge)
King Gizzard & The Lizard Wizard – Robot Stop (Flightless)
Peter Thomas & Mocambo Astronautic Sound Orcestra – Space Patrol (Raumpatrouille) (Mocambo)
Radiohead – The Numbers (XL Recordings)
Foetus on Triple J interview from 1986 (Mixcloud)
DJ Supreme – R.I.P. feat Son of Noise (Backbone Records)
F.S.O.L. – Environment Six & 6.5 (FSOLDigital)
Clipping. – Splendor & Misery (Sub Pop)
Vanishing Twin – Choose Your Own Adventure (Soundway)
The Pattern Forms – Peel Away The Ivory (Ghost Box)
Barry Adamson – Know Where To Run (Central Control International)
The Karminsky Experience Inc. – Beat! (Patterns of Behaviour)
Howlround – A Creak In Time (psyche-tropes)
Graeme Miller & Steve Shill – The Moomins OST (Finders Keepers)*
*technically released next year but I got an early copy
Honourable mentions:
Electronic Sound magazine going from digital to physical – filling a gap somewhere between the highbrow avant gardisms of The Wire and the retro 80s fest of Classic Pop – clean design and original angles + free CDs.
Andrew Harrison and Matt Hall's Big Mouth podcast – a weekly look at pop culture from music to TV to comics to films to books, great line up of guests and plenty of good tips to follow up.
The El Paraiso label – everything about it, from the music to the artwork, is spot on, a beautiful roster and catalogue. Hard to pick a favourite release but when I stumbled upon them in May I wanted everything and barely found a dud in the whole roster.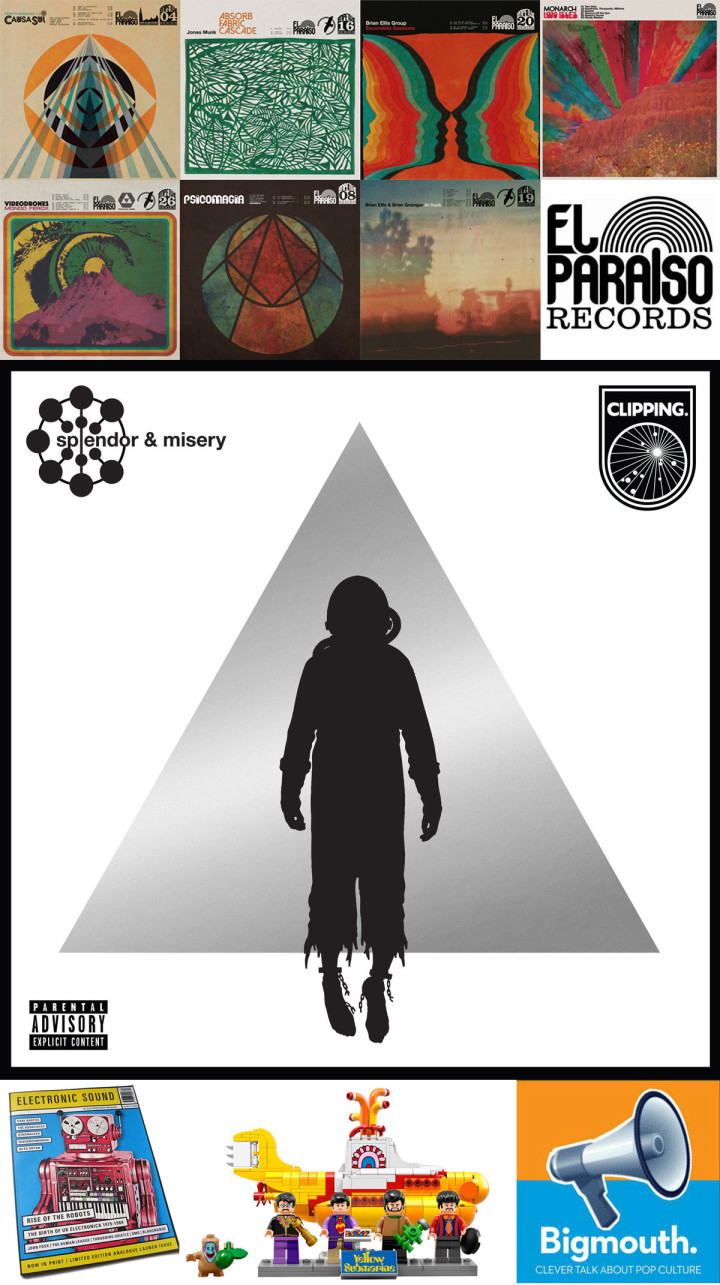 Clipping. – the trio really knocked me out when I ran across them in October, three albums and a handlful of EPs into their career, taking in all that was a sensory overload. The pure electronic noise coupled with the razor sharp delivery of Daveed Diggs' raps felt like someone was operating on my brain while I was conscious. The sonic palette and arrangements felt so fresh in the context of 99% of other hip hop records that they immediately made everything else seem stale. With repeated listens their Splendor & Misery LP revealed just what a stunning concept album they'd created, layers and themes interwoven to perfection, I only wish there was a full film to go with the two promo videos already out there. Album of the year in a year that was awash with great music.
Peter Williams for all his quiet energy, enthusiasm and organisation in and around West Norwood, his great music taste and for being a catalyst for change, hopefully we'll do good things in 2017…
Lego for severing ties with the Daily Mail, opening a great new shop in central London and making that fab Beatles Yellow Submarine.
Spiritland for making me stretch out and indulge in the musical side of me that rarely gets an airing in my club sets.
Pete Isaac, Scott Hendy and Greg Belson of 45 Live for continuing to build a worldwide brand in clubland and on the radio.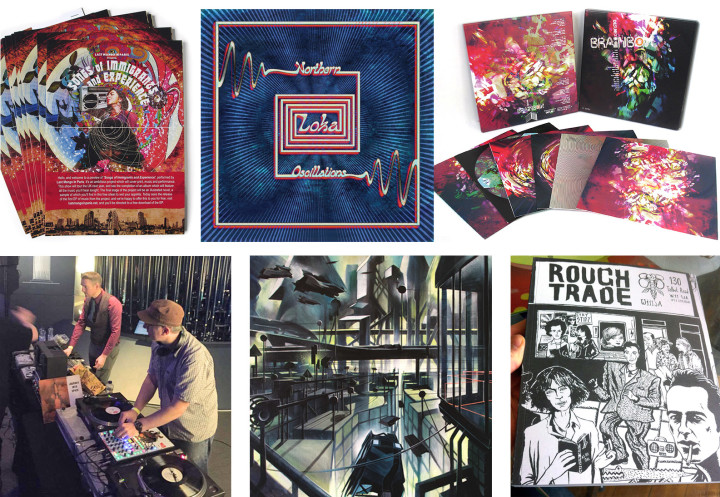 Another year over and what have I done?
Designed the De:tuned Records 6xLP Brainbox set + forthcoming spin-off 12″ and rejigged a bit of Frankie Goes To Hollywood's '…Pleasuredome' LP for reissue. Hosted Jonny Trunk's OST show on Resonance FM, written for The Vinyl Factory and been published in the Rough Trade 40 years book,. Performed with Howlround at the Museum of London, done instores in Rat Records and The Book & Record Bar as well as several appearances on the Out of the Wood radio show. Remixed Divine Styler, appeared at The Force Awakens holographic vinyl launch at Abbey Road Studios and created two different mixes of Acid House 45s for the I Love Acid and 45 Live radio shows. Designed and illustrated a brochure for the stage production Songs of Immigrants & Experience and the cover of the next Loka LP (without label deal at present). Plenty more mixes for Solid Steel, GCASFM, Spiritland, Looselips, Near Mint and 45/7 shows – most of which are available on my Mixcloud page. There have been a load of gigs (4 for Big Fish Little Fish alone), plenty of digs and a few things going on in the background but I've been too preoccupied with family things this year to add much to the portfolio.
Favourite gigs:
Cavern of Anti-Matter @ The Moth Club
The Soul-Inn 1st birthday party, Brussels
Record Store Day @ The Book & Record Bar, West Norwood
Rat Records instore with Jonny Trunk, Camberwell
Adam Ant Kings of the Wild Frontier @ Brixton Academy
My first gig at Spiritland, Kings X
The Pattern Forms @ Rough Trade East
Turntable & tape machine improv with Howlround + Jonny Trunk @ The Museum of London
The Karminsky Experience LP launch, Blue Posts
Pascal Savy / Steven McInerney / Howlround @Iklectik
Vanishing Twin / Cherrystones @The Others
Clipping. @ Corsica Studios
Favourite exhibitions:
Alan Kitching @ Somerset House
KAWS / Eduardo Paolozzi @ Yorkshire Sculpture Park
Thierry Noir @ Howard Griffin Gallery
You Say You Want A Revolution @ V&A Museum
Star Wars Identities @ the O2
Secret 7s @ the Sonos Building
Jimmy Cauty's New Bedford Rising in America St.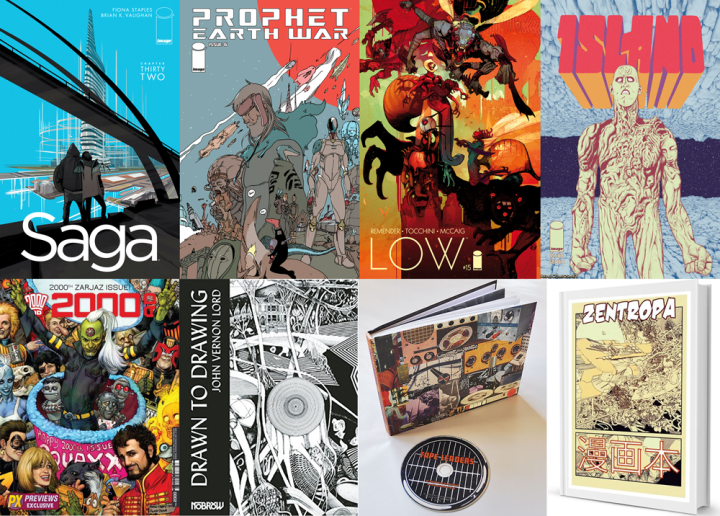 Favourite comics / books:
B.P.R.D. Hell On Earth – Mike Mignola / John Arcudi / various (Dark Horse)
Empty Zone – Jason Shawn Alexander (Image)
Heavy Metal – Various
Black Science – Rick Remender / Matteo Scalera (Image)
Low – Rick Remender / Greg Tocchini (Image)
Island – Various (Image)
2000AD – Various (Rebellion)
Saga – Fiona Staples / Brian K. Vaughn (Image)
Drawn To Drawing – John Vernon Lord (Nobrow)
Prophet: Earth War – Brandon Graham / Simon Roy / various (Image)
The Music Library 2nd edition – Jonny Trunk (Fuel)
Tape Leaders – Ian Helliwell (Sound On Sound)
Covers – Alex Bartsch (Kickstarter)
Zentropa – John Mahoney (Heavy Metal)
Pencil Head – Ted McKeever (Image)
Favourite film/TV:
Flowers, Upstart Crow, Rogue One, Steven McInerney's A Creak in Time
RIP:
David Bowie, Mark B (technically 2015 but it broke over New Year), Paul Bley, Pierre Boulez, Alan Rickman, Clarence Reid aka Blowfly, Andy 'Dog' Johnson, Terry Wogan, Maurice White, The Independent newspaper, Harper Lee, Umberto Eco, Bruce Lacey, George Martin, Ken Adams, Keith Emerson, Phife Dawg, Ronnie Corbett, Zaha Hadid, Tony Conrad, Victoria Wood, Prince, Richard Lyons (Negativland), Isao Tomita, Muhammad Ali, Jo Cox,  Bernie Worrell, Caroline Aherne, Alan Vega, Jack Davis, Kenny Baker, Bobby Hutcherson, Gilli Smyth (Gong), Gene Wilder, Richard Neville (Oz magazine founder), Prince Buster, Don Buchla, Rod Temperton, Steve Dillon, Pete Burns, Jean Jacques Perrey, Leonard Cohen, Robert Vaughn, David Mancuso, Sharon Jones, Fidel Castro, Pauline Oliveros, Colonel Abrams, Andrew Sachs, Al Brodax, Greg Lake, Dave Brubeck, John Glenn, Rick Parfitt, George Michael, Alphonse Mouzon, Carrie Fisher, Debbie Reynolds.
Wisdom: "Morph man, morph!" – Otis Fodder
Looking forward to:
The next phase…
Ghost In The Shell
The ongoing unearthing of lost collage works from Australia by DJ HDD
Xodrox
Eduardo Paolozzi @ The Whitechapel Gallery
Pink Floyd @ the V&A Museum
Valerian
XX book by Rian Hughes
The Delaware Road live in a nuclear bunker
The return of the KLF?…
Blade Runner 2049
Star Wars VIII
Further…