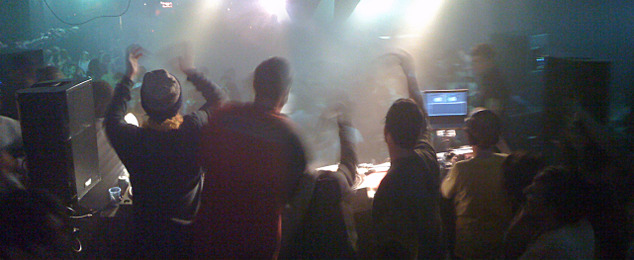 I played in Glasgow last night as the special guest at Boom Monk Ben's last ever Mixed Bizness night at the School of Art. After my 90 minute AV set Ben played the final hour and the crowd went progressively crazier until he ended with Beck's 'Mixed Bizness' (what else?) and a full on stage invasion. Predictably 'one more song' was requested to which he responded with Chaka Khan's 'Ain't Nobody' at which point there was full on crowd surfing! Another stage invasion occurred and demands for one more 'one more song' were granted by Roots Manuva's 'Witness' and the place erupted. I think Ben feared the whole table and laptop were going to be pushed over at one point from the amount of people on the front of the stage and behind the decks.
It was a great end to years of regular nights Ben has been doing at the Art School, which is due for renovation and will be closed for at least 2 years while they rip everything out. The week before, I did a phone interview with Shaun Murphy for Mixed Bizness about the forthcoming show and my forthcoming album, which you can listen to here
I stayed in the lovely Citizen M hotel when I was there which is full of great designer furniture by the likes of Panton and Eames with compact rooms that resembled Japanese pod hotels.